Hosting an elegant Christmas dinner party doesn't have to be difficult. Here are a few shimmering, colorful, delicious and jolly ideas that will impress any Christmas dinner guest.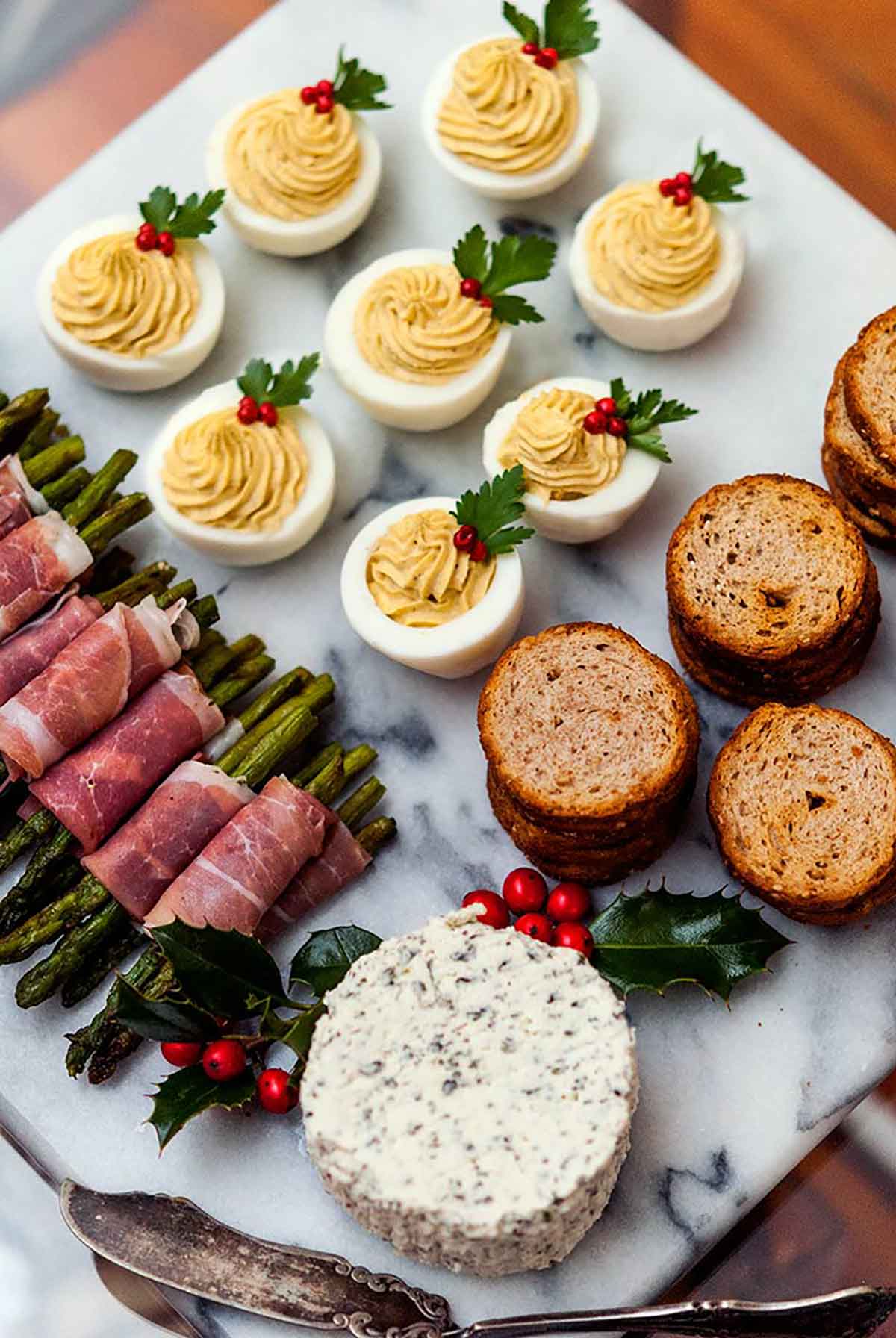 This year, I covered my apartment in dry flowers, eucalyptus and naturally aromatic touches to make my Christmas decor bright and inviting. And for my dinner menu, I kept things nice and easy… but that doesn't mean I served meals with little care.
I had appetizers, sides, a main course, cocktail and dessert that were so simple to put together, but looked and tasted wonderful! Here are a few ways to make your Christmas dinner party nice and simple, and create a beautiful holiday atmosphere!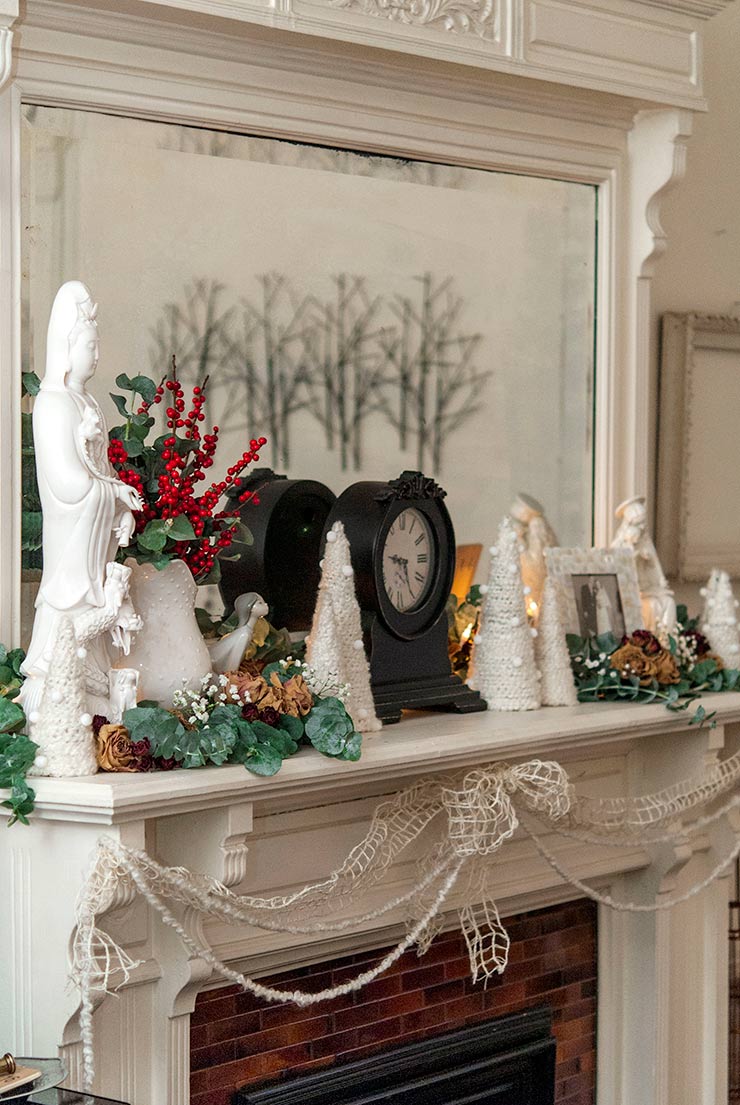 1. Create an Organically Merry Atmosphere with Simple, Natural Touches
If you want to decorate your tree in a colorfully original way, simply create flower ornaments with dry roses and lavender. It's so easy and looks absolutely gorgeous.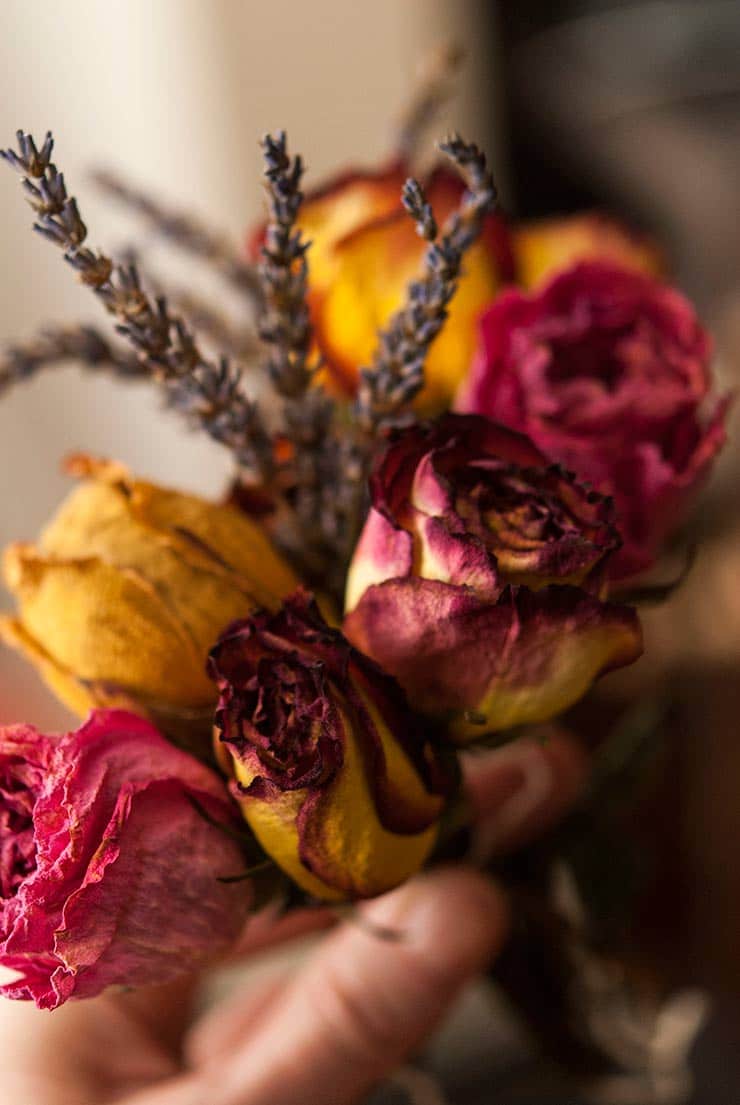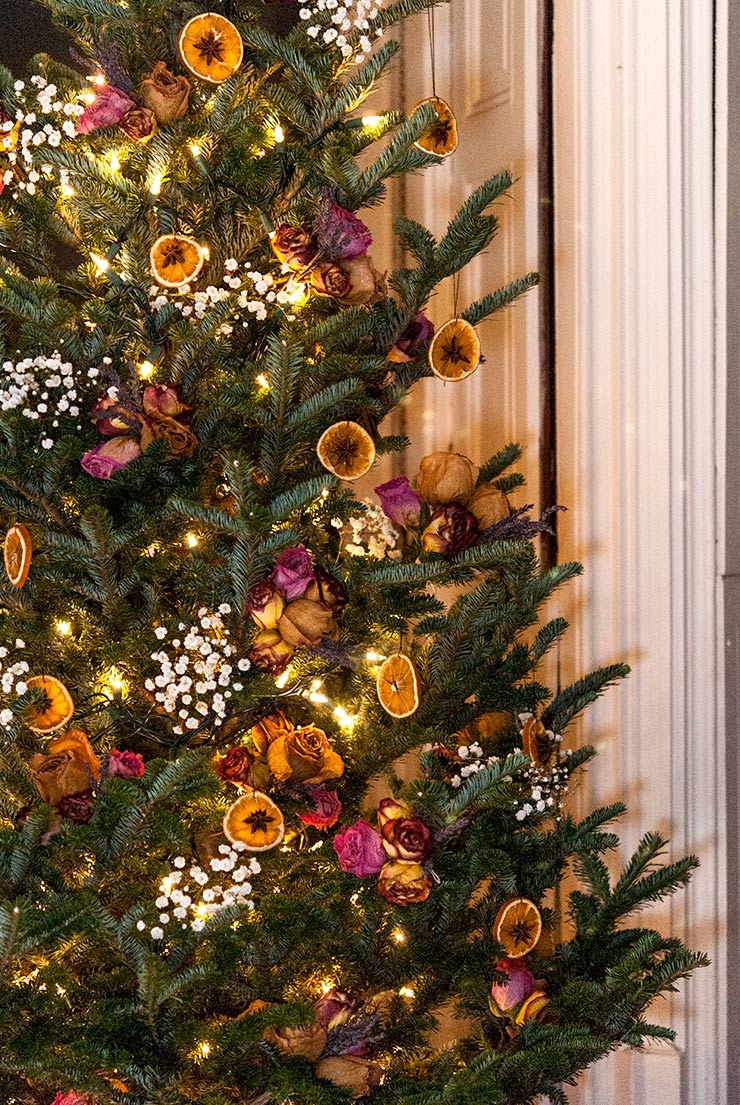 I also created simple, dry orange and star anise ornaments by slicing oranges nice and thin, baking them and needling a little thread through them. They look like little stained glass windows when hung in front of Christmas lights on your tree! All you need are 5 oranges, a container of star anise and a little bit of time.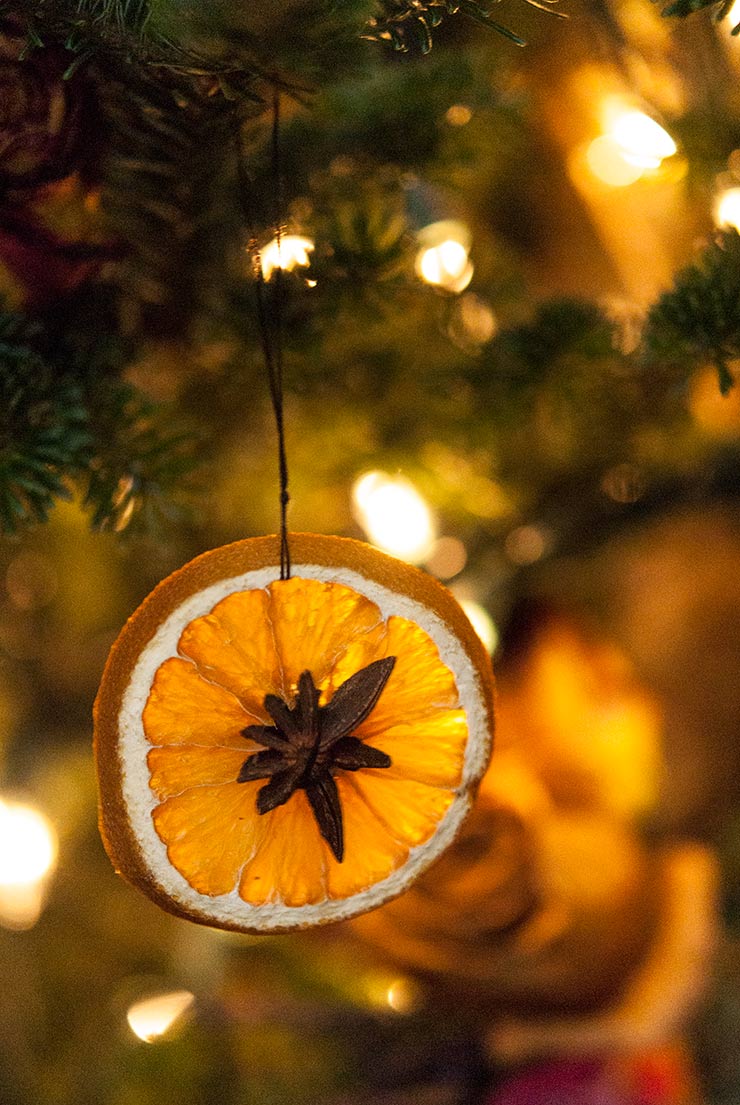 For my mantle, I used Eucalyptus, dry roses and a little baby's breath "snow." I also made these simple, soft yarn trees with just a little bit of glue, yarn, pompoms and paper mâché cones that I found at the craft store. They take only a few minutes to make and look so sweet on a mantle or on a Christmas window sill!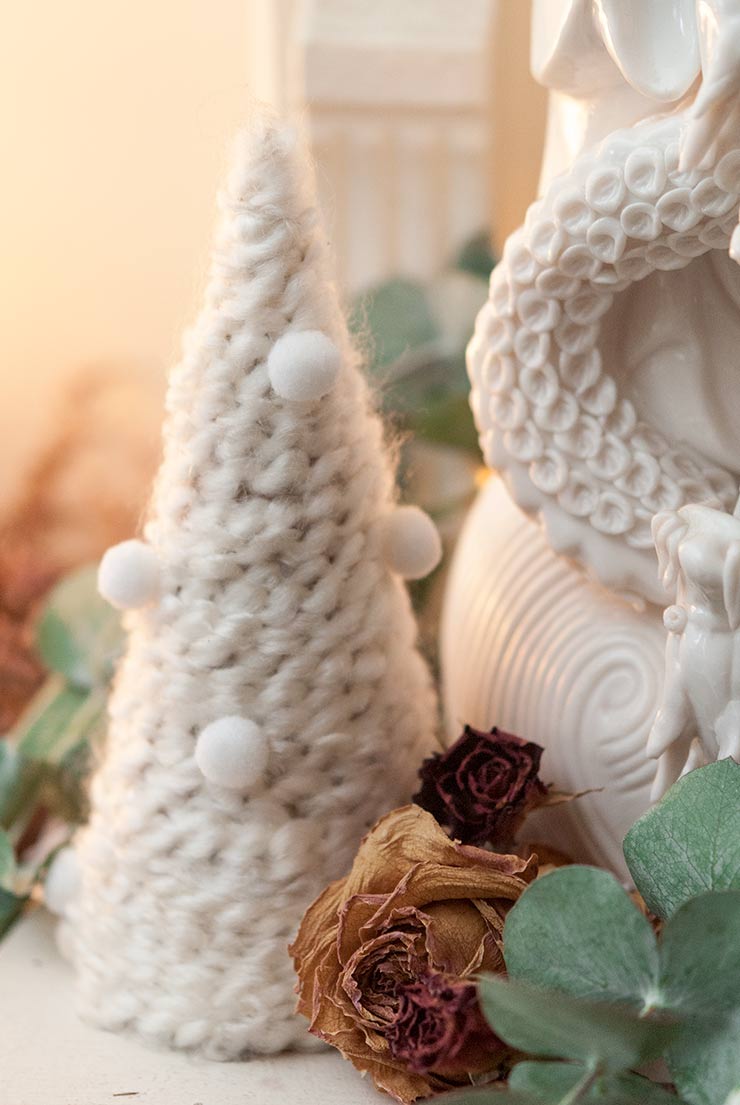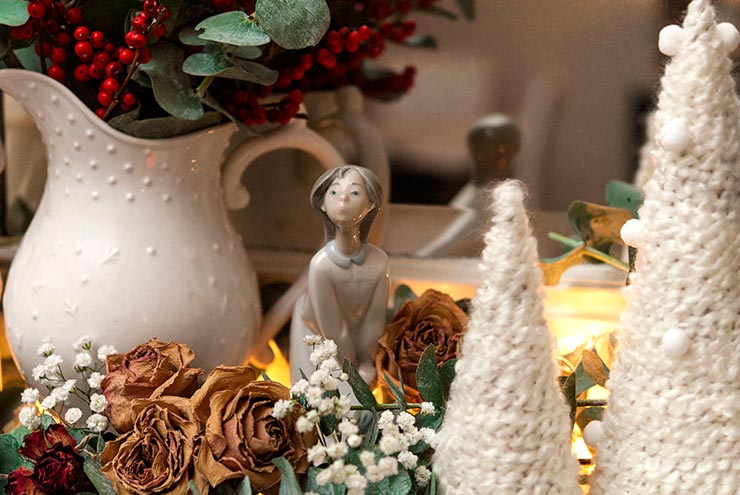 2. Make a Simple, Yuletide Flower Arrangement for Your Table
I always pick a seasonal flower or leaf to place in my napkins, then a matching centerpiece. With a few candles, your table looks so precious. No need for expensive Christmas napkins, placemats, chargers or seasonal dish-ware. It only takes a few natural touches to make a Christmas dinner table so elegant.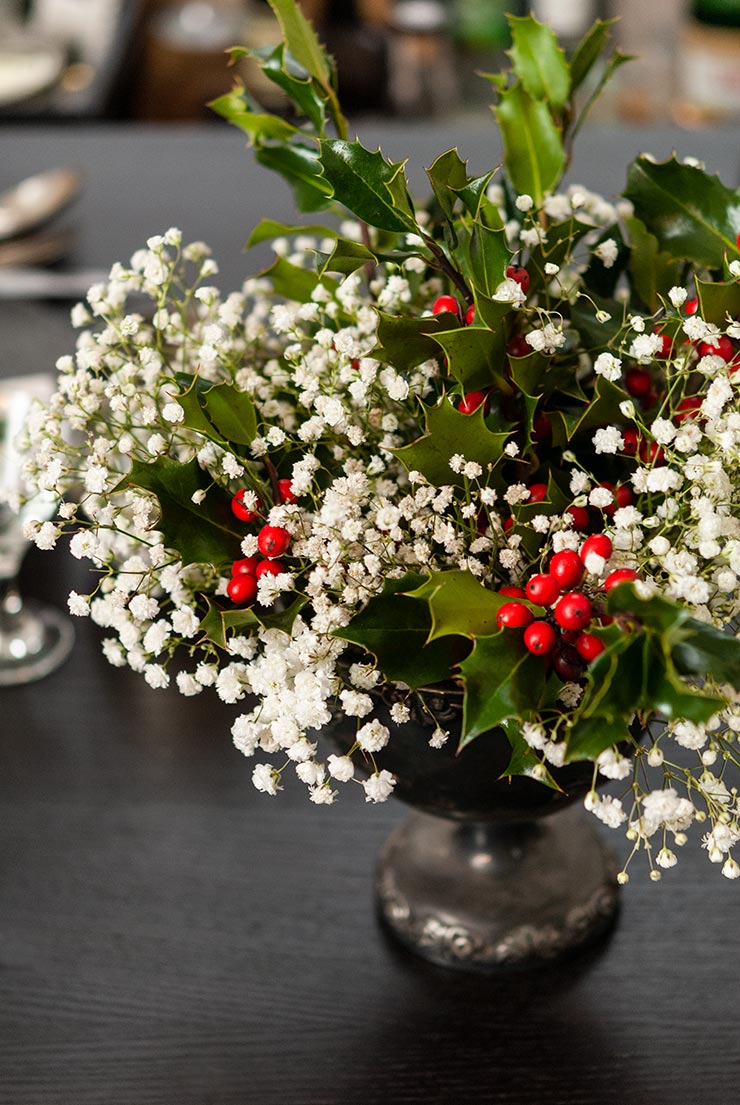 I used holly and snowy baby's breath for my centerpiece and napkins this year. It's easy to create a bouffant arrangement like this in a small vase. Simply make a little grid with masking tape, and place your baby's breath, then a few holly leaves into the grid. Simple as pie!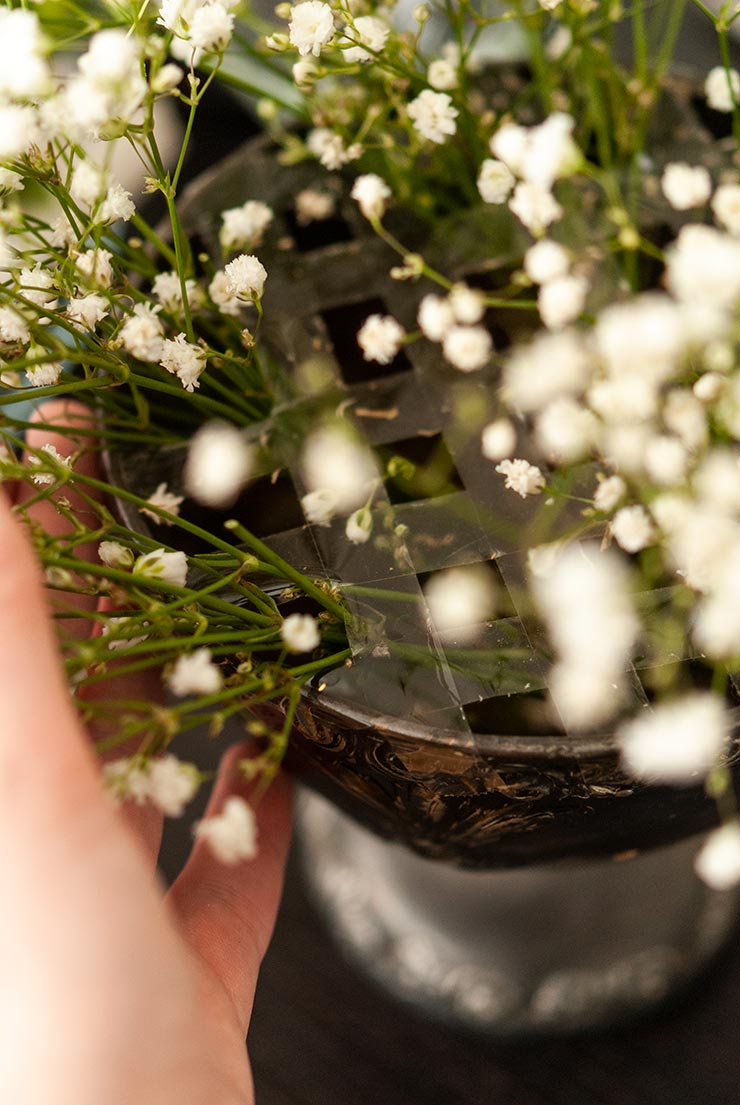 You can also keep it REAL simple by using only snowy baby's breath. I've decorated Christmas tables with nothing but this pretty white flower and it looks so wintery and fresh.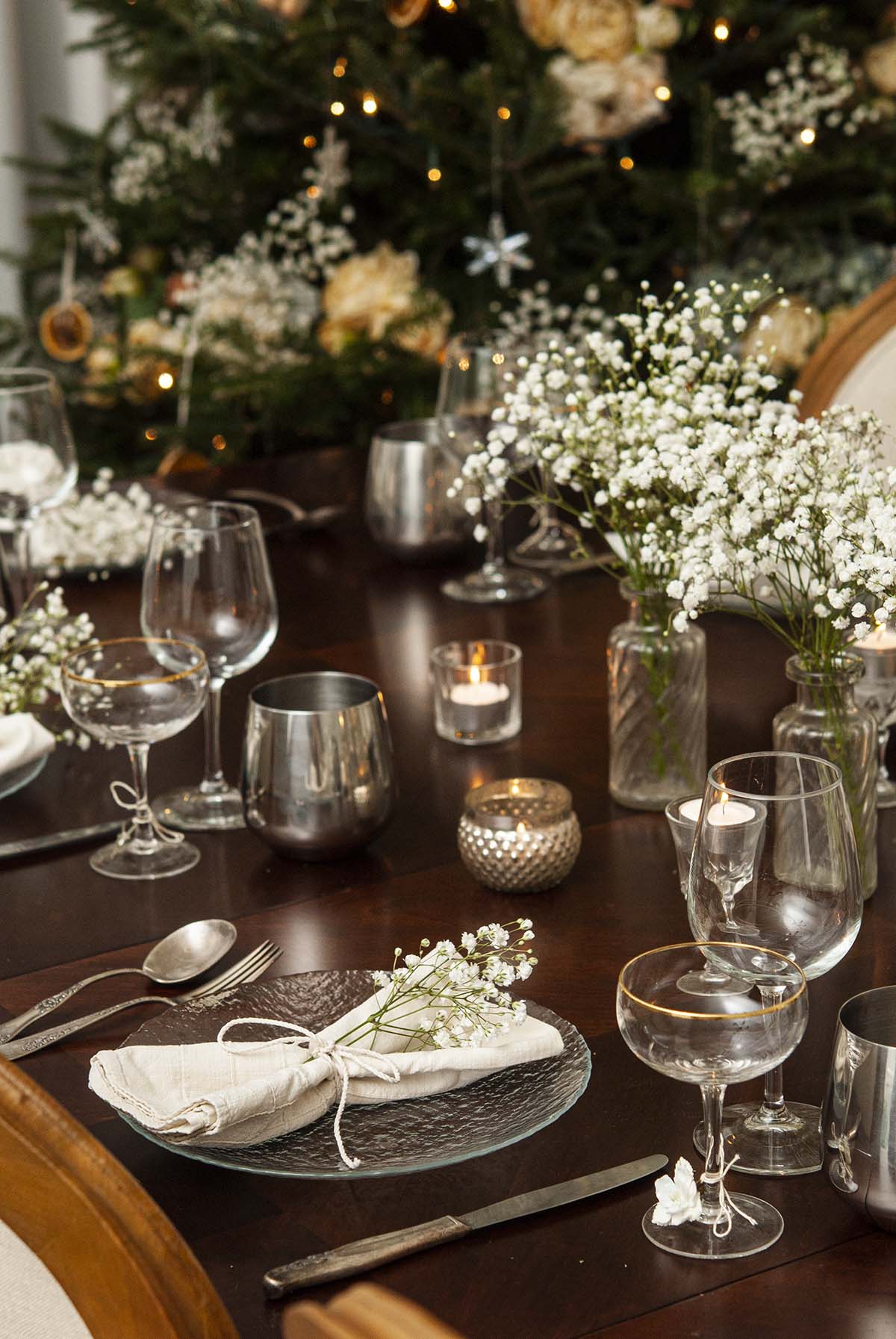 3. Go Light on the Hors d'oeuvres, but Make Them Special
For a small dinner party, there's no need to go overboard (and break the bank) with lots of appetizers. If you make a nice, filling diner, a little cheese, crackers and 2 or 3 specially made snacks should tide folks over nicely till dinner time.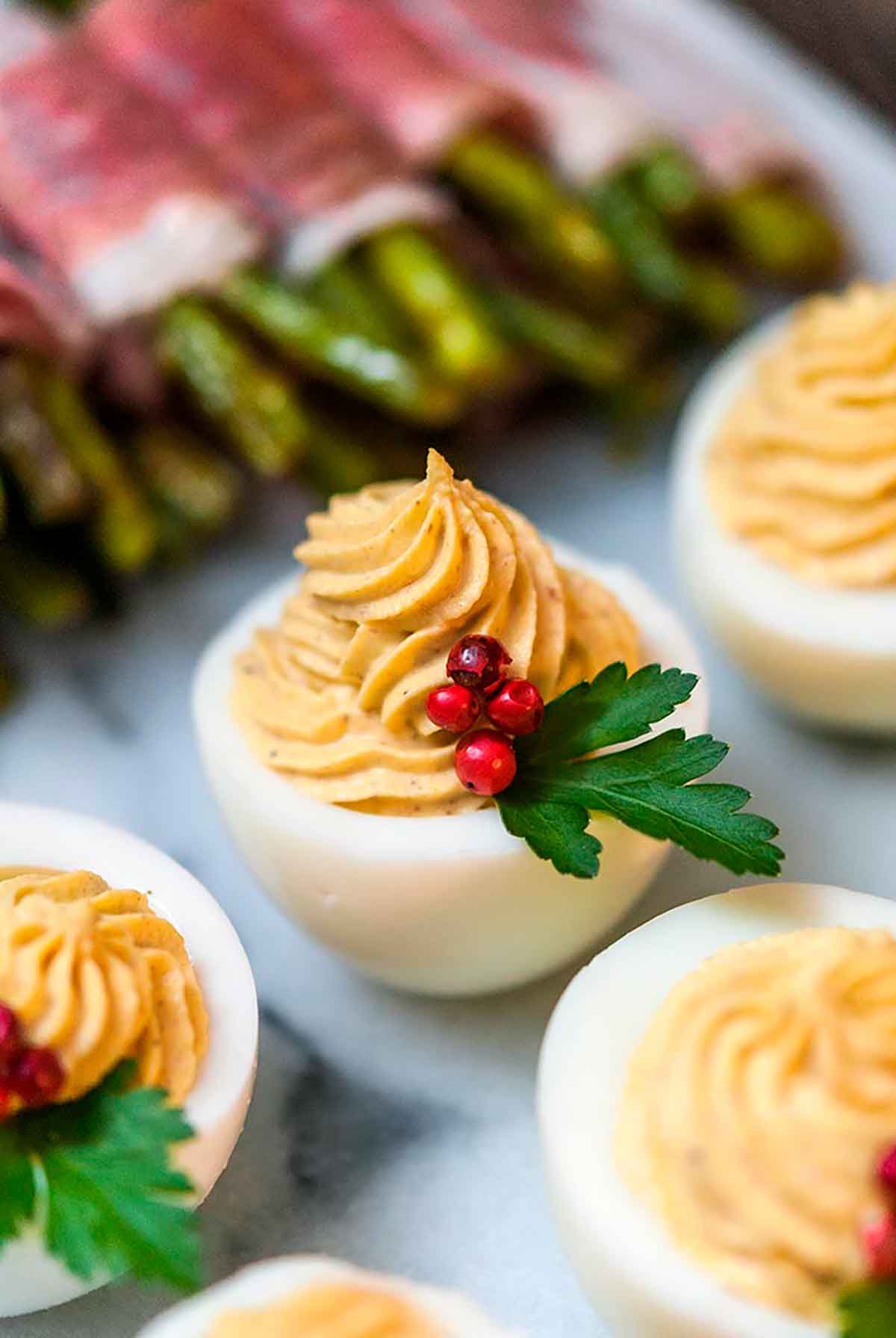 I made a little snack plate of herbed Boursin cheese, prosciutto-wrapped asparagus and "holly" deviled eggs. I used pink peppercorns for berries and a little parsley for the leaves.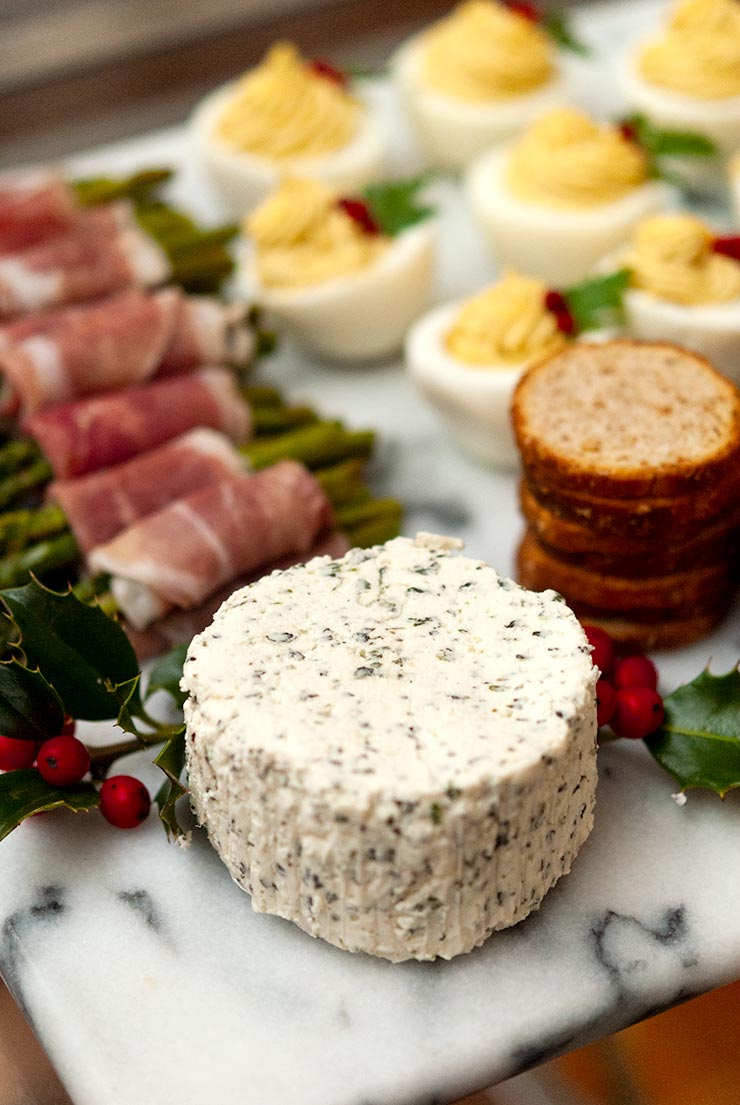 I also made the deviled egg filling the day before and simply stored it in a pastry piping bag with the ends sealed. All I had to do was fill my egg halves and place my pretty pink peppercorn garnish on them about a half-hour before guests arrived.
If you want to keep things VERY easy, these appetizers are simply apricots with a little goat cheese, walnuts and a drizzle of honey. They're delightful, delicious and come together in just 5 minutes! I make them any time I want to add a little extra color.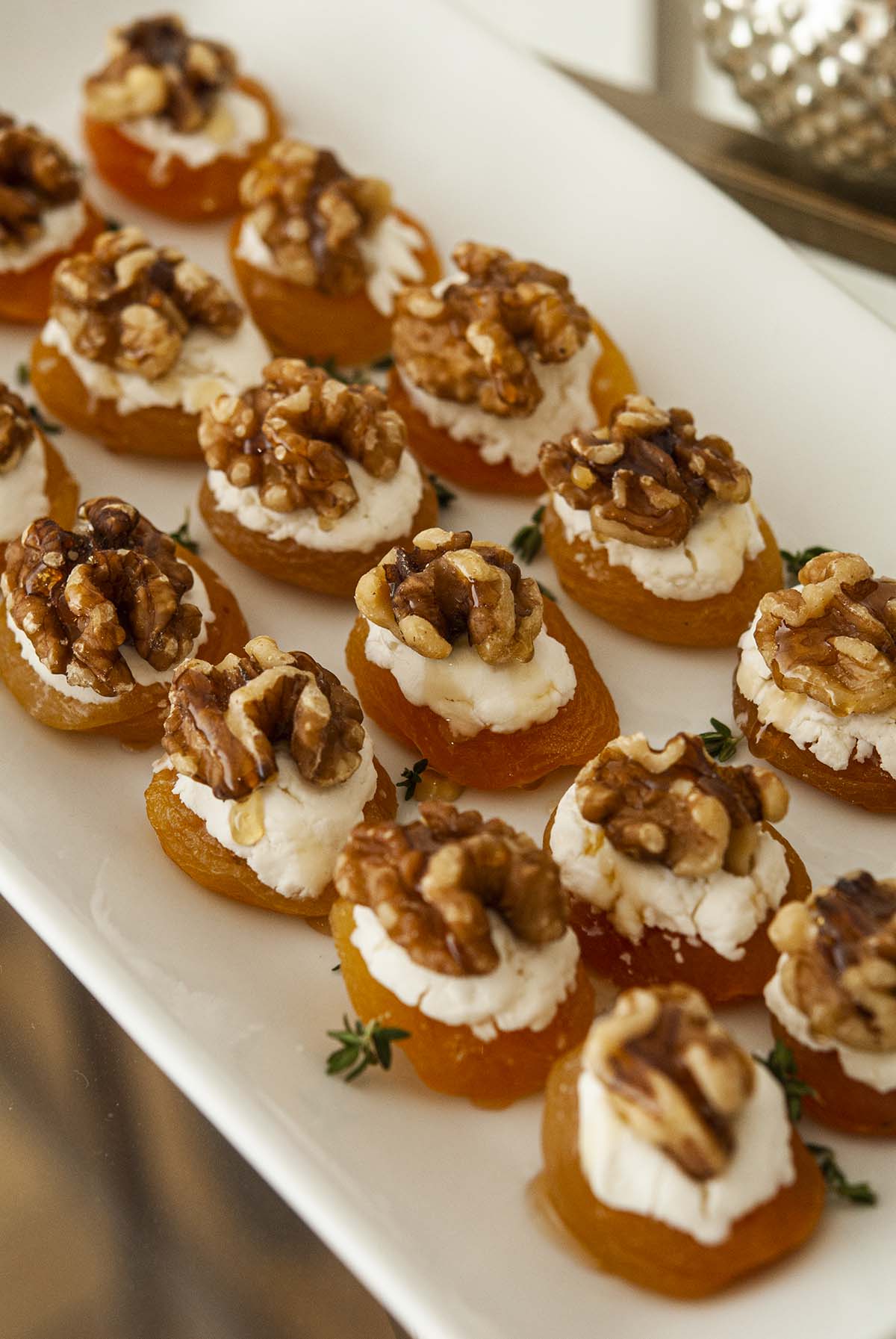 If you just want to serve a pretty cheese board that's beautiful, wintery and so simple to create, find 3 kinds of cheese (I use Boursin, creamy Baron Bigod and a hard cheese like aged gruyere). A small pile of blackberries, stuffed olives, a few crackers and a little snowy baby's breath are all you need. It's also nice to top the creamy one with marmalade.
I found that lovely, long, oak cheeseboard on Amazon, and I use it for just about all of my parties!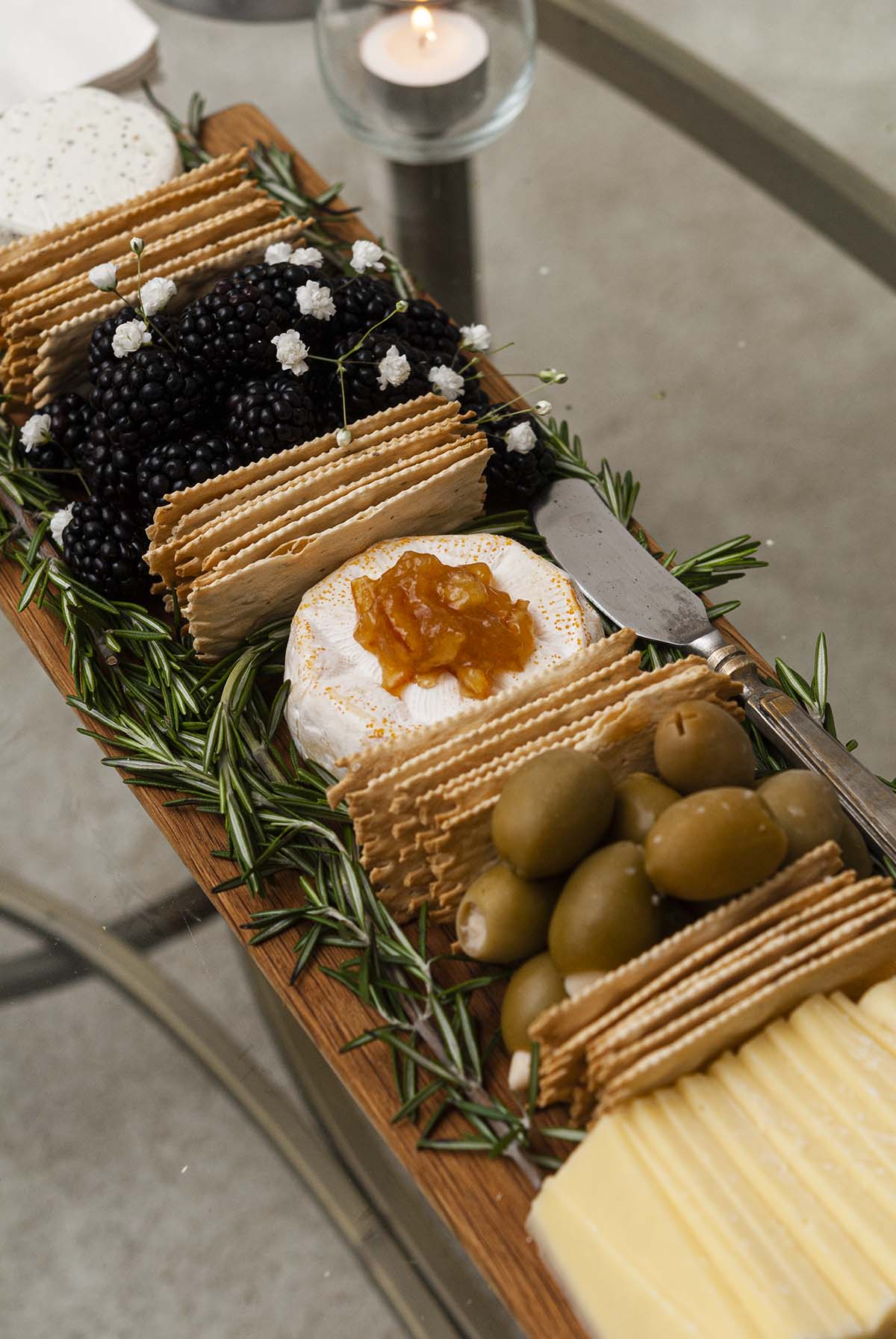 I also love these easy little cherry tomato ornament appetizers! They require just a few cherry tomatoes, rice crackers, bell pepper, fresh dill, and whipped cream cheese. So simple and so cute!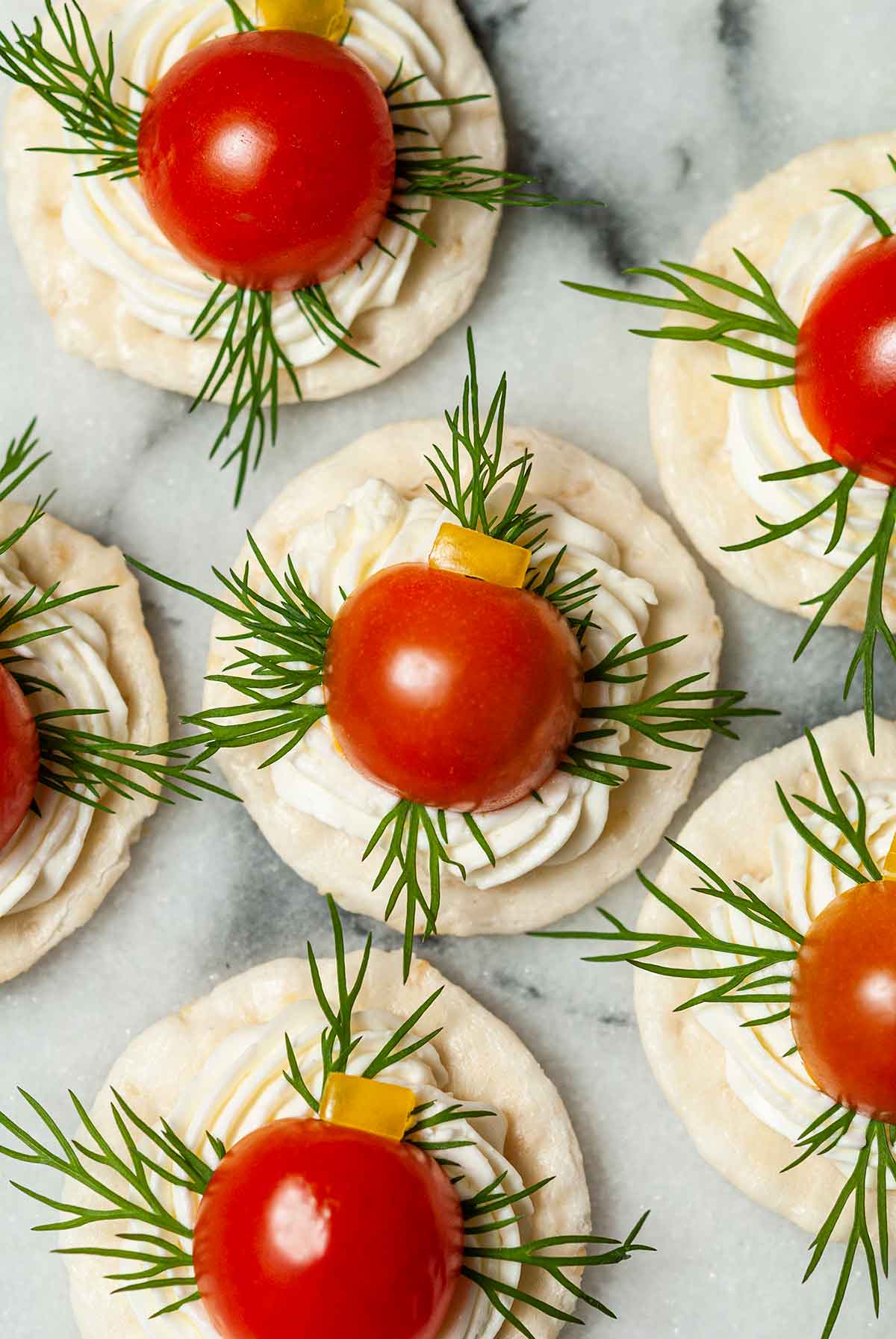 4. Serve a Dinner, Dessert and Cocktail That Can (Mostly) Be Made Ahead of Time
It can be very tricky and a bit unnerving to have to waft between the living room and kitchen to check on your recipes while your friends are enjoying their cocktails. It's best to have everything ready to go right in the oven or heated on the stove when your friends or family arrive.
For an impressive main course, that might look daunting, but is a lot easier than you may think, try duck! I make it earlier in the day, slice it and simply put it in a baking sheet, covered with foil. When it's dinner time, you just have to reheat for 15-20 minutes!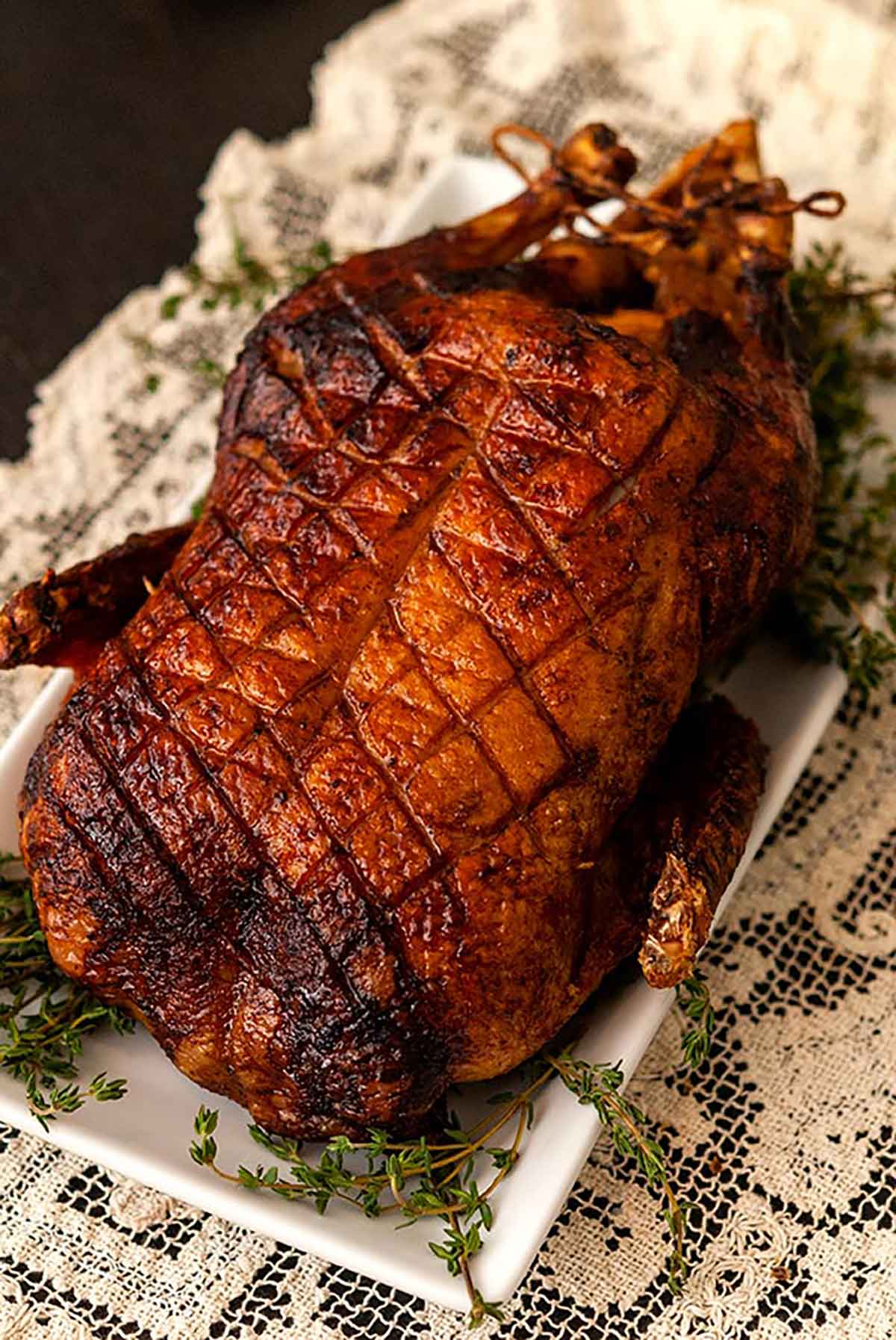 If you want to make things REALLY simple, make something that can be made a whole day ahead, and simply reheated. I love a cozy, traditional, easy red wine shepherd's pie! I make it the day before, then when guests arrive, I just pop it in the oven for 20 minutes!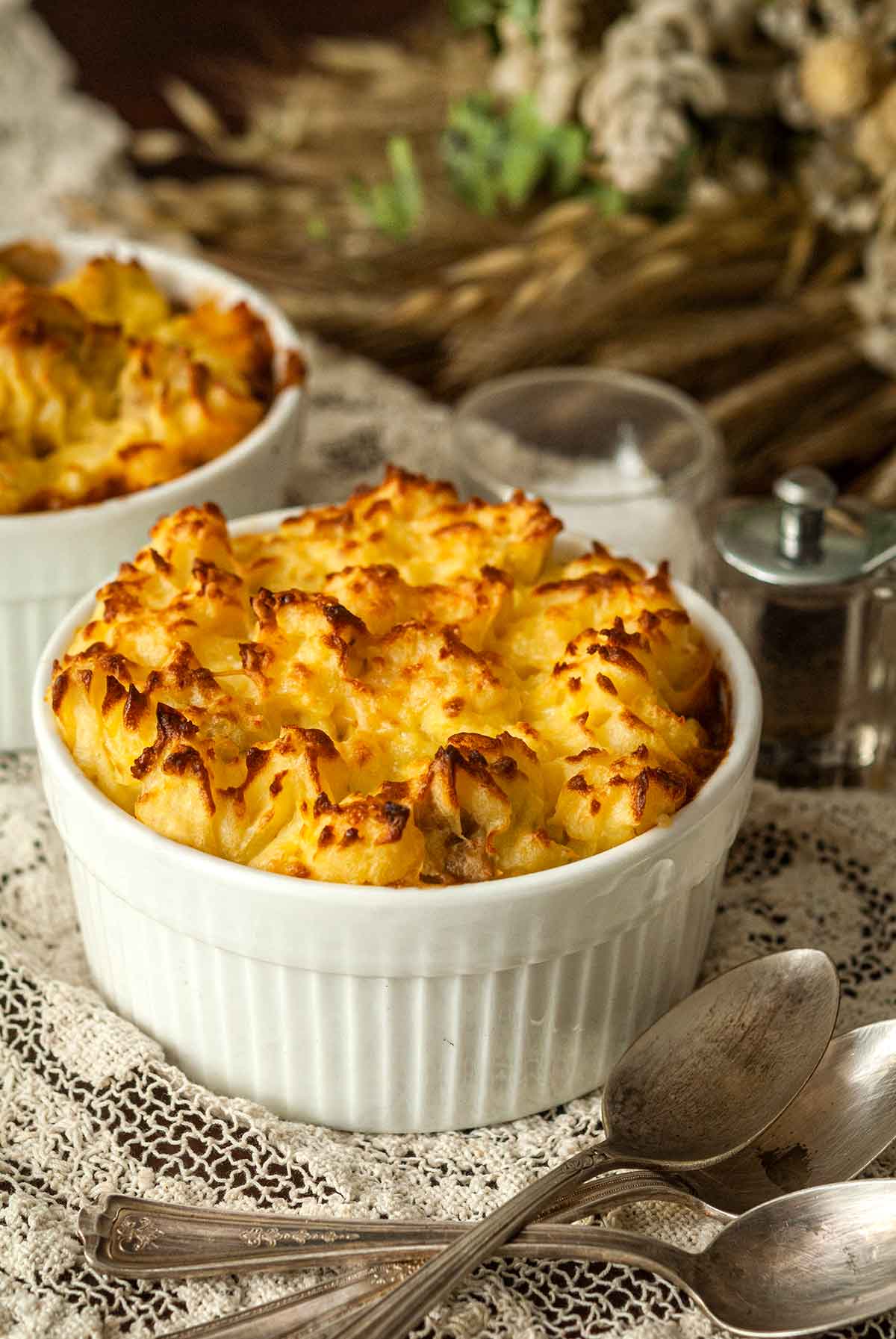 Another great, fancy prep-ahead, then pop-in-the-oven dinner: Cornish game hen! These little birds only need to be thawed, dried with paper towel, stuffed with herbs, slathered in butter, covered with cellophane, and refrigerated until your guests arrive.
They take 45 minutes to roast, so you'll have a perfect amount of time for cocktails and appetizers with your friends before dinner!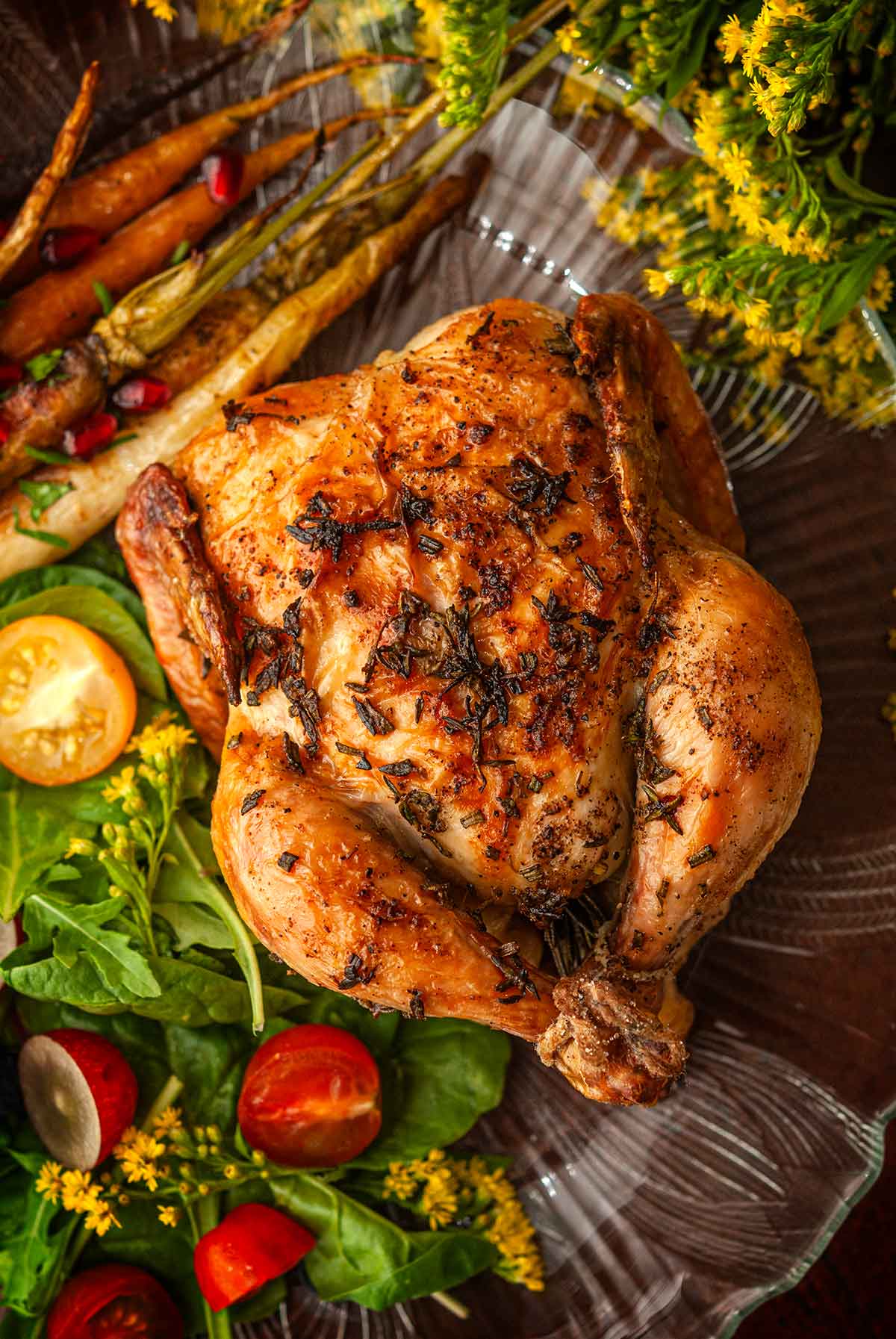 And for a fun, easy side dish, this little Christmas wreath salad is so easy to put together and it looks so fun and pretty! All you need to do is place a tiny bowl or cup in the center of your plate, distribute veggies around, pop on a few mozzarella balls and you have an instant Christmas wreath!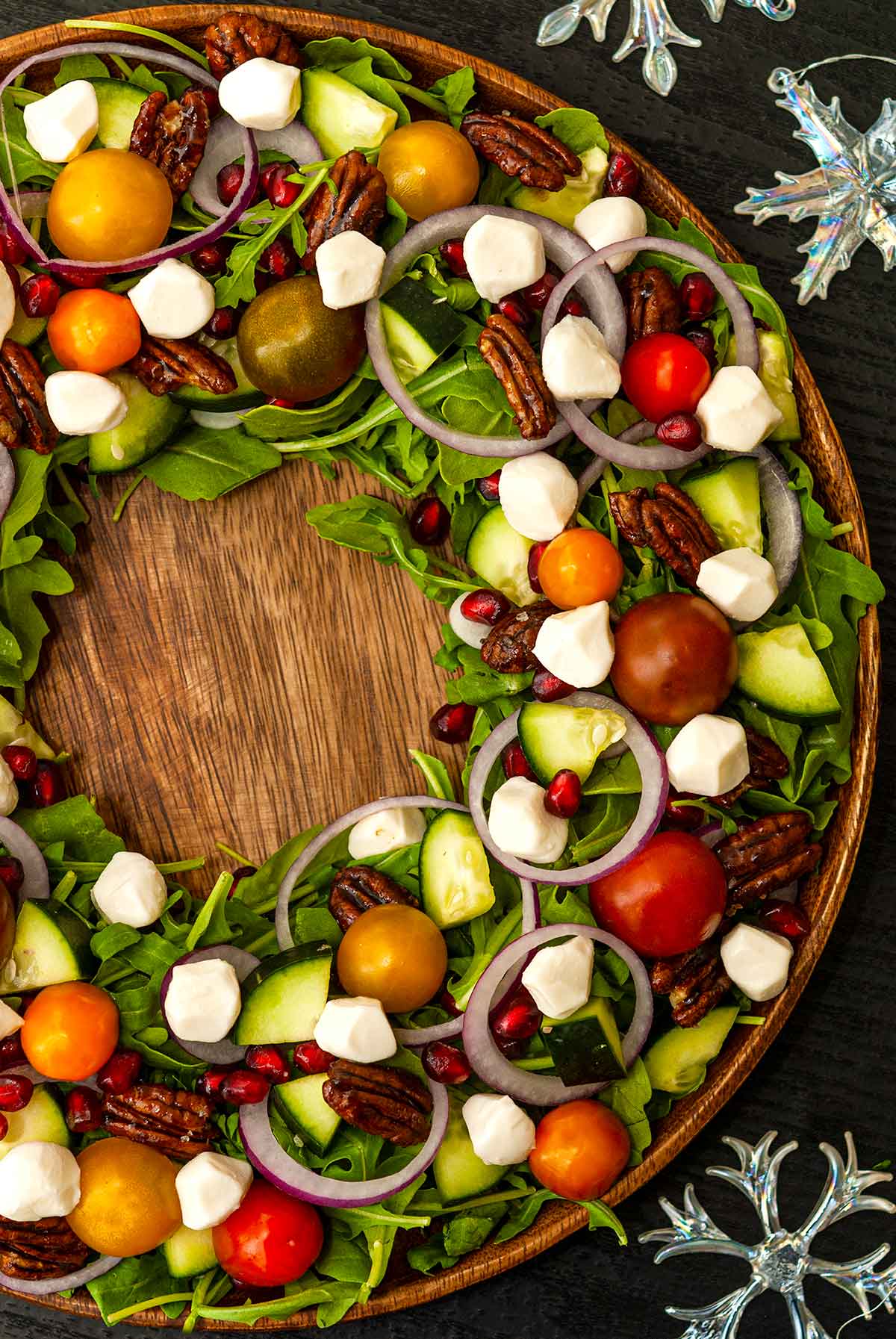 For dessert, try this very easy chai-spiced eggnog panna cotta! Panna cotta is a notoriously simple dessert to make, and the rum-soaked raisins come together in a snap! It just needs a few hours to set, but you can make it a whole day ahead of time and not think about it until it's time to serve.
If you want an amazing, easy Christmas cocktail that can be made in a big batch before the party, so you're not shaking up drinks throughout the night, try my mulled wine sangria!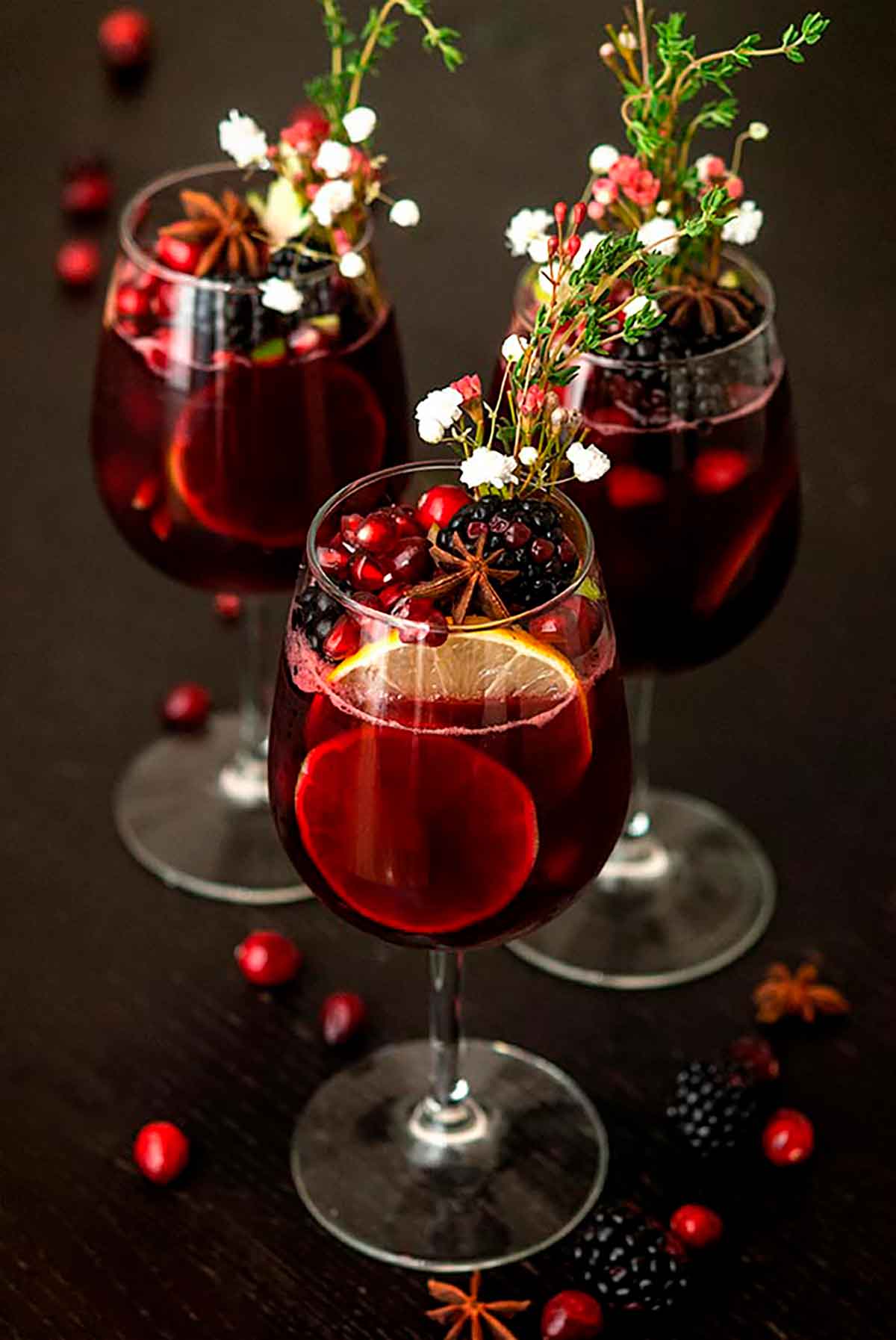 That's all there is to throwing an elegantly simple Christmas dinner party! A lovely tree, lovely table, lovely appetizers, dinner, cocktails and dessert with a little holly, jolly flair doesn't have to be tricky. Just keep things simple, colorful and tasty.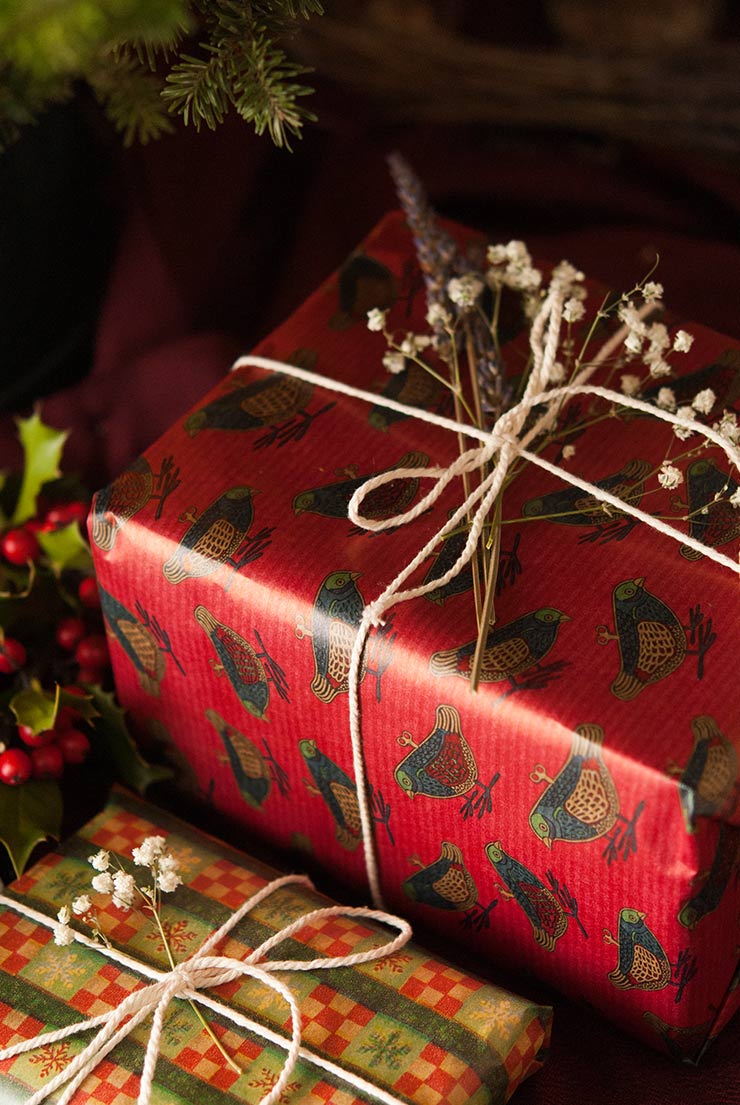 For more inspiration, subscribe to my newsletter, and follow me on Instagram, on Pinterest, tiktok, and Facebook! And if you ever make any of my tasty drinks or treats, take a picture and tag me. I want to see!