Deviled eggs are absolutely, positively, without a single, little doubt, my very favorite appetizer. I serve them at every party, I make them just for myself as an evening snack, I spice them just perfectly and garnish them with edible flowers… yes, even for no one but me.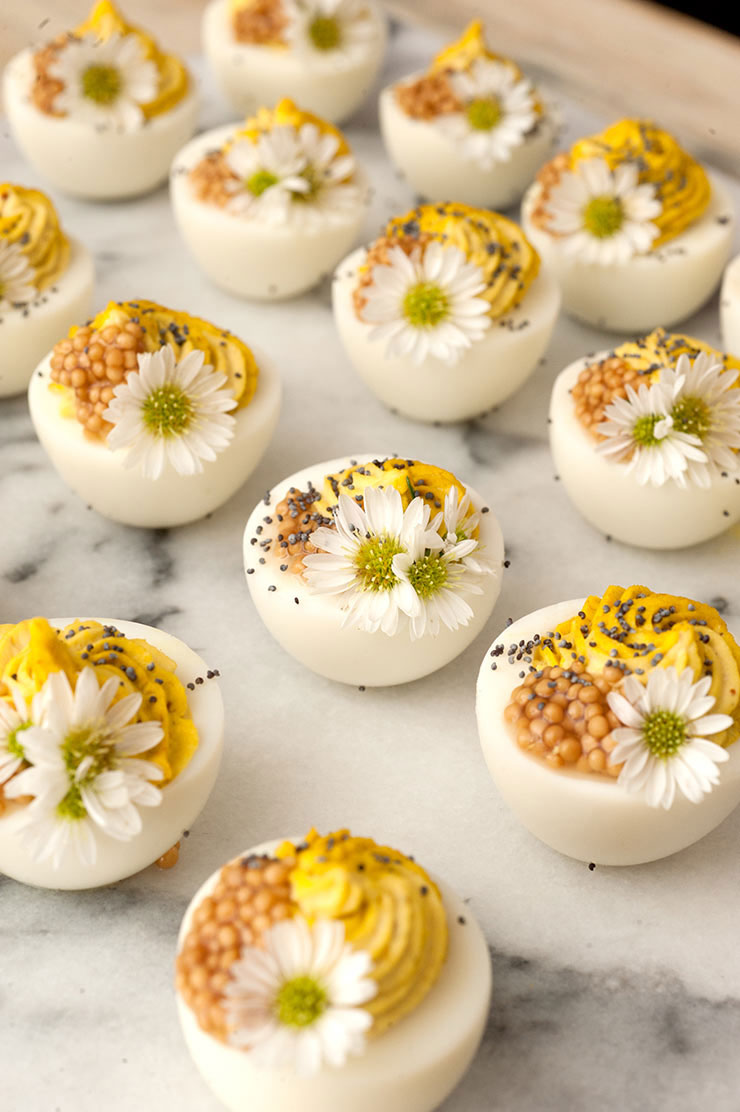 Deviled Eggs are such a sweet way to show someone I care about them, and a simple little present to give myself. They're something special I can make that always gets a big smile and wide eyes from friends.
They're simply lovely, and always the stars of my cocktail parties, so I've developed recipes for every occasion, every mood, every party decor, every fancy flavor pairing. What can I say? I simply love them and want to share 10 of my prettiest deviled egg recipes with you!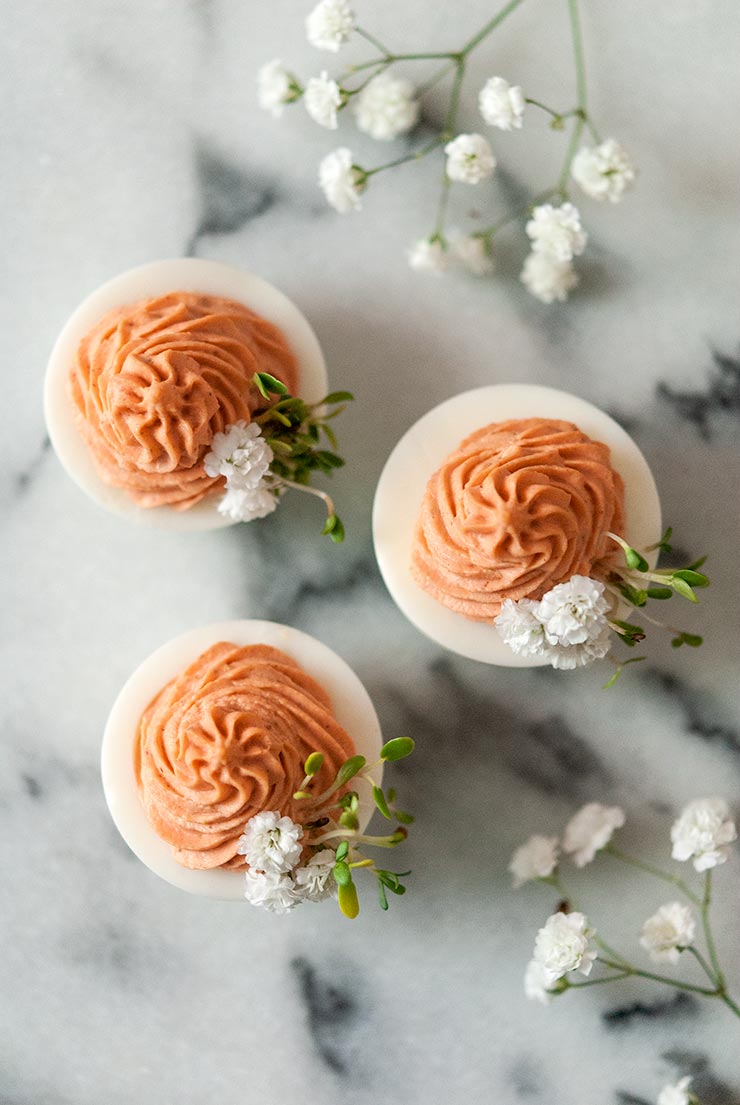 1. Spicy, Smoky Deviled Eggs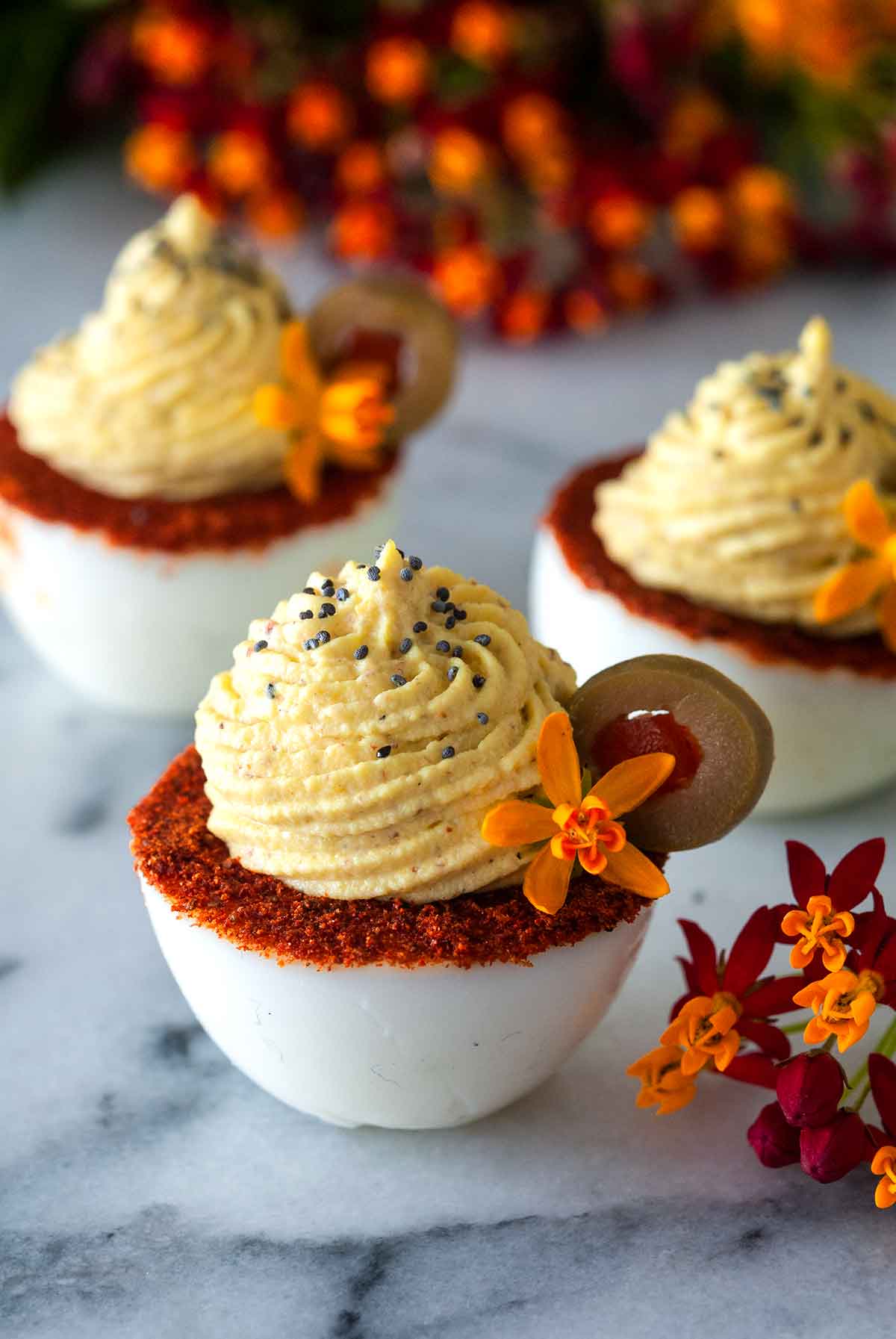 These smoky deviled eggs are nice and spicy, dreamily creamy and absolutely beautiful, if I do say so myself! Spiced with smoked Spanish paprika, cayenne pepper and Old Bay seasoning around the rim, they're original, so special, fantastically delicious and so incredibly easy to make! No grill required!
2. Adorable Deviled Quail Deviled Eggs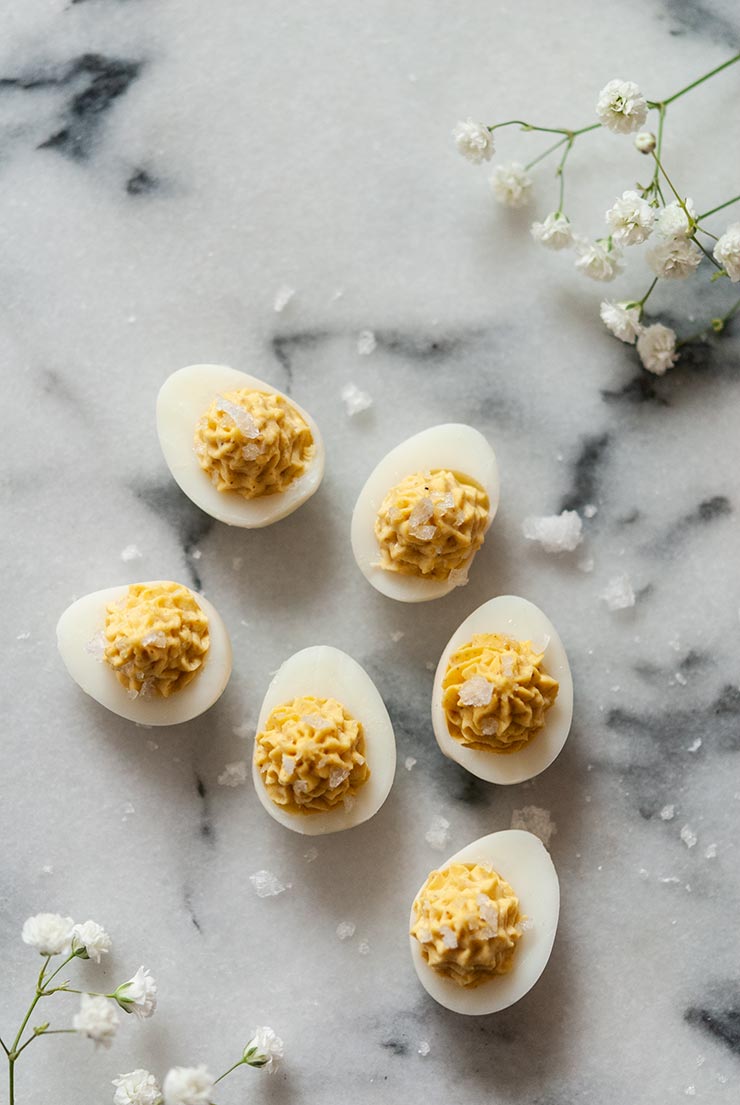 This deviled quail eggs recipe is so simple, adorable and incredibly tasty! Your teeny, tiny little eggs can be served all on their own, or used to garnish luxurious salads and appetizers!
3. Multi-Colored Deviled Eggs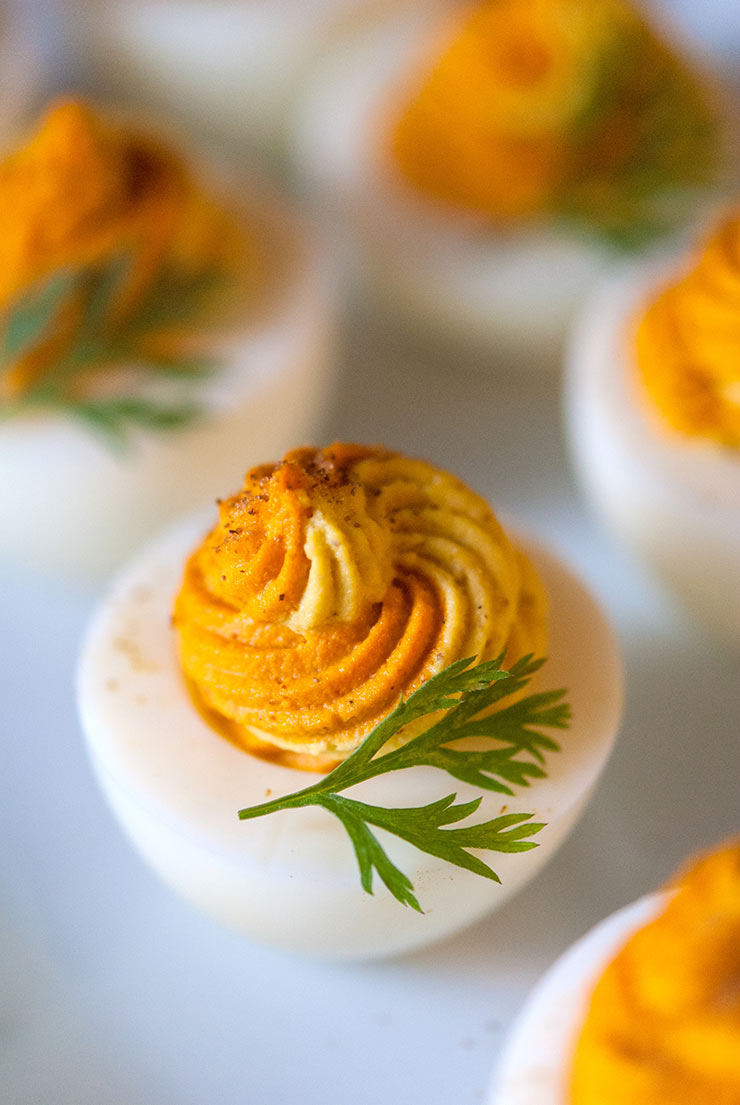 Multi-colored deviled eggs are so simple to create and look so pretty! Deviled eggs with the egg white dyed is fairly common, but I've never really liked the look, myself. I think a multi-colored filling is more unexpected and fun.
4. Romantic Valentine's Day Deviled Eggs
Want to create the prettiest Valentine's Day deviled eggs? All you need is some mustard, mayo, creamy horseradish and a little drop of dye or all-natural beet juice color. They're so pretty, they'll make cupid's wing flutter!
5. Spicy Deviled Eggs with Chipotle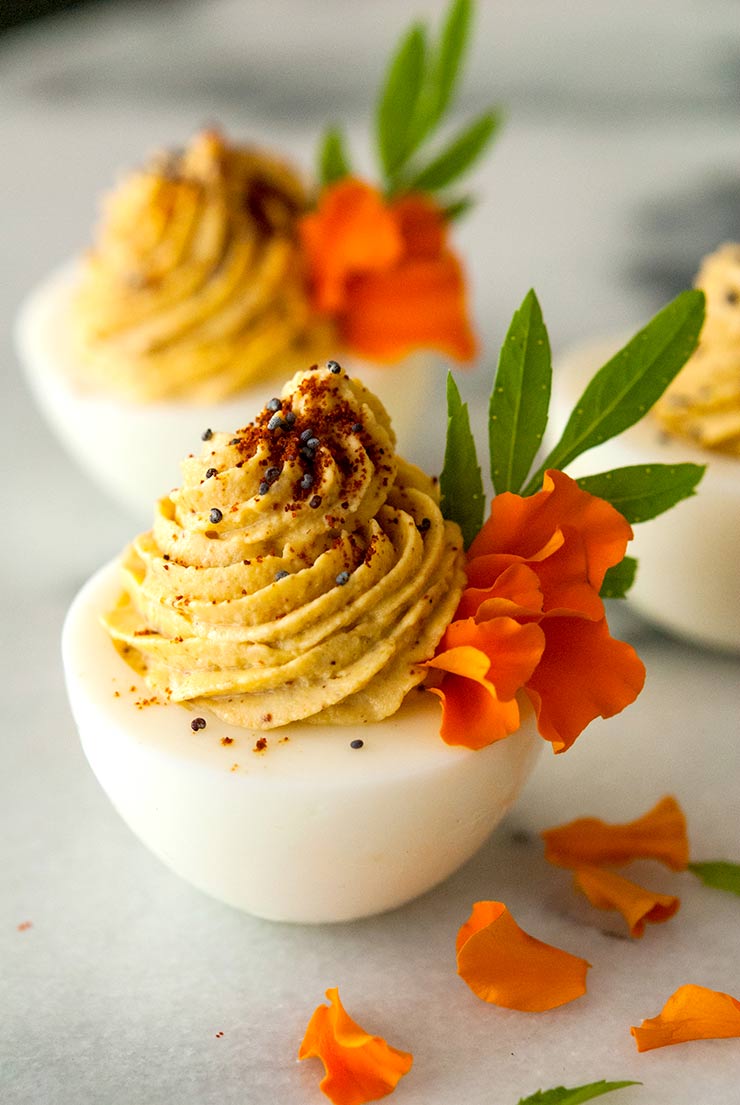 These gorgeous, spicy deviled eggs are delicately seasoned with chipotle chili pepper, cayenne pepper and Spanish smoked paprika and garnished with a few, bright, edible marigold petals – making them the prettiest appetizers at your next, colorful cocktail party!
6. Pink Easter Deviled Eggs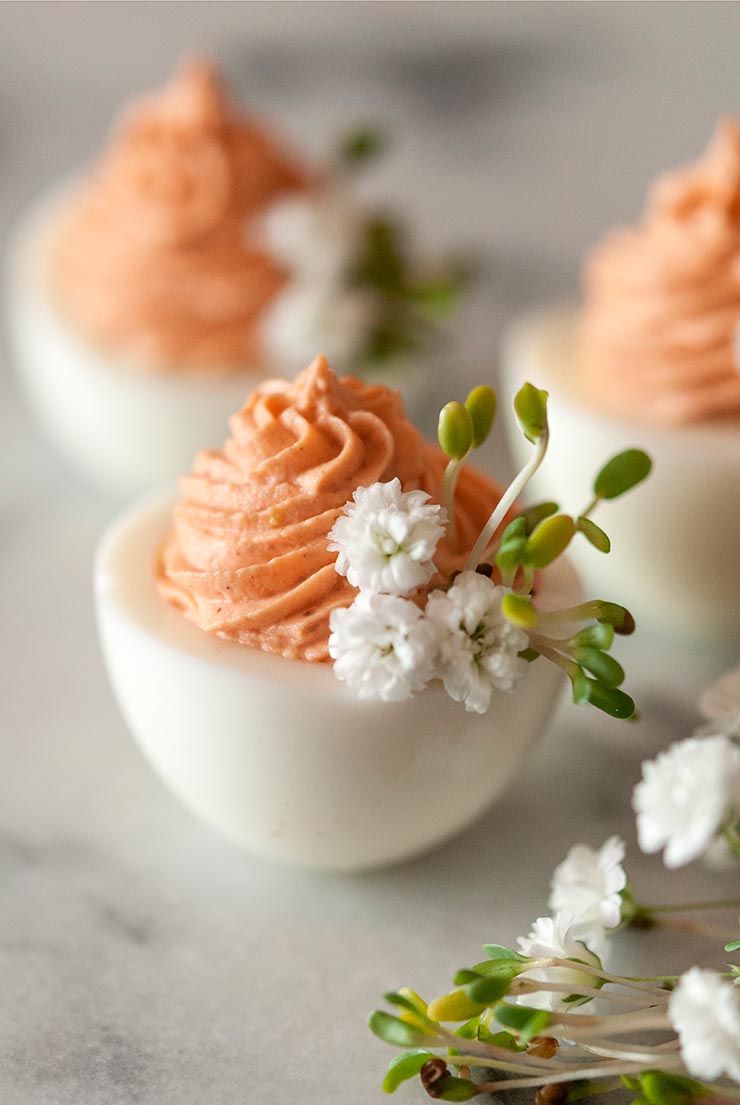 These precious, pink Easter deviled eggs are as tasty as they are pretty! They make such whimsical, adorable Easter appetizers and will perfectly complete your colorful menu! They require just 5 ingredients and a little bit of time. They're also perfect for a baby shower or bridal shower!
7. Merry Little Christmas Deviled Eggs
These merry little Christmas deviled eggs are so cute, so festive and incredibly tasty! All you need are a few pink pepper corns and a few parsley leaves to make these jolly appetizers.
8. Two-Tone Curry Deviled Eggs with Daisies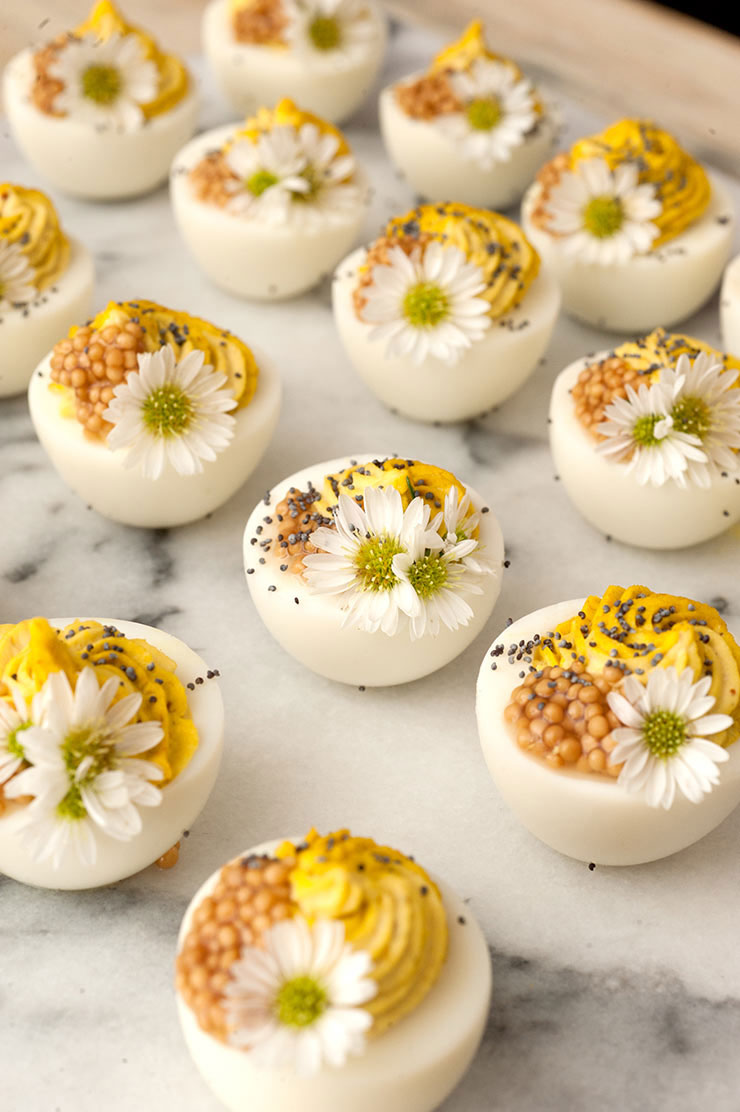 These two-toned curry deviled eggs are so elegant with their pretty ribbons of yellow, and extra pretty when topped with tiny English daisies and mustard caviar!
9. Adorable Halloween Deviled Eggs

Don't just add horns to your Halloween deviled eggs, add little red bell pepper wings to really give these precious appetizers some devilish character! They're so easy to make and will be the fiendishly cutest appetizers at your Halloween party!
10. Simply Elegant Dill Deviled Eggs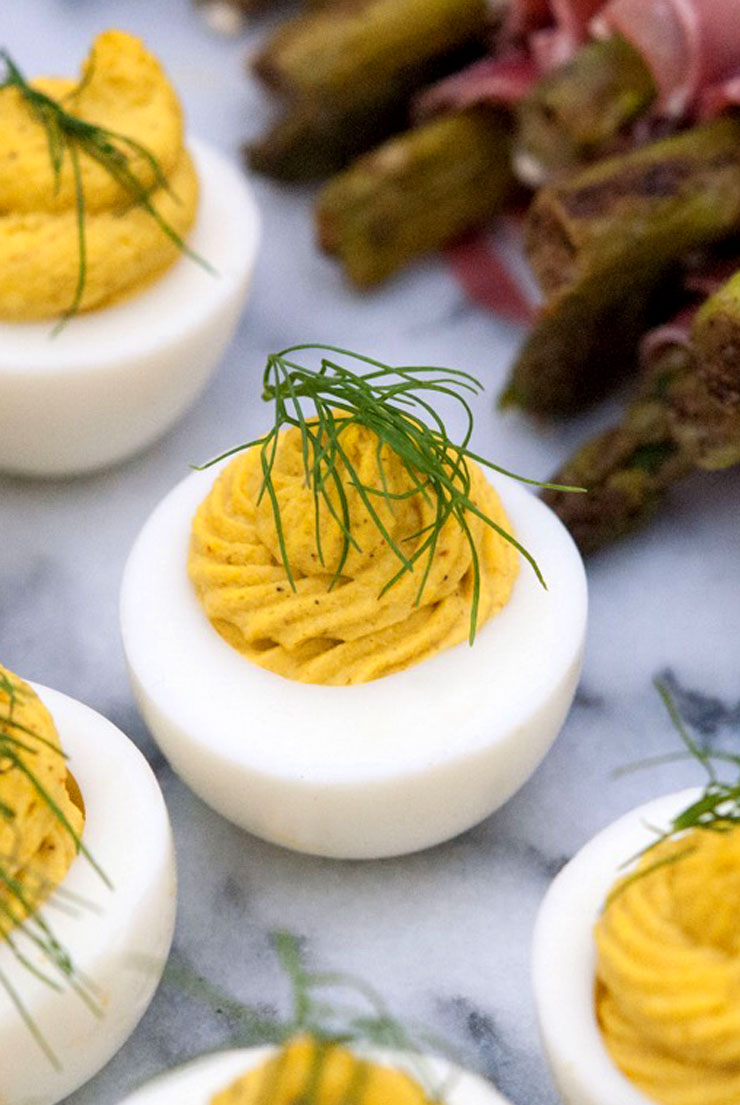 These dill deviled eggs are delightfully tangy and so very simple to prepare! All you need is a little dill mustard, creamy horseradish and mayo to whip up these tasty little conversation pieces.
These are 10 of my very favorite, perfectly lovely, incredibly tasty deviled egg recipes, but you'll find even more deviled eggs on this site if you want even more!
Help Yourself to More Beautiful Appetizer Inspiration:
For more inspiration, follow me on INSTAGRAM, on PINTEREST, TIKTOK and FACEBOOK! And if you ever make any of my tasty drinks or treats, take a picture and tag me. I want to see!