The detail's in the devils! Don't just add horns to your Halloween "deviled" eggs, add little tails and a spicy dash of smoked paprika to really give these adorable appetizers some devilish character.
Adorable Halloween "Deviled" Eggs
I made these precious little "deviled" deviled eggs for my halloween party this year, and they were such a spooOOOooky hit! I've made Halloween deviled eggs with horns for cocktail parties in the past, but this year, I added sweet little tails too!
Anyone can put little pepper horns and tails onto deviled eggs, but the trick is to make them not only the spookiest deviled eggs at the party, but the tastiest! So first, lets make perfect deviled eggs, and then we'll turn them into "devils."
Scroll down for full recipe.

A Few Deviled Egg Pro Tips!
1. I simply use a knife to gently crack around the center of an egg and carefully peel the shell. Then, when slicing my eggs, I like to slice through the center-middle, as opposed to longways. I find the egg-halves will have a more sturdy base when cut this way.
2. Slice a tiny bit off the bottom so your deviled eggs sit perfectly flat. This will prevent them from sliding around the plate.
3. No need to always gouge out your yokes with a spoon. They'll almost always slide out if you're gentle. You may sometimes have a little left over, but it's easier and less damaging to the egg white, to try sliding first.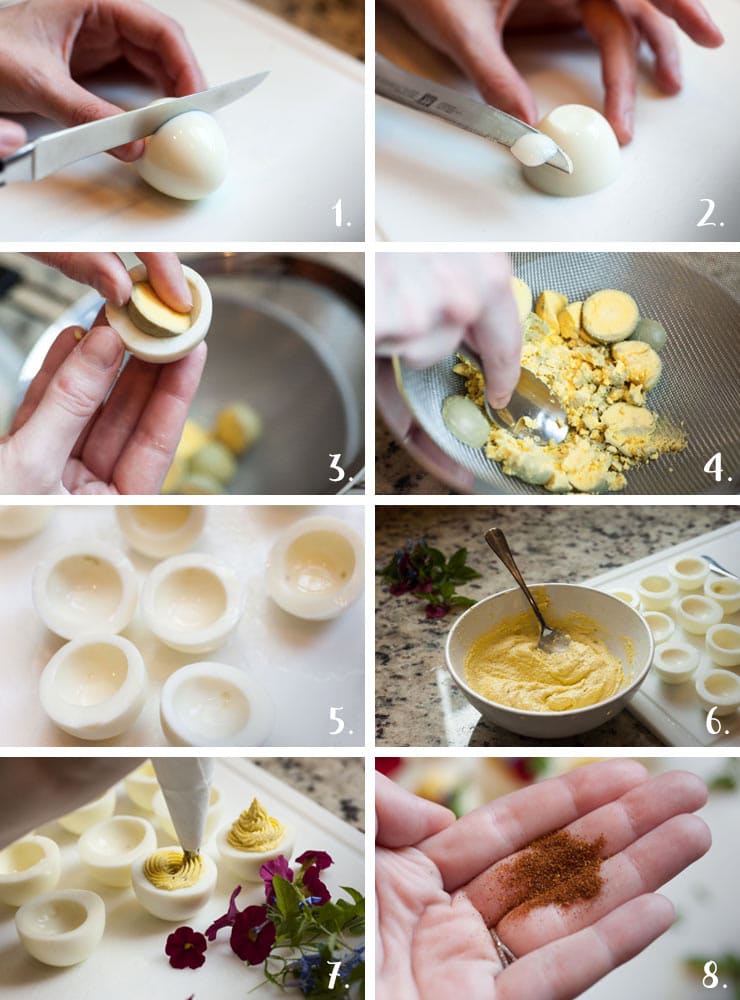 4. To get perfectly smooth egg-fillings, push the yokes through a mesh strainer before mixing in your mayo and mustard.
5. Wash and gently dry your egg whites so that they're absolutely perfect before filling.
6. The perfect consistency of deviled egg filling is almost exactly like hummus. If your filling seems a little dry, just add a little more mayo.
7. Always use a pastry piping bag and a pretty tip. It really makes your eggs look so much more professional.
8. When garnishing with a spice, pour a bit into your hand first and use your fingers to gently sprinkle. Otherwise, if you pour directly from the bottle, it's very likely too much will come out at once, and you'll end up with a deviled, over-spiced heart break.
Now, Let's Make Our Horns and Tails!
Simply cut squares out of a bell pepper with a very sharp knife (I used an exacto-knife), then cut tiny little horns and tails like the photo below.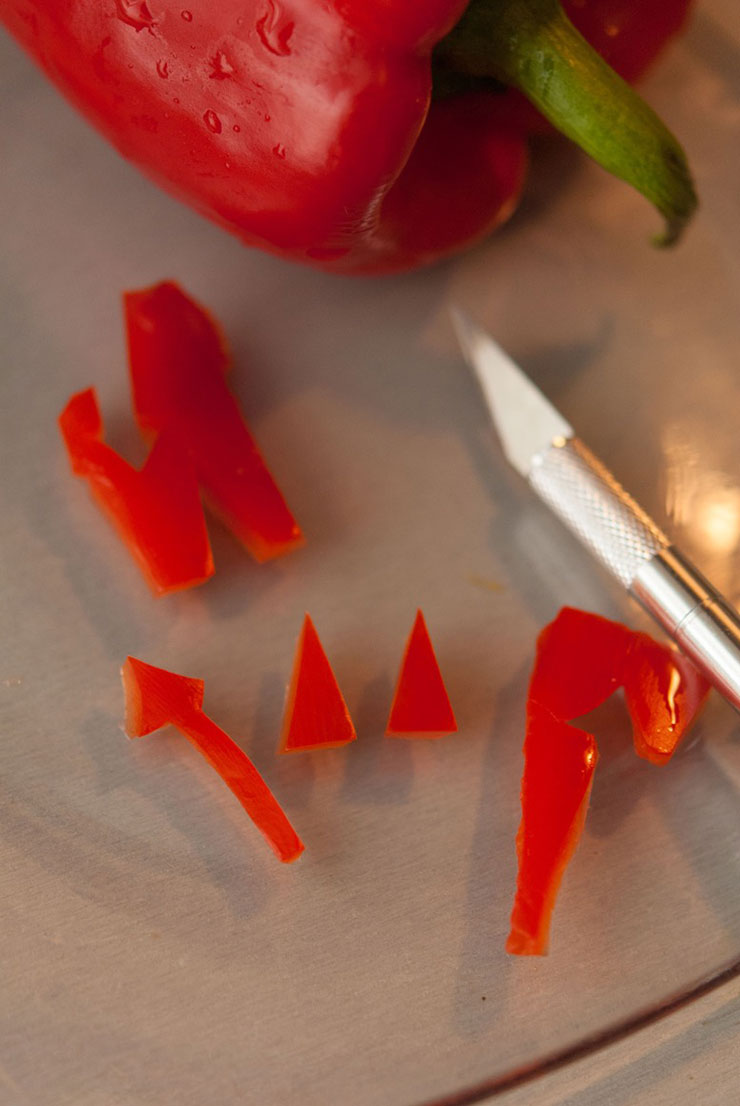 Stick them right into your eggs after they're filled! So cute!


A Little More Spooky Halloween Treat Inspiration
 The Morticia Addams Cocktail
"Worms in the Garden" Deviled Eggs with Chow Mein Noodles
The Phantom Love Song Sake Cocktail
If you try this recipe or any of my tasty drinks or treats, make sure to take a picture and tag me on Instagram! I love to see your creations! And don't forget to follow me on Pinterest for more loveliness, too.
Adorable Halloween "Deviled" Eggs
You'll require a pot, a mesh strainer and mixing bowl for this recipe. You may also like to use a piping bag with a fancy little tip to make them pretty, and an exacto knife, rather than just a sharp kitchen knife for cutting your horns and tails. You just have more control.
Keyword:
Autumn, Fall, Halloween, low-carb
Servings
:
12
Deviled Eggs
Ingredients
6

eggs

1

tbsp.

mayo

1

tbsp.

spicy brown deli mustard

1

tsp.

creamy horseradish

Salt & pepper to taste

A dash of smoked paprika


1

large red bell pepper
Instructions
Add 6 eggs to a pot of cool water, then place them on the stove and boil them for 20 minutes. Once boiled, place them in a bowl of cold water for 10 minutes. Refrigerate for 1-2 hours.

Once the eggs are cool, remove the shells by carefully tapping around the center and peeling. Crack and peel very carefully so the egg is pristine and free of tears and dents.

Slice them carefully in half. I like to slice them through the center instead of longways. I find they're a more satisfying bite that way. Slice a little bit off the bottom so they sit flat on a surface without sliding around.

Remove the yokes by simply sliding them out, or using a very tiny spoon, making sure to keep the whites free from rips or dings. Push them through the mesh strainer into your mixing bowl. This will ensure your eggs are creamy and smooth without any eggy chunks.

Wash and dry your eggs with a paper towel so the whites are perfectly tidy and picture perfect.

Mix in your mayo, mustard and creamy horseradish with a few shakes of salt and a few shakes of fresh pepper. Mix the ingredients carefully, making sure your consistency isn't too runny. Depending on the size of your eggs, your filling may seem a little dry, so you may have to add a little more mustard. You want your consistency to be similar to hummus.

Pipe your egg filling into your little eggs! I would suggest always using a pastry piping bag to fill your eggs. They look so much more tasty and professional when perfectly piped.

Cut squares out of your red bell pepper, and lay them down on a plate or cutting board. Press them flat, gently, and use your exacto knife (or very sharp knife) to cut little triangles and tails.

Carefully set your little horns and tails into your eggs, and garnish with smoked paprika. It's always safer to pour the paprika into your palm and use your fingers to sprinkle it on the eggs. If you shake directly from the container, you can end up with an over-spiced heartbreak.
Nutrition Facts
Adorable Halloween "Deviled" Eggs
Amount Per Serving (1 Deviled Egg)
Calories 43
Calories from Fat 27
% Daily Value*
Total Fat 3g 5%
Cholesterol 82mg 27%
Sodium 55mg 2%
Potassium 51mg 1%
Protein 2g 4%
* Percent Daily Values are based on a 2000 calorie diet.
SaveSave
SaveSave
SaveSave
SaveSave
SaveSave
SaveSave
SaveSave