These beautiful holiday cocktails are elegant, refined, delicious and festively garnished. Absolutely perfect for a lovely Christmas party or cozy winter affair. Creamy, citrusy, sparkly, deep red, blood orange and delightfully spiced, these beautiful holiday signature cocktails will impress any guest!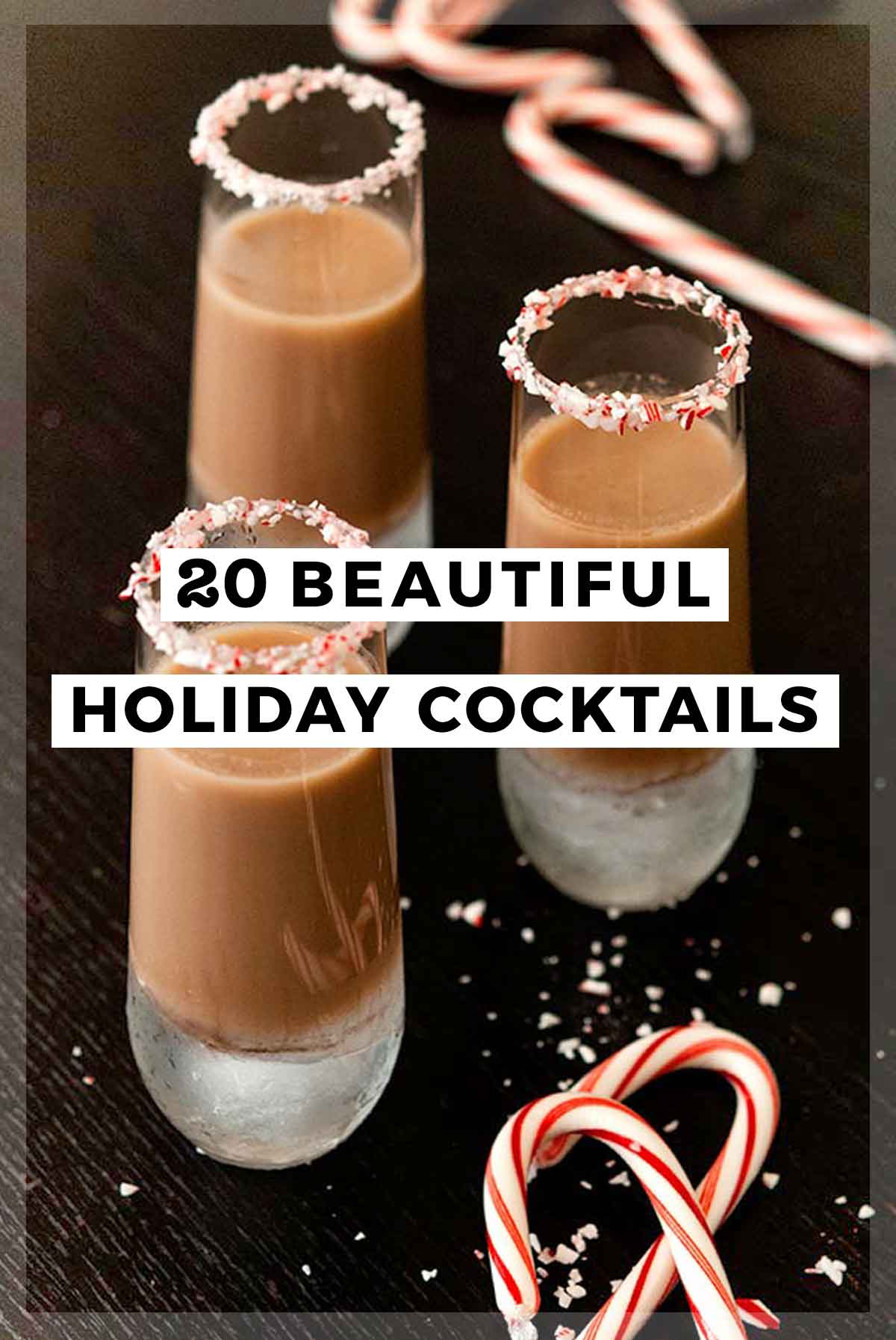 One of my favorite party tasks is choosing the signature cocktail, and designing an elegant garnish. Nothing makes eyes twinkle like a beautifully sugared rim or floral flourish on a cocktail pin. It's also a tradition in my family to decorate the tree with a minty, chocolatey cocktail to put us in the holiday spirit!
Help yourself to these 20 beautiful Holiday Cocktails!
1. A Sparkling Spiced Hibiscus Christmas Cocktail
This Sparkling Spiced Hibiscus Christmas Cocktail is perhaps the most regal, sophisticated cocktail to serve at your elegant Christmas party! Garnished with powdered hibiscus and a little snowy powdered sugar, this prosecco, St. Germain and citrus cocktail is mixed with a simple, homemade spiced hibiscus syrup that's sure to impress any guest.
2. Gluhwein (Mulled Wine)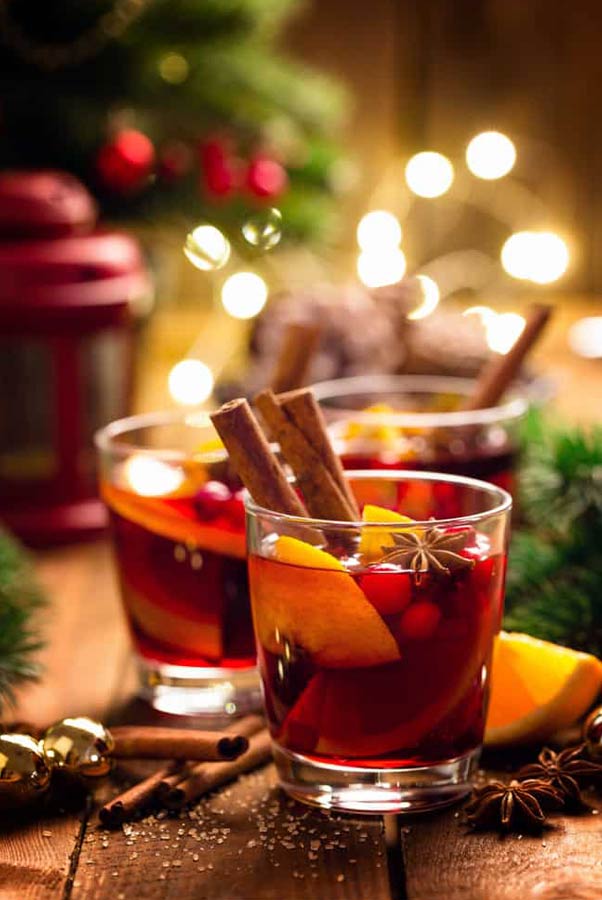 Gluhwein is known as mulled wine for Americans or non-Germans, so it is pretty much the same thing or very similar! Gluhwein is a very popular holiday and Christmas drink that is all over Europe, but particularly in Austria and Germany! Enjoy this cocktail from Wow, It's Veggie?!
3. A Sparkling Pear & Ginger Cocktail
This sparkling pear & ginger cocktail is such a whimsically elegant, refreshing Christmas party signature and a perfect replacement for a Christmas morning mimosa! It's floral and fruity, delicately ginger-spiced and twinkling with festive bubbles.
8. Winter Whisky Wassail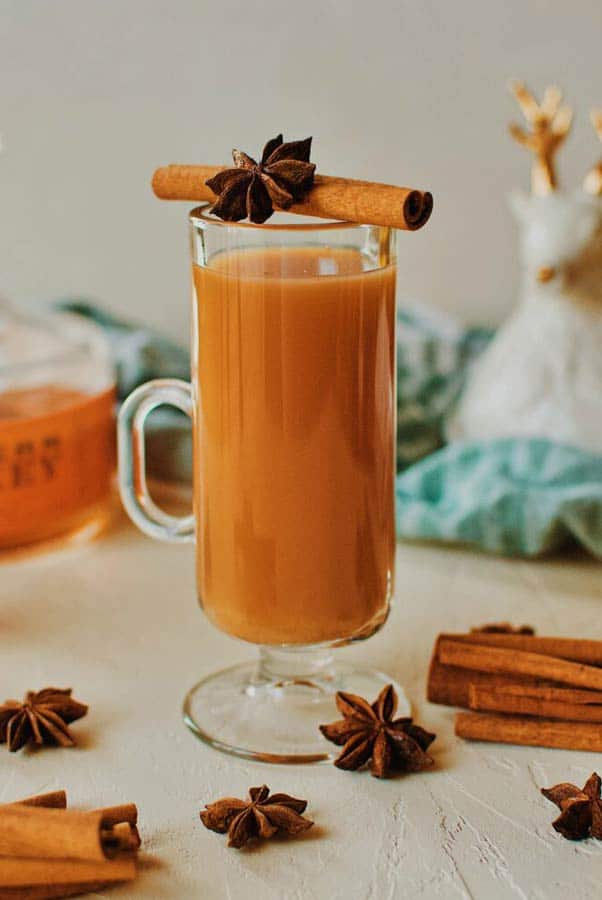 A classic winter drink, traditionally handed out while touring the neighborhood singing carols, or Wassailing, in a bit of an updated version, with a southern whisky twist! Enjoy this cocktail from kendellkreations.com!
9. Pomegranate Lime Spritzer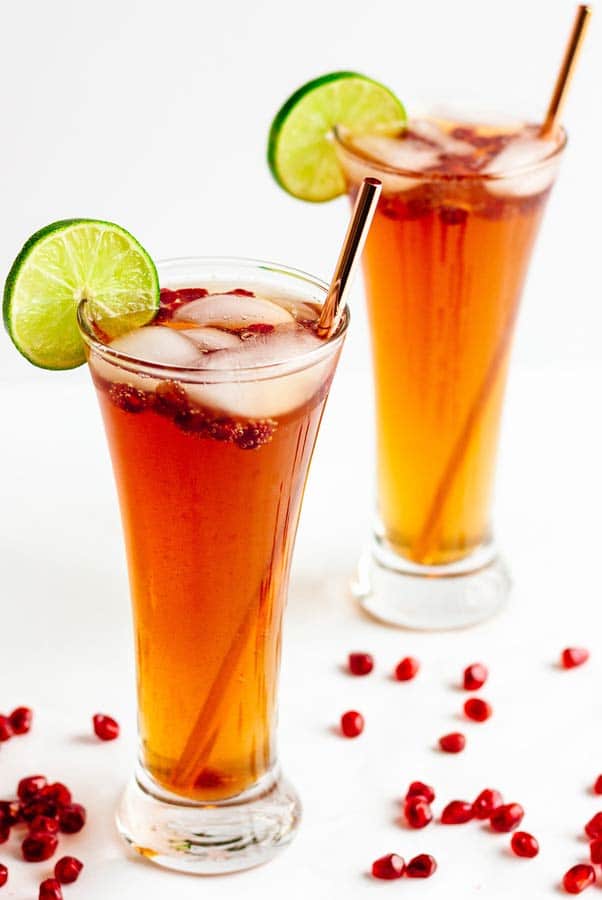 This Pomegranate Lime Spritzer cocktail recipe is super refreshing and made with a few simple ingredients. An easy and festive drink that is perfect for the holidays! Enjoy this cocktail from mapleandmango.com!
10. The Frosted Blackberry Christmas Cocktail
This frosted blackberry Christmas cocktail is such an elegant, chilly winter treat. Essentially a sake French Gimlet with muddled blackberry and rosemary – it's herbal, floral and an enchanting purple hue.
11. Cranberry Mimosa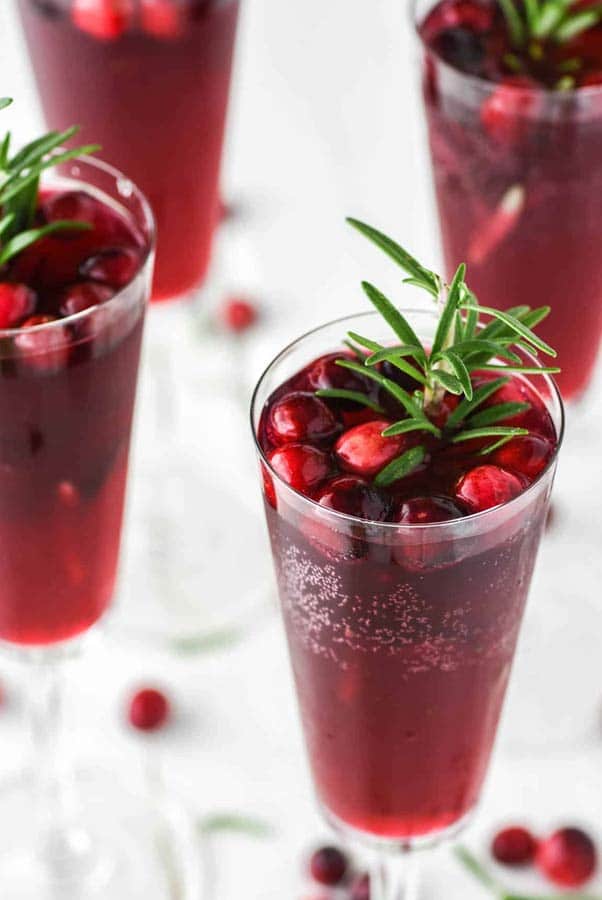 With fresh cranberry juice, orange liqueur and champagne, this cranberry mimosa is the perfect drink to start the holidays. Enjoy this cocktail from chiselandfork.com!
12. Mulled Wine Christmas Sangria
This festively-spiced mulled wine sangria is Christmas in a glass! With wintery flavors of citrus, blackberry, pomegranate, apple cider and cinnamon, it's an inventive twist on a Spanish cocktail party favorite.
13. Coquito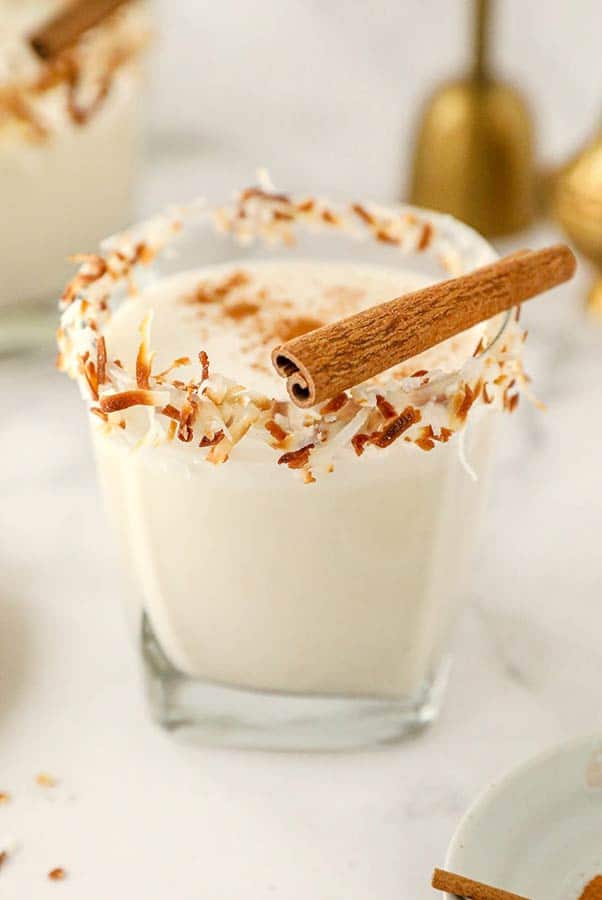 Get the Coquito recipe!
Liven up the holiday fun and add in this recipe for coquito! A deliciously rich drink just like eggnog, but with a Puerto Rican touch to it. Three different kinds of milk, cream of coconut, rum, and cinnamon make up this unforgettable holiday recipe. Enjoy this cocktail from cookedbyjulie.com!
14. The Spiced Black Currant "Silent Night" Cocktail
This sake, St. Germain and spiced black currant juice cocktail makes a perfect winter punch for your non-traditional Christmas parties and elegantly different winter affairs. Let's stray from the red and green into the black, frosty winter night.
15. The Christmas Cosmopolitan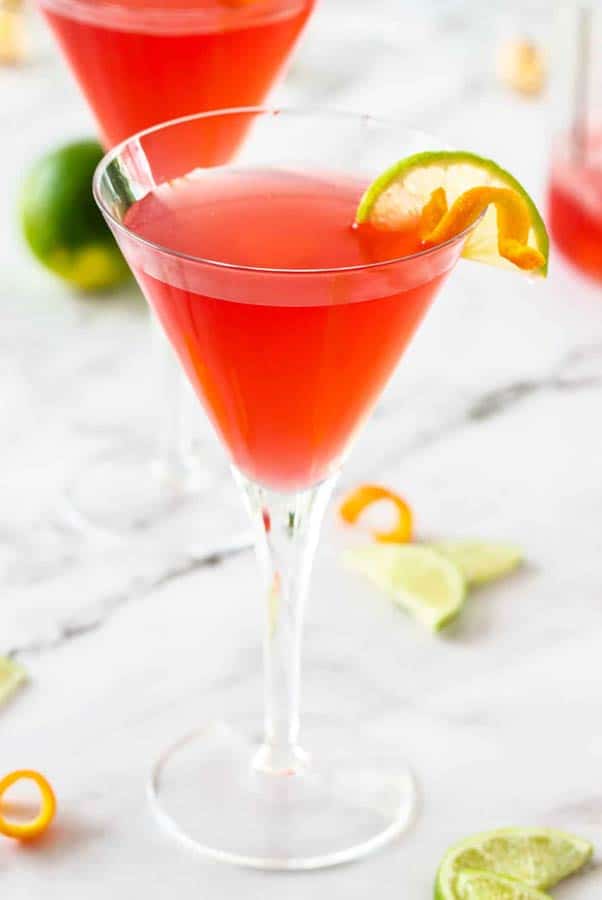 If you are looking for the perfect cocktail to serve during the festive season, look no further than my Christmas Cosmopolitan. It is a great way to begin a celebration and you can be certain that it is a crowd pleaser. What's more, you will be delighted by how easy it is to make. Enjoy this cocktail from itsnotcomplicatedrecipes.com!
16. White Rosemary Rose Coconut Cocktail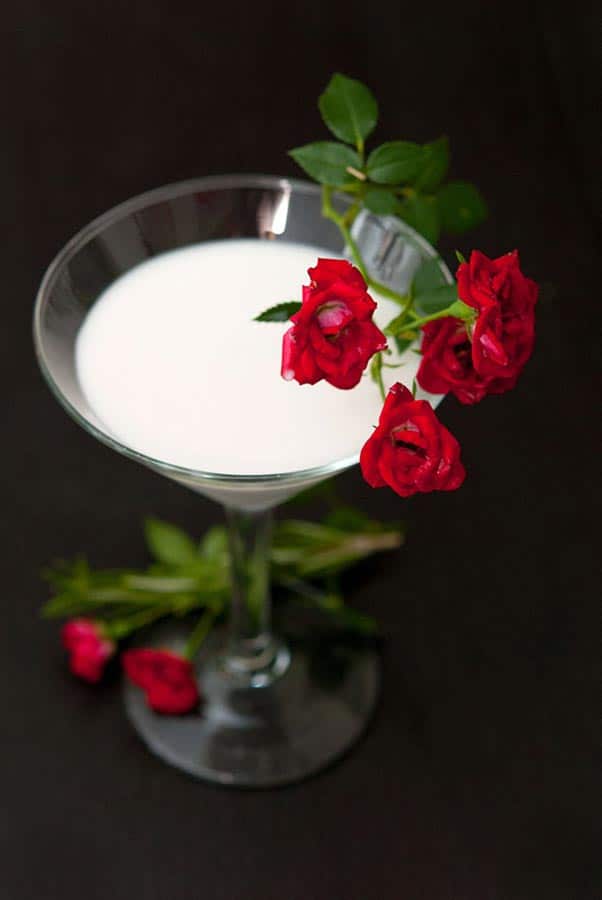 This White Rosemary Rose coconut cocktail tastes like winter white magic! With coconut milk, white rum, honey and rosewater, it's not too sweet and not too floral. It's delicate, dreamy and makes an elegant winter cocktail party signature.
17. Spicy Mexican Chocolate Liqueur
Add a little creamy spice to your Christmas cocktails with this decadent, chocolaty, homemade, spicy Mexican chocolate liqueur! I love spicy, Mexican hot chocolate when I've just come out of the cold, but when I'm nice and toasty inside by the fire, this is much better!
18. Chocolate Peppermint martini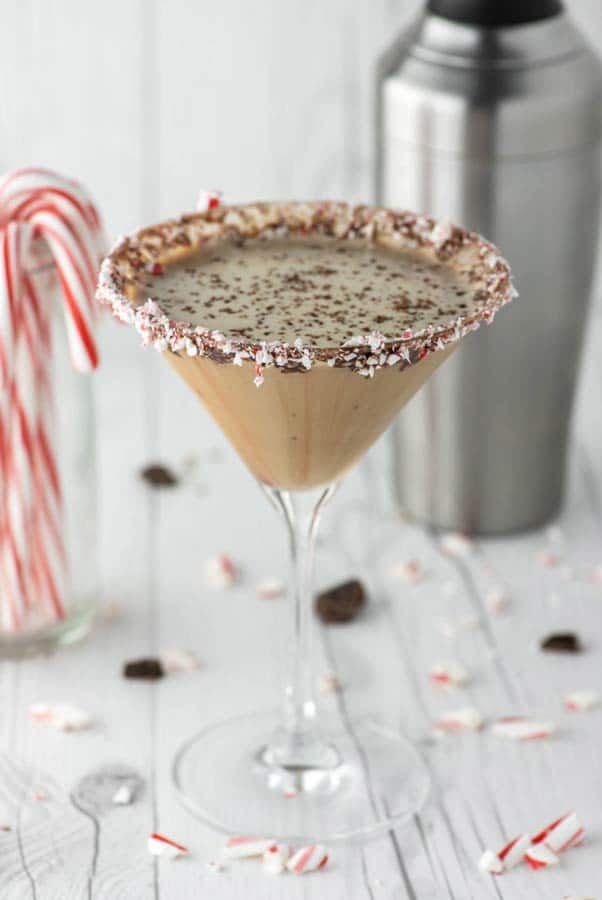 With chocolate liqueur, Creme de Cacao, half-and-half and peppermint schnapps, this chocolate peppermint martini is the perfect drink to celebrate the holidays. Enjoy this cocktail from chiselandfork.com!
19. Gingerbread White Hot Chocolate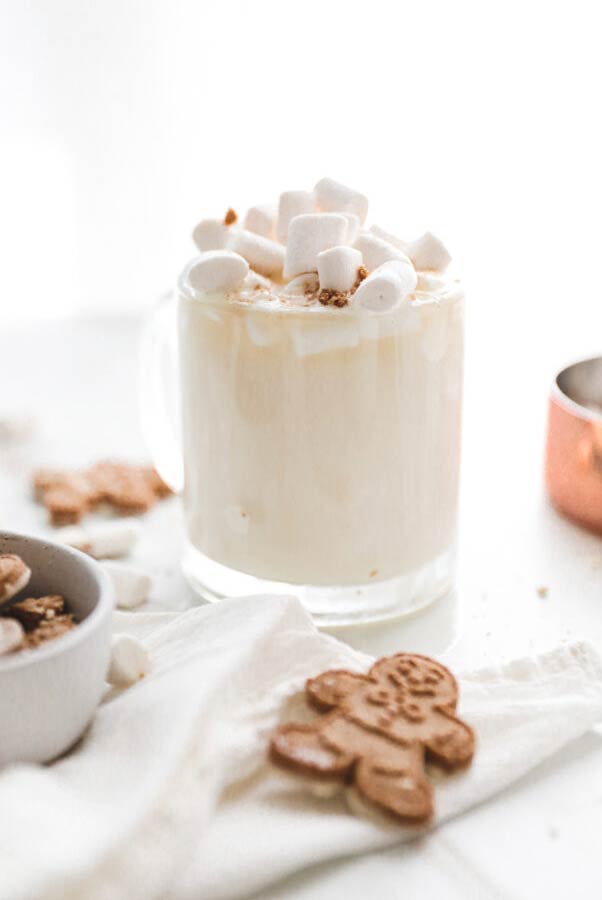 Creamy and delicious, this white hot chocolate isn't just spiced up with classic gingerbread flavors; Warm bourbon spiked gingerbread hot chocolate will warm your hands and soul this holiday! Enjoy this cocktail from whitekitchenredwine.com!
20. The Constant Comment Hot Toddy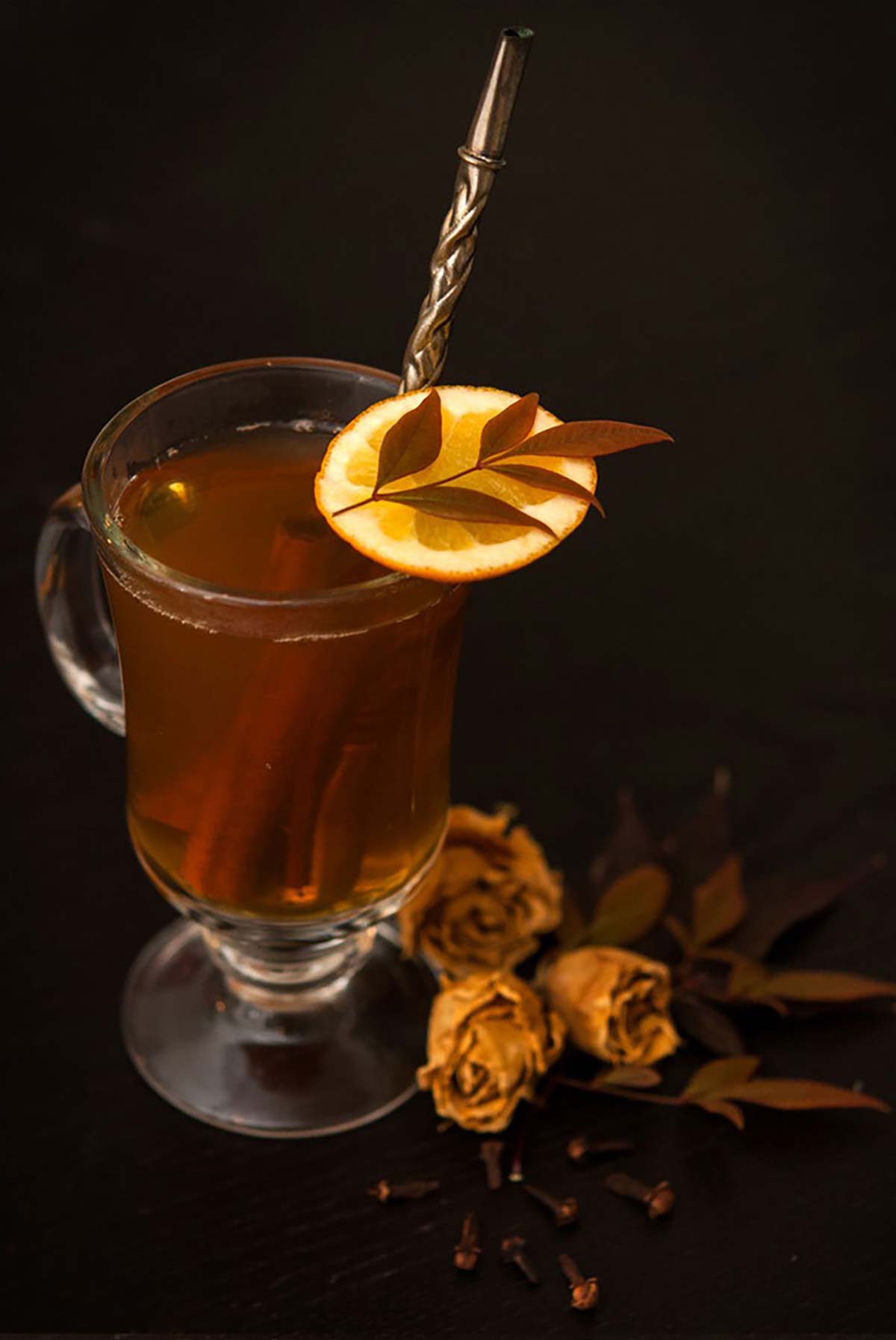 This hot toddy is made with orange-spiced Constant Comment tea and flavored with just a few cinnamon sticks and cloves. A perfectly cozy winter cocktail.
I hope you love these Holiday cocktails as much as I do!
And for even more inspiration, follow me on INSTAGRAM @shekeepsalovelyhome, on PINTEREST and FACEBOOK! And if you ever make any of my tasty drinks or treats, take a picture and tag me. I want to see!