Here are a few colorful, all-natural DIY Christmas ideas for the grownup that likes to sip a minty cocktail and get crafty! Forget the tinsely, plastic ornaments and chemical potpourris! Let's create a recyclable, compostable, decomposable, perfectly elegant Christmas!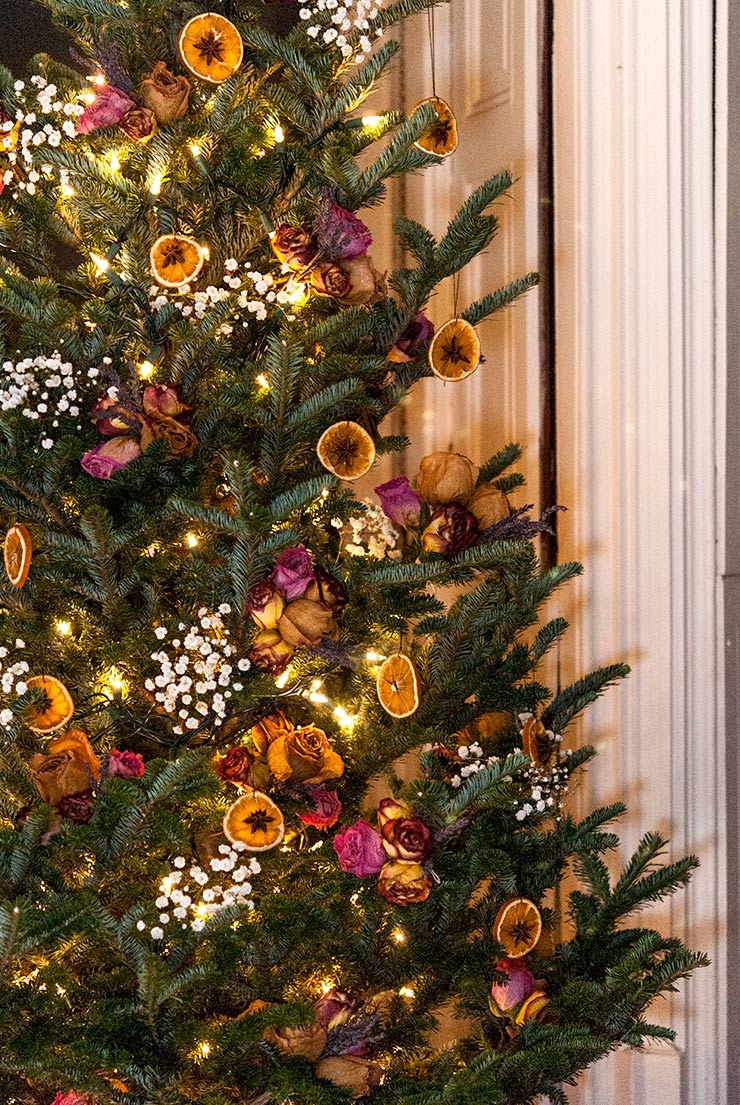 I spent the entire weekend drinking snowy cocktails, tying roses together, spinning yarn around paper mache, trimming eucalyptus and sewing star anise to orange slices and I feel so giddy, I can barely sleep!
I haven't even watched a Christmas movie yet because I'm too busy staring at my flowery Christmas tree for hours on end and making Christmas cocktail party playlists!
I love using flower ornaments because at the end of the season, I don't even have to remove them! I simply put the whole tree out on the street and neighbors take as many of the dried flowers as they want as they walk by before the tree is picked up.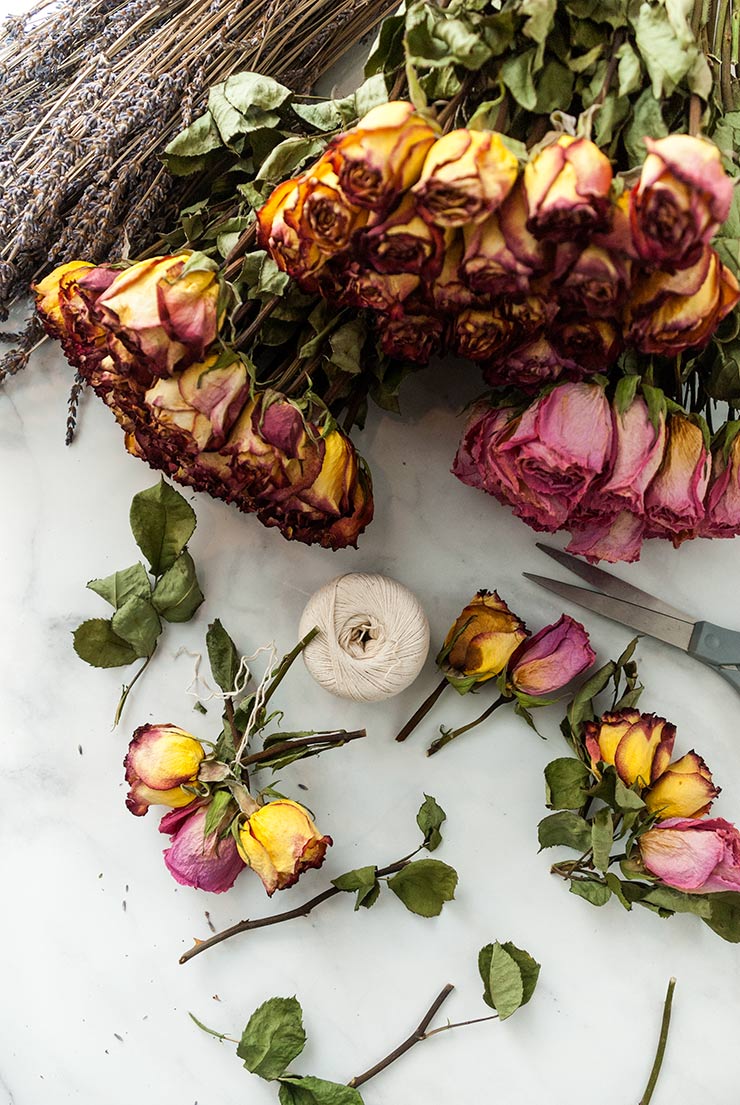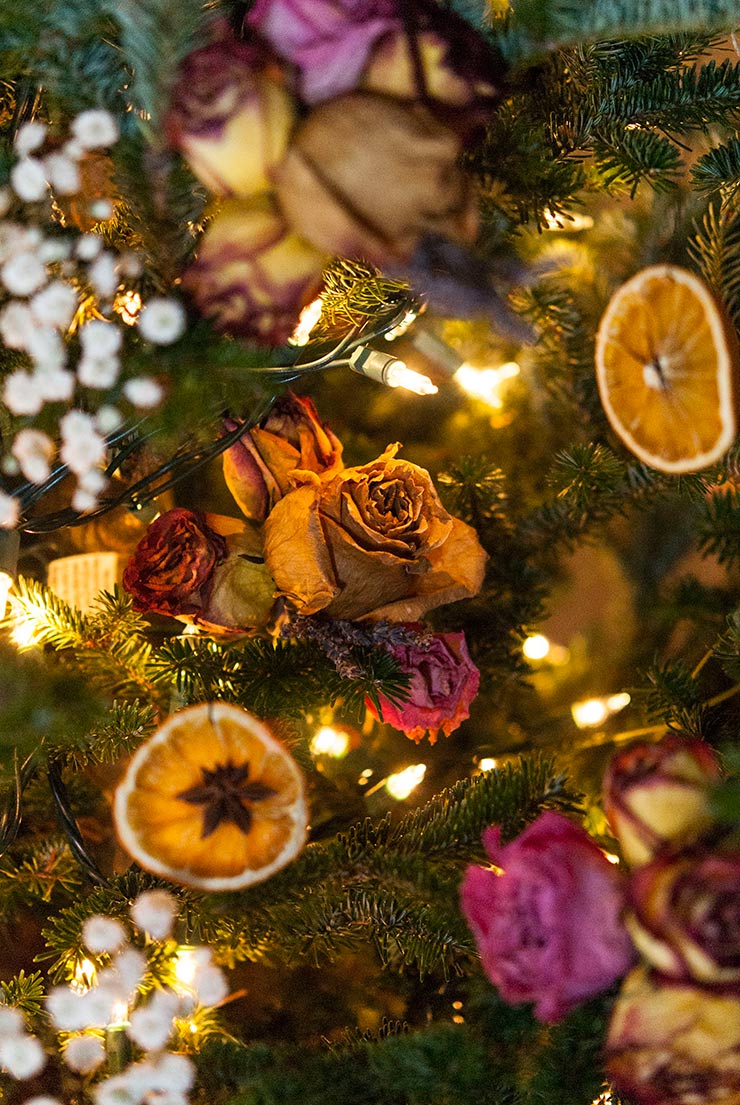 My place smells like absolute heaven!
You'd figure that with the Christmas tree, all the roses, lavender, orange, clove, cinnamon, and eucalyptus, all the smells would clash or be overwhelming, but everything is so subtle, that depending on where you are in the apartment, there's a different, beautiful fragrant Christmas ghost that follows you.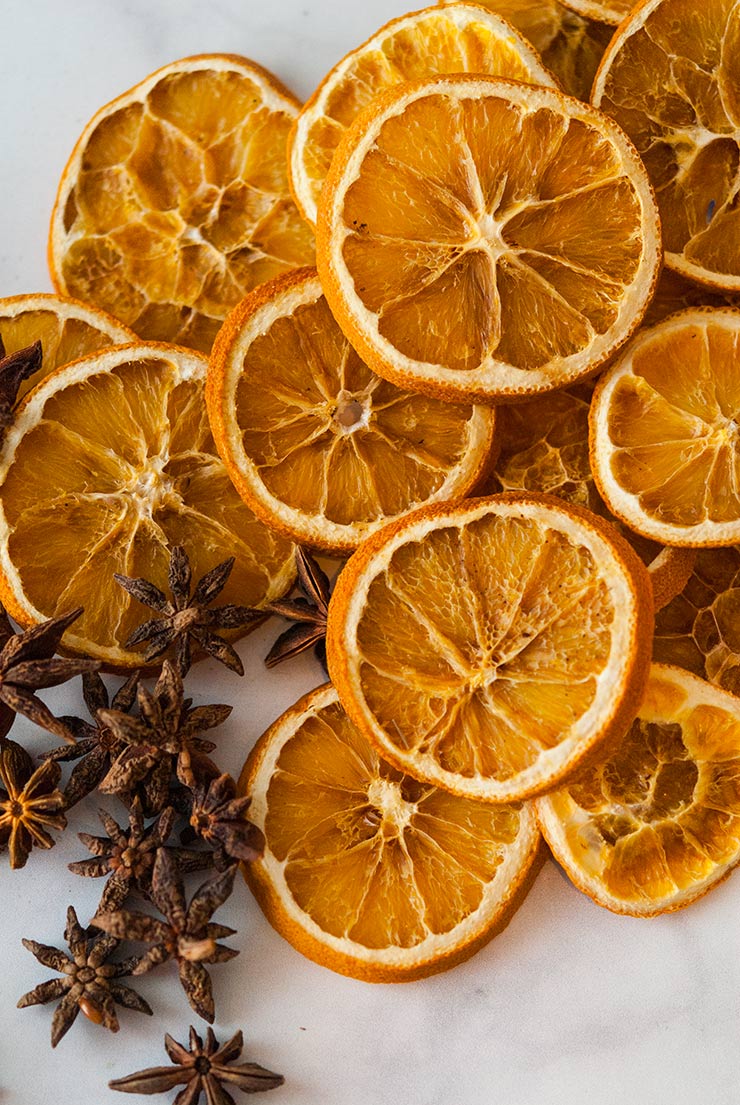 All of these decorations are so simple to make and transform your home into such a lovely, peaceful place, and nothing is synthetic, plastic or un-biodegradable.
I live in a small apartment in Brooklyn, NY, so even if I wanted to buy seasonal decorations, I wouldn't have anywhere to store them for next year. I literally have a tiny box that holds nothing but Christmas lights, my Christmas tree stand and a few glass ornaments. That's all I can fit.
So all-natural, floral decorations can just be put in the compost on January 1st, and that's that.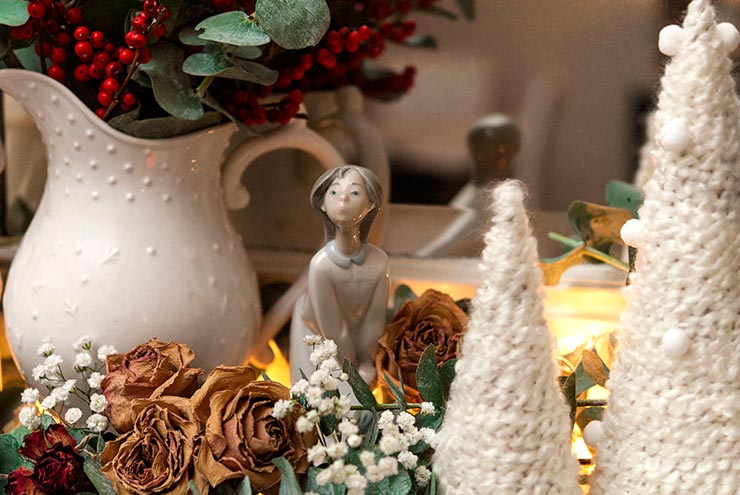 1. Homemade Flower Ornaments
I used different color roses and lavender to make these pretty flower ornaments! I simply dried a whole bunch (6 dozen bunches to be exact) for 3 weeks and tied them up in pretty bouquets. Then, I tied them to my tree with little strings. I've never had a tree more colorful!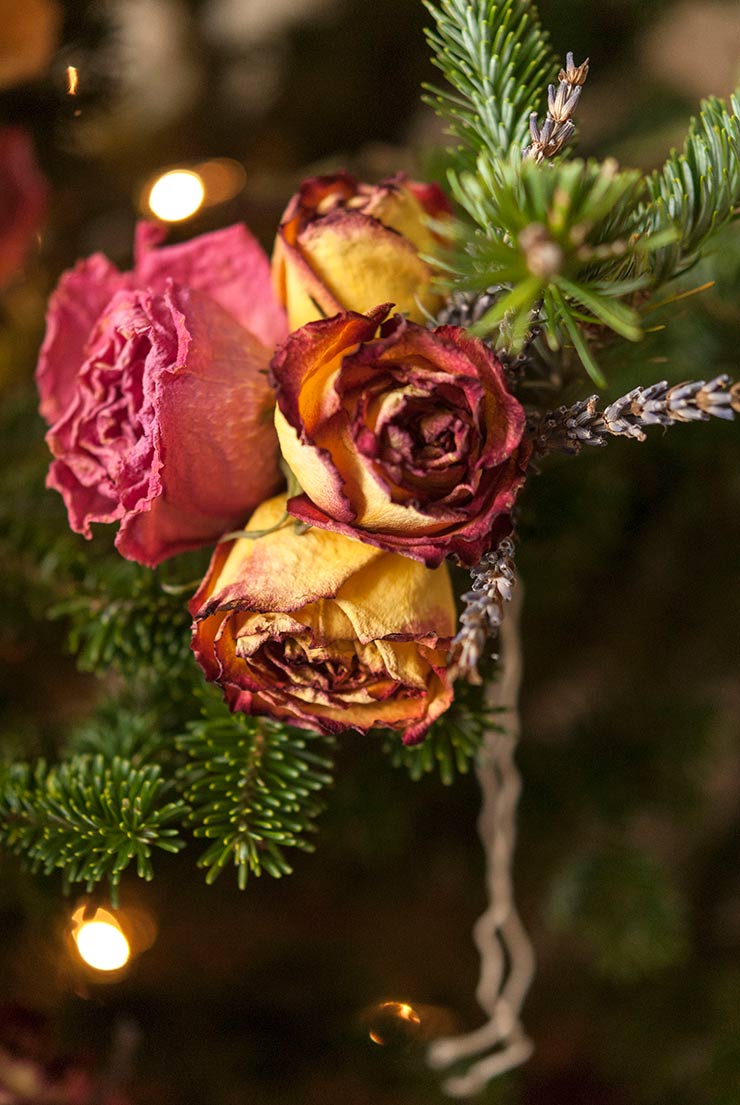 Then I put baby's breath all over the tree that looks just like snow! The lights look SO shiny behind it! And the best thing about these flowers is that they'll look beautiful all season on your tree!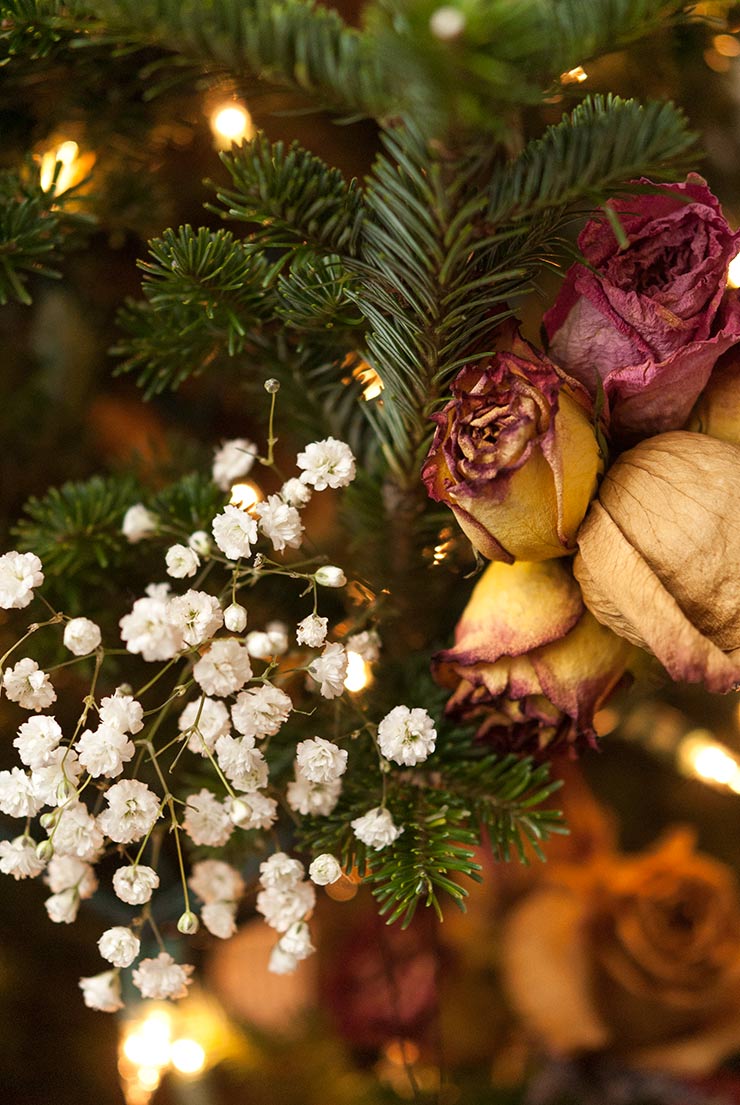 If you'd like to know exactly which flowers are the very best for Christmas trees, take a look at my post on how to create your own DIY dry-flower Christmas tree!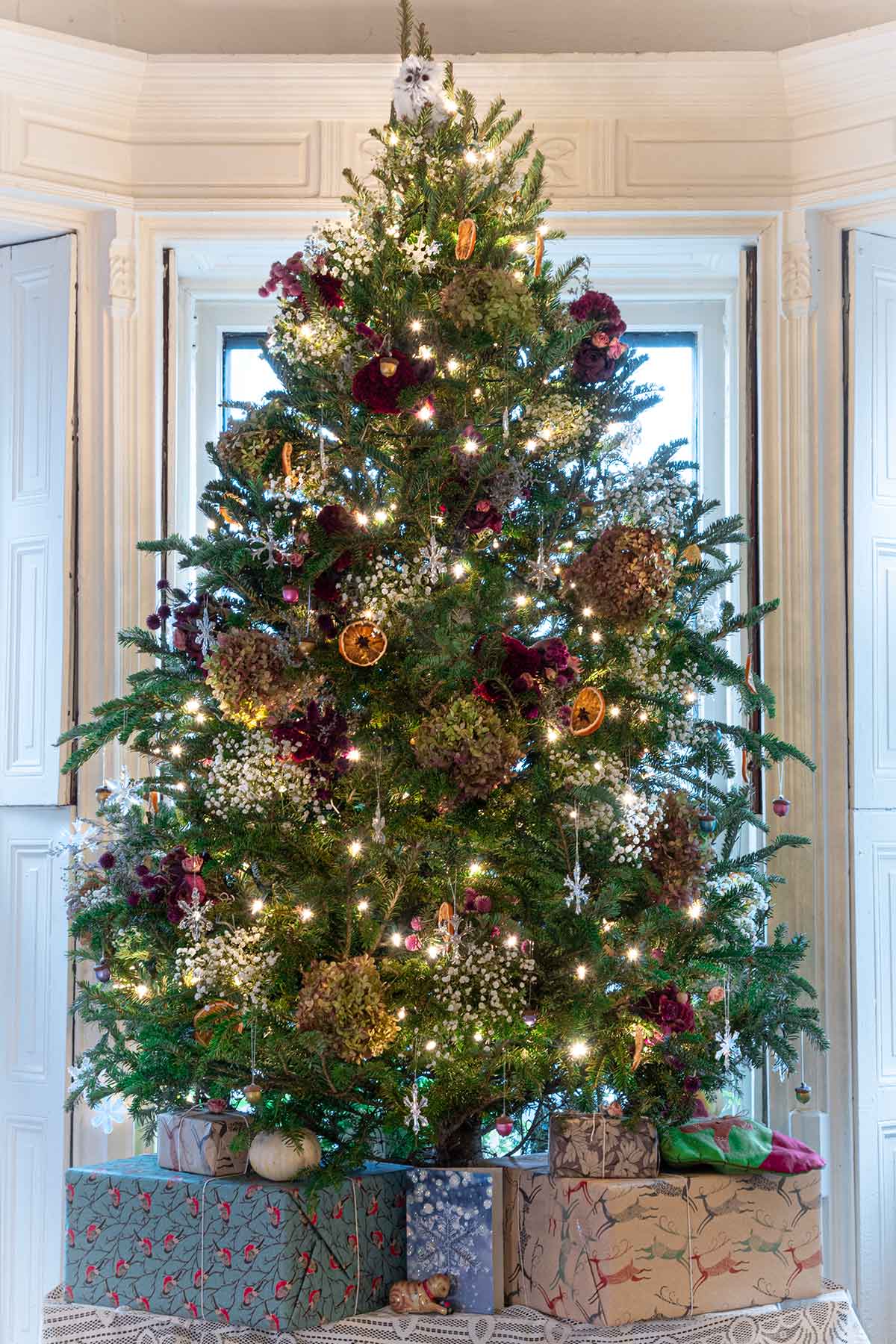 2. Dried Citrus Ornaments
The flowers, alone, were very pretty, but I still wanted to hang Christmas ornaments from my tree. So I sliced some oranges, baked them and sewed little star anise to the centers to make these beautiful dried citrus ornaments!
They look like pretty stained glass when they're hung in front of a Christmas light, especially when the room is dark!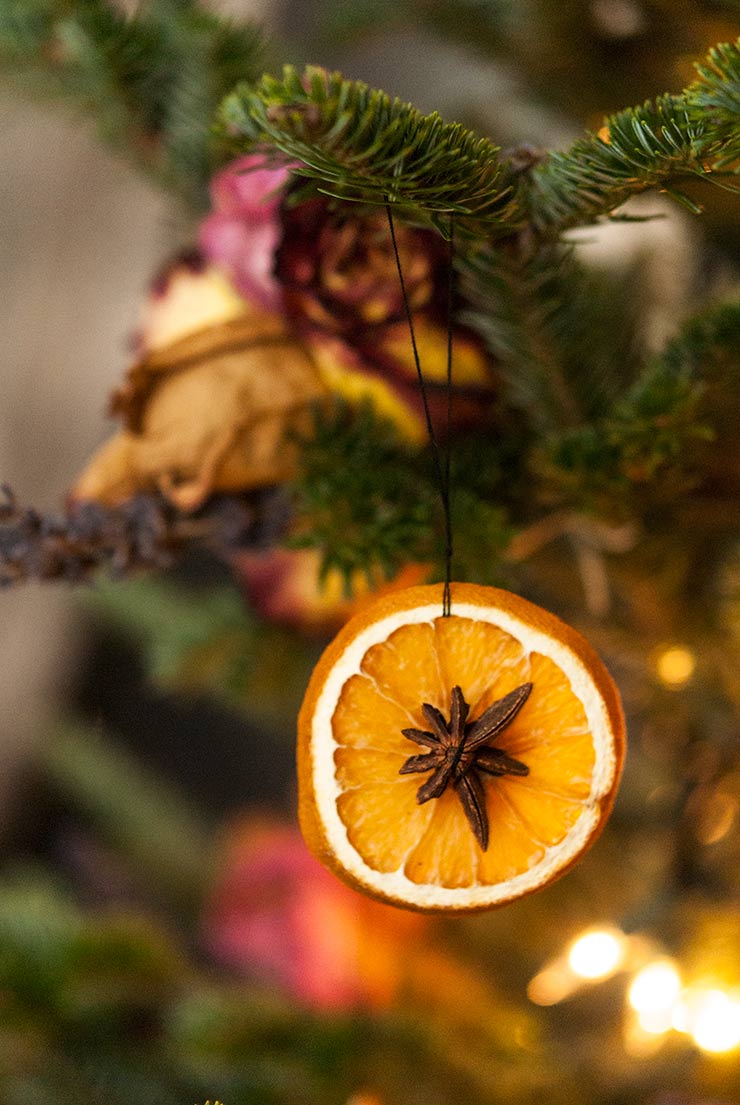 3. A Eucalyptus and Rose Mantle
I always love garlands and pine greenery on a Christmas mantle, but it dies so quickly and just looks wilted. Eucalyptus, on the other hand, dries much prettier and smells divine!
I simply trimmed 2 bunches of eucalyptus and placed it around my mantle decorations, added a few roses and a little baby's breath, and it looked so fresh and colorful! I also added a lovely vase of eucalyptus and ilex to make it brighter.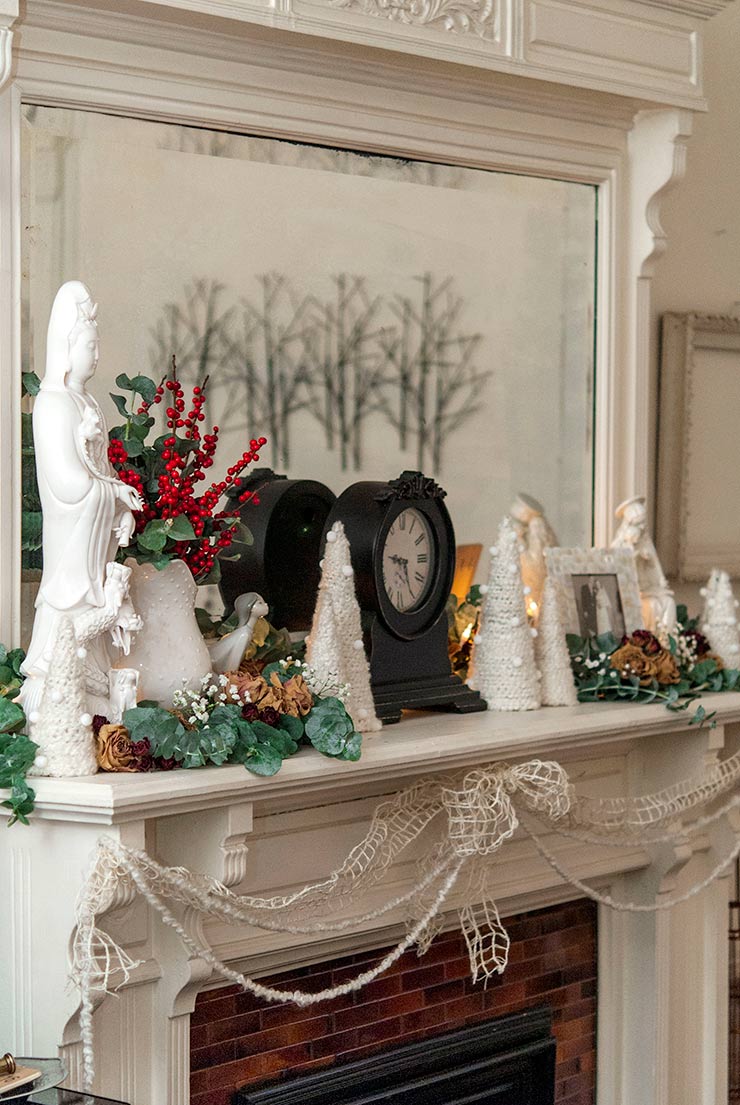 Although I'm a practicing Buddhist, Christmas is my very favorite holiday. A time for peace and joy and loving one another. Everything Christianity and Buddhism are about.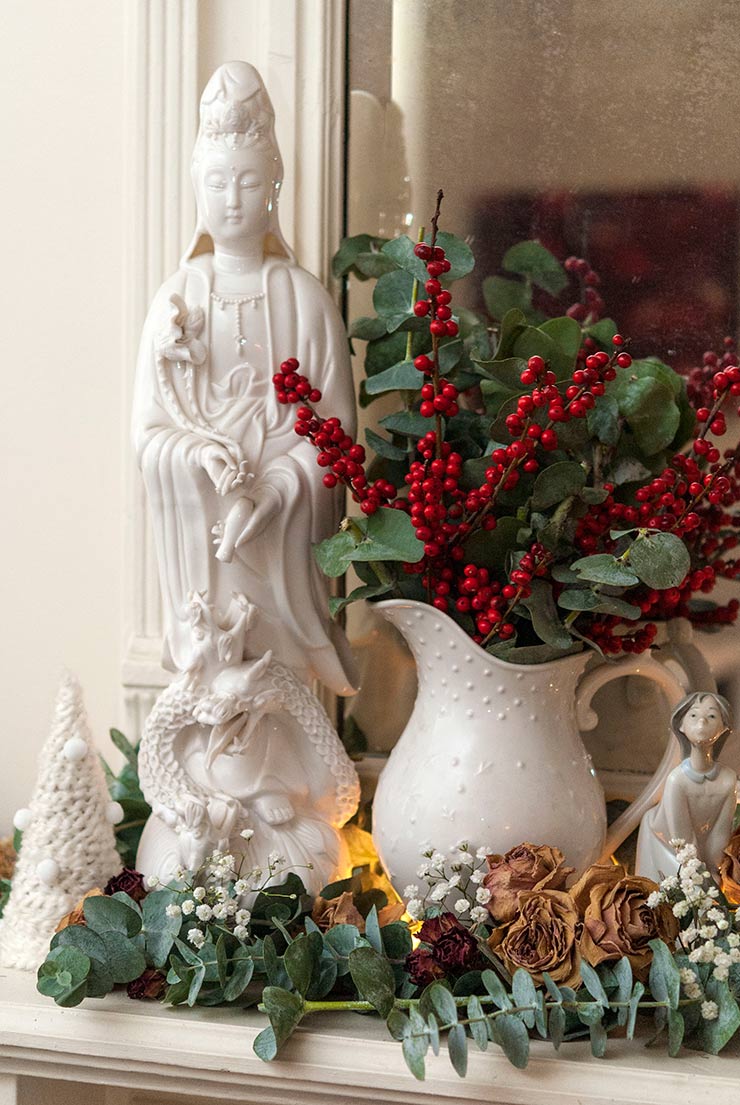 I place my favorite Guan Yin (known as the "female buddha," Bodhisattva or Goddess of Compassion), and the beautiful Madonna my grandmother gave me on my Christmas mantle. I would sing and talk to this statue when I was very little, so my grandmother left it to me. It always makes me think of her… that's her in the wedding dress 😉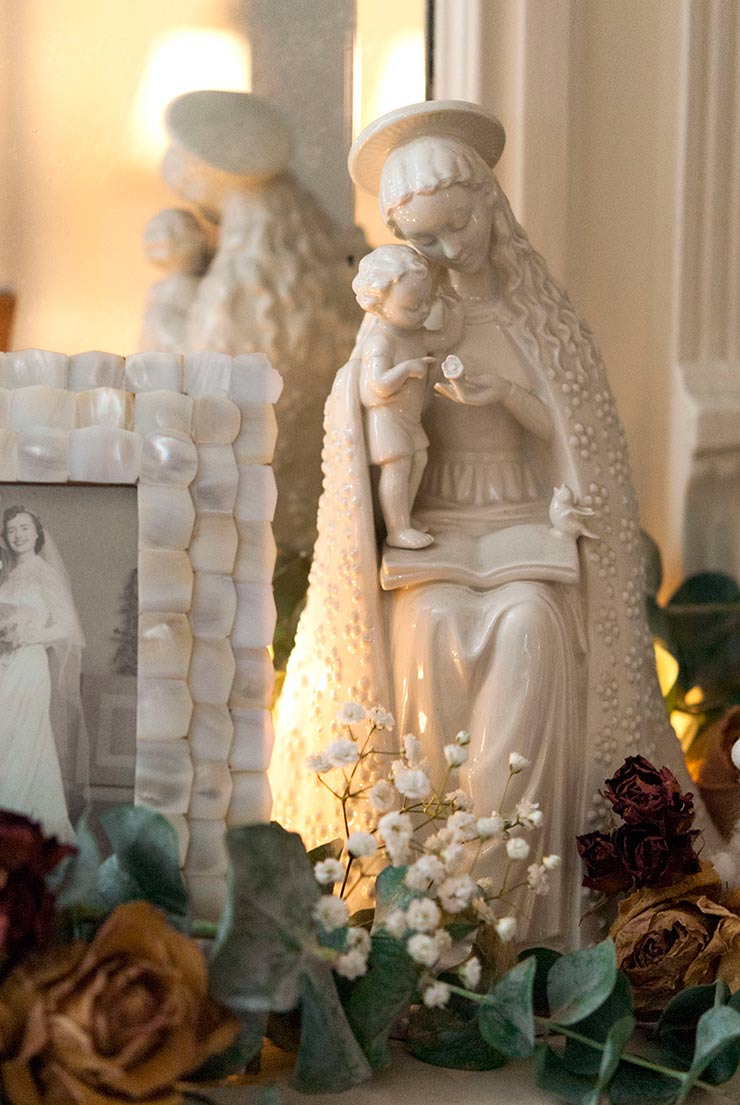 4. Yarn Christmas Tree Decorations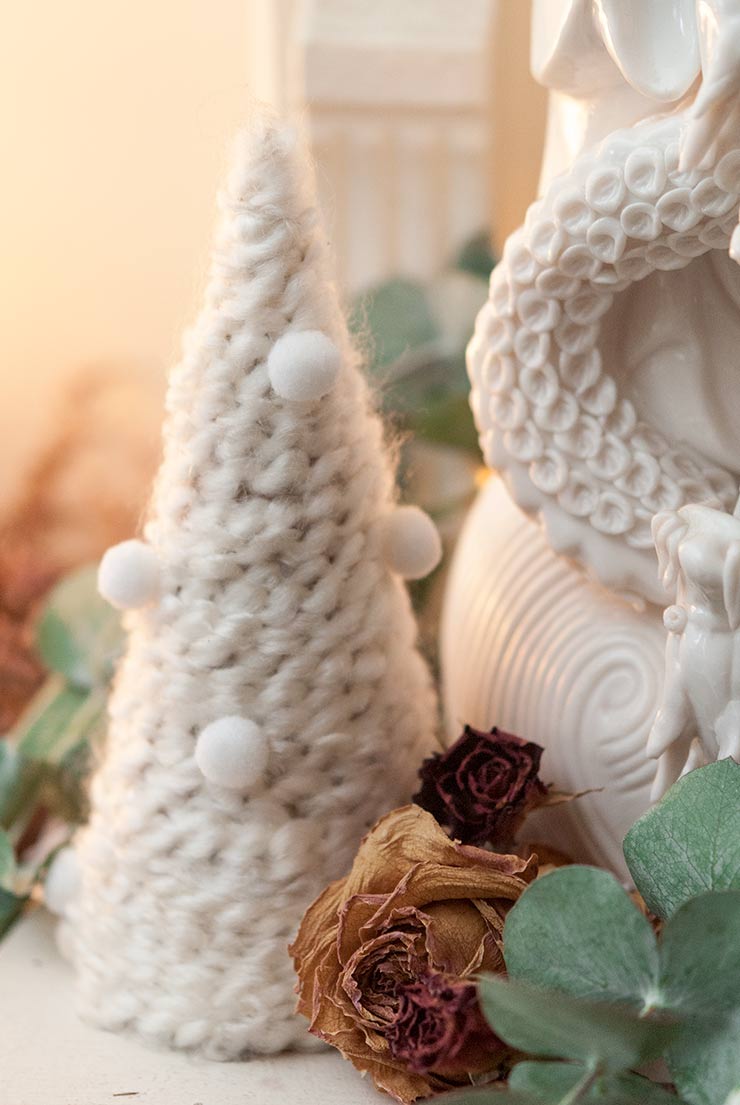 These soft, snowy Christmas tree decorations are so, so easy to make and require just a bit of yarn, paper mache cones, a few snowball pompoms and a little bit of glue. They turn any Christmas mantle into a winter wonderland!
5. Clove Oranges
Let's make our place smell even more delicious! For me, the smell of Christmas is clove and orange. You simply pierce them all over with cloves, and the cloves preserve the orange so it doesn't go bad.
It smells TRULY divine, and they look so pretty in a basket with holly or pine cones, in a bowl in the kitchen or bathroom, or simply placed under the Christmas tree!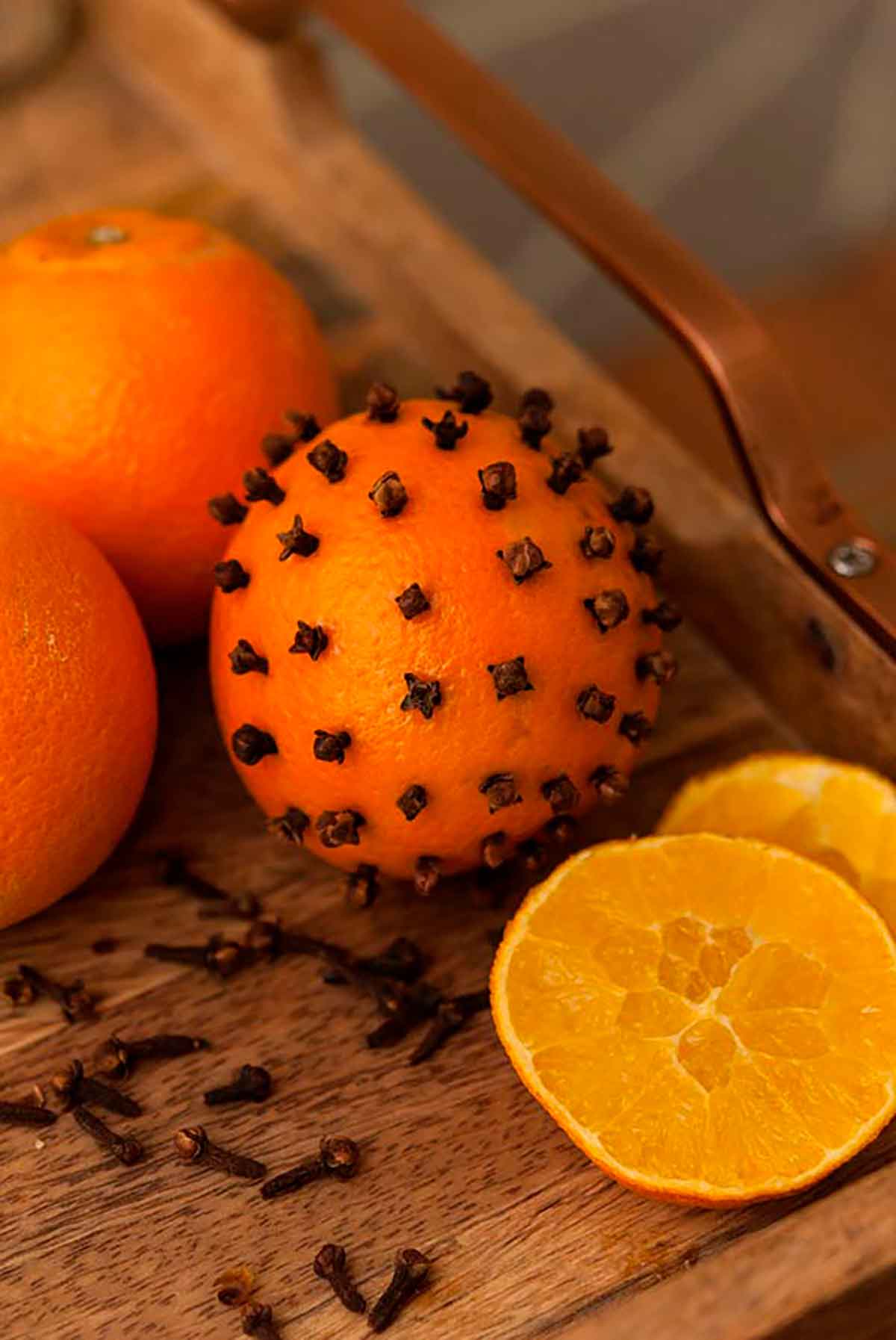 6. Natural Place Settings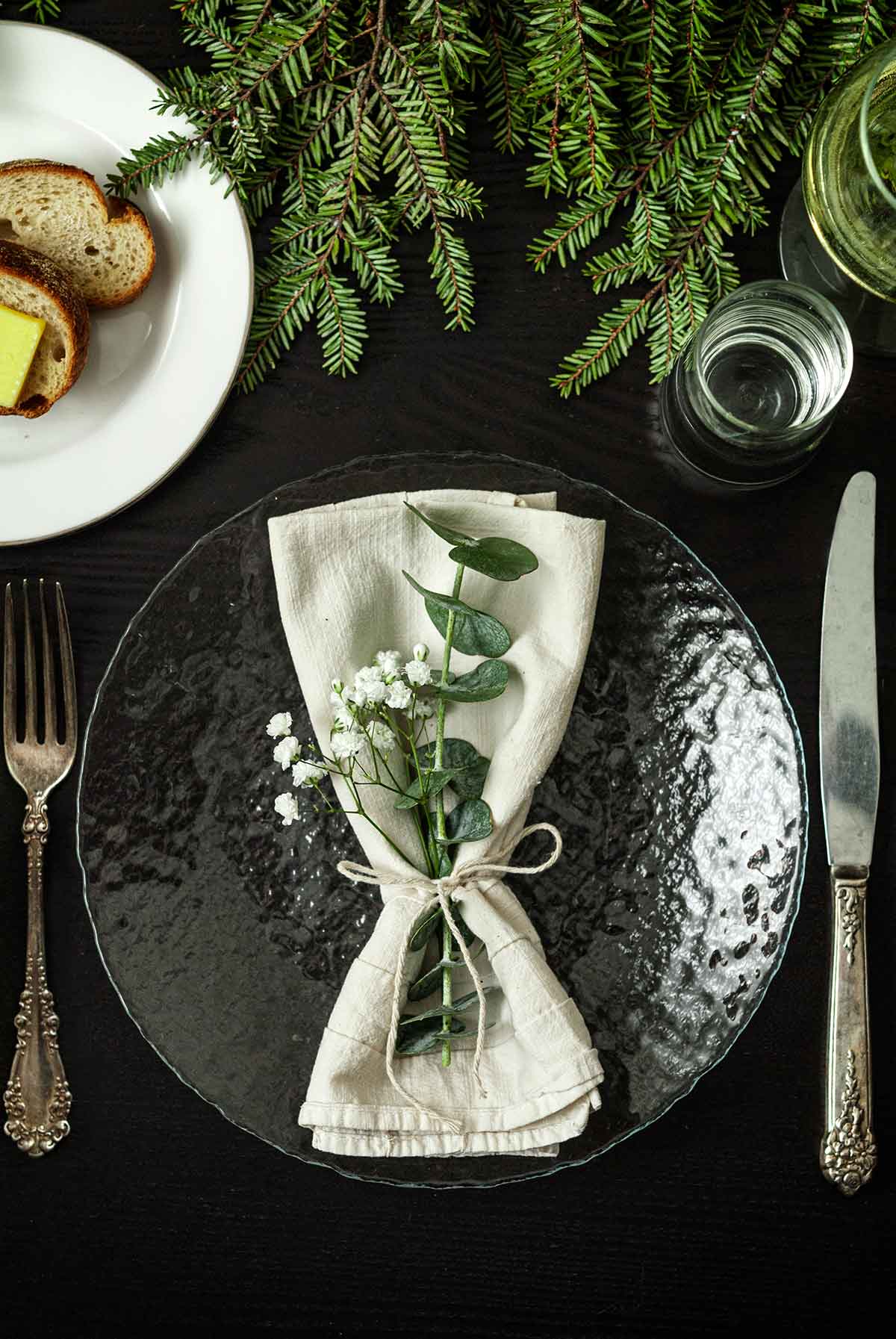 And when you're setting your dinner table for Christmas Eve, take a look at these 10 gorgeous all-natural Christmas place-setting ideas! Lots of baby's breath, eucalyptus, sage and red berries to make your Christmas table look festively, naturally, lovely.
I hope you have a magical natural Christmas this year! From my heart to yours, Merry Christmas and have a lovely holiday!
For more inspiration, subscribe to my newsletter, and follow me on Instagram, on Pinterest, tiktok, and Facebook! And if you ever make any of my tasty drinks or treats, take a picture and tag me. I want to see!