These 10 natural Christmas place settings are made with simple greenery, flowers, berries, herbs and cinnamon. Aromatic and fresh, colorful and rustic; these table setting ideas will complement your naturally elegant holiday decor and delight your guests!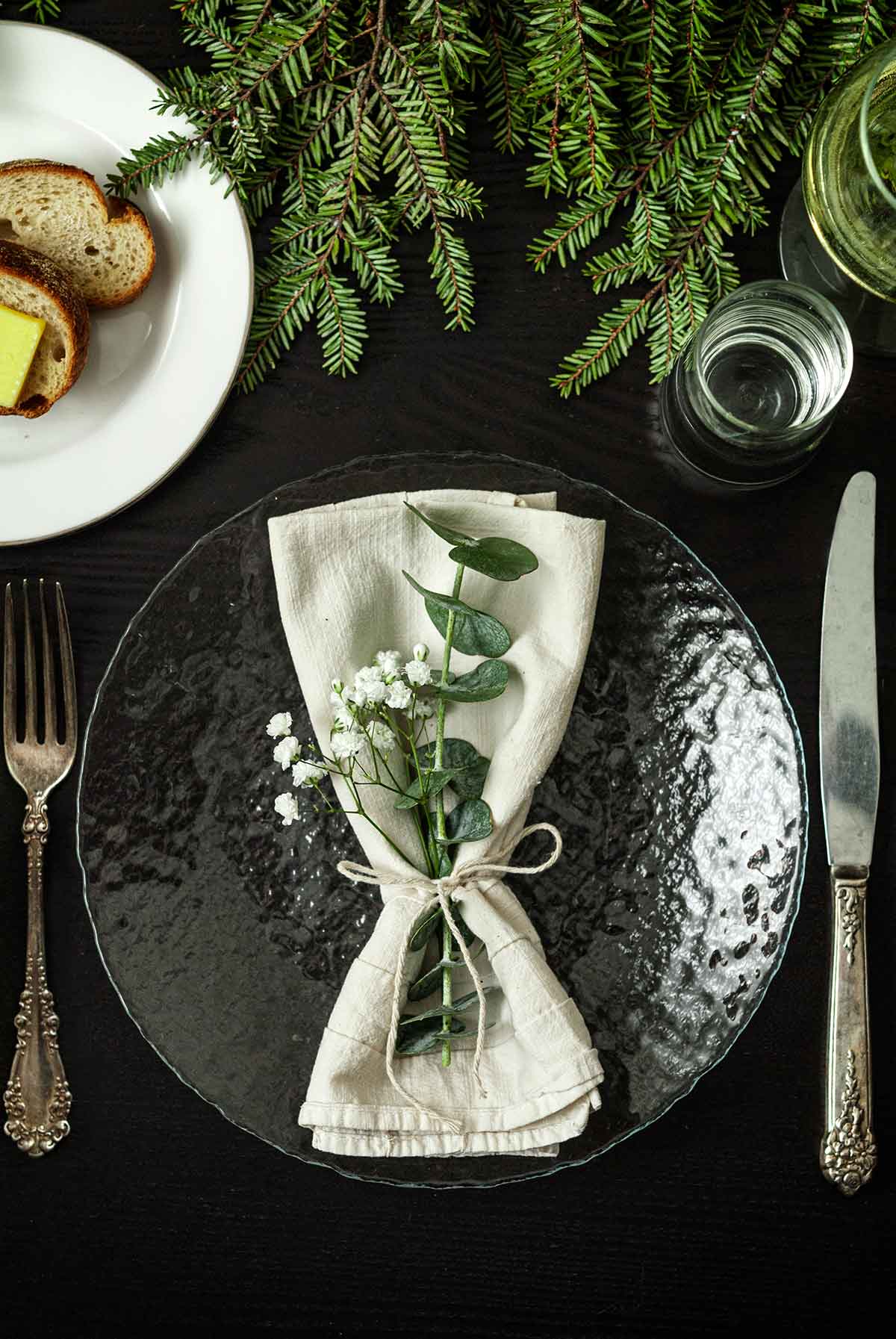 I've never made elaborate, floral centerpieces for my dinner parties. I always want as much room on the table as possible for candles, bowls, and other pieces of pretty serving ware. But I still want my tables to be floral and smell lovely, so I bring the flowers and aromatics onto the plates instead, and place them in napkins or soup bowls.
Sometimes, I like to keep things as simple as a sprig of rosemary, and other times, I like to create bright, dry napkin bouquets. Whether simple or bright and colorful, your guests will be so delighted by carefully created natural place settings.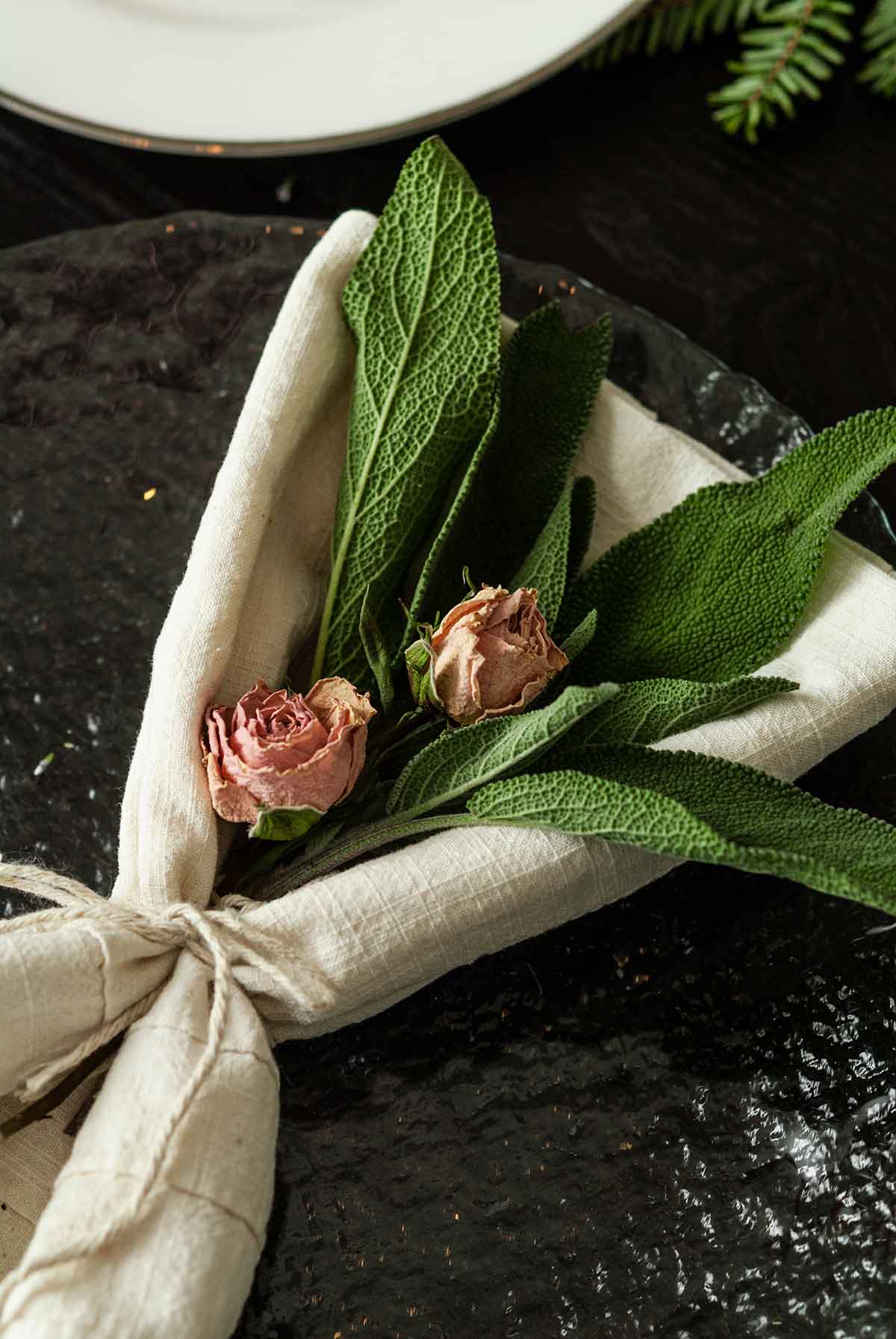 I love to decorate my Christmas trees with pretty bouquets of dry flowers, so I try to match my place settings to my tree! Last year I covered my tree in roses with white and frosty blue hydrangea, so I placed fresh hydrangea in the napkins. I use nothing but baker's string to hold them all together.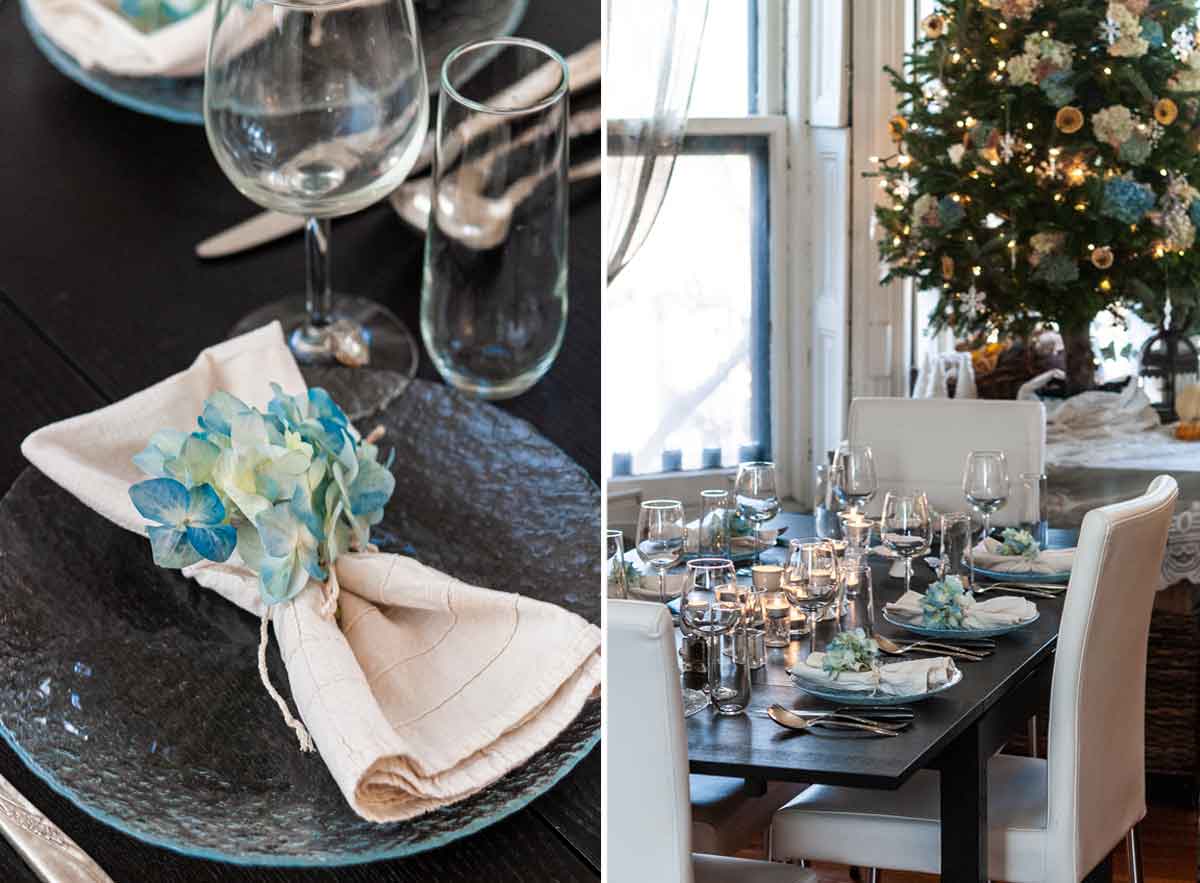 If you would like to create simple, natural place setting concepts too, here are a few of my favorite combinations!
But first, let's set the table!
If you're unsure how to set a formal table, no worries! Here's a quick etiquette guide. Personally, I don't place a dessert spoon on top. I like to reset the table for dessert by folding napkins to the left, and placing the spoon on the folded napkin.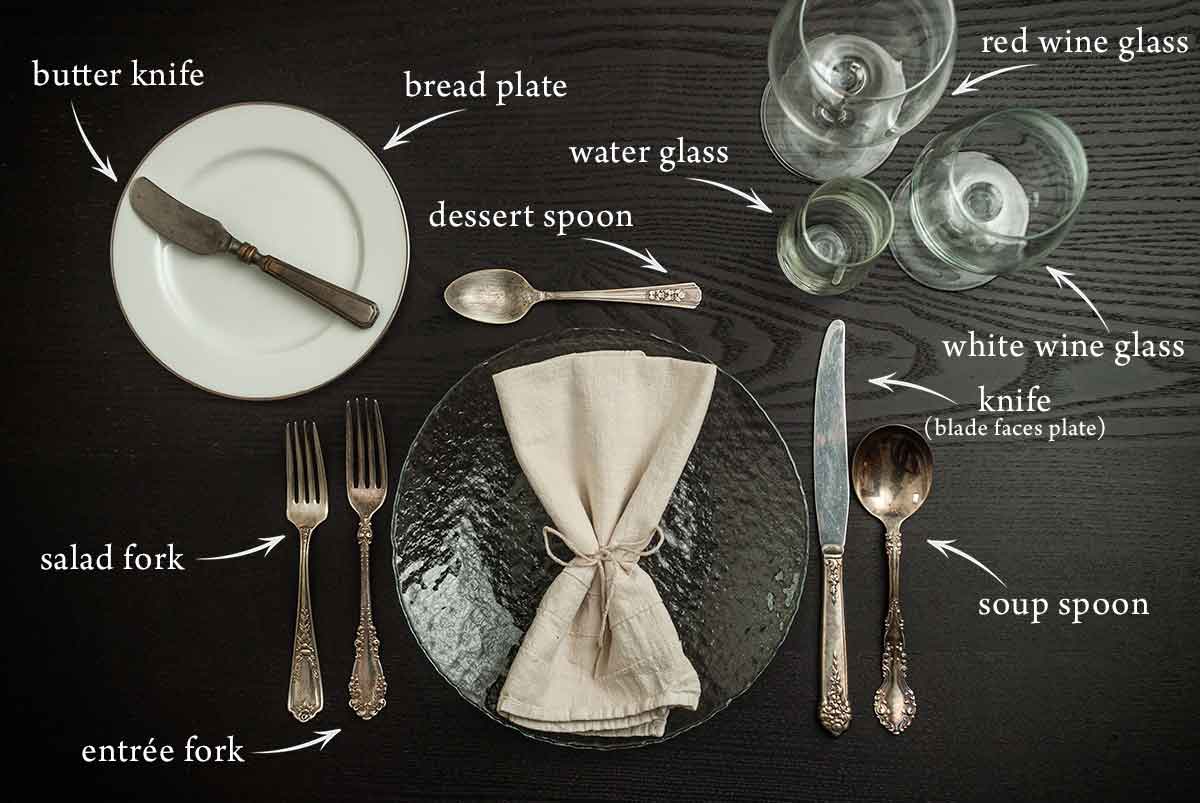 If you are serving a dish like lobster that requires other tiny forks and crackers and accoutrements, just keep in mind, utensils are simply placed from the outside in, as they're used. That's why the salad fork and soup spoon are on the outside, as they're served first, for example.
So place any other utensils on the inside, closer to the plate – but also keep in mind, these "rules" are just traditional etiquette. Rules certainly can be broken (I break them all the time), it's just nice to know them first.
So now that your table is set, let's add a little holiday loveliness! All you need is a simple napkin and baker's string to get started.
1. Sage & Spray Rose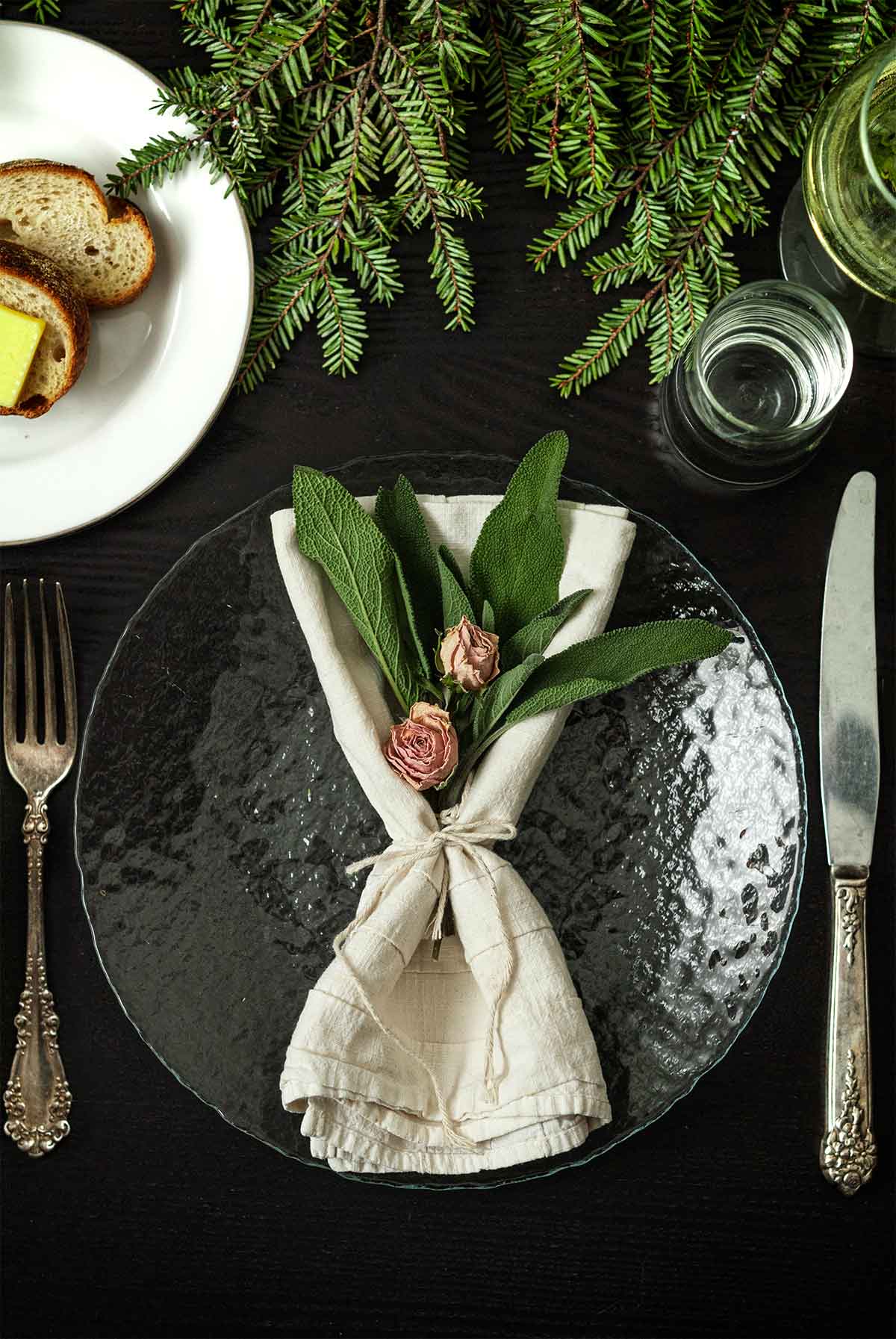 Sage has a delicate smell and soft leaves, a little like lambs ear, and spray roses add a nice pop of color to the table. Use dry or fresh spray roses and simply tuck them into a tied napkin. Sage will begin to wilt out of the refrigerator after about an hour, so make sure not to place it in napkins until shortly before guests arrive.
2. Mint & Baby's Breath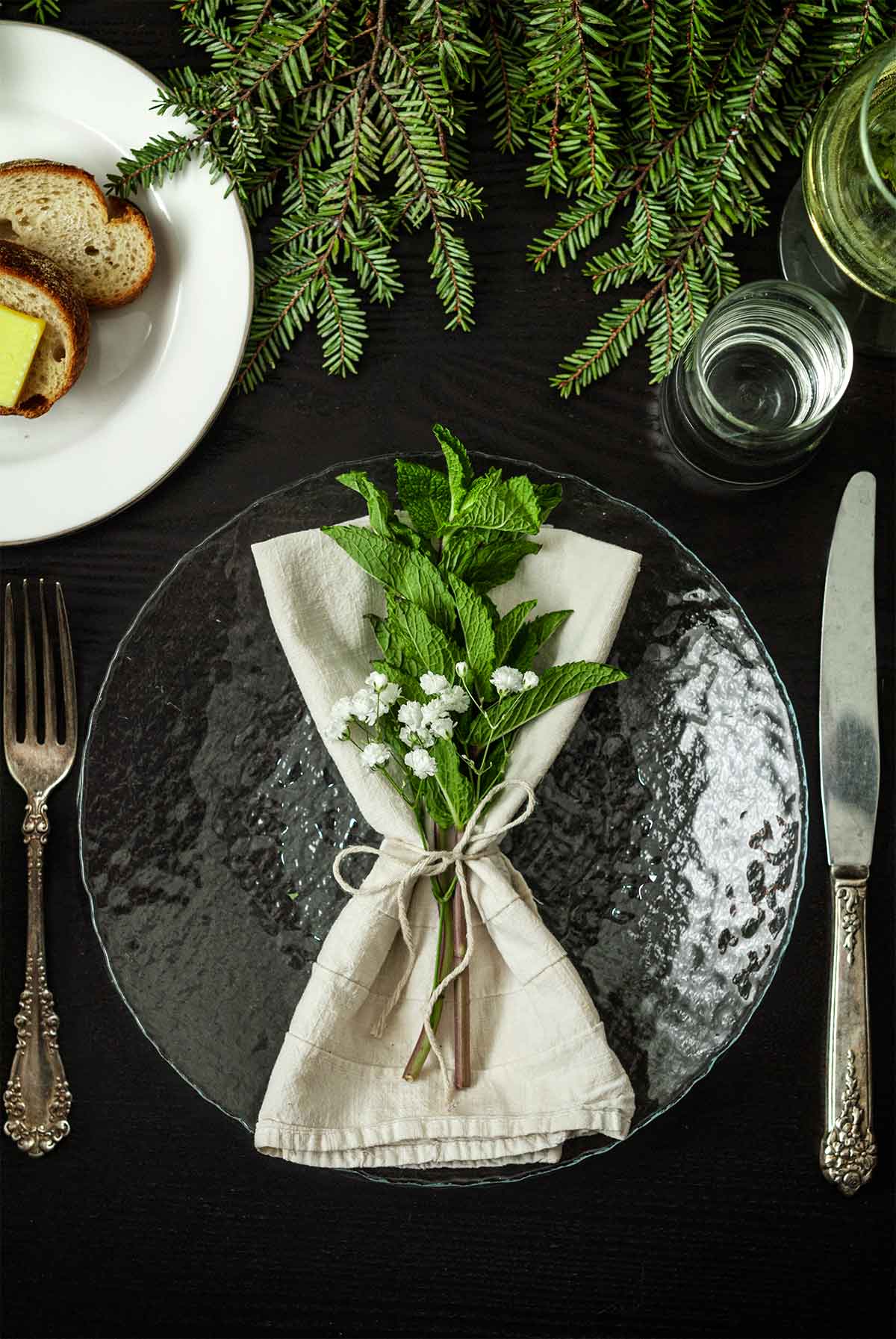 Baby's Breath makes it into a few of the Christmas place setting designs on this list because it looks like white, fluffy snow. Pairing it with a few sprigs of mint creates a fresh scent over your whole dinner table. Like sage, mint will begin to wilt about an hour after having been removed from the fridge, so place them in napkins shortly before guests arrive.
3. Red Ilex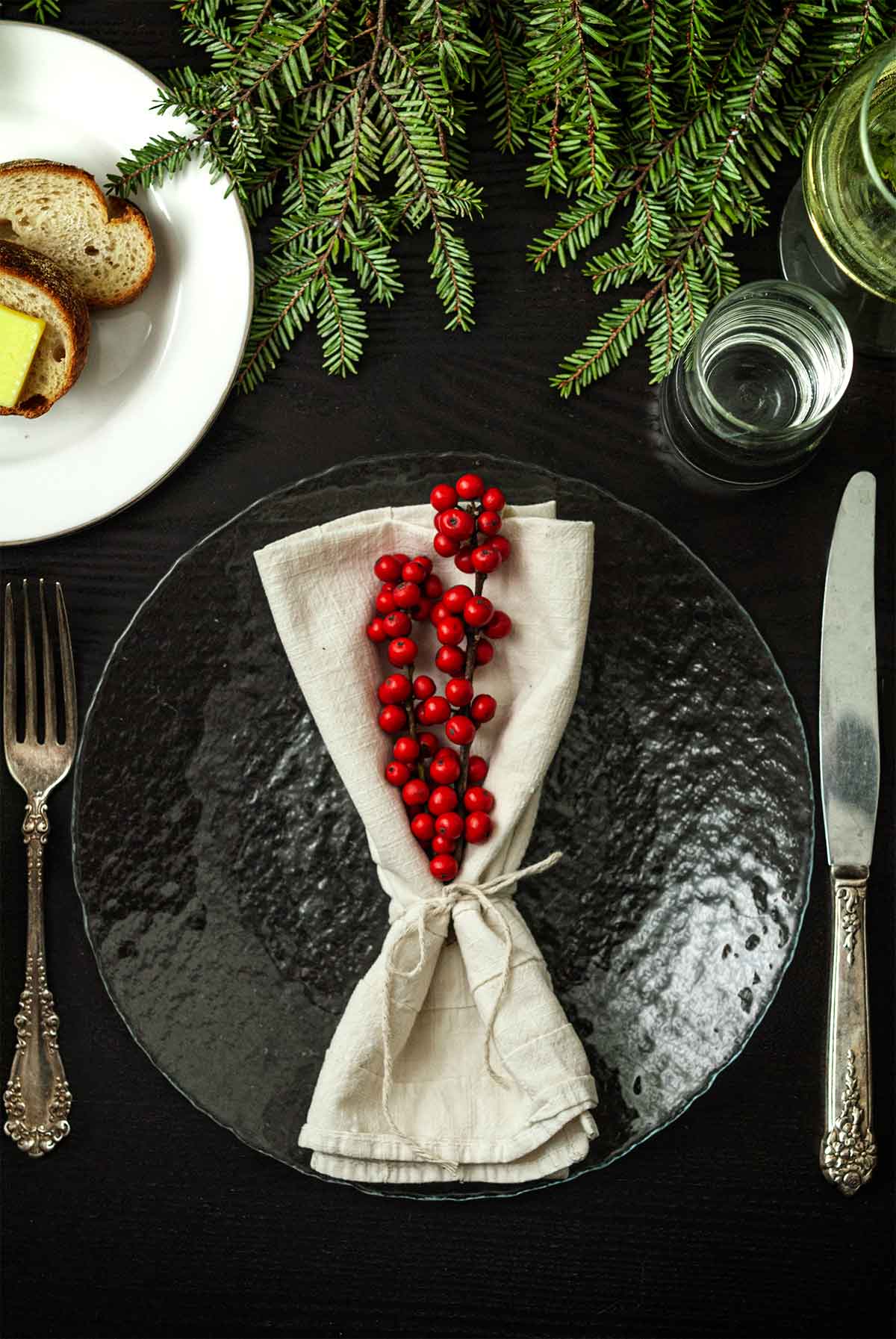 1 or 2 sticks of Ilex in your napkins will give your table such a bright, festive, red flair. Just be careful though, you don't want the berries to get into the food. If eaten in high quantities, they can make you sick, so be sure no one is snacking on the ilex berries at dinner.
4. Thyme & Caspia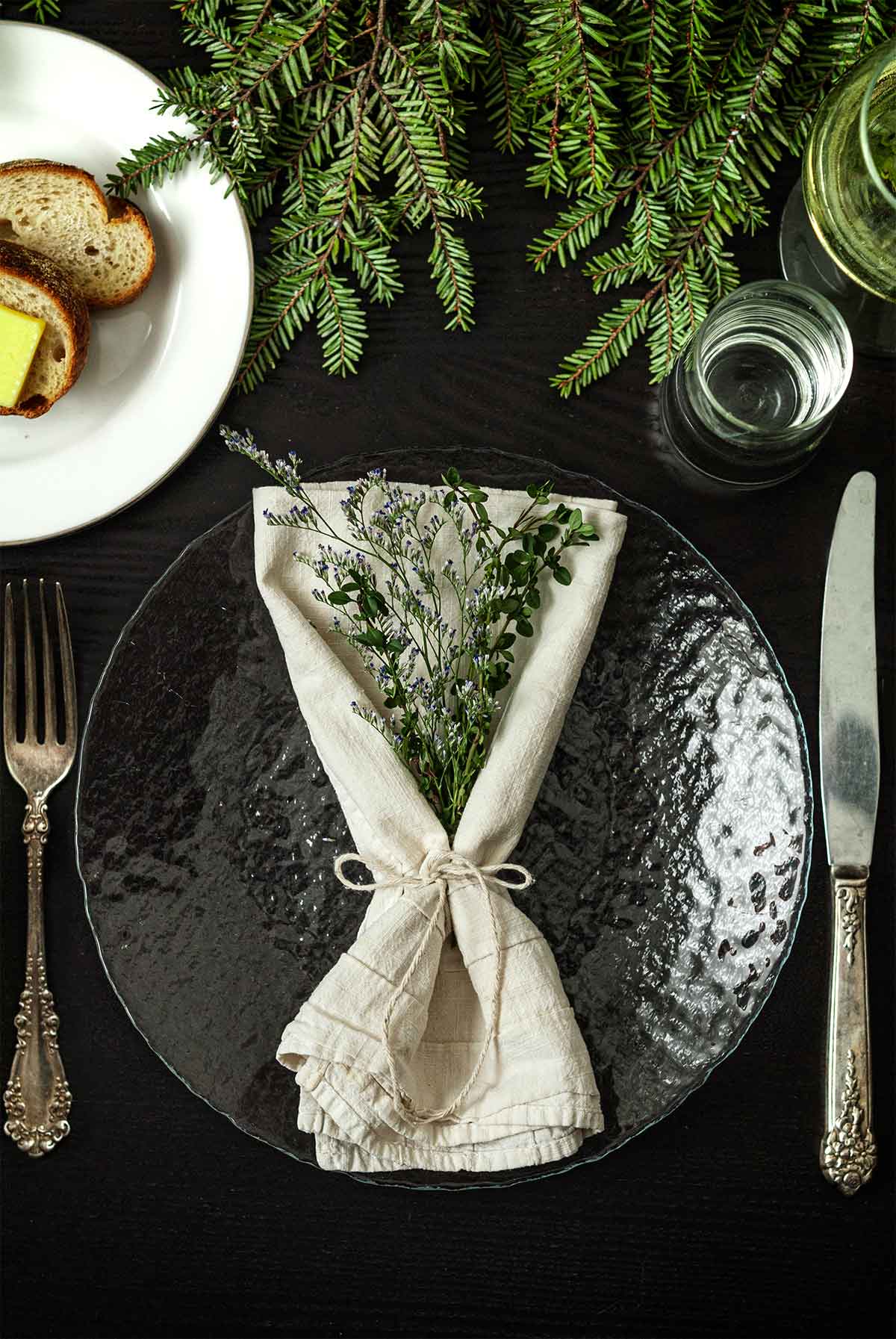 Caspia is a pretty, light purple flower that adds a wisp of color to your table, and the thyme will provide a lovely herbal scent. Thyme starts to wilt out of the fridge after about an hour or 2, and Caspia doesn't wilt at all – it just dries exactly as it looks fresh, so you can place your flowers and herbs in your napkins up to and hour or 2 before guests arrive.
5. Rosemary & Baby's Breath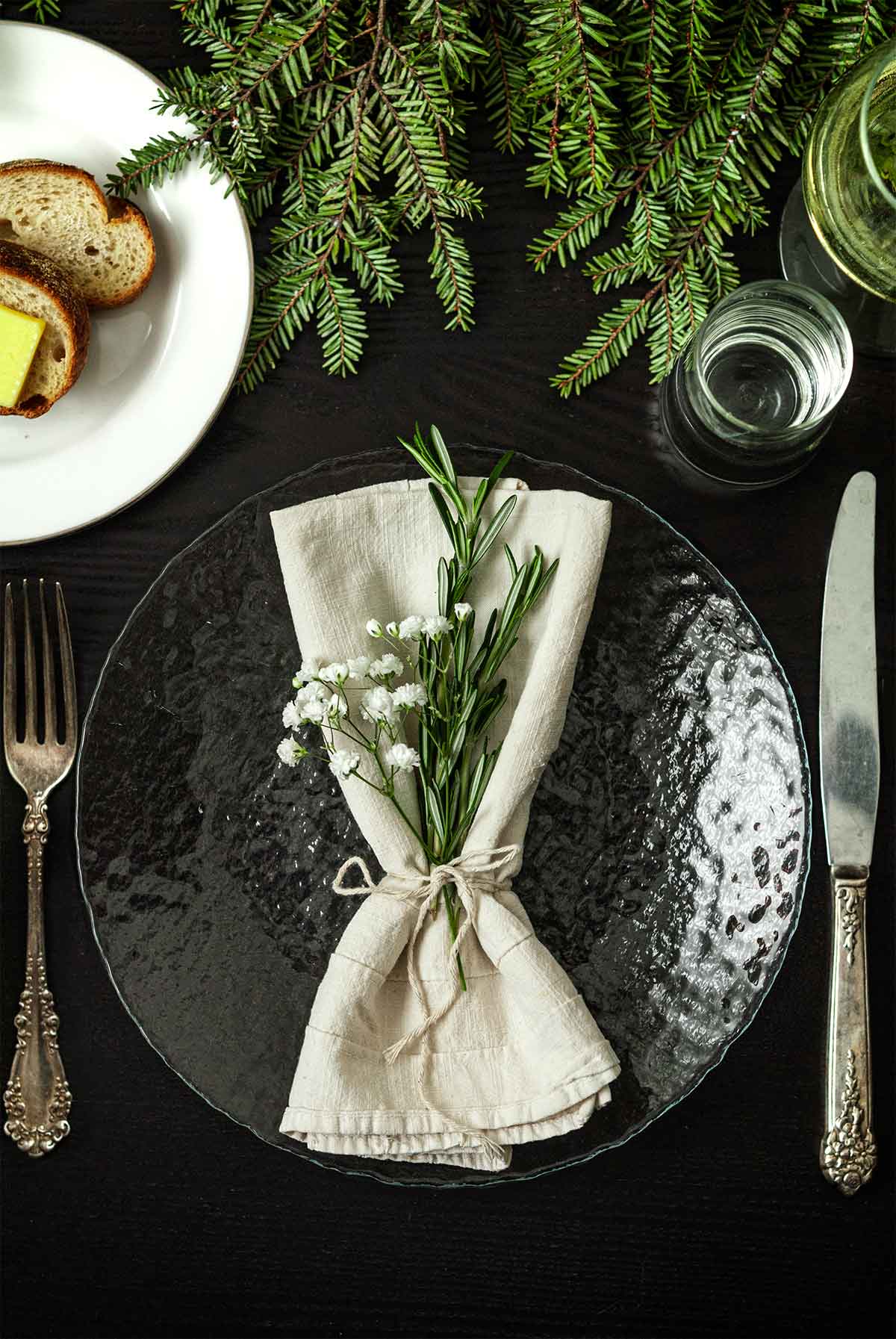 Another lovely pair with Baby's Breath. Rosemary looks almost pine-like in a Christmas setting, and we all know it smells so pretty. Together, they create a snowy, fresh, herbal design. Rosemary looks nice and fresh for 2-3 hours after being removed from the fridge.
Baby's Breath also stays fresh-looking when out of water a few hours after being removed, so feel free to set a table with this combo 2-3 hours before guests arrive.
6. Pine & Cinnamon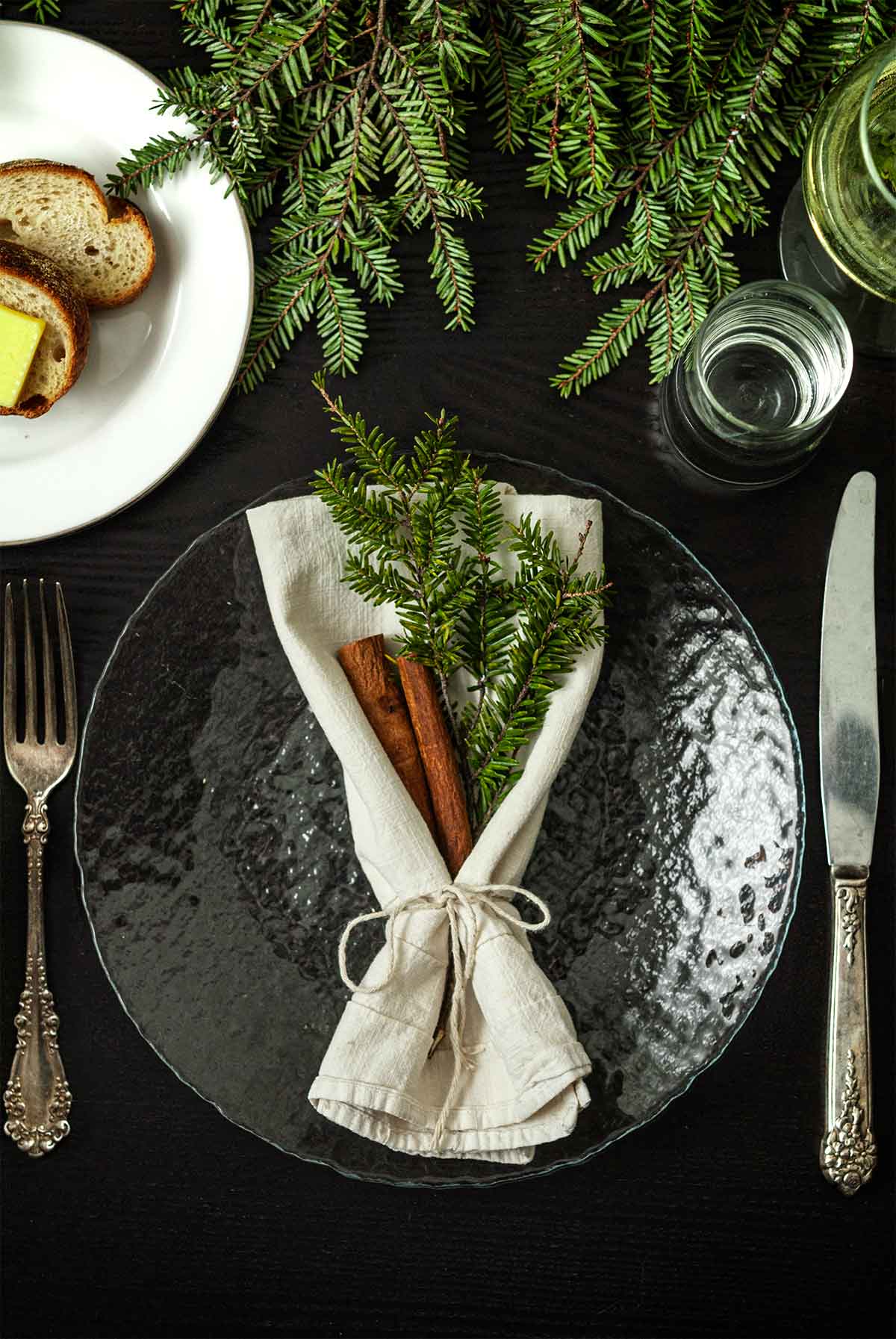 Take a few small trimmings from the tree and pair them with 1 or 2 cinnamon sticks in your napkins! This simple design delights guests with 2 of their favorite Christmas scents.
7. Eucalyptus & Baby's Breath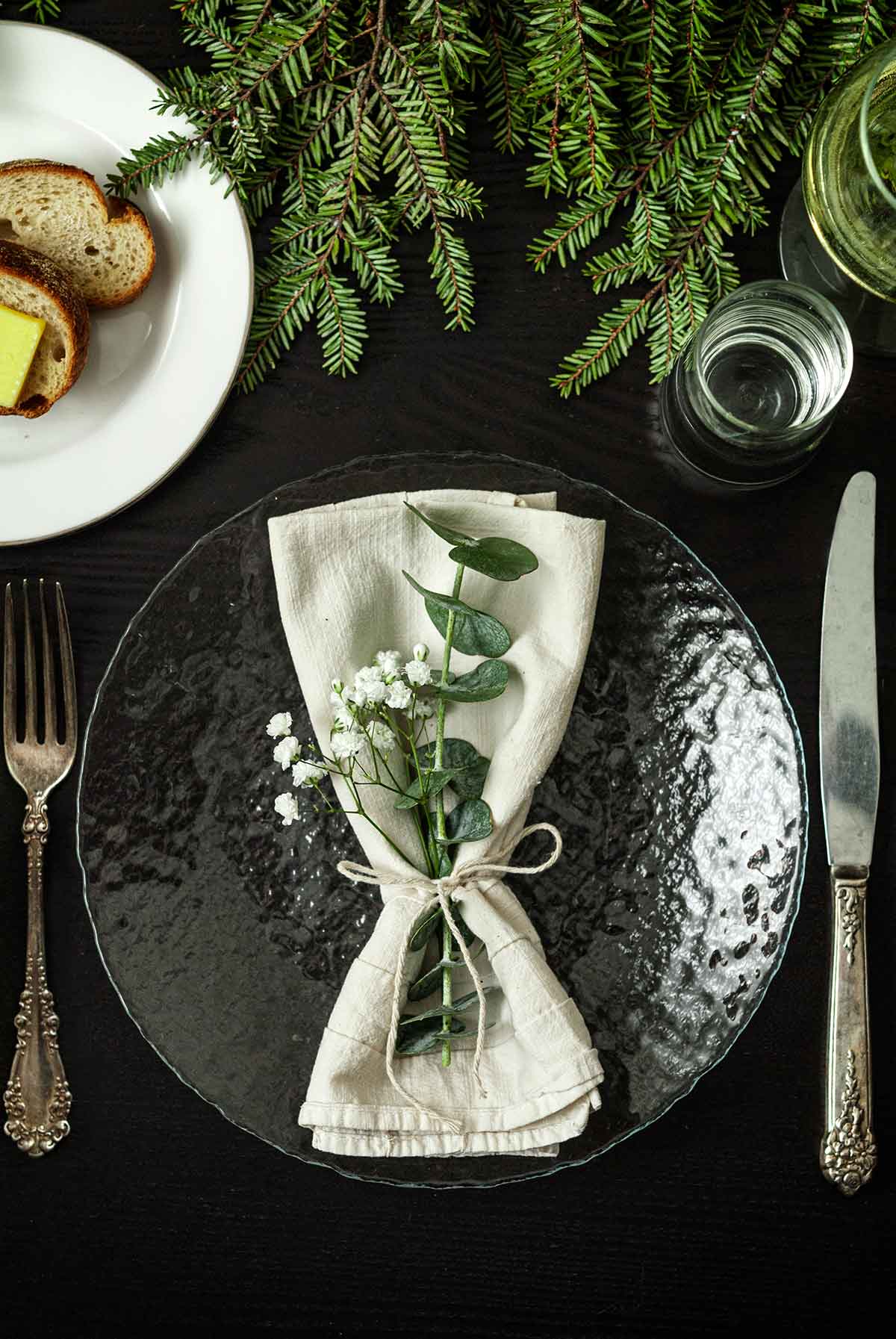 Another perfect Baby's Breath combo. A single, 6 inch stem of Eucalyptus in each napkin on your table will fill your dining room with such a magical scent! All on its own, it's rustic and pretty, but I love to add Baby's Breath to give it a frosty feeling.
Eucalyptus will stay fresh and smelling beautiful out of water for a full day, so just be mindful that Baby's Breath wilts out of water after a few hours, so ideally, set your table up to 3 or 4 hours before guests arrive.
8. Gerbera Daisy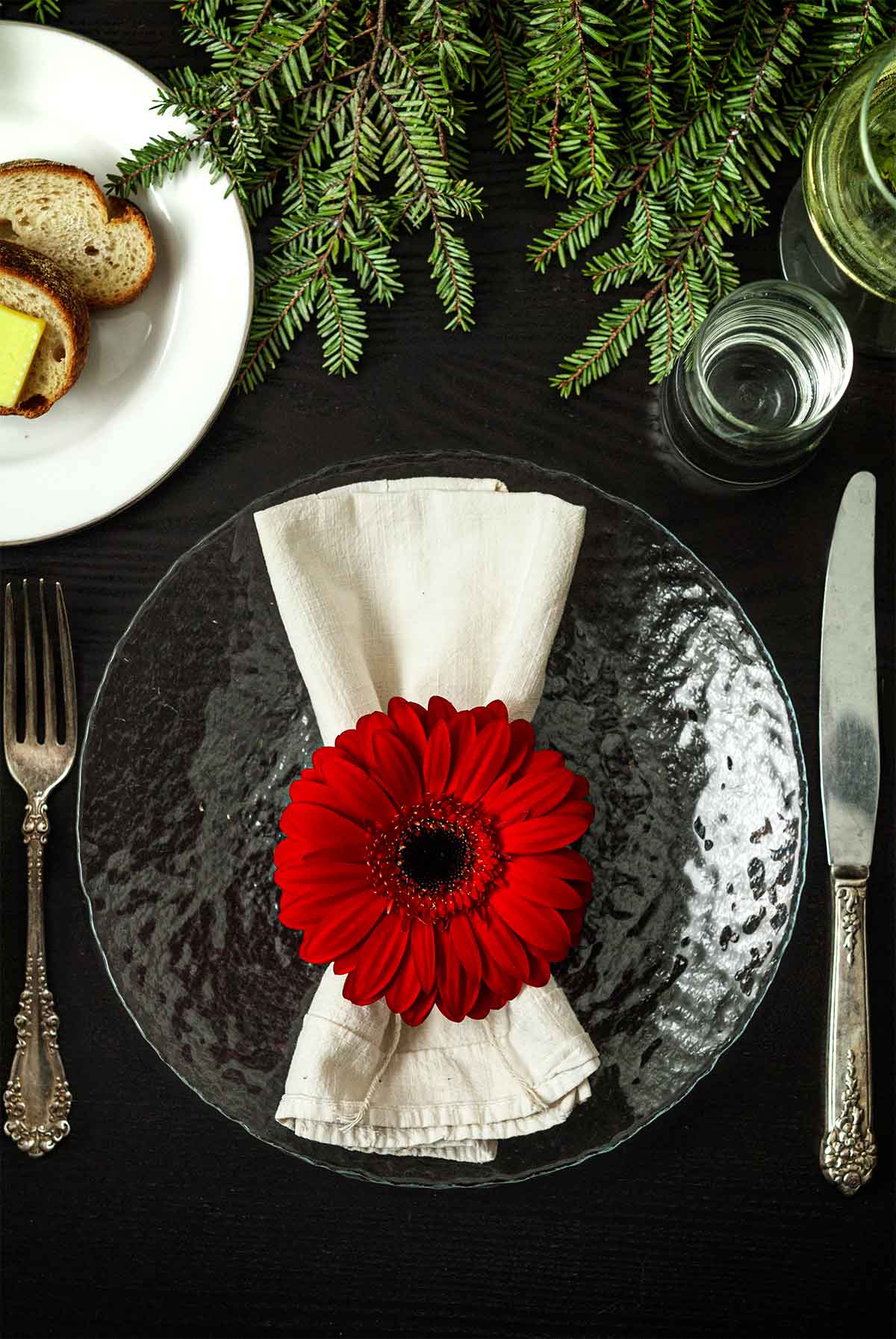 One, simple, red Gerbera Daisy placed on top of your napkin is so festively elegant. I've seen Gerbera Daisies stay fresh-looking out of water for over 24 hours, so feel free to cut and set them on your table any time, the day of the party.
9. Thistle & Baby's Breath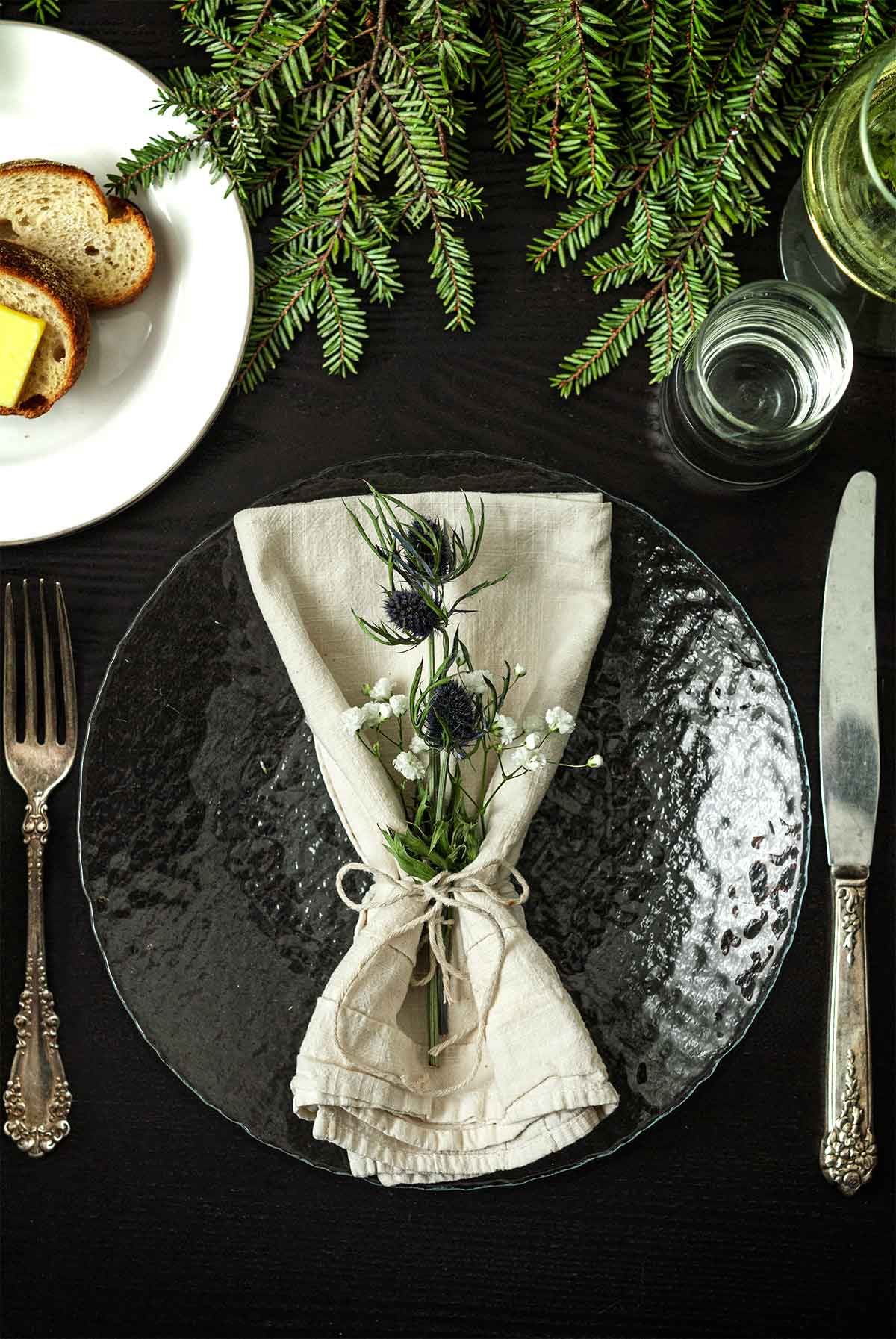 Thistle is such a mysterious flower. With a hush of purple and spiny texture, it really makes an original, floral Christmas place setting. And again, I love Baby's Breath to make things look snowy, so I added a little to this place setting as well.
Thistle looks fresh when cut for days out of water, and Baby's Breath looks fresh for a few hours, so set your table with this pairing up to 4 hours before the party.
10. A Dry Flower Bouquet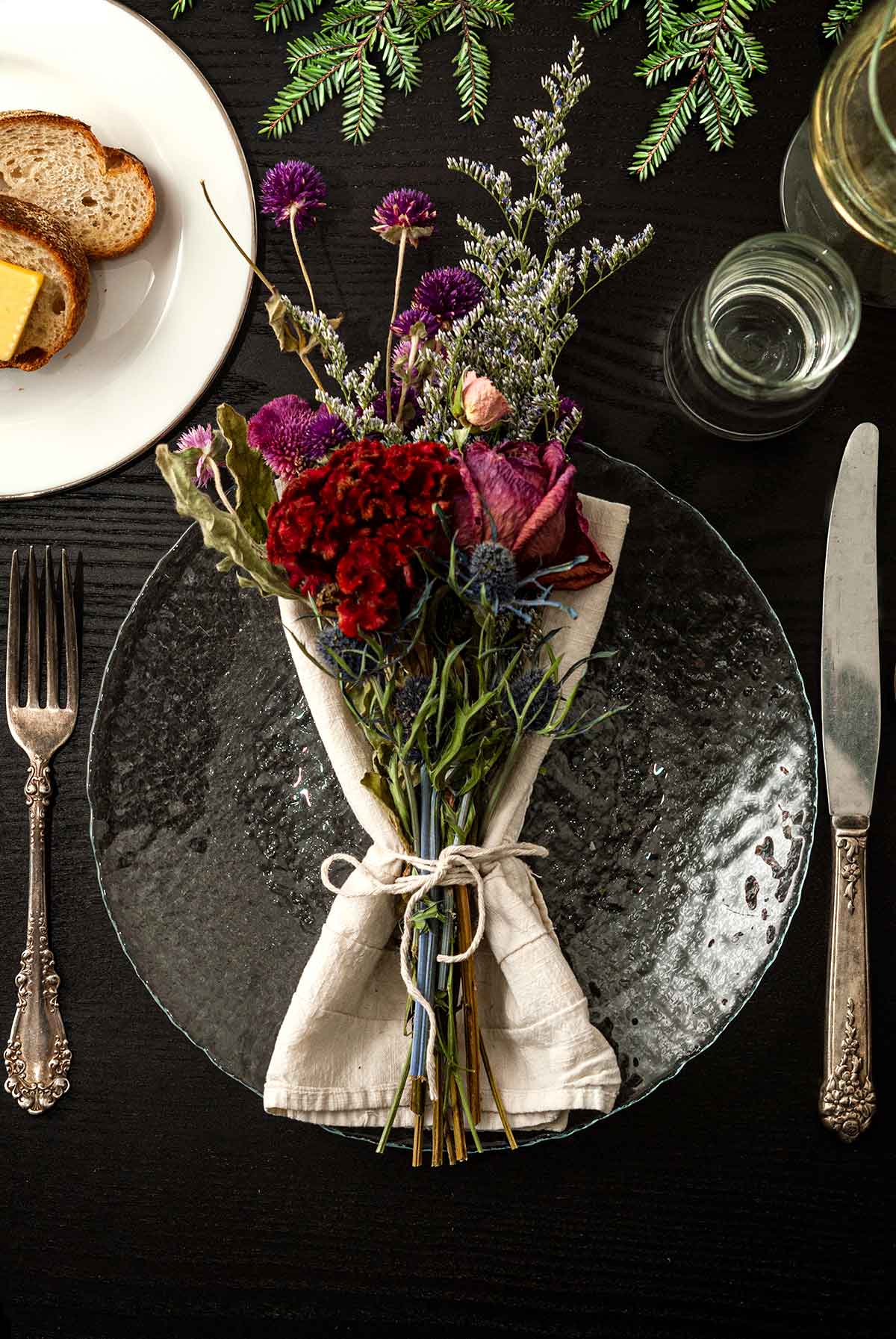 Like last year, I decorated my tree this year with flowers and wanted my Christmas dinner table to match. I used dry roses, cockscomb, thistle, caspia, spray roses and gomphrena. I love this idea because it gives my guests a pretty gift to take home.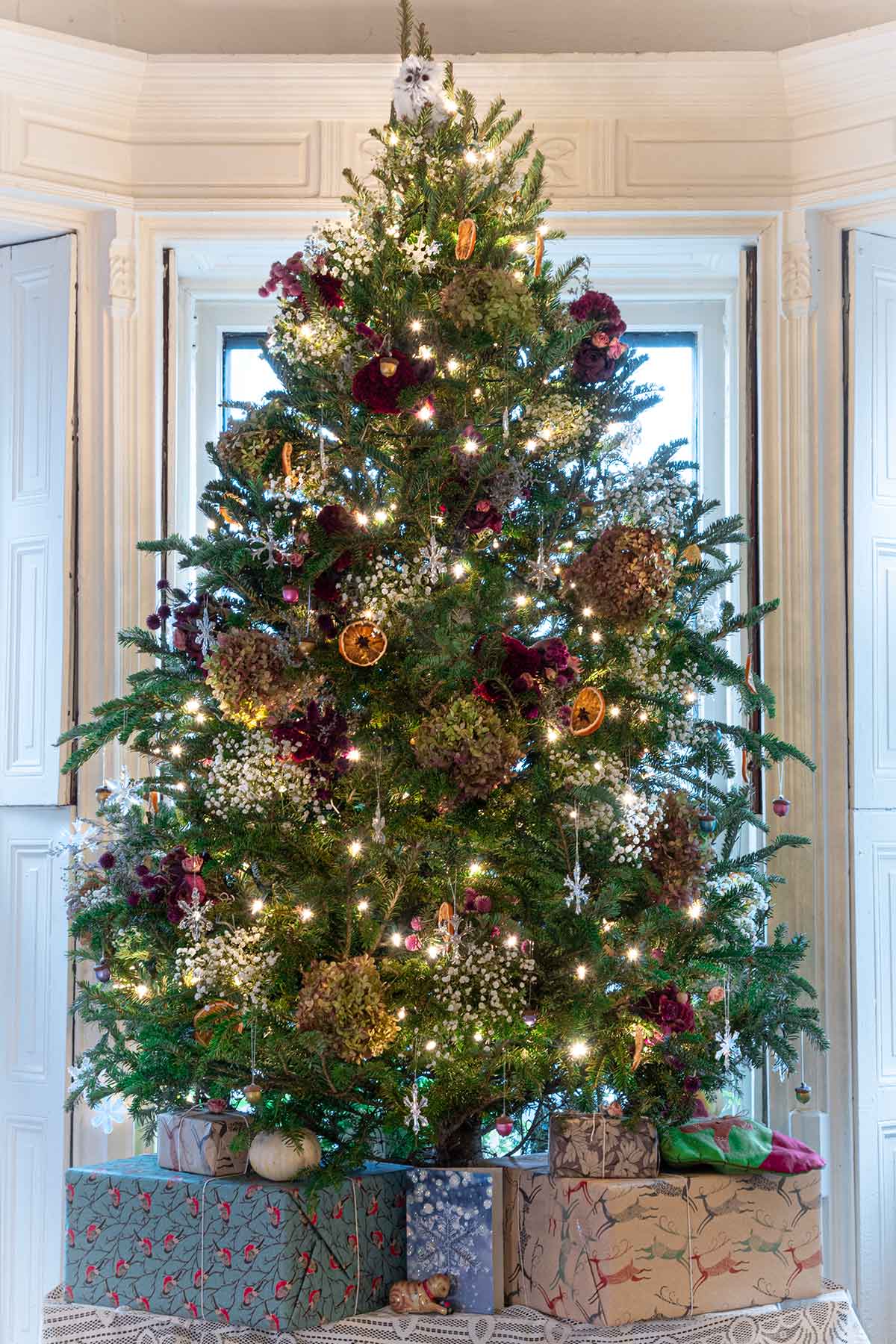 Take a look at my post on how to create a DIY flower Christmas tree to see exactly how to create perfectly dried bouquets and use them to decorate for Christmas!
Now Help Yourself to These Lovely Holiday Recipes to Serve at Your Party!
For more inspiration, subscribe to my newsletter, and follow me on Instagram, on Pinterest, tiktok, and Facebook! And if you ever make any of my tasty drinks or treats, take a picture and tag me. I want to see!