These 20 elegant Valentine's Day recipes are romantic, colorful, decadent and perfect for a night-in with someone special, or a party with friends you love. You'll find appetizers, desserts and cocktails that will enchant and surprise. Show someone you love them with one of these recipes!
I love Valentine's Day! It's a day to make something sweet and share it with someone you love (or a whole bunch of people that you love!) Sending pretty valentines and texts full of heart emojis make me so happy!
I also love a fun "Gal-entine's day" or even a "Pal-entine's Day" (for the guys or mixed company… and yes, I think I came up with that), so whether you're planning a nice party for friends, or a romantic evening for 2, you'll find some delicious recipes below that say "I love you for being you."
1. Fig & Bacon Jam Crostini
This fig and bacon jam crostini is smeared with goat cheese, topped with sliced figs and bacon jam, and then drizzled with honey, fresh thyme, and sprinkled with black pepper.
2. White Rosemary Rose Cocktail
This White Rosemary Rose coconut cocktail tastes like winter white magic! With coconut milk, white rum, honey and rosewater, it's not too sweet and not too floral. It's delicate, dreamy and makes an elegant Valentine's day cocktail!
3. Vegan Cranberry Cream Cheese Bites
These vegan cranberry bites are fabulous for entertaining during the holidays or all year round! Layer vegan cream cheese, cranberry sauce, hazelnuts, and rosemary in puff pastry for irresistible bites that nobody can resist.
4. Romantic Valentine's Day Deviled Eggs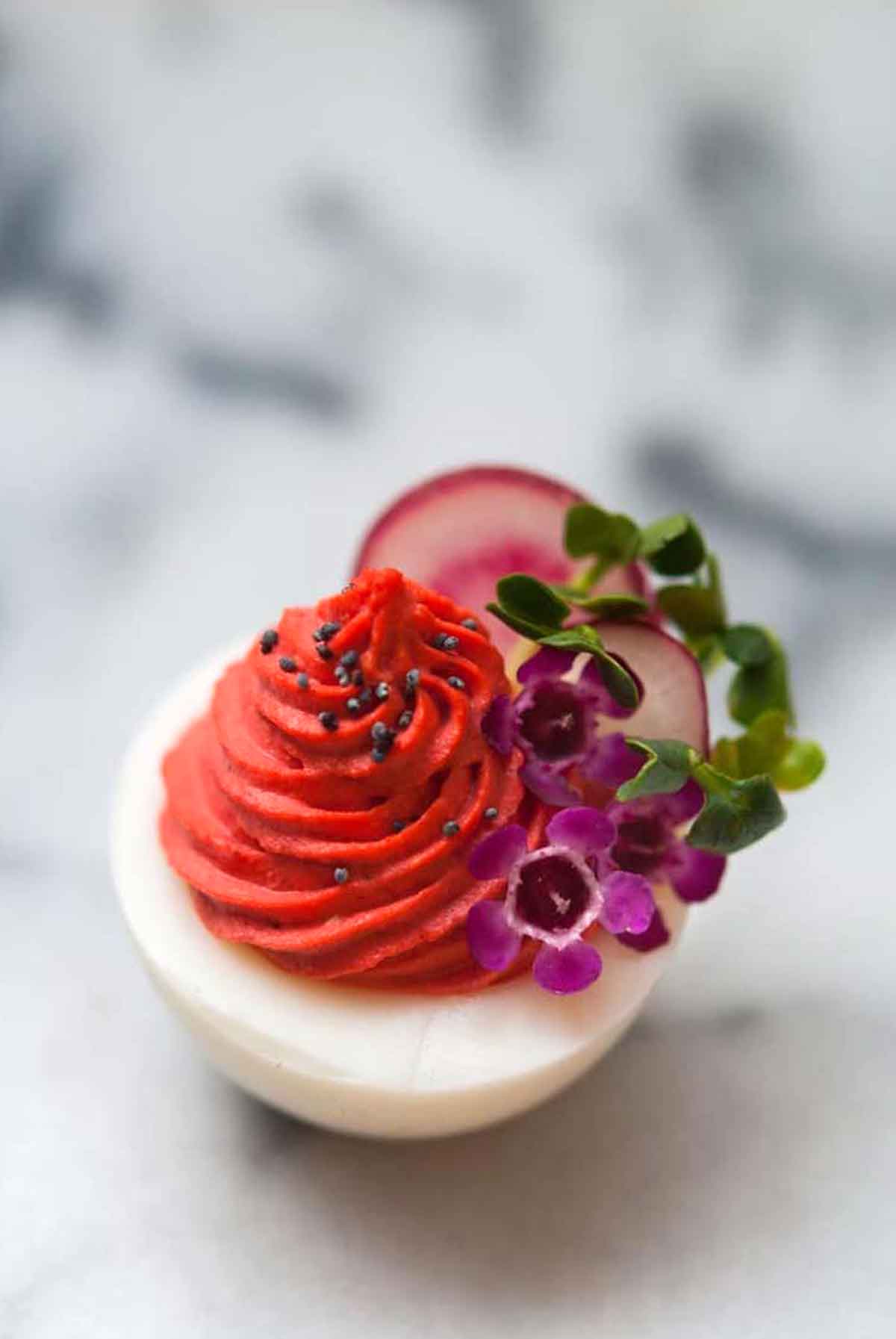 Want to create the prettiest Valentine's Day deviled eggs? All you need is some mustard, mayo, creamy horseradish and a little drop of dye or all-natural beet juice color. They're so pretty, they'll make cupid's wing flutter!
5. Maple Cranberry Bourbon Smash
This Cranberry Maple Bourbon Smash Cocktail is the perfect fall cocktail. Whip up a batch of maple-cranberry simple syrup in just 5-minutes. Then combine it with bourbon and cranberry juice, top it with a rosemary sprig and enjoy!
6. How to Make a Bacon Rose Bouquet
Nothing says "I love you" like a perfectly crispy bacon rose! Learn how to make exquisitely crispy, lifelike bacon roses with this simple recipe and arrange them perfectly in a beautiful bouquet!
7. Pink Vodka Lemonade
Pink vodka lemonade is the perfect tasty adult beverage for any time you are looking for something easy and delicious, and a perfect Gal-entine's day signature. It uses just 5 ingredients and has such a light and pretty pink color.
8. Beet Napoleons with Prosciutto Roses
These beautiful beet napoleons may look like red velvet desserts, but they're made with chive cream cheese, red beets and tiny prosciutto roses on top! With only 4 simple ingredients and a tiny cookie cutter, you can make these delicious, charming, bite-size appetizers for Valentine's Day!
9. Fillet Mignon Bites with Creamy Horseradish Sauce
Filet Mignon Bites with creamy horseradish sauce are the perfect elegant appetizer. Mini filet mignons are wrapped in bacon and served with a thick and tangy dipping sauce.
10. The Divine Damiana Valentine Cocktail
If you're looking for a Valentine's Day cocktail to really put you in the mood, this Damiana tea and sake cocktail is a divine Valentine aphrodisiac.
11. Cherry Cheesecake Cupcakes
A sweet and buttery graham cracker crust topped with creamy cheesecake filling and mouth-watering cherries.
12. The Pink Cherry Blossom Maraschino Liqueur Cocktail
This pretty cherry blossom cocktail is made with Luxardo Maraschino Liqueur and Gin Lane Victoria Pink Gin 1751. Lightly sweet, citrusy and with a hint of cherry, it's a perfect cocktail for Valentine's Day or celebration of cherry blossom season!
13. Chocolate-Covered-Strawberries
If you don't have a Valentine this year, there's no need to fret — Chocolate-Covered Strawberries are a love story in-and-of themselves. This gorgeous confection is surprisingly easy to make at home, takes only 20 minutes to make, and costs a fraction of what you'd pay at the store!
14. Crostini with Balsamic Strawberries and Ricotta
These crostini with balsamic strawberries and ricotta are sweet, tart, creamy and perhaps the most romantic appetizers you can serve your sweetheart. They also take less than 20 minutes to prepare!
15. The Sparkling Kir Royale Cocktail
A Kir Royale cocktail is perfect for any celebration – from New Year's Eve to Valentines Day or even a proposal – because of its gorgeous color and sparkling personality.
16. Pretty Pink Gin & Tonics
What pretty pink cocktails! These gin and tonics are so feminine, so gently spiced, delicately herbal and lightly floral. They're perfect for a Gla-entines or Valentine's Evening.
17. Grilled Oysters
Grilled Oysters make an elegant appetizer and decadent treat for your favorite guy or gal. This grilled oyster recipe highlights what oysters are best for, grilling, and a simple butter sauce with a secret ingredient: white wine.
18. White Chocolate Cheesecake Mousse with Raspberry Compote
This no-bake, creamy, decadent white chocolate cheesecake mousse recipe is ribboned with raspberry-rosemary compote. It's gluten-free, silky and sweet, tart and delicately hinted with rosemary essence. It's one of the simplest and prettiest desserts to serve at a dinner party, baby shower or bridal shower. It's also perfect for Valentines Day!
19. The Pretty Pink Gin Martini
This pink gin martini is made with Gin Lane 1751 and has such an enchanting, romantic air. More complex than a traditional martini, this cocktail includes a delicate herbal spice.
20. Deviled Eggs with Bacon Roses
Everyone loves deviled eggs with bacon, but if you want to add an air of elegance to your deviled appetizers, don't sprinkle them with bacon bits – garnish them with glamorous bacon roses!
I hope you love these Valentine's Day recipes as much as I do! Wishing you a loving, happy day, from my heart to yours.
For more inspiration, follow me on INSTAGRAM, on PINTEREST, TIKTOK and FACEBOOK! And if you ever make any of my tasty drinks or treats, take a picture and tag me. I want to see!