Rose garnishes will beautify any cocktail, appetizer, or entree in such an elegant way! Here's how to use bacon, prosciutto, scallions, pearl onions, or real spray roses to turn your party treats into delicious, floral works of art!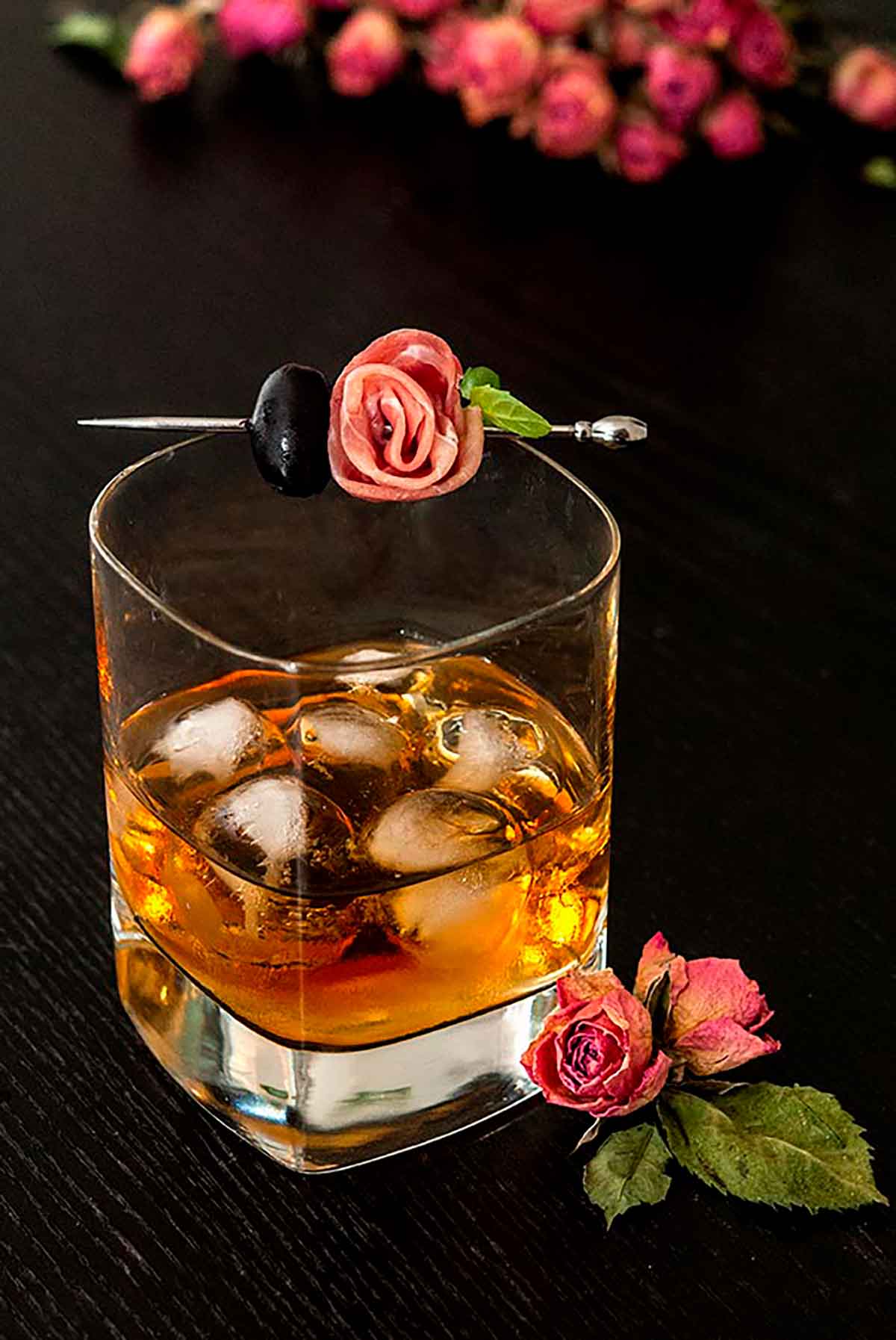 I find these garnishes are the perfect way to add a feminine touch to any treat, making them perfect for baby showers, bridal showers, or mother's day.
But frankly, prosciutto rose-garnished whisky cocktails, bacon rose-garnished deviled eggs, or onion rose-garnished quiches are lovely for any occasion, and will delight your guests any time of the year!
1. Prosciutto Roses
I love creating prosciutto roses for tomato bruschetta, whisky cocktails, and canapés! You can make them tiny like rosebuds for small appetizers or layer them until they're large, luscious roses on a charcuterie board. Adding a few sprouts or basil for leaves completes them beautifully.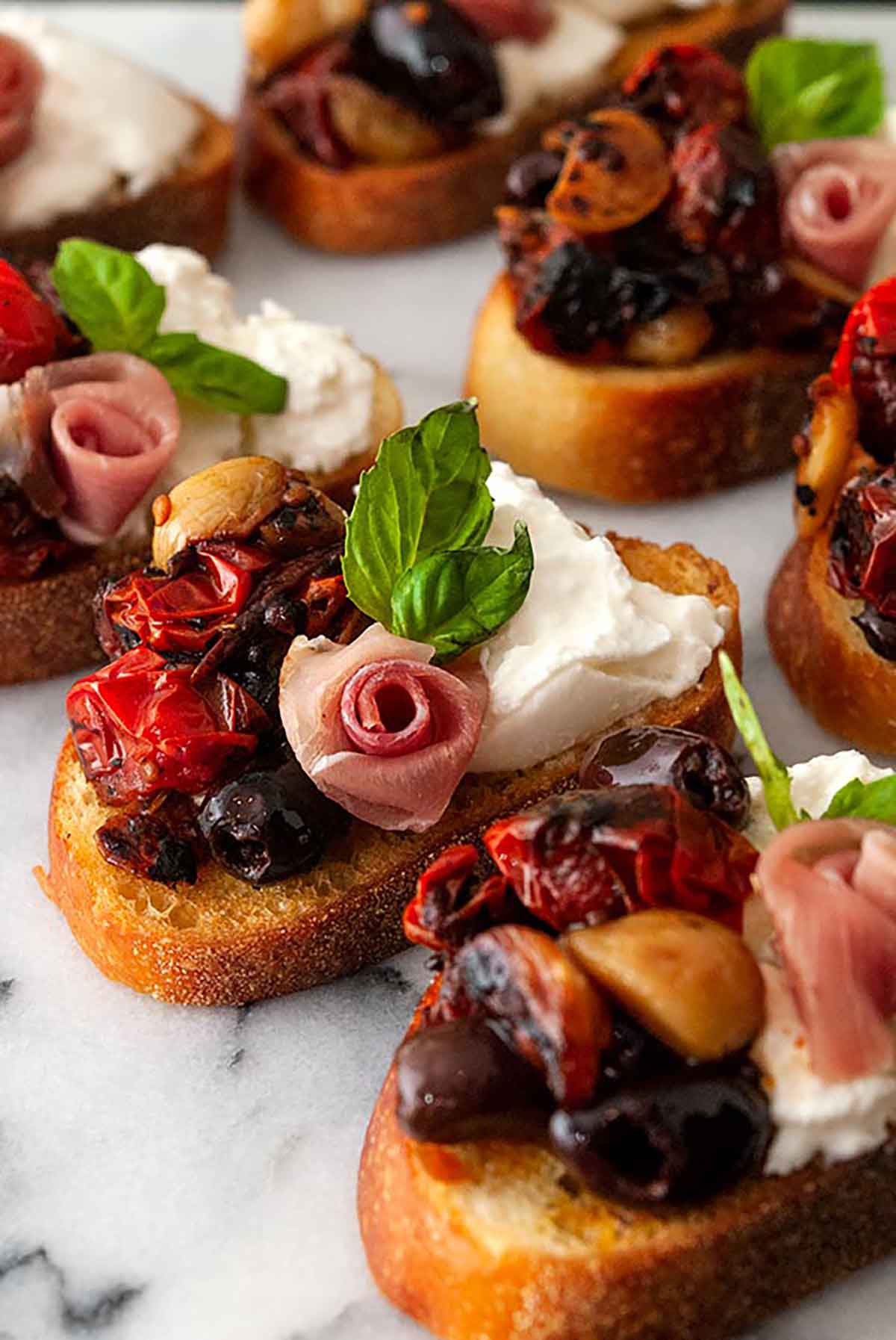 Tip! Make sure to choose prosciutto that has pieces separated by either plastic film or wax paper. Prosciutto sticks to itself very easily, and you need to be able to have a perfect slice that you can cut easily into 4ths. When it's not separated, it will be impossible to get such a clean piece that stays intact.
Ingredients:
• Prosciutto
Kitchen Tools:
• Kitchen scissors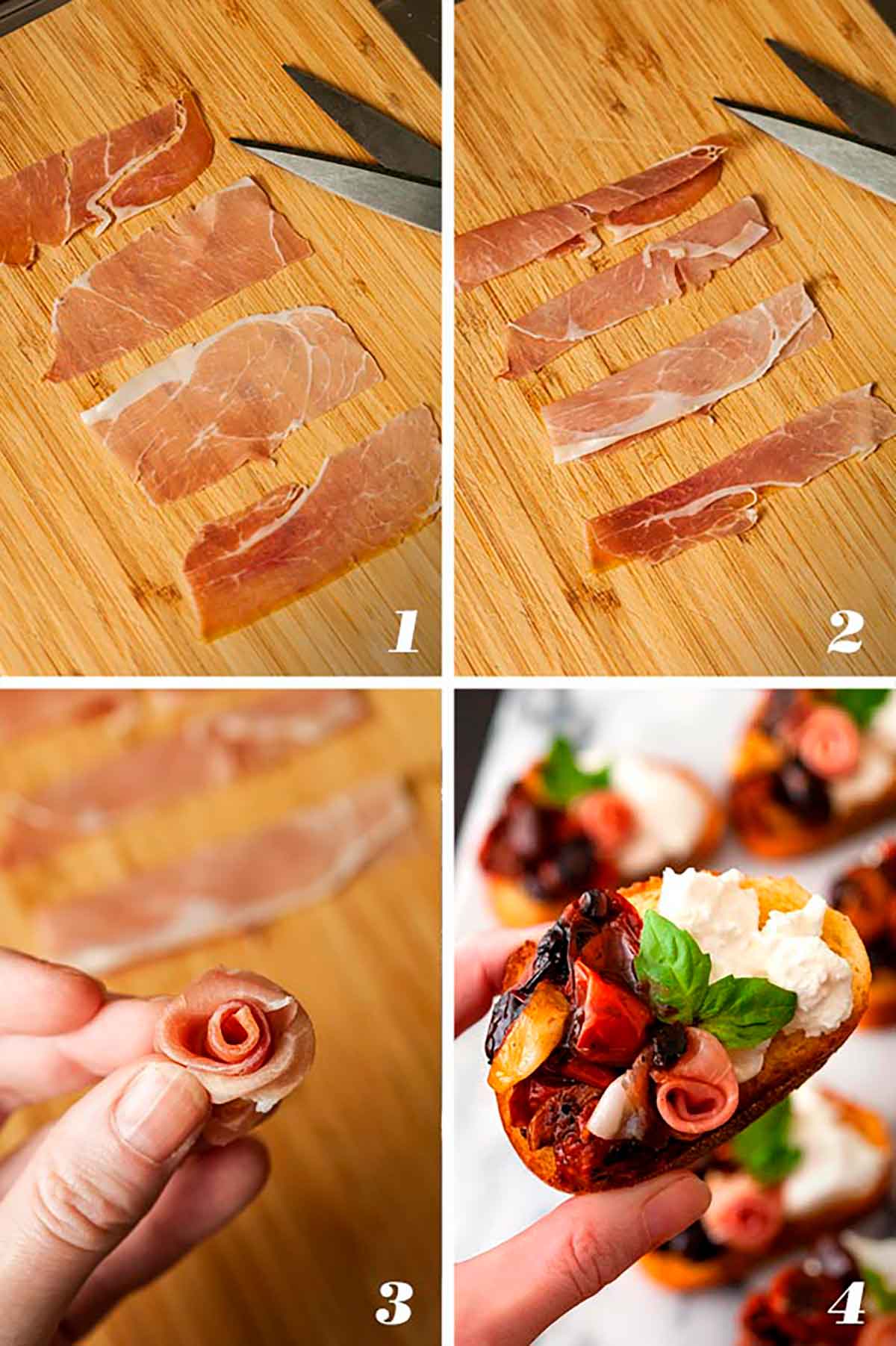 Step 1. Remove a slice of prosciutto as carefully as you can from the package so it does not stick to other pieces. Use kitchen scissors to cut the piece into 4 smaller pieces.
Step 2. Fold each piece in half.
Step 3. Roll each piece into a pretty rose.
Step 4. Place them on your beautiful appetizers or cocktails!
2. Pearl Onion Roses
Onion rose garnishes add a beautifully rustic femininity to savory pies, galettes, and appetizers. They turn a simple meal into an elegant, delicious, instagram-able conversation piece and require just 2 ingredients! I added pearl onion roses to this gorgeous spinach and goat cheese quiche!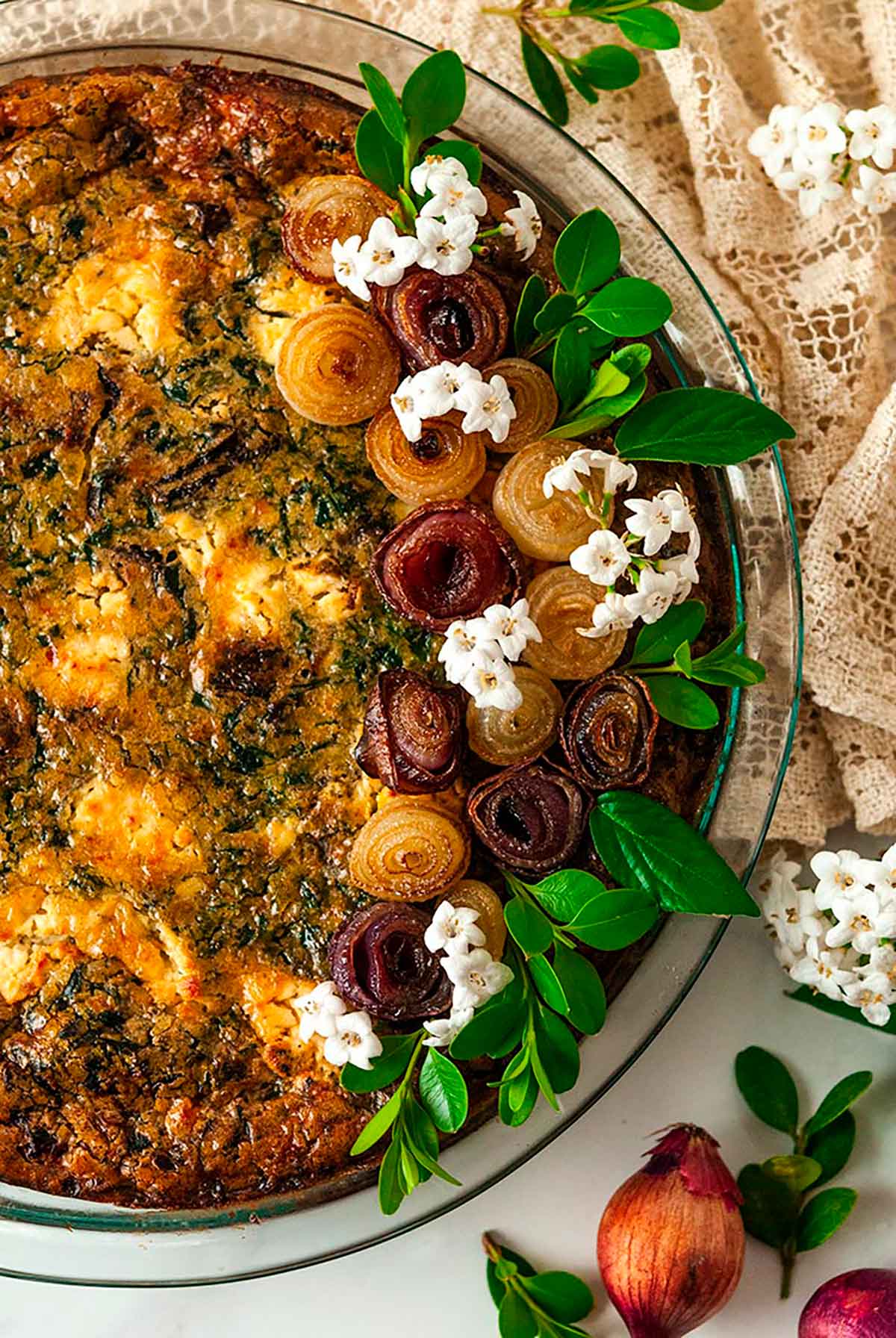 Tip! For the prettiest onion rose garnishes, choose multi-colored pearl onions if you can find them. Especially red/purple ones. Also, consider using parsley or a small leafy green to add "leaves" around your roses. It just makes them all the more whimsically realistic.
You will require:
• Small pot
• Cutting board and sharp knife
• Foil-lined baking sheet
Ingredients:
• Pearl onions
• Balsamic vinegar
• Olive Oil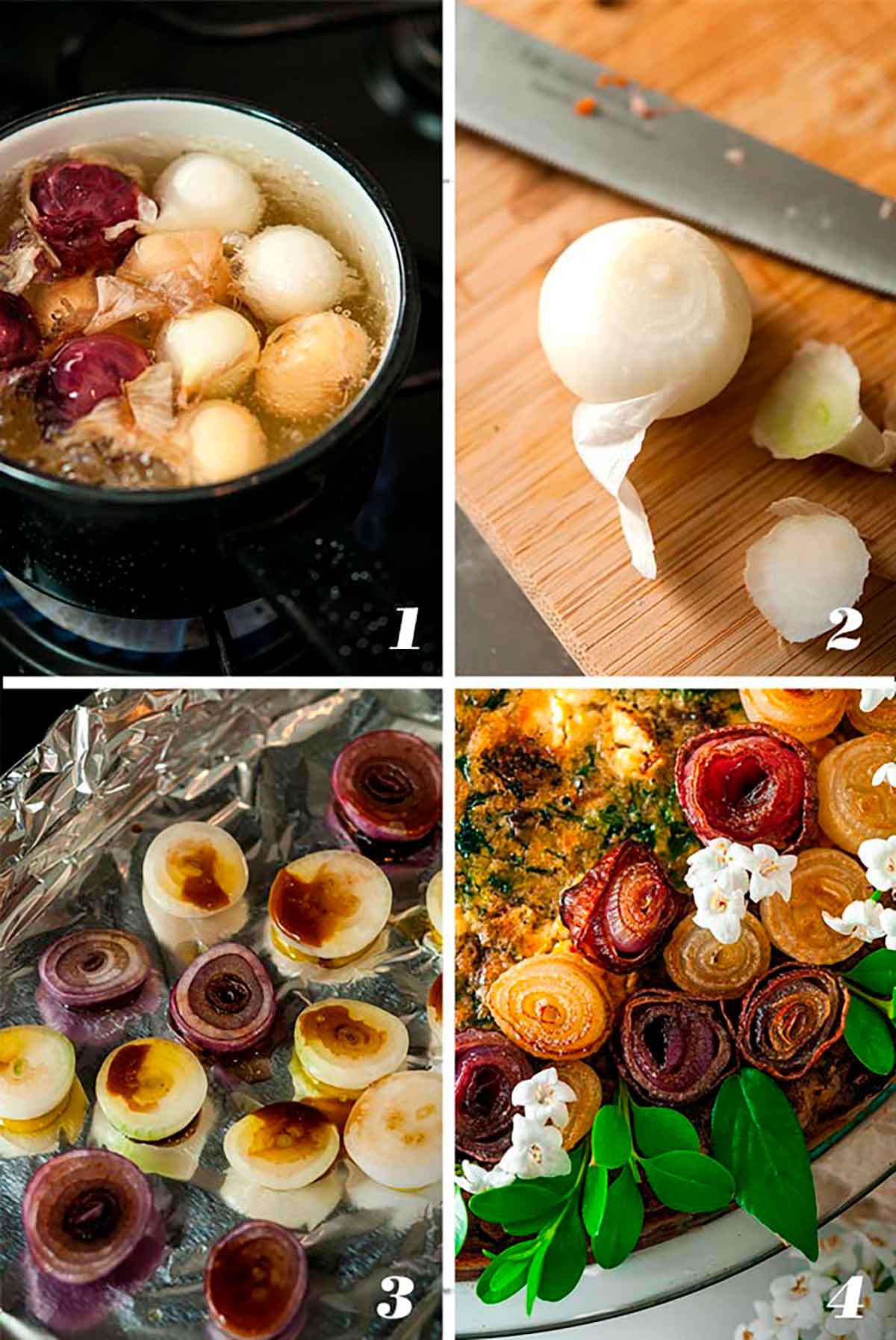 Step 1. Preheat oven to 375 F. (190 C.) To easily (and quickly) peel your pearl onions, blanch them first. Simply boil a small pot of water. When the water is at a rolling boil, add the pearl onions for no more than 30 seconds. Then, quickly remove them and place them in a bowl of cold water for 60 seconds.
Step 2. Easily peel the skins from the pearl onions. Slice the tops and bottoms, then slice them in half.
Step 3. Place them on a foil-lined baking sheet, and drizzle them with a small amount of olive oil and balsamic vinegar. Bake for 15-20 minutes.
Step 4. Place them on your beautiful appetizers and entrees!
3. Scallion Roses
Scallion rose garnishes are prettiest on tiny appetizers and look even cuter with a parsley leaf. They add the perfect, small pop of flavor to any appetizer that can use a little more excitement. I made these to garnish my vegan mushroom pâté canapés.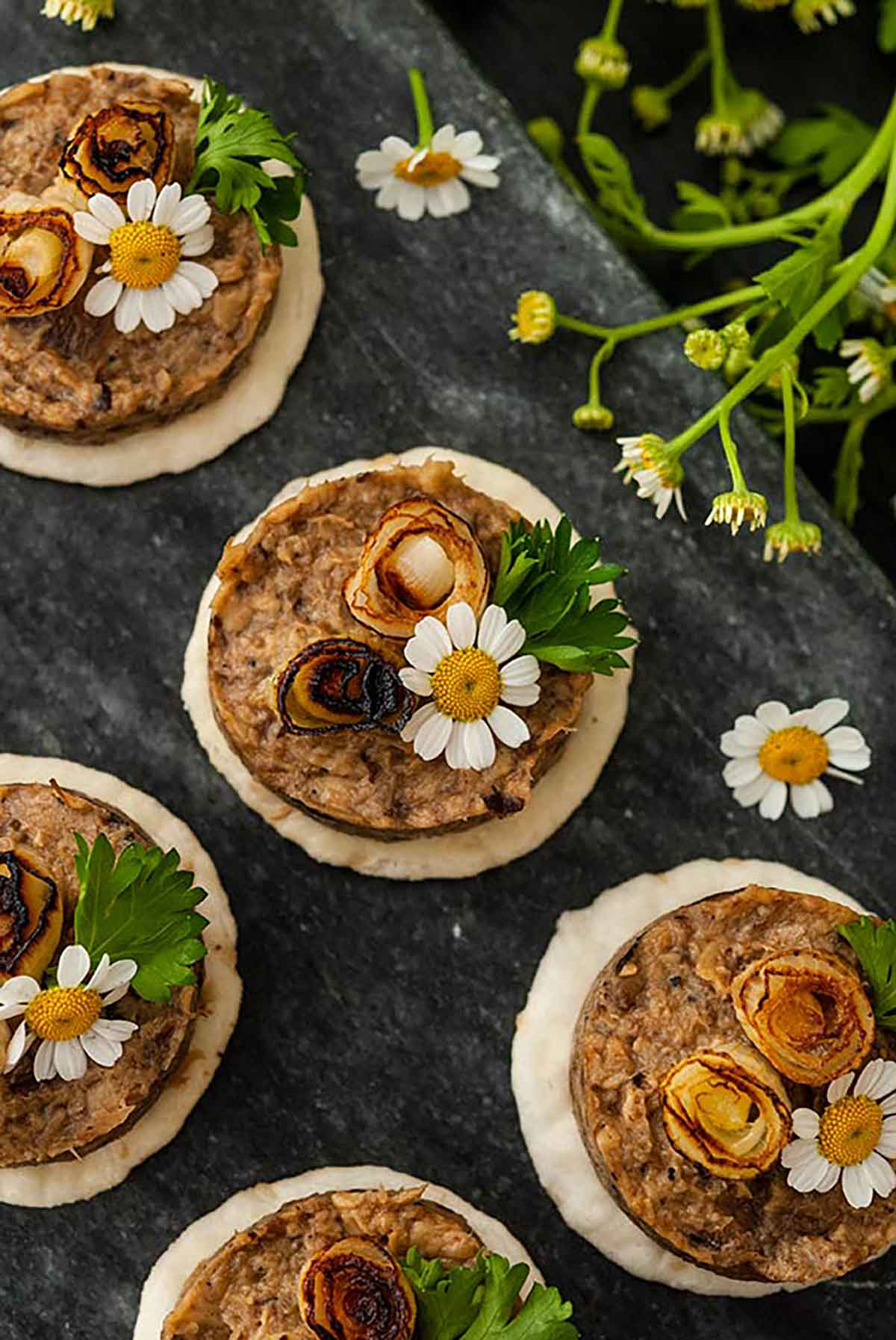 Tip! When you place them in the pan, make sure to turn the heat on only when they're all in, have been dipped in olive oil and are placed with a little space between them. They cook VERY fast, and the amount of time it takes to put them in the pan will be longer than the amount of time it takes to cook them.
You will require:
• Cutting board and sharp knife
• Medium to large sauté pan
• Tooth pick
Ingredients:
• About 6 or 7 scallions
• 1 tsp. olive oil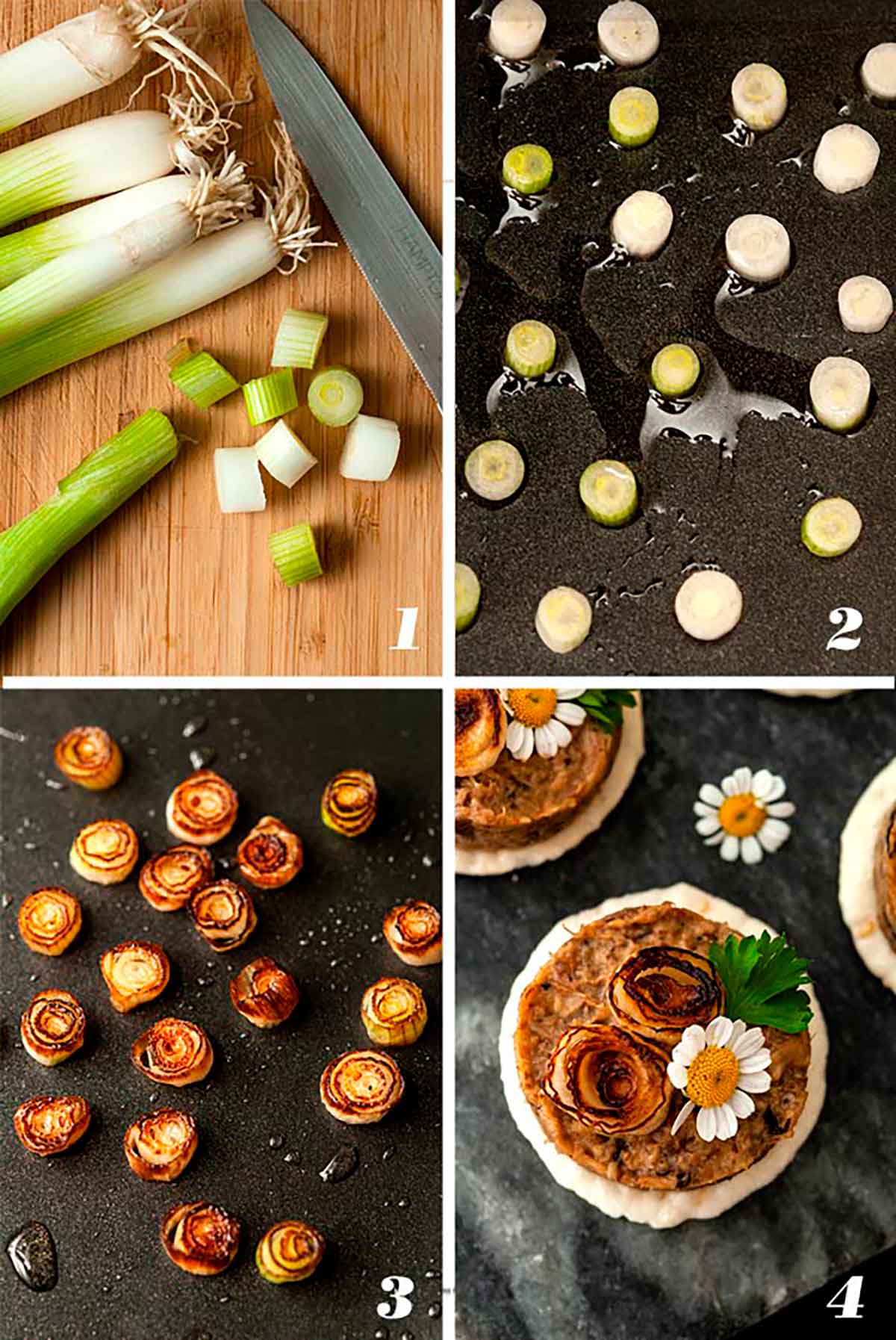 Step 1. Chop the white part of scallions, and just a bit of the green, into half-inch thick pieces.
Step 2. Add 1 tsp. of olive oil to a sauté pan, and place each scallion slice in the pan, dipping them in oil and evenly placing them with space between them.
Step 3. Turn the heat to medium-high and let them brown for only 3 minutes without turning them. They'll try to bunch together in the oil and heat. Do your best to gently separate them with a spatula while they cook. Once brown on one side, turn off the heat and use a tooth pick to flip them over.
Step 4. Place them on your pretty appetizers!
4. Tiny Bacon Roses
Bacon roses can be used to garnish cocktails, appetizers, or entrees, and even be made into gorgeous bouquets! I like to make personal bacon rose bouquets at brunch and even use them for fondue! I place tiny ones on whisky cocktails and even tinier ones on deviled eggs like these!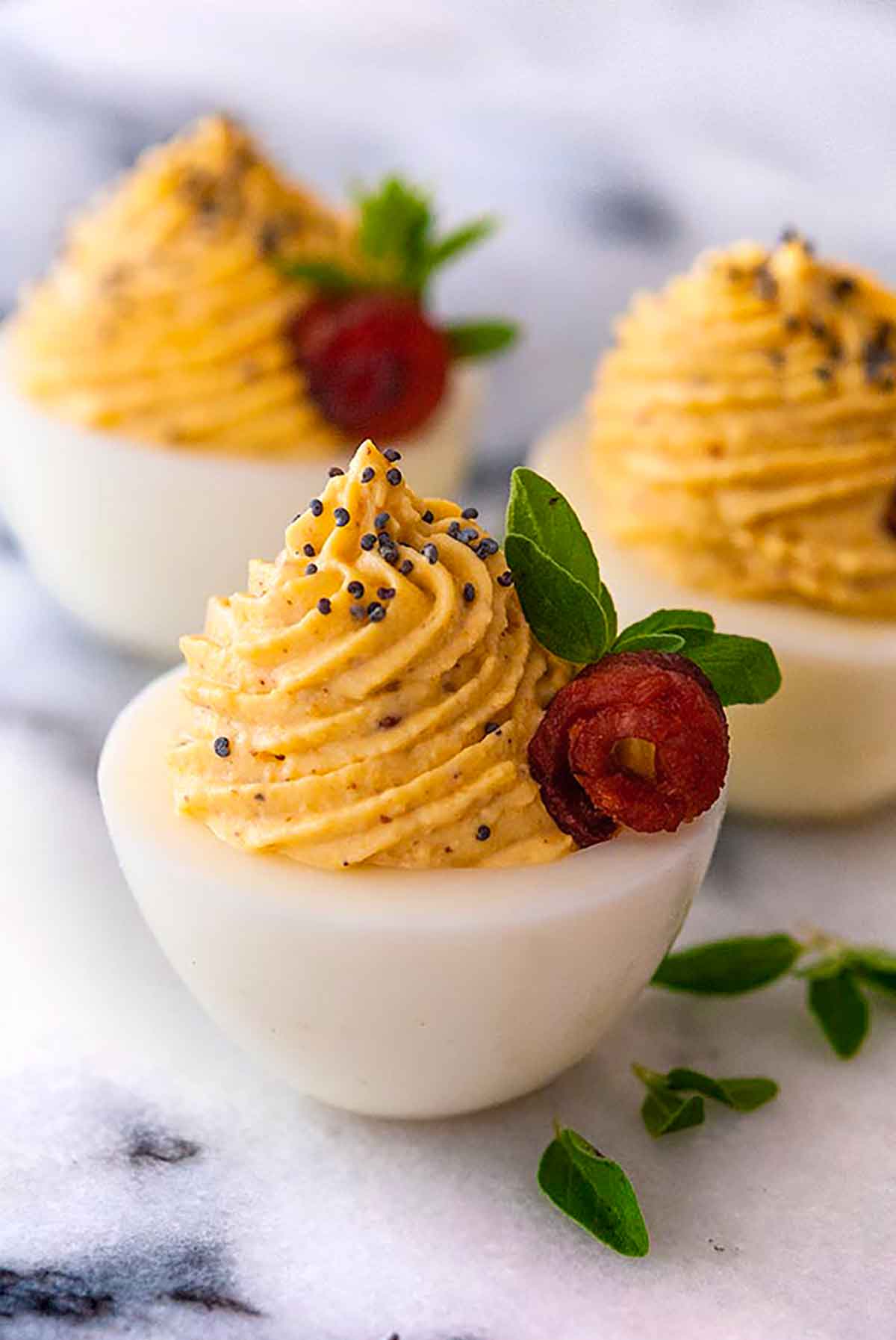 Tip! Only use center-cut bacon. Regular bacon is simply too thin to work with, and will burn quickly, and thick-cut bacon is just a bit too thick. Center-cut is just right.
You will require:
• Toothpicks
• Paper Towel
• Kitchen Scissors
• Foil-lined baking sheet
Ingredients:
• Bacon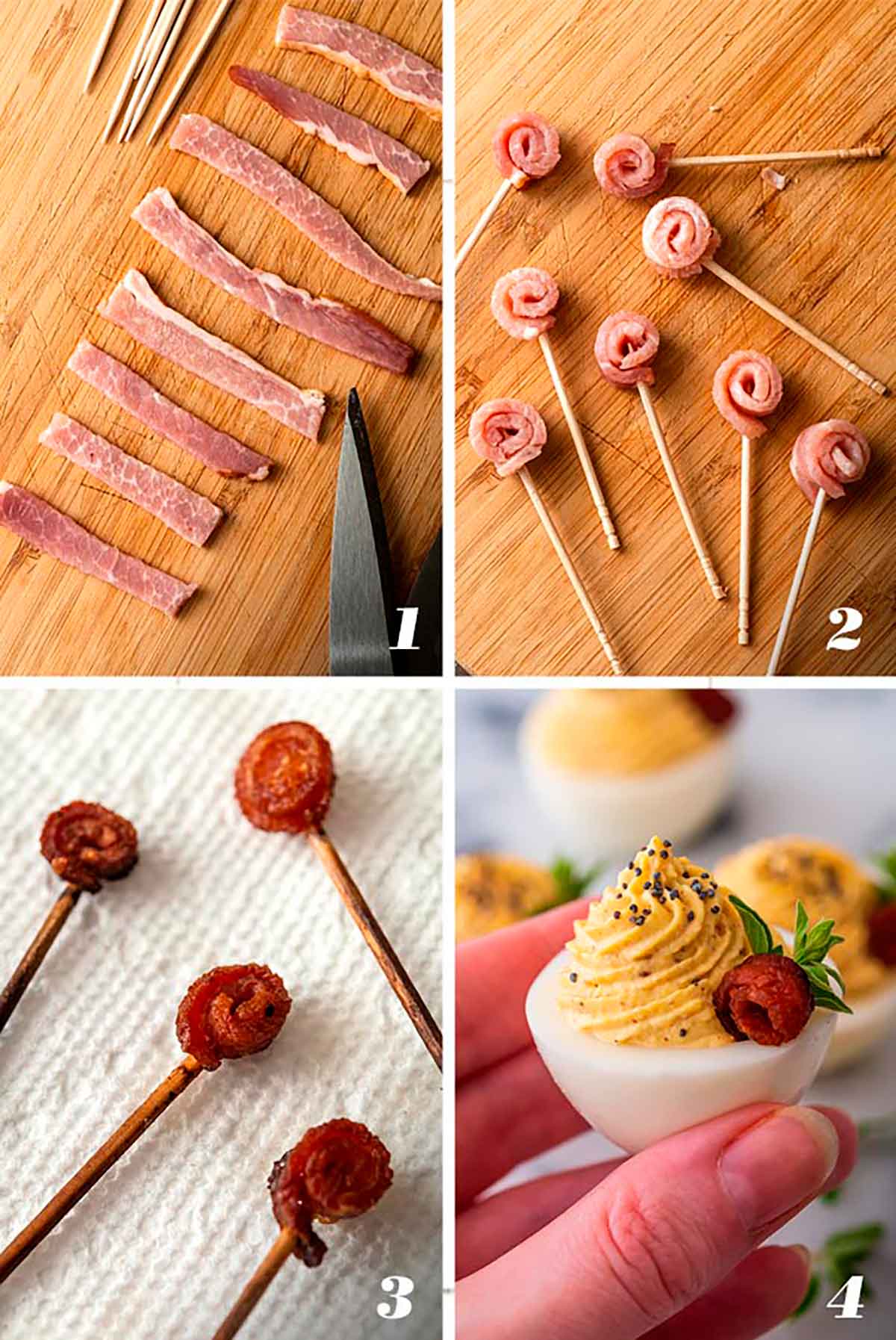 Step 1: Preheat oven to 400 F. (200 C.) Use kitchen scissors to cut tiny strips of bacon that are about 4 inches long and ½ inch wide. No need to be precise. Avoid the fat as best you can.
Step 2. Roll into tiny roses and pierce with a toothpick to keep them secure, and place them on a foil-lined baking sheet and bake for 10–15 minutes. Watch them carefully because they can go from "just about done" to "burned" very quickly.
Step 3. Allow them to cool for 5 minutes on a paper towel.
Step 4. Remove the toothpicks and place them on your pretty appetizers!
5. Spray Roses
Fresh or dry, real spray roses make the most beautiful cocktail garnishes. Pierced with a cocktail pin and paired with a sprig of thistle, or simply all on their own, they make the most elegant garnish for any cocktail, especially when sprayed with rose water.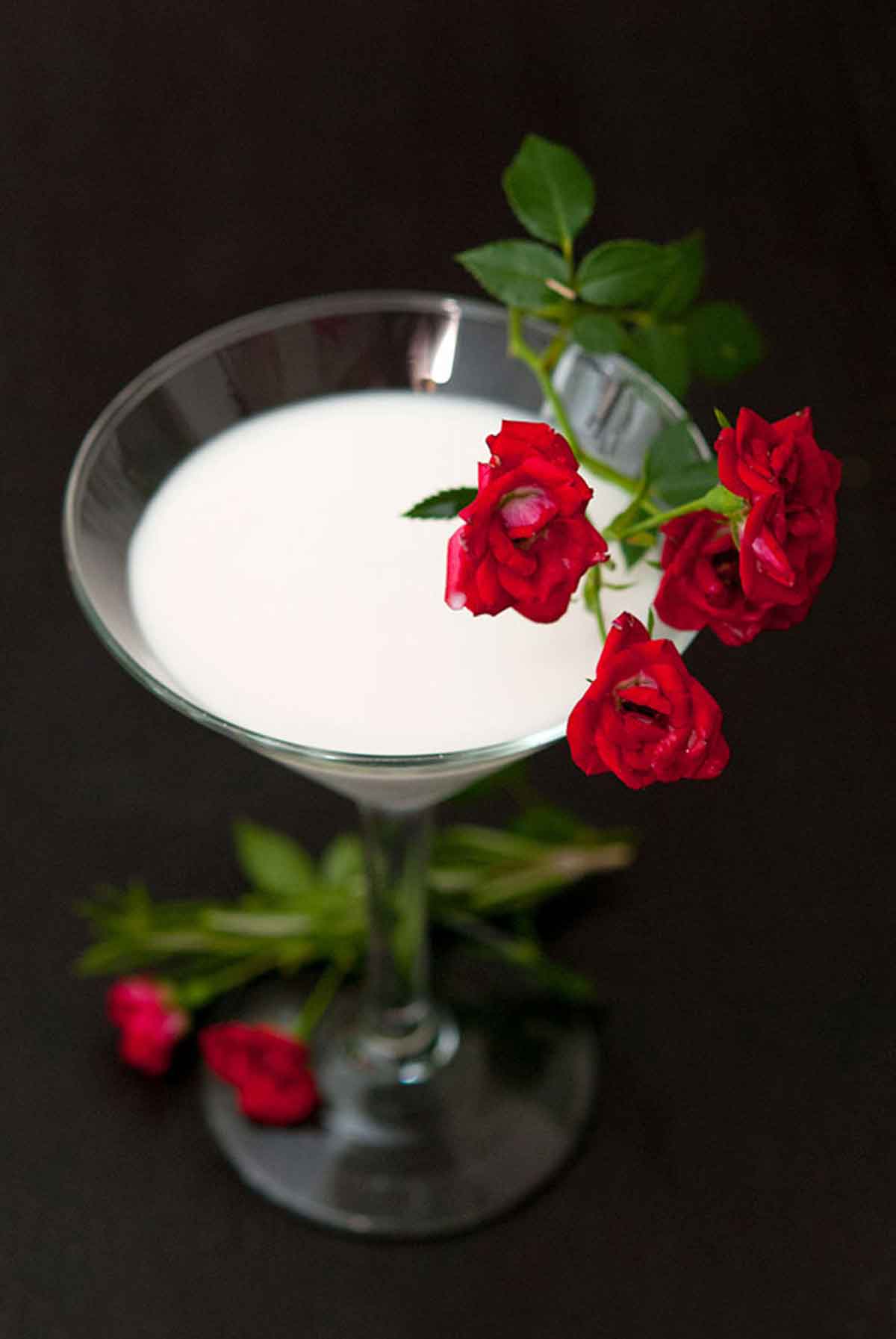 The White Rosemary Rose Coconut Cocktail
This White Rosemary Rose coconut cocktail tastes like winter white magic! With coconut milk, white rum, honey and rosewater, it's not too sweet and not too floral. It's delicate, dreamy and makes such an elegant, rosy cocktail!
See the Recipe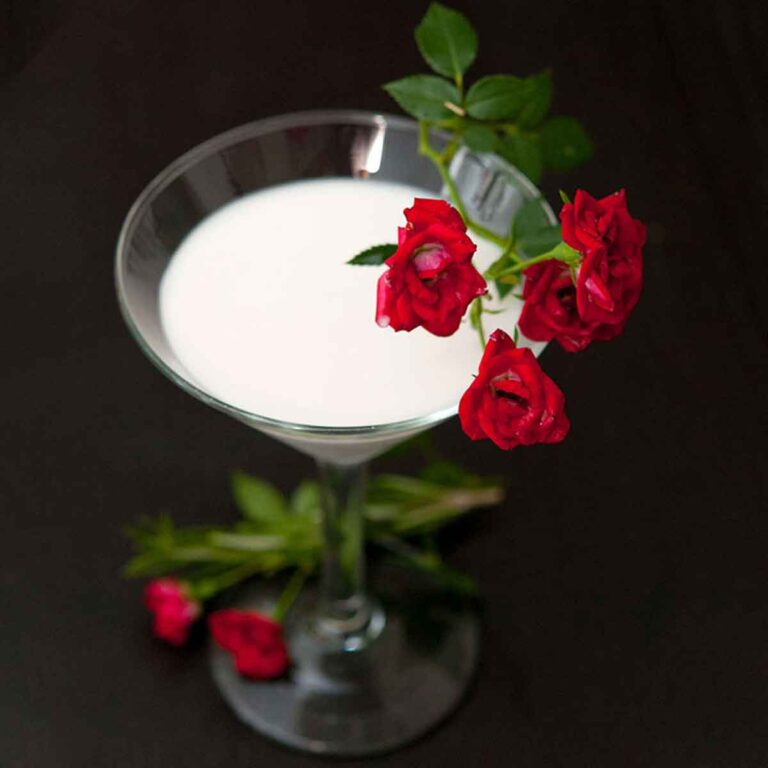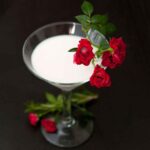 For more inspiration, subscribe to my newsletter, follow me on Instagram, on Pinterest, tiktok and Facebook! And if you ever make any of my tasty drinks or treats, take a picture and tag me. I want to see!
A Few More Rosy Recipes