Here you'll find 20 appetizers, cocktails and sweet treats for a perfectly lovely bridal shower! They're so incredibly tasty that you'll impress even the pickiest mother-in-law! They're also pretty, so easy and delightfully colorful too.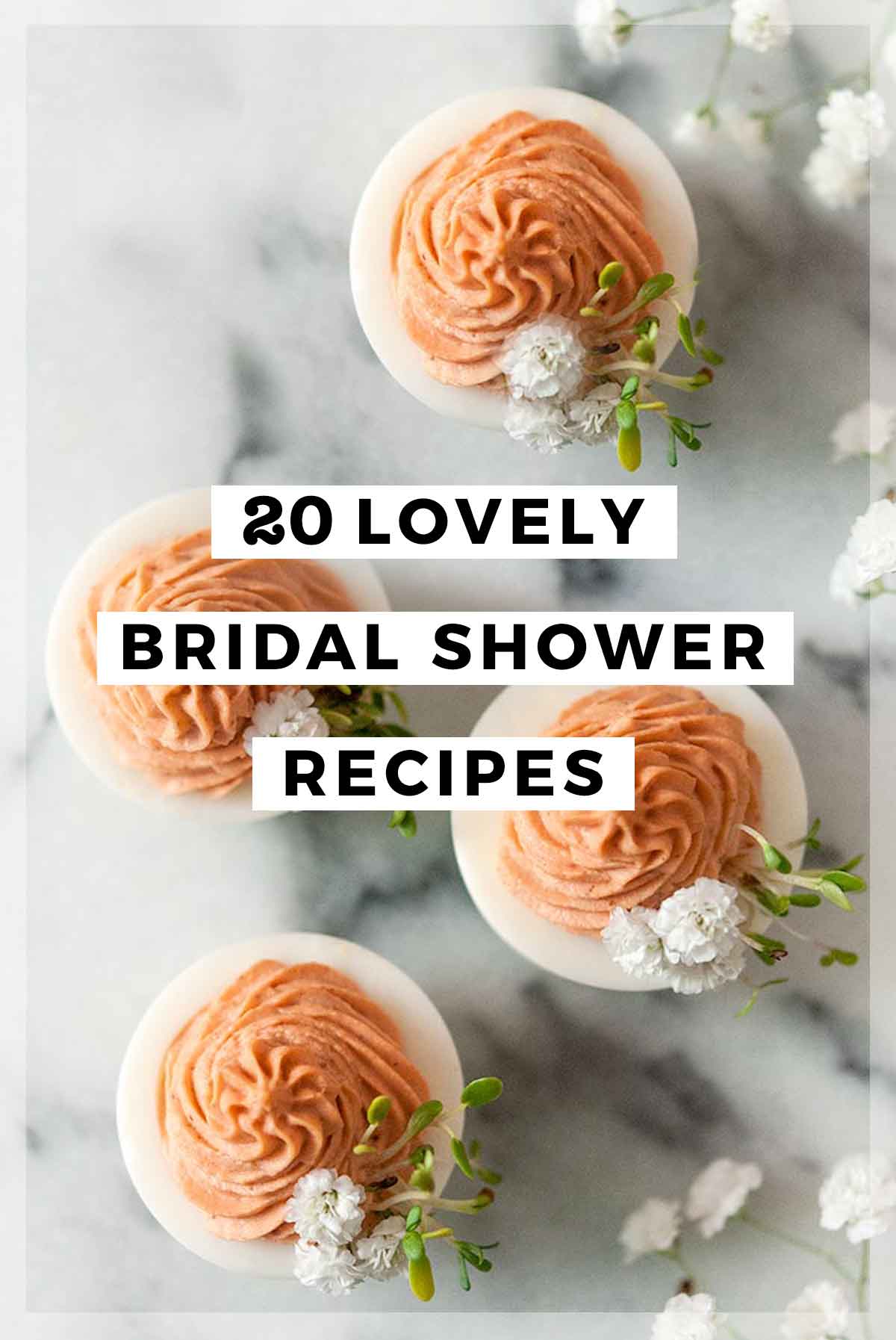 If I'm throwing a party for someone, I usually spend months on Pinterest saving ideas. I make carefully tailored Spotify playlists and I pull out my prettiest, most elegant appetizer, dessert and cocktail recipes!
I don't like making anyone eat off of laps on paper plates so, if possible, all food is finger food, easily held with one hand. Cocktails are easily made into batches so I'm not shaking up drinks all afternoon, and deserts/pastries are also easily served with only a cocktail napkin or in small jars or glasses. It just keeps things tidy and elegant. Here are a few of my very favorite recipes for a lovely bridal shower.
1. Crispy, Baked Cauliflower Cakes with Roasted Garlic Sour Cream & Marinara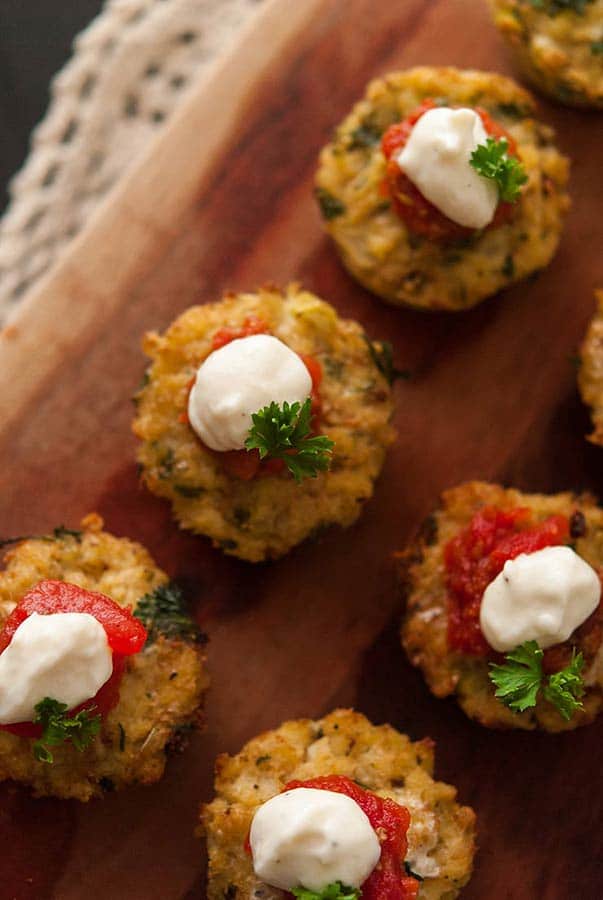 These little cauliflower delights are so impressive, full of tasty flavors and low carb for your diet-conscious guests. They look so cute with that dollop of delicious roasted garlic sour cream too!
2. Vegan Canapés with Mushroom Pâté
A perfectly elegant vegan option for your veggie guests. Absolutely precious and so tasty, you'll have to make sure your guests leave enough for the vegans!
3. Dill Chicken Salad Sliders with Puff Pastry Buns
I love how easy these are to make! It can be hard to find perfectly tiny slider buns, and making them yourself with a little puff pastry couldn't be easier! The delicious dill chicken salad comes together so quickly too!
4. Pink Deviled Eggs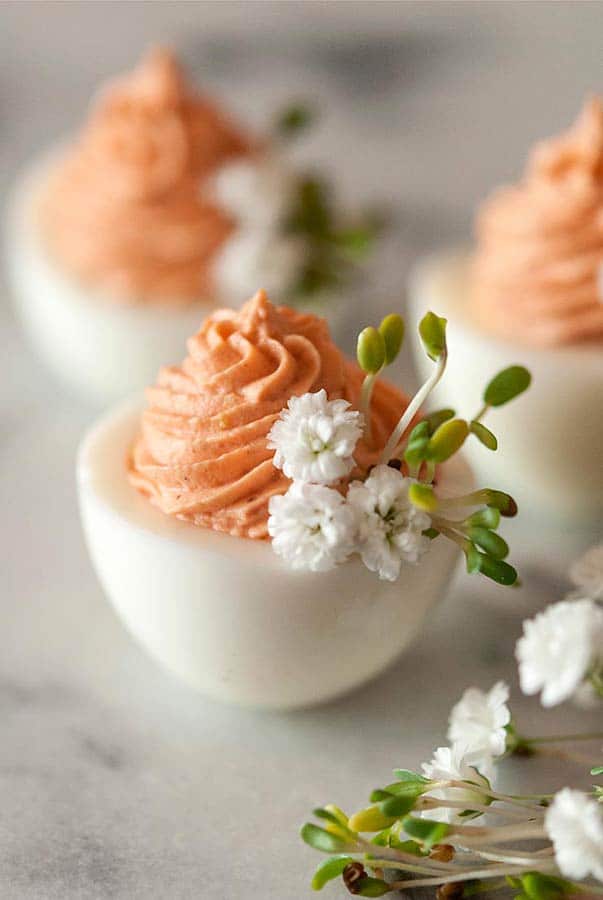 Even though these are "for Easter," they make perfectly feminine appetizers for baby and bridal showers! With just a little pink dye or beet juice, you can make deviled eggs look so pretty!
5. Beautiful Spring Canapés
These little treasures take a little more effort than other appetizers, but OH they're so worth it! And if you make all the bits and pieces ahead of time, assembly should only take about 20 minutes. Truly some of the most impressive canapés your guests will ever see!
6. Bruschetta with Seared Tomatoes, Roasted Garlic & Burrata
These are so much simpler than they look (which is my favorite kind of appetizer)! The bruschetta topping is so divine, and the little prosciutto roses are really easy to make!
7. Beet Napoleon Appetizers with Prosciutto Roses
These little cuties are usually the star of any high-tea, baby shower or bridal shower that I throw. Just like the bruschetta above, the little prosciutto roses simply take their elegance right over the top. With just 4 ingredients, these precious appetizers are simple and incredibly tasty!
8. The Elegant Sake Lychee Martini
This cocktail is one of the easiest on the list. With just 2 ingredients, and an original garnish, it's perfectly refreshing, mild and a little sweet.
9. The Pink Cherry Blossom Maraschino Liqueur Cocktail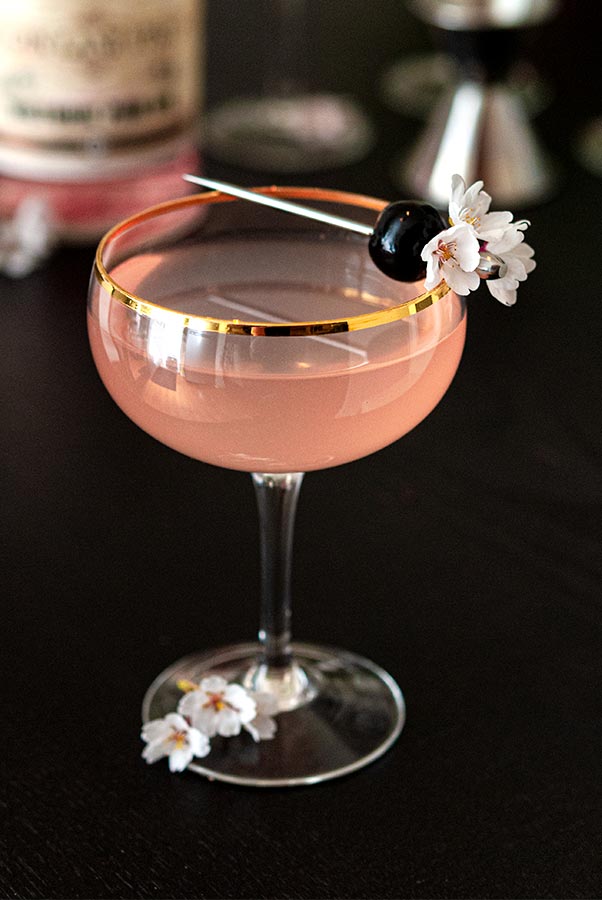 If your bride is a fan of cherries, or if your shower takes place in cherry blossom season, this Pink Cherry Blossom is such a lovely choice. Premix and prepare garnishes with Luxardo cherries and a few pretty cherry blossoms to add a floral touch.
10. The Enchanting Sparkling Elderflower Cocktail
This cocktail has a sparkly, 20's flair. Perfect for a garden party bridal shower with a sweet, floral loveliness.
11. Sparkling Pink Grapefruit Cocktail with Cucumber
Why serve boring mimosas at your bridal shower brunch when you can serve this divine, refreshing grapefruit and cucumber cocktail!? So easy to make into a batch and serve in a pretty pitcher!
12. The French Gimlet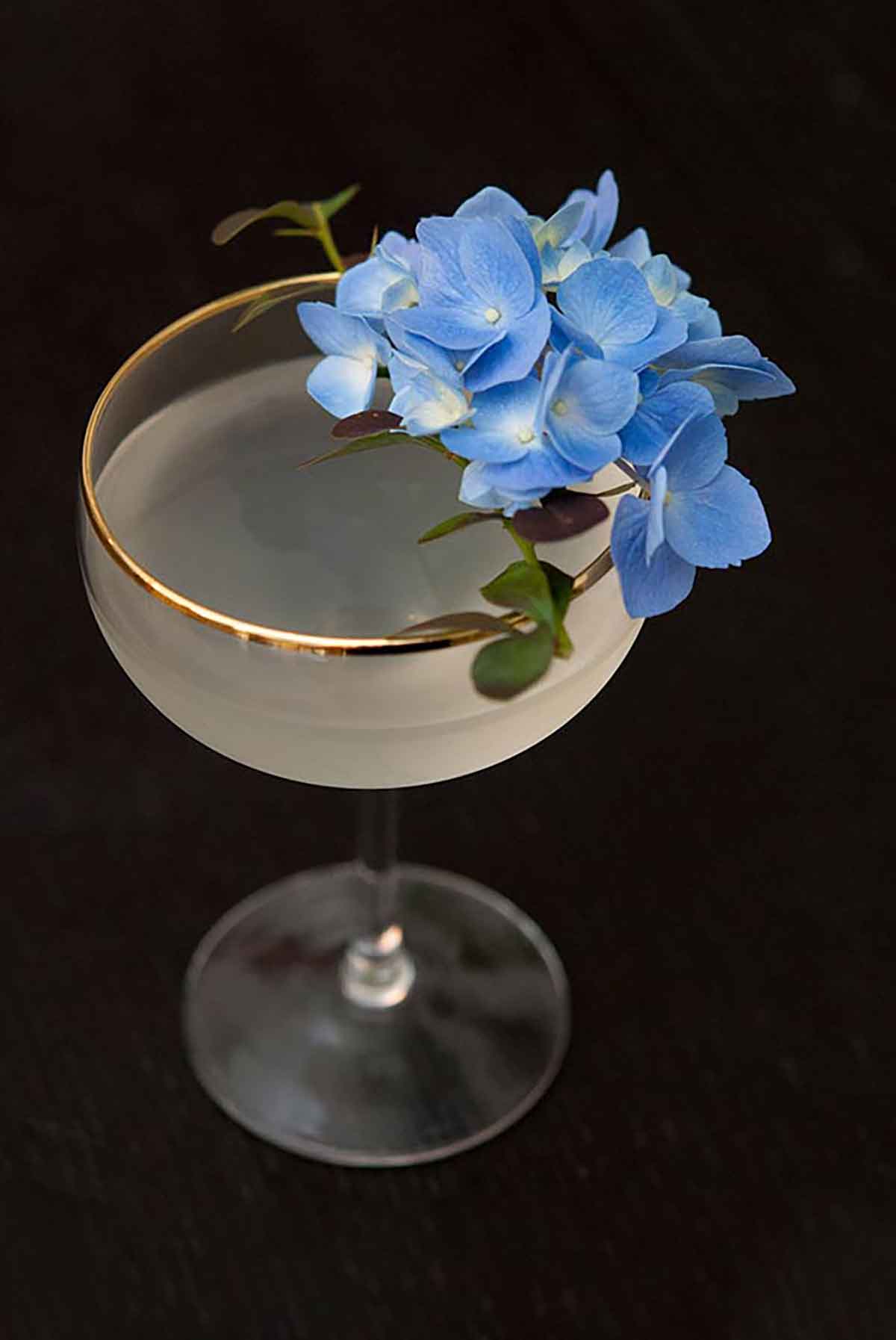 One of THEE most elegant and refined cocktails for just about any affair, but especially lovely for a bridal shower. Gin, lime and St. Germain make this a simple, but very impressive cocktail.
13. White Rosemary Rose Coconut Cocktail
This one is incredibly special, and such an original bridal shower signature! Flavors of coconut and rosemary, sweetened with honey and served nice a cold, this cocktail is so easy to make in a batch and simply spritz with rosewater before serving.
14. Sunshine Lavender Lemon Bars
Who doesn't love a sweet-tart lemon bar!? This recipe includes culinary lavender and they smell (and taste) like absolute heaven!
15. White Chocolate Cheesecake Mousse with Raspberry Compote
If you want to whip up a beautiful dessert and serve it in pretty glasses, this is the most dreamy, creamy, pretty desert you can make! Have the recipe link handy because every guest at the party will be asking for it!
16. Lemon Poppy Seed Scones with Raspberries
A perfect addition to a bridal high tea or brunch, lightly glazed and full of tender raspberries, these scones are buttery, light and flaky. Just as perfect served with tea as champagne.
17. Strawberry Rhubarb & Vanilla Cheesecake Mousse Cups
If you're having a bridal shower picnic, there is no better dessert than these DELICIOUS mousse cups! They travel nicely in a picnic basket and couldn't be easier to make! Just don't forget the spoons!
18. Crostini with Balsamic Strawberries and Ricotta
Now for a VERY special treat! Did you know that adding balsamic vinegar to strawberries is like turning up the brightness on your phone? It adds a zing that's so original and simply delicious! Such a pretty, simple and impressive appetizer for any bridal shower.
19. Beautiful Lemon and Raspberry Cheesecake Bars
With that lovely raspberry marbling, these deserts make a perfect pair with any feminine party decor. Creamy, sweet and tart, this recipe will make any bride blush.
20. Lavender Lemon Scones with Honey Butter
Another delightful scone recipe! Lavender and lemon go together so magically, and when served with honey butter, they're absolutely divine.
I hope your bride loves these recipes as much as I do!
And for more inspiration, follow me on INSTAGRAM @shekeepsalovelyhome, on PINTEREST and FACEBOOK! And if you ever make any of my tasty drinks or treats, take a picture and tag me. I want to see!