You'll find so many lovely St. Patrick's Day breakfast ideas in this post! A full, traditional Irish breakfast, a beautiful morning cocktail, lots of pretty, naturally green and orange accents, and a few lucky clovers to delight your family and friends.
And the best part? Almost everything can be prepared ahead of time and quickly assembled before breakfast!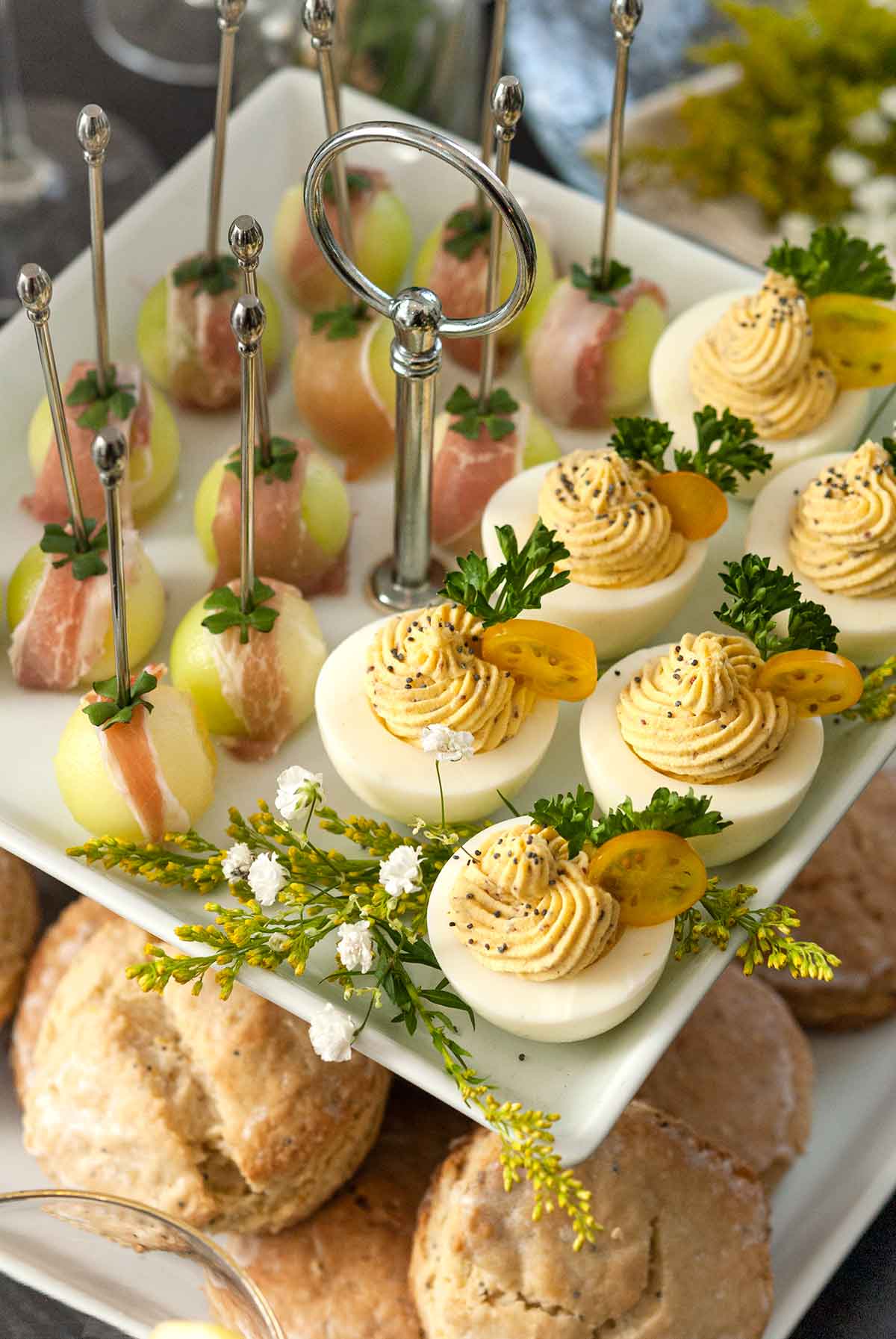 The Full Menu
The cocktail: a "4 Leaf Clover Mimosa" with ginger, cucumber, green apple and mint!
The appetizers: St. Patrick's Day deviled eggs with pretty prosciutto-wrapped honeydew melon with basil clovers (I'll show you exactly how to make them!)
The pastry: lemon poppyseed scones with shamrock-shaped honey butter.
The main course: seared tomatoes, sautéed herbed mushrooms, crispy cauliflower and kale potato hash with eggs and a side of bacon roses. Yes, bacon roses!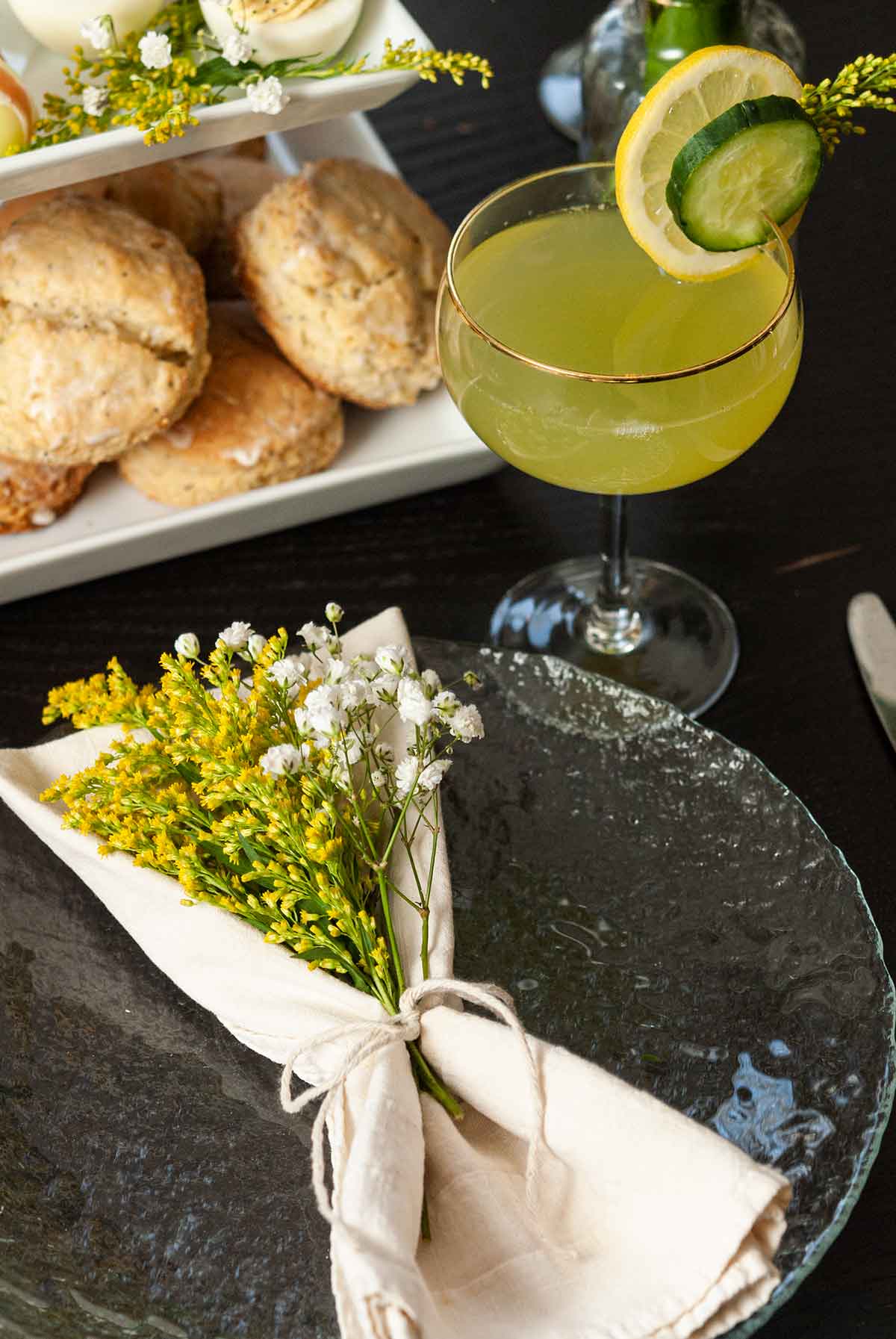 As an Irish American, I've always loved this day. My dad would pick me up on his shoulders at the local St. Patrick's Day parade, and we'd have a fun lunch afterward with lots of shamrock-shaped foods and plenty of green food dye.
Nowadays, I like to keep ingredients natural, but I still love to cover the table with clovers and shamrocks. I also love putting baby's breath and wispy yellow flowers in my napkins!
The Cocktail
This gorgeous cocktail is a "4 Leaf Clover Mimosa." It's incredibly easy to make and can be easily made ahead! Green apples, mint and cucumber give it its magical green color.
I added a wispy yellow flower to my cocktail garnish, but it looks almost as pretty with just a slice of lemon and cucumber on the rim!
The Appetizers
I made cute deviled eggs with parsley, yellow cherry tomato and a sprinkle of poppy seeds as garnish, but the full recipe for these pretty St. Patrick's Day deviled eggs also includes basil clovers and mustard caviar! You've got to see how cute they are!
I didn't add basil clovers to the deviled eggs because I added them to my pretty melon appetizers. I wrapped honeydew with prosciutto and topped them with the sweet little clovers. If you want to make them yourself, they're so easy! All you need is a clover paper punch, and simply use basil instead of paper!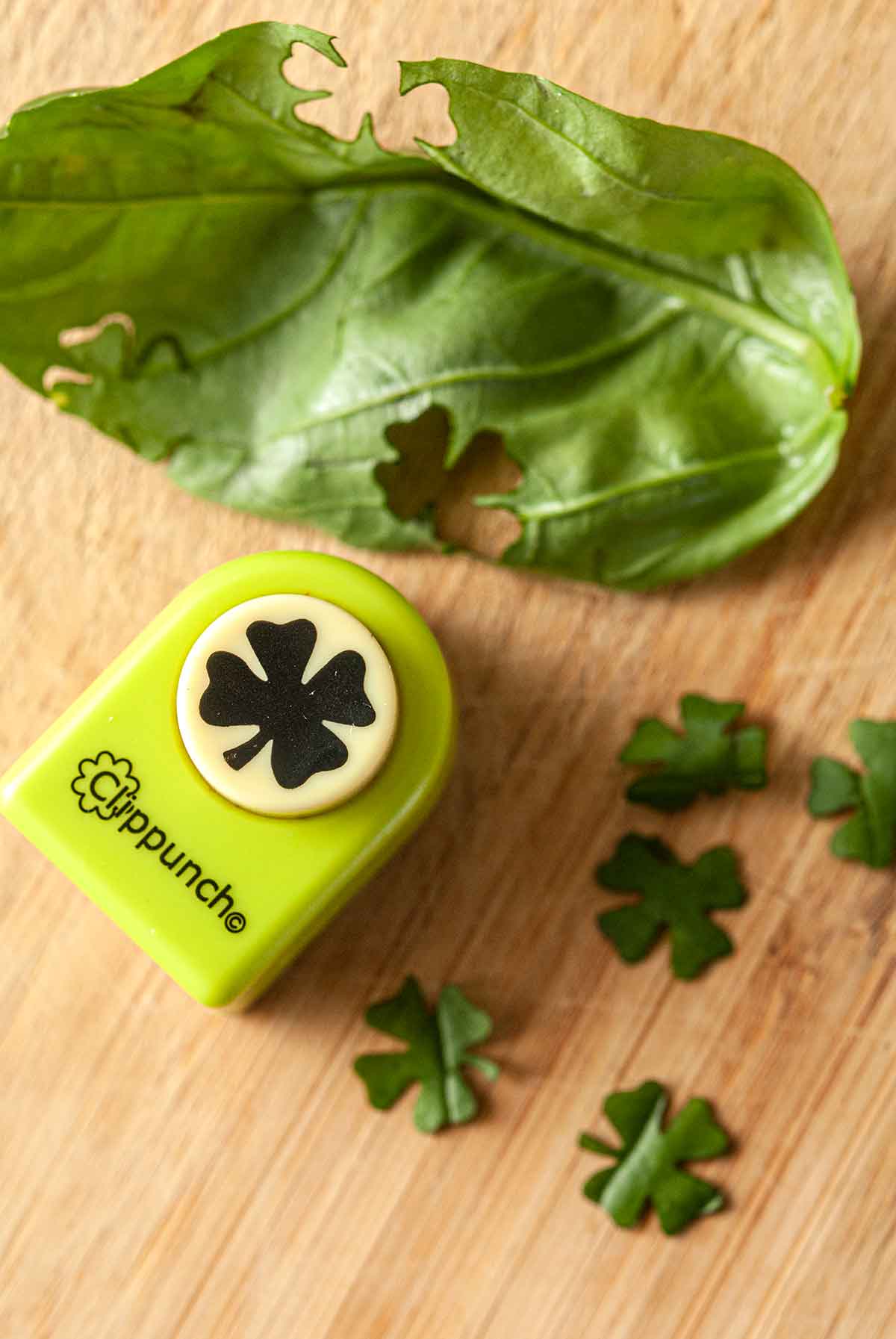 You can use these basil clovers in ice cubes, in salads, in cocktails and so many other fun places! They're even nice just to sprinkle all over the breakfast table!
The Pastry
I wanted a nice, traditional morning pastry, and scones are very popular with breakfast in Ireland. I made simple lemon poppyseed scones but also included shamrock honey butter on the side! 
Shamrock-shaped honey butter is so simple to make! Simply allow butter to soften, add a few drops of honey, give it a little stir then press the honey butter into a shamrock-shaped cookie cutter on a glass plate. Place it in the freezer for about 10 minutes, and it will slide out perfectly!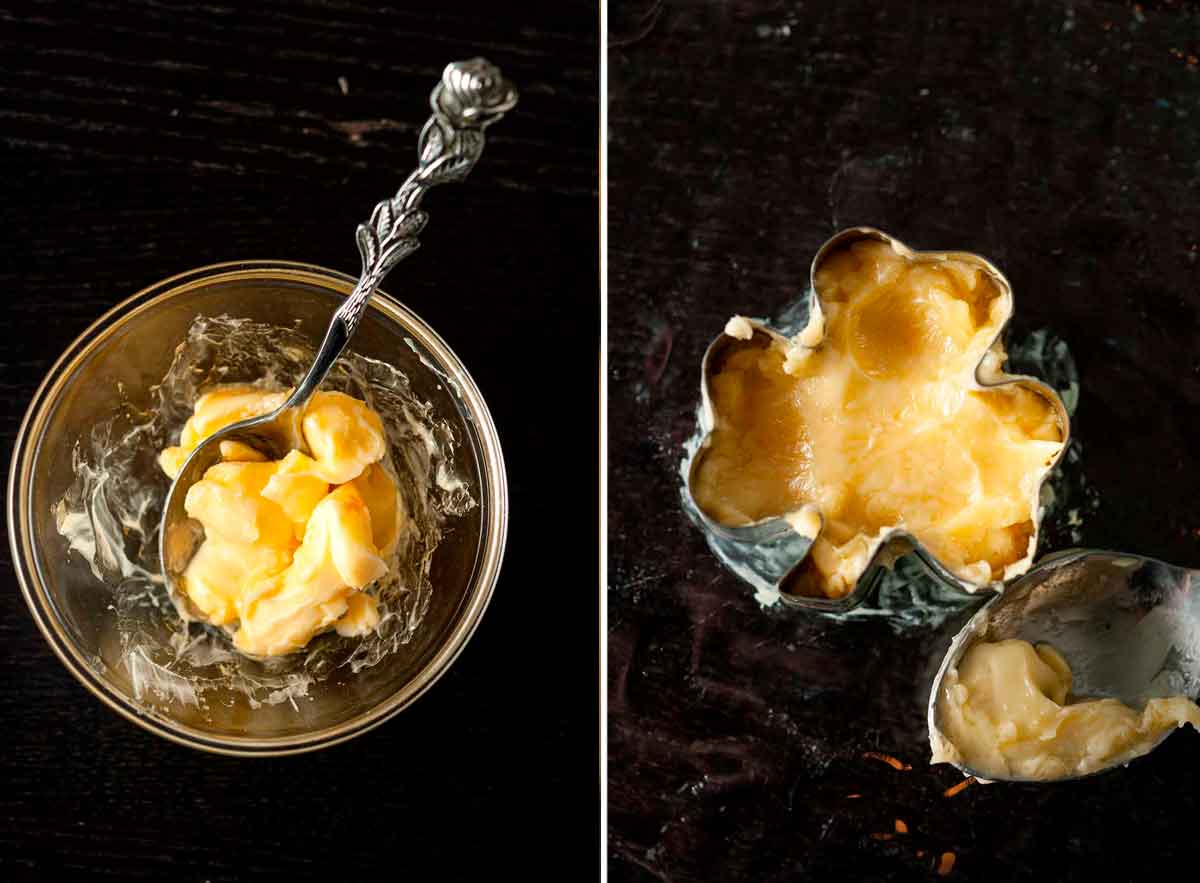 You can also simply slice regular cold butter and use the cookie cutter to cut perfect shamrock shapes if you don't want to add honey.
The Main Course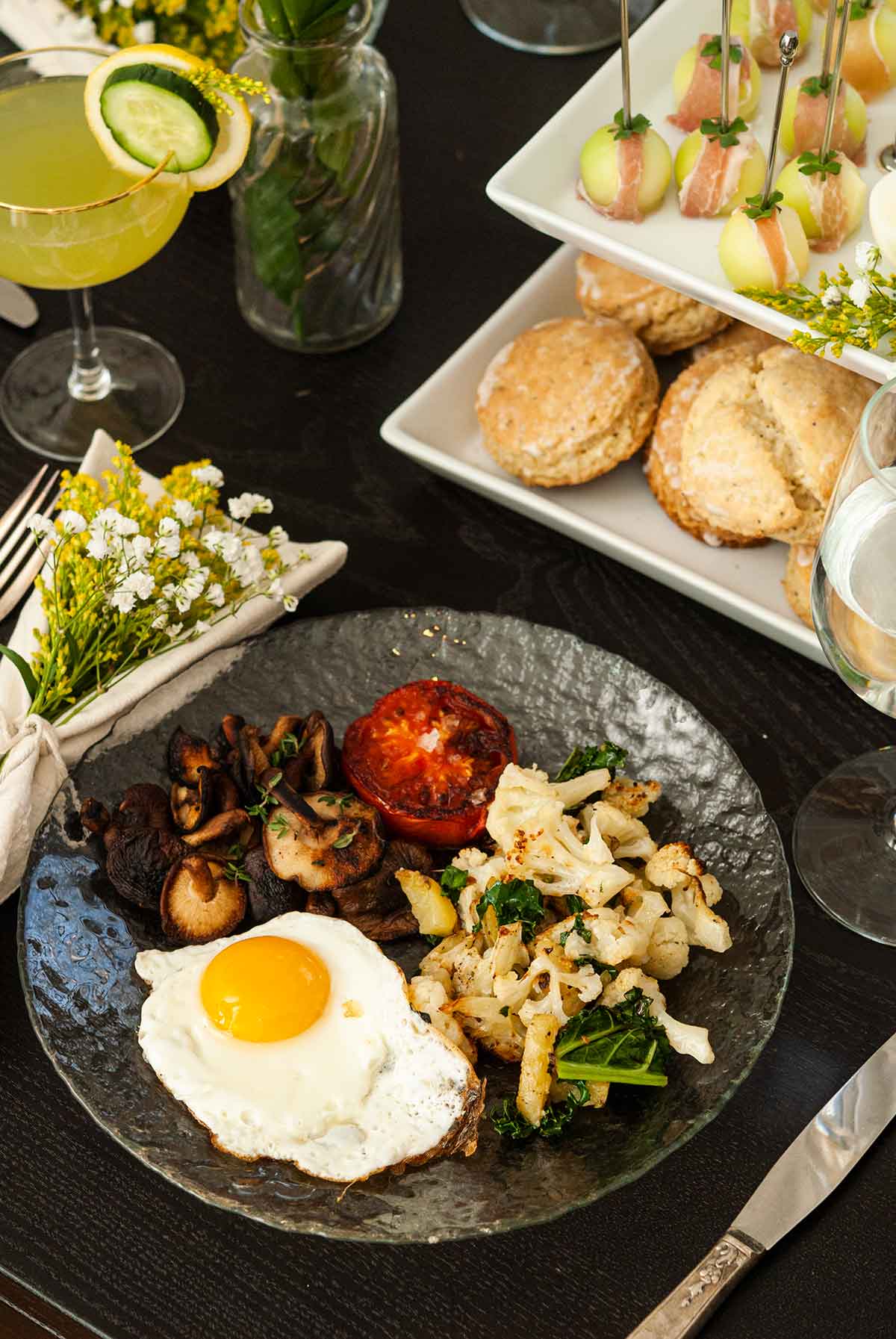 Eggs – Any way you like them!
Sautéed herbed mushrooms – Add 2 tbsp. olive oil to a pan and sauté mushrooms of your choice with ¼ tsp. fresh thyme, ¼ tsp. minced rosemary and a sprinkle of salt and pepper for 5 minutes, or until brown.
Seared tomatoes – Add 1 tsp. olive oil to a pan and sauté tomatoes on MEDIUM for 5 minutes on each side.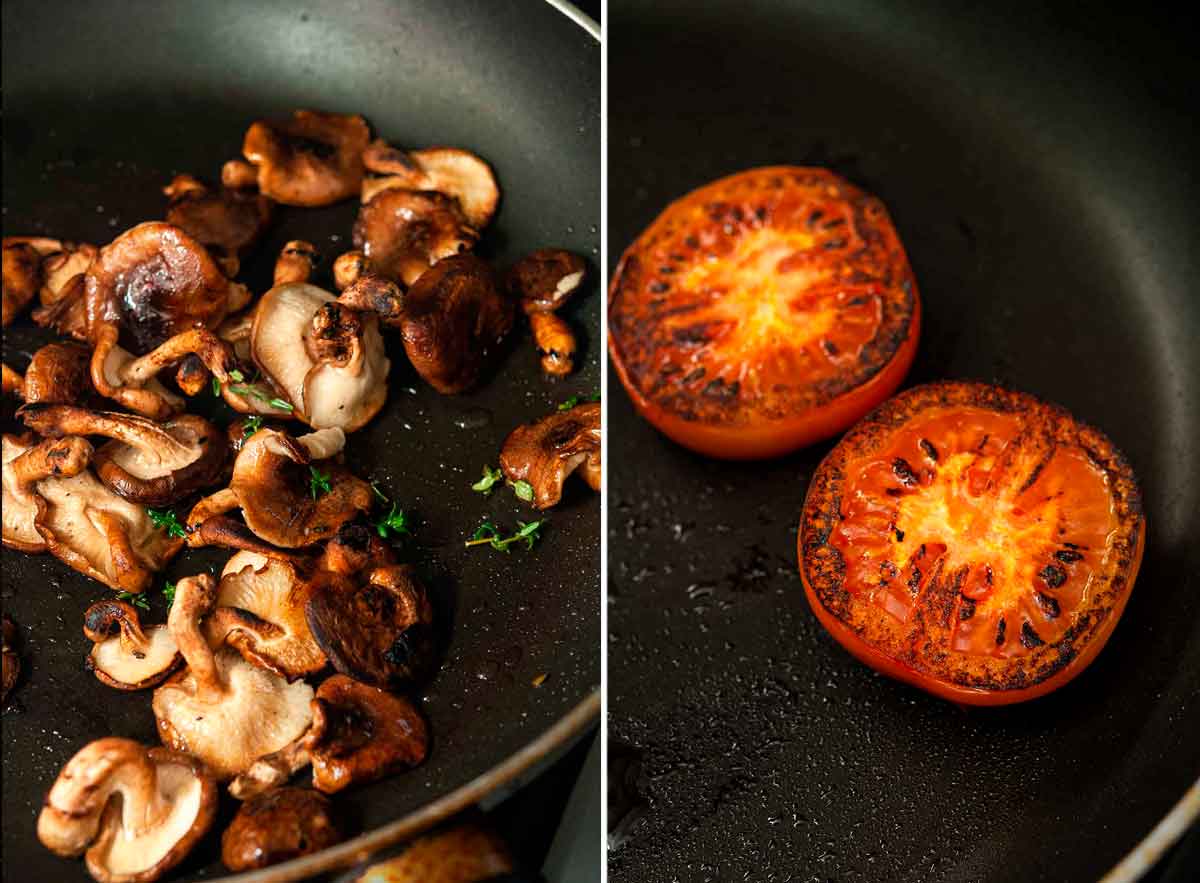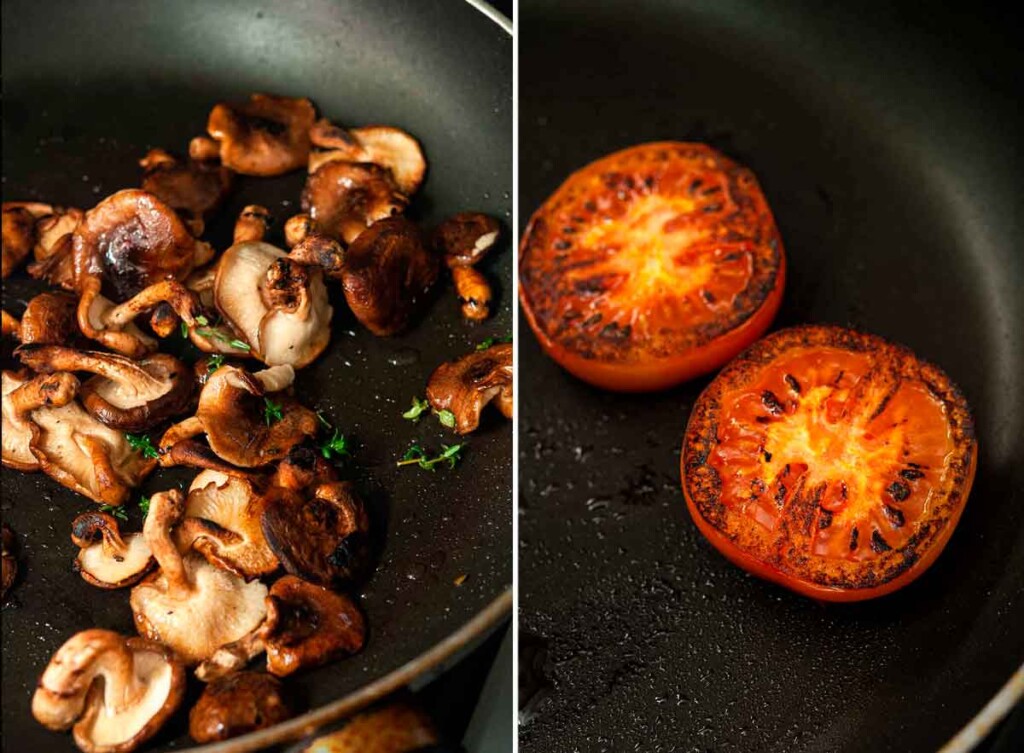 Cauliflower and Kale Potato Hash– This delicious potato hash recipe is my favorite hash all year round. It just looks so perfect for St. Patrick's day with Yukon Gold potatoes and fresh, sautéed kale!
It also includes browned shallots and an Irish cheese called "Blarney Castle." It's a gouda-like cheese with a nutty, earthy, mild flavor.
Bacon Rose Bouquets – Sure, you can serve bacon simply on the side, and they'd be just as tasty. But little, personal bacon bouquets make the table look so, so pretty! I also love that they can be made days ahead of time and simply reheated right before the party! Simply make them, refrigerate them, and pop them in an oven at 400 F. (200 C.) for 5-7 minutes.
I used Ruscus leaves for the greenery, and just a few wooden skewers and small vases to put these pretty bouquets together!
With just a few well-placed flowers, a few appetizer pins and a few lucky clovers made from basil, you can put together the most beautiful St. Patrick's Day breakfast!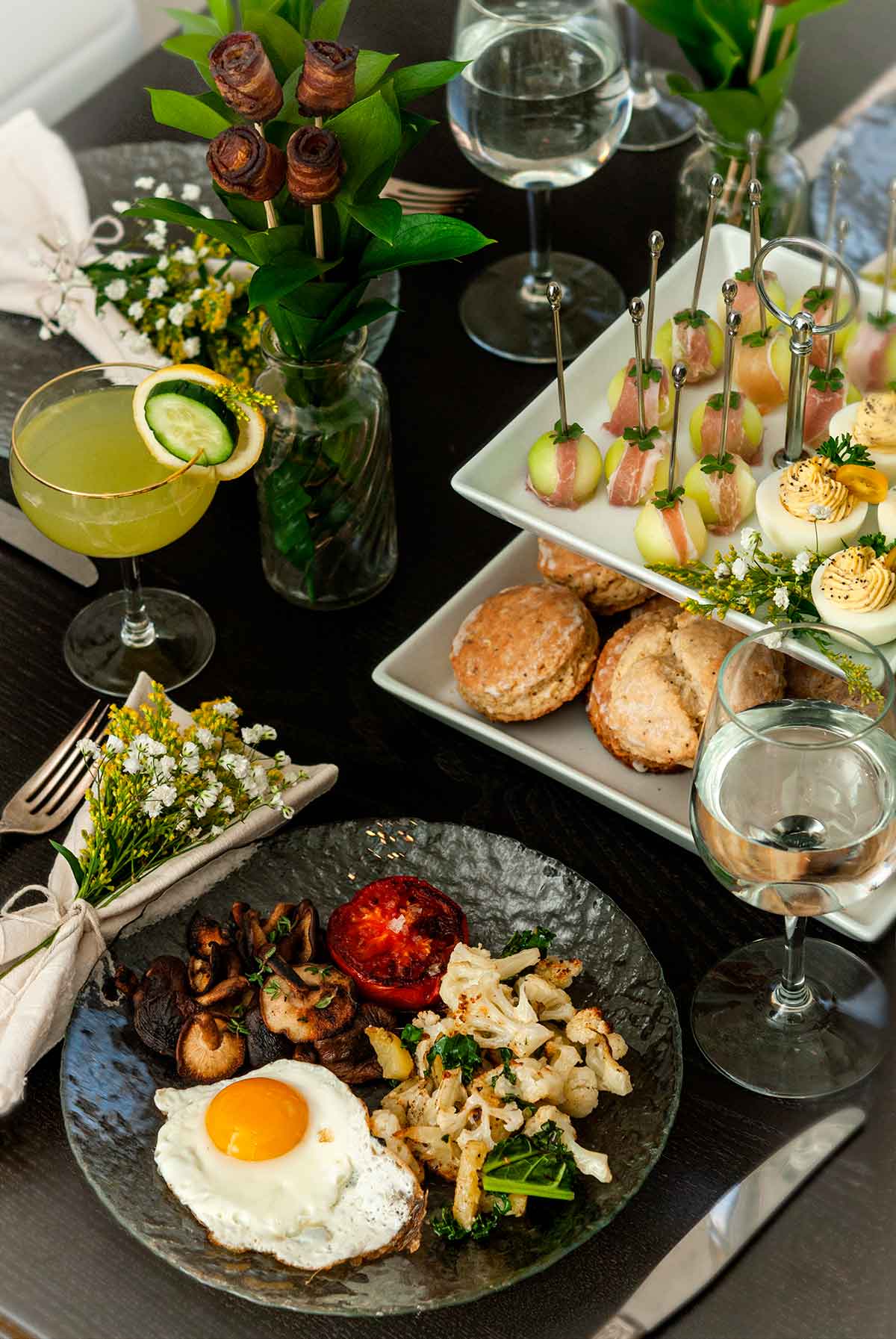 For more inspiration, subscribe to my newsletter, follow me on Instagram, on Pinterest, tiktok and Facebook! And if you ever make any of my tasty drinks or treats, take a picture and tag me. I want to see!
Now, help yourself to the recipes!
SaveSave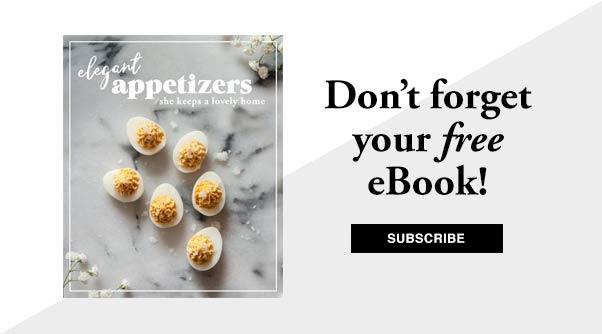 SaveSave
SaveSave
SaveSaveSaveSaveSaveSaveSaveSaveSaveSaveSaveSave
SaveSave