This spiced maraschino cherry recipe is the easiest one you'll find! It's also the most exciting! Clove and cinnamon give these delicious cherries a delightful autumn-winter flavor that turns desserts and cocktails into exquisite holiday treats. They also make wonderful gifts!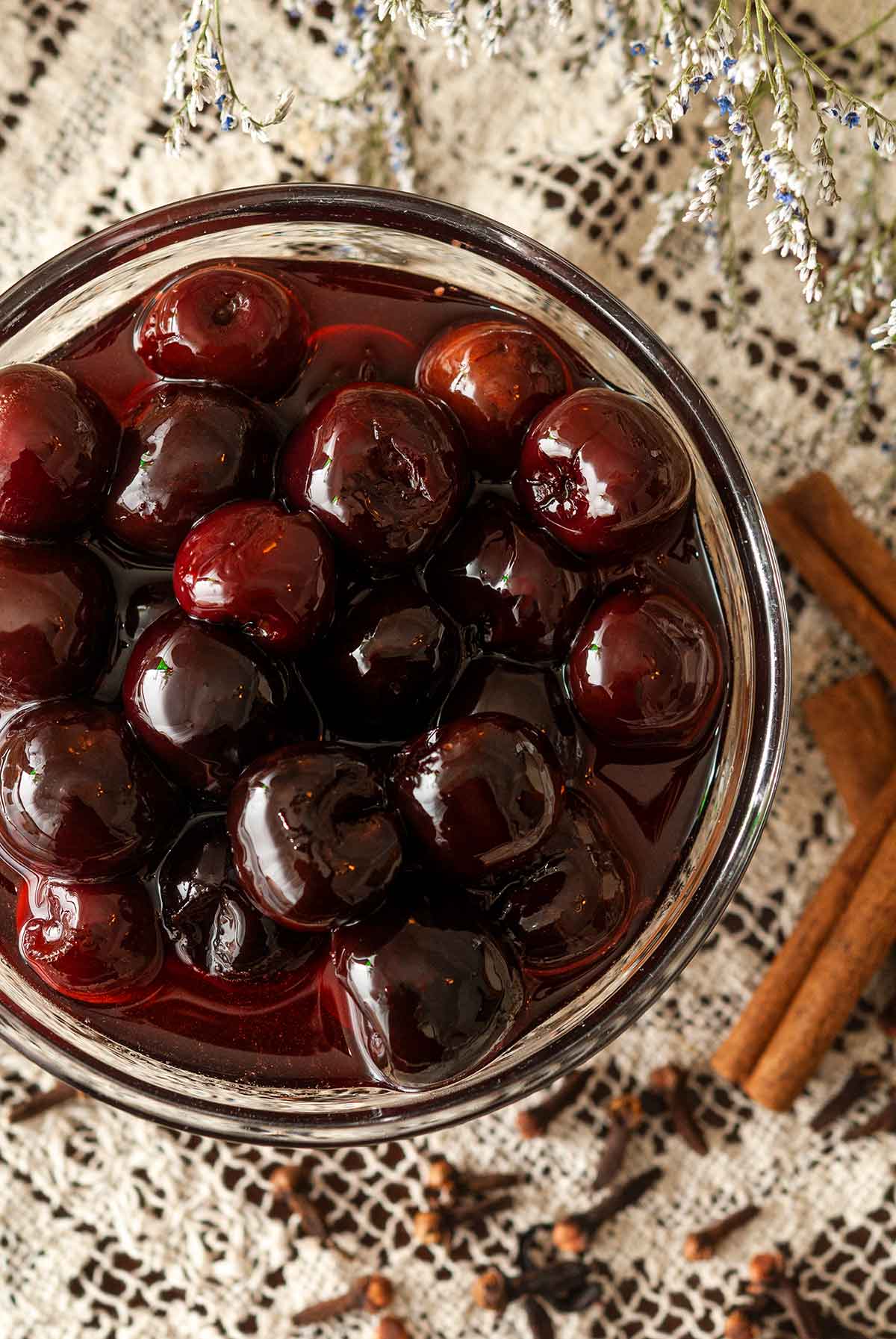 I love whisky cocktails and I love cocktails with maraschino cherries! My favorite is the Manhattan, and my favorite maraschino cherry is the Luxardo. However, I think I'll be making my own from now on because these are even better!
Those spices make me feel so jolly that I even pour a little bit of the cherry juice into the cocktail! I call it a "Christmas in Manhattan." It's perfect for folks who like their whisky cocktails with a little sweetness.
Also, most store-bought maraschino cherries are full of some pretty nasty ingredients like dyes, preservatives, bleaching chemicals, brining chemicals and artificial sugars – nothing you want to put in a cocktail or place on top of an ice cream sundae.
These cherries just contain cherries. No harmful chemicals, no dyes, no-nonsense.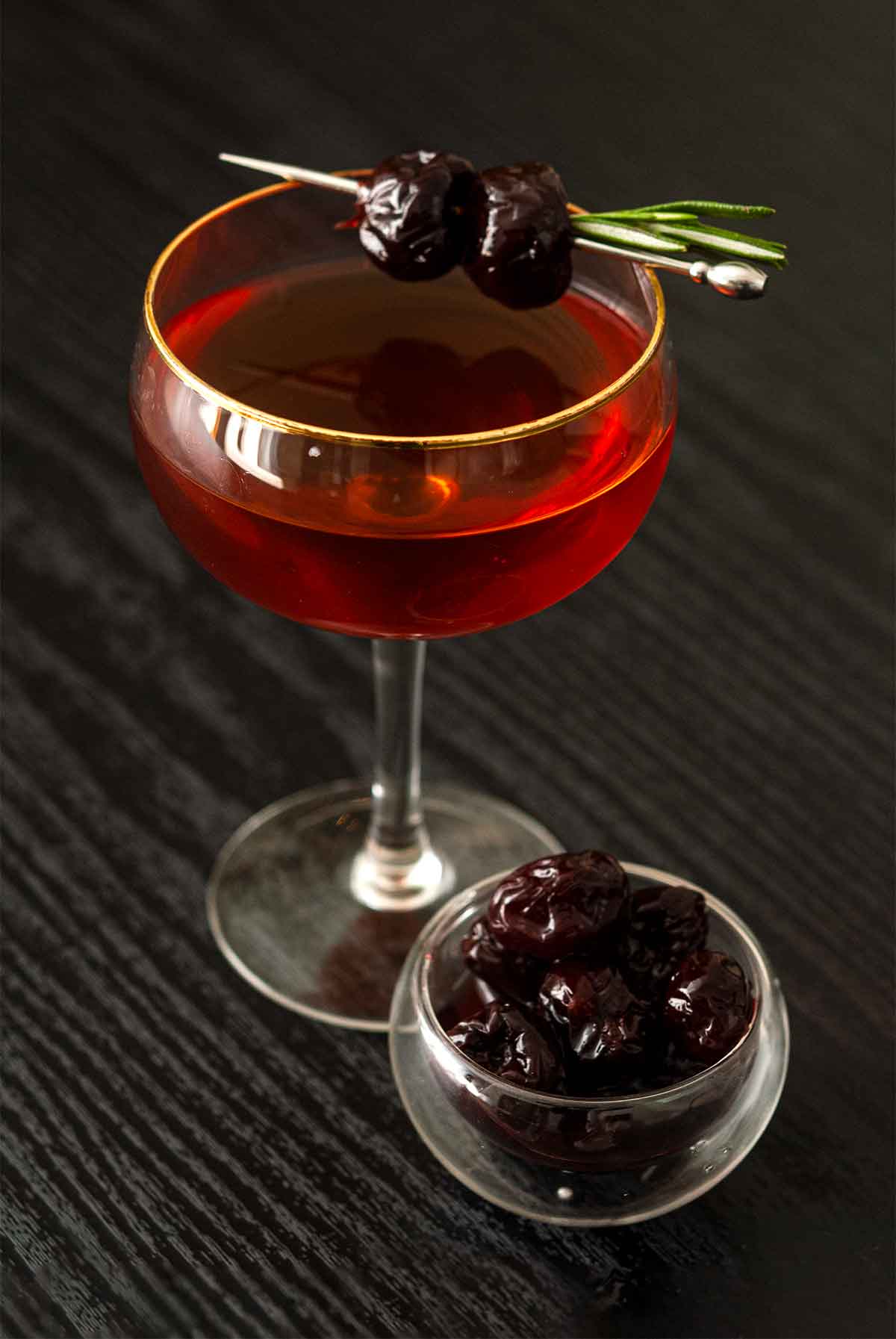 Why This Recipe is Special
The recipe is really, really easy – The hardest part about most maraschino cherry recipes is the pitting. This recipe calls for frozen, pitted cherries, so the toughest part is removed entirely.
They make such a lovely gift – Make a nice batch, grab yourself a few jars and give these charming cherries to your friends and family! They look so pretty tied with a bow!
They require just 7 ingredients – Not including water, they require just a few ingredients to make them taste spectacular!
Ingredient Notes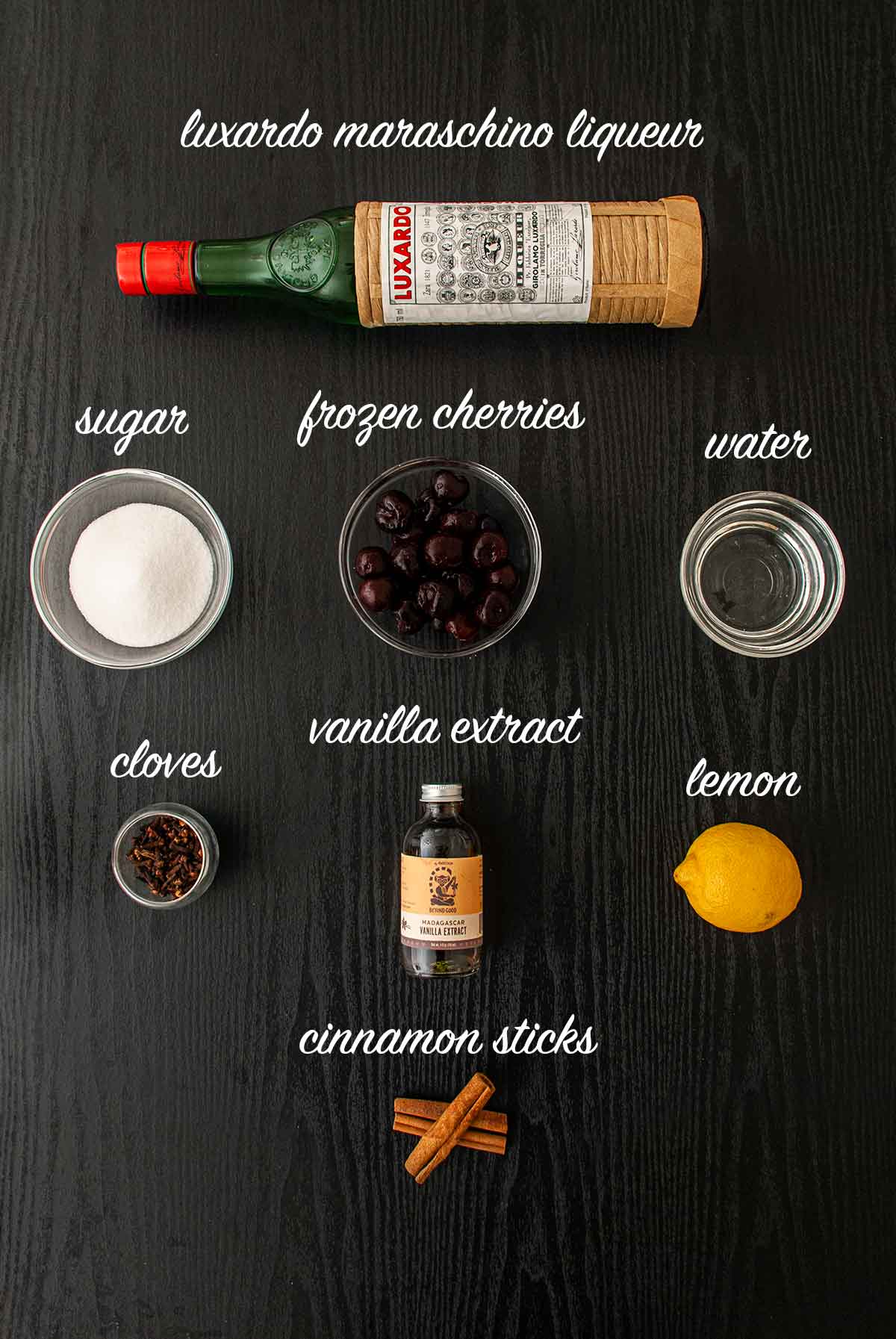 Frozen Cherries – frozen cherries are essential for this recipe. You're going to allow them to thaw overnight over a bowl, releasing some of the tasty juices. I used "Organic, Dark, Sweet Cherries" from Fresh Direct. They come pitted, which makes the process 100% easier than if they were fresh. If you use another brand, look for pitted rainier or bing cherries.
Sugar – There's more sugar in this recipe than in most maraschino cherry recipes. I think the best cherries come in a nice, thick syrup, and the high sugar content preserves them for longer, so don't cut back on that sugar.
Vanilla Extract – as always, use a quality, real vanilla extract. Not imitation.
Fresh Lemon Juice – Use only fresh-squeezed lemon. No bottled juice.
How to Make this Maraschino Cherry Recipe – Step by Step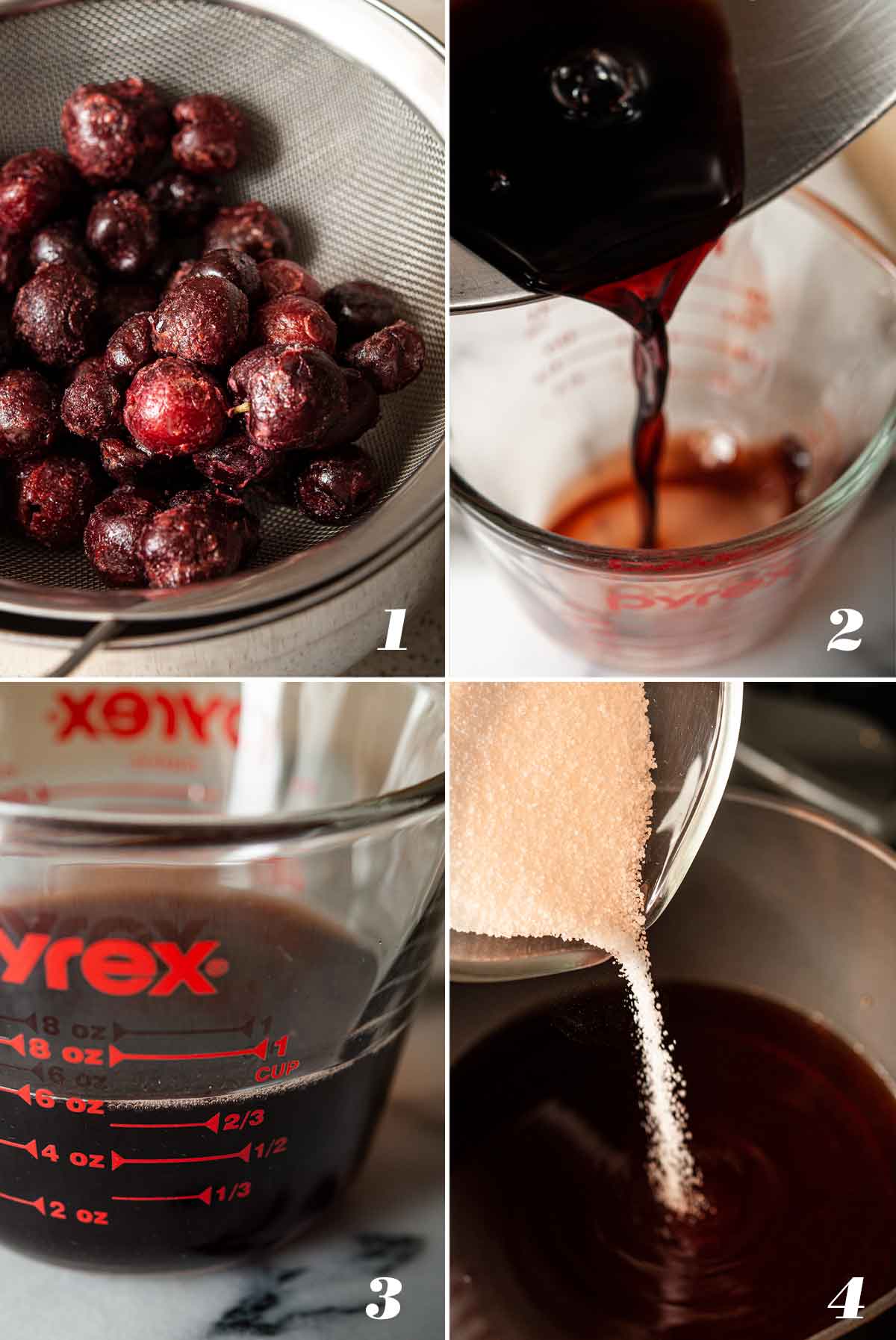 1. Begin by thawing 10 ounces of frozen cherries overnight (or 8 hours) over a bowl in a strainer to allow juices to release.
2. Once the cherries have had time to thaw, pour all of the released juice into a measuring cup.
3. Add 3 tsp. fresh lemon juice, 1 tbsp. Luxardo Maraschino Liqueur and 1 tsp. real vanilla extract. Then, add just enough water to fill up to 6 oz.
4. Into a small/medium-size pot, pour cherry mixture and 1 cup white granulated sugar. Simmer on LOW and stir gently until sugar is dissolved – about 30 seconds.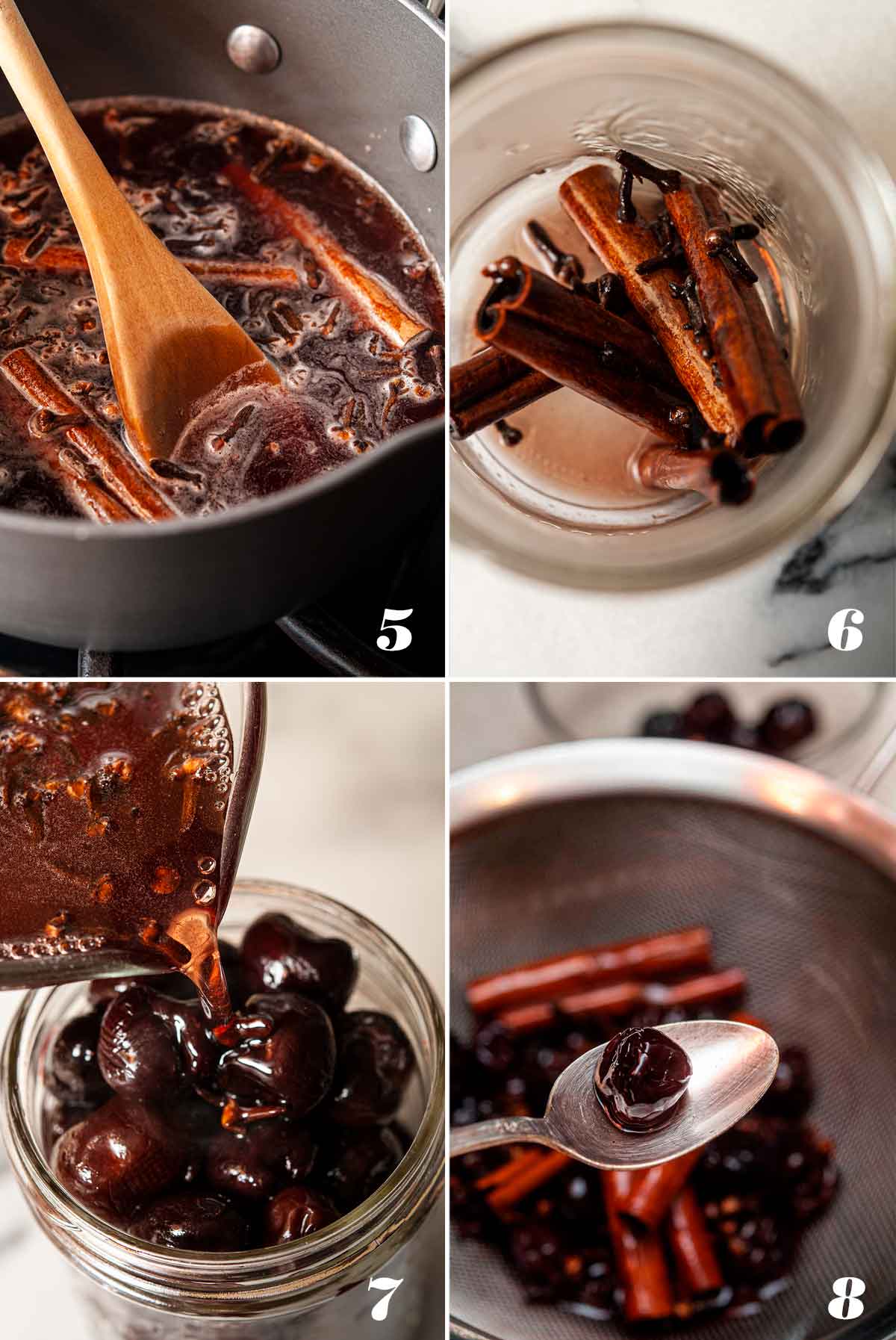 5. Add 6 cinnamon sticks and 2 tbsp. cloves. Simmer for 10 minutes.
6. Remove cinnamon sticks and place them in a jar or container that comes with a lid.
7. Add thawed cherries to the jar, and pour the cherry juice mixture and cloves in. Place the lid on top and refrigerate for 24 hours.
8. Pour everything into a strainer over a bowl and remove the cherries, picking off any stray cloves. Place the cherries back in the jar and pour the strained cherry juice back in with the cherries. They will last for up to 3 months if refrigerated.
Common Questions
1. What can I do with these maraschino cherries?
Use them for cocktail garnishes for Manhattans, Aviations, Old Fashions, Last Words, Rob Roys, Mary Pickfords, El Presidentes, Vieux Carres, Brooklyns, Bijous or most cocktails that use Maraschino Liqueur.  

You can also use them to top desserts like sundaes, trifles, cupcakes, pan cotta, granita, cheesecake, brownies, cobblers, puddings and breakfasts like pancakes and waffles! 
2. What makes them "maraschino?"
The name originates from the marasca cherry of Croatia. They were pickled and preserved in a liqueur made from the juices. They became popular in the rest of Europe in the 19th century and were considered a delicacy for royals and the aristocracy. Today, the term mostly means "preserved and sweetened cherry."
3. How long will they last? 
These aren't "canned" cherries, so they will last for 2-3 months. If you want to properly can them though, they'll last for years before opening.
A Few Tips
1. Keep them refrigerated. Even though they contain a lot of preserving sugar, they'll stay fresh longer when refrigerated.
2. To make things even easier, wrap cloves in cheesecloth, tied with baker's string. I don't mind picking the cherries out one by one once they've soaked in the cloves and cinnamon sticks, but you might want to just dump them, remove the cinnamon sticks and not have to worry about picking off some of the cloves.
3. Don't let them soak with the cloves and cinnamon for more than 24 hours. The flavor becomes too overwhelming and not very appetizing. 24 hours is the perfect amount of time.
A Little More Cocktail Inspiration
Shop the Ingredients
For more inspiration, subscribe to my newsletter, and follow me on Instagram, on Pinterest, tiktok, and Facebook! And if you ever make any of my tasty drinks or treats, take a picture and tag me. I want to see!