Wondering what to serve your fellow witches at a dinner party? Some traditions have specific foods that they serve on specific holidays, but in my tradition, I simply serve recipes with seasonal, nourishing, comforting ingredients that delight the senses, and enchant the soul.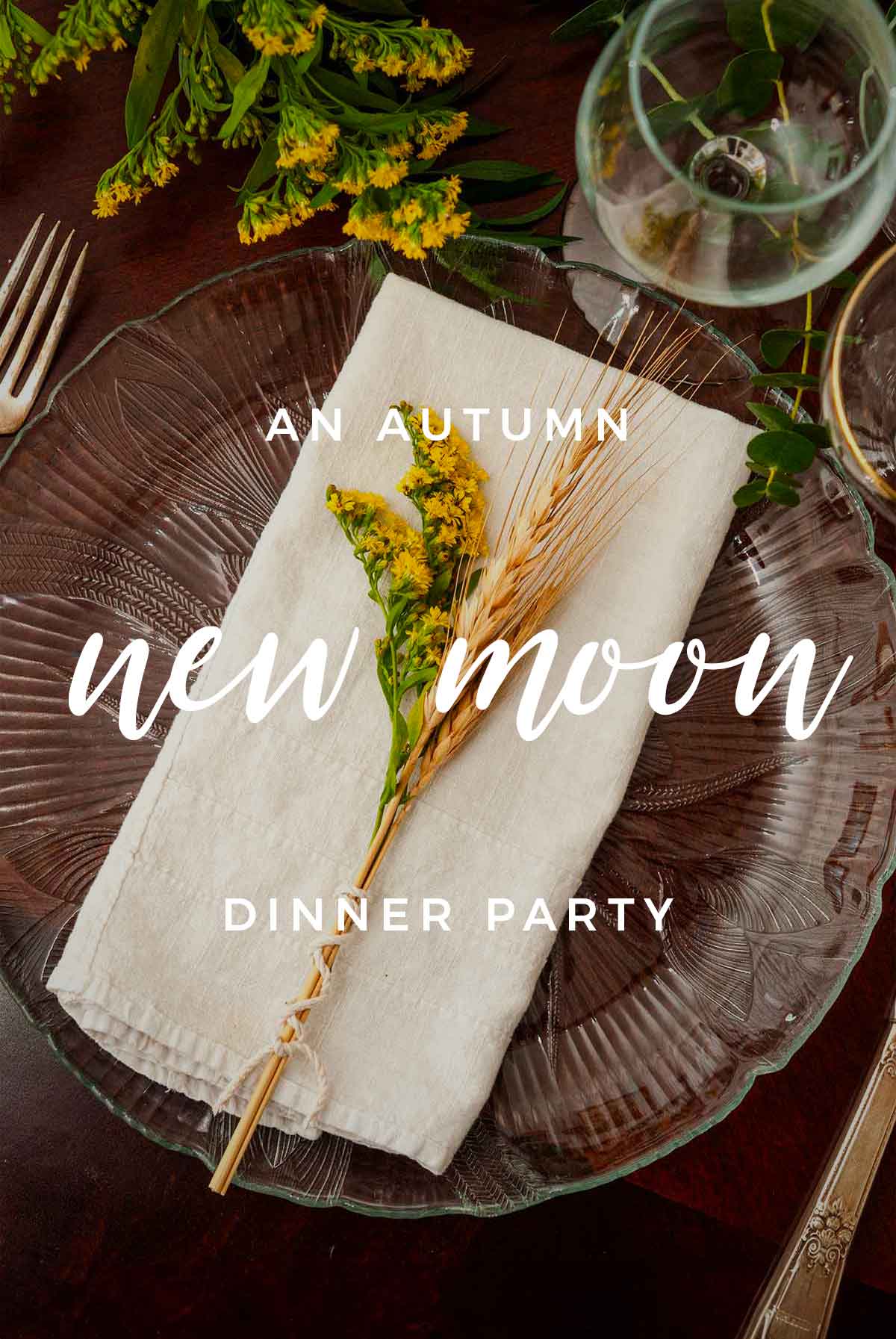 Every new moon, I perform rituals to clearly lay out my intentions for personal growth and choose qualities or experiences I want to manifest in the coming month.
I use full moons to set more long-term goals, but new moons are for my short-term goals, my baby steps. They're for opening myself up to new experiences, clearly laying out pathways to a better me, and committing to walking down those paths.
I've begun inviting my friends to these rituals to join in the manifesting, hear what they want to achieve, and support them – as well as cook up a tasty dinner with fresh, seasonal ingredients to celebrate our work!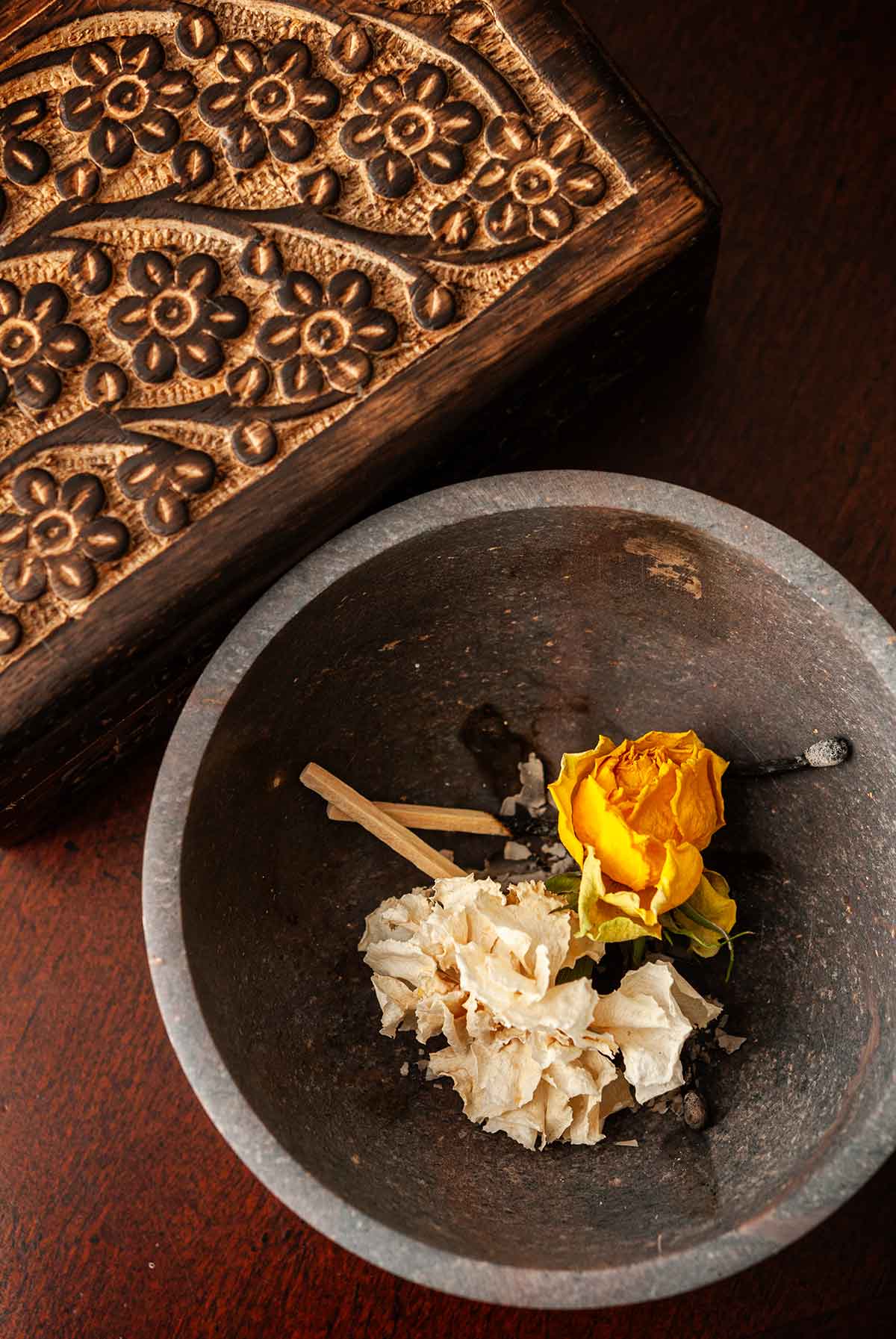 I'm a practicing Theravada Buddhist, but I also delight in incorporating a little witchery into my daily life. I find Buddhism shows me how to use tools within me to see more clearly outward, whereas witchcraft shows me how to use tools outside of me to see more clearly inward.
I believe every element is medicine: fire, water, earth, air, and spirit, and I love practicing the craft of understanding and using that medicine for myself and others.
After our ritual, it's dinner time! Time to eat, drink, laugh, cry, and share our intentions, hear one another and celebrate.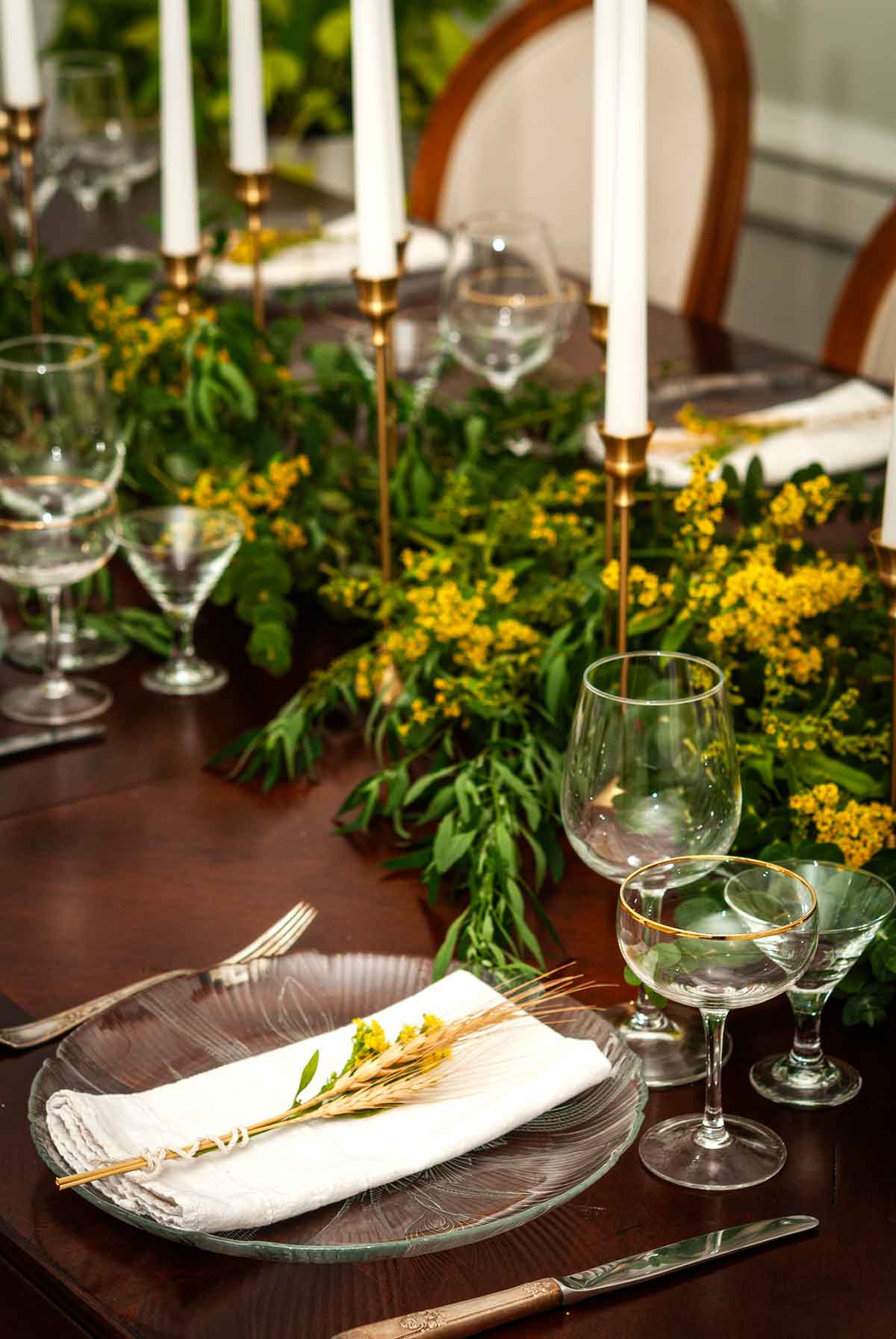 For this dinner, I used ingredients like rosemary; a protecting herb, thyme for healing, grapes for abundance, and many more that were for no purpose other than their tasiness!
I decorated my table with eucalyptus and goldenrod. Eucalyptus helps to bring insight, so I thought it would be lovey to include while we talk about how we hope to achieve our intentions over dinner.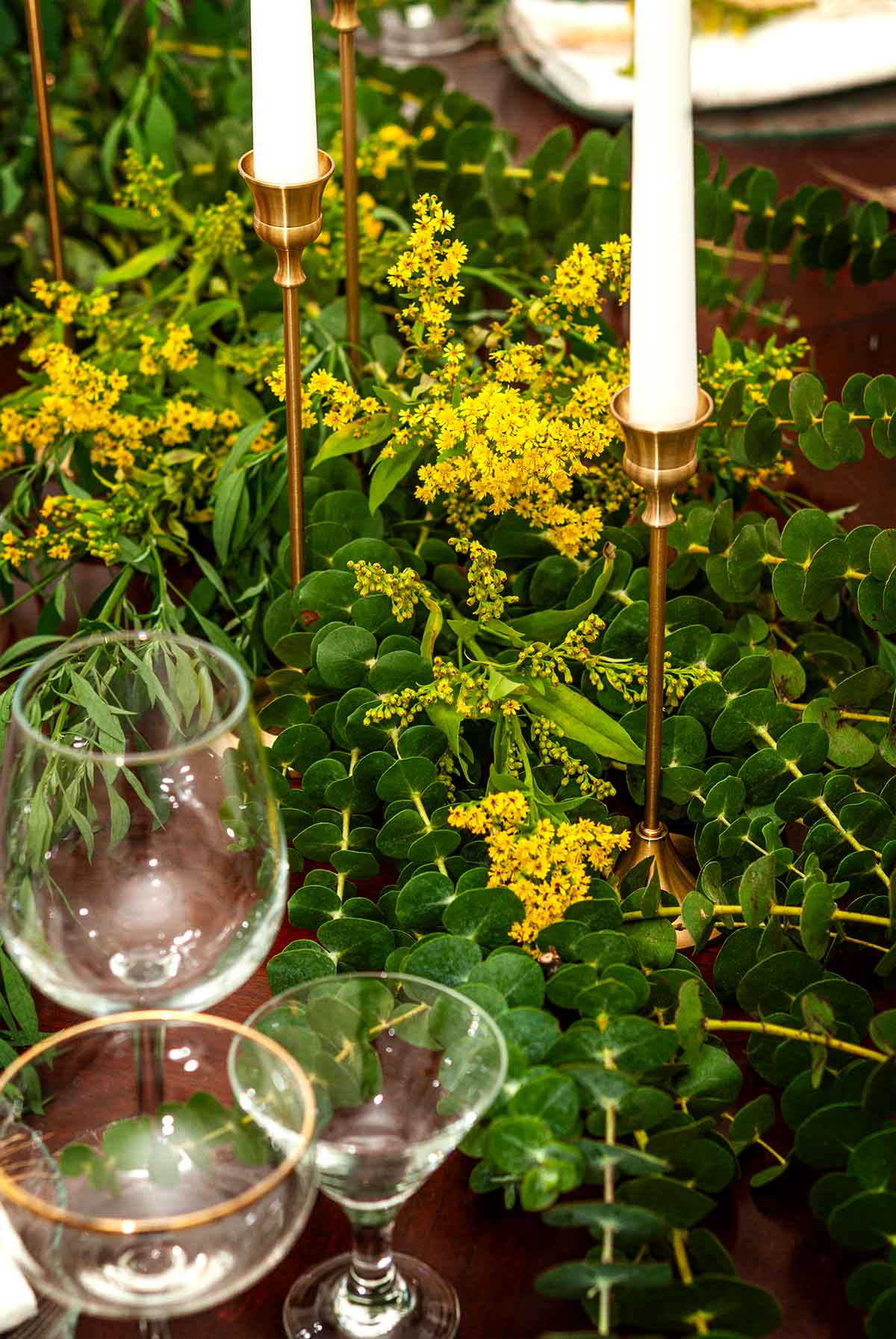 I like to give my guests a little gift to take with them to remind them of what we shared. I made a little bundle of wheat and goldenrod to remind us of our work together and represent this abundant season.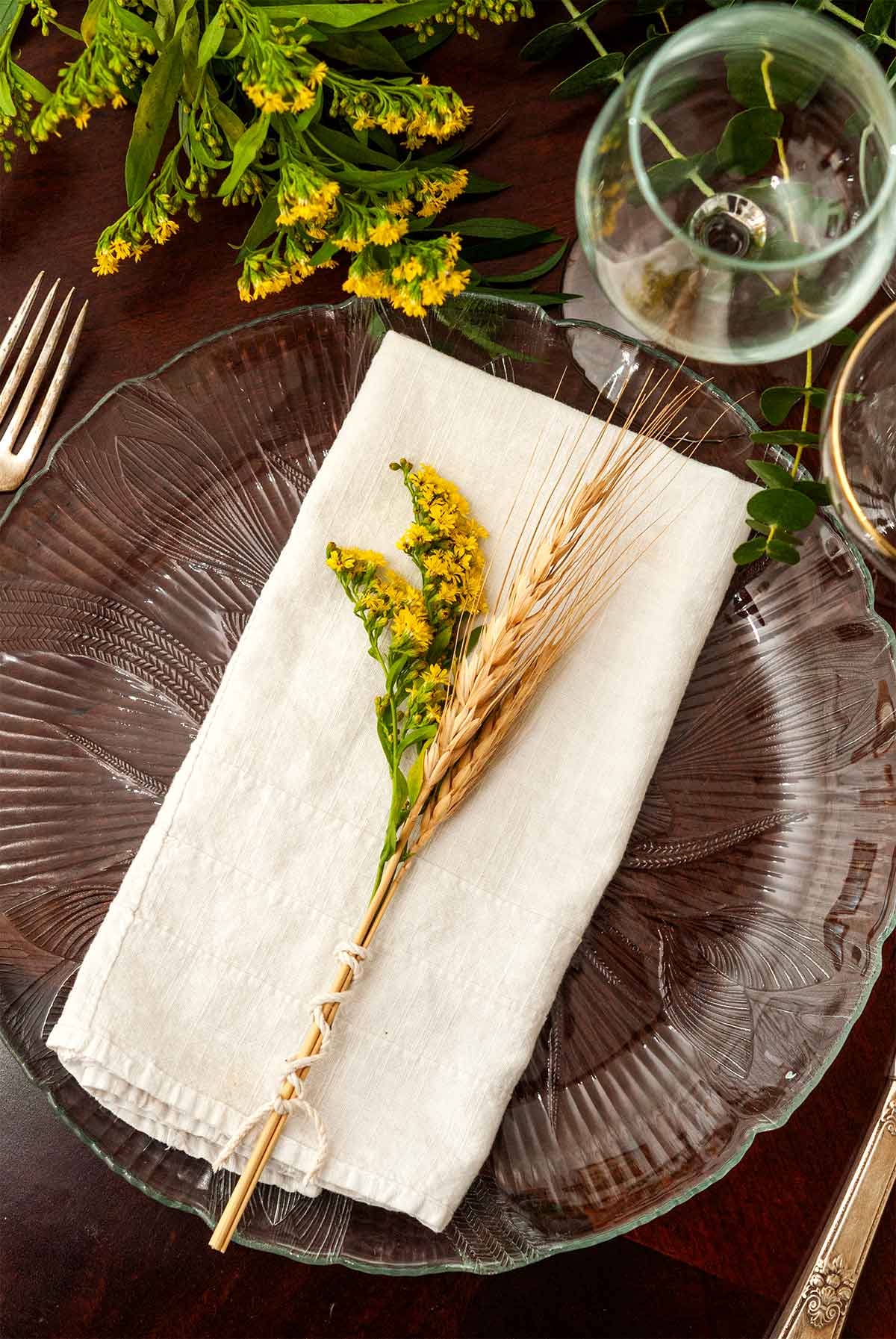 For centuries, pomegranates have been considered sacred by many traditions, and in mine, we believe eating pomegranates thins the veil between the spirit world and ours, enabling us to better communicate with our protector spirits and ancestors.
In my new moon rituals, I ask my ancestors to support me, continue to protect me, and help me manifest my goals. I like to pass these around to everyone before we begin.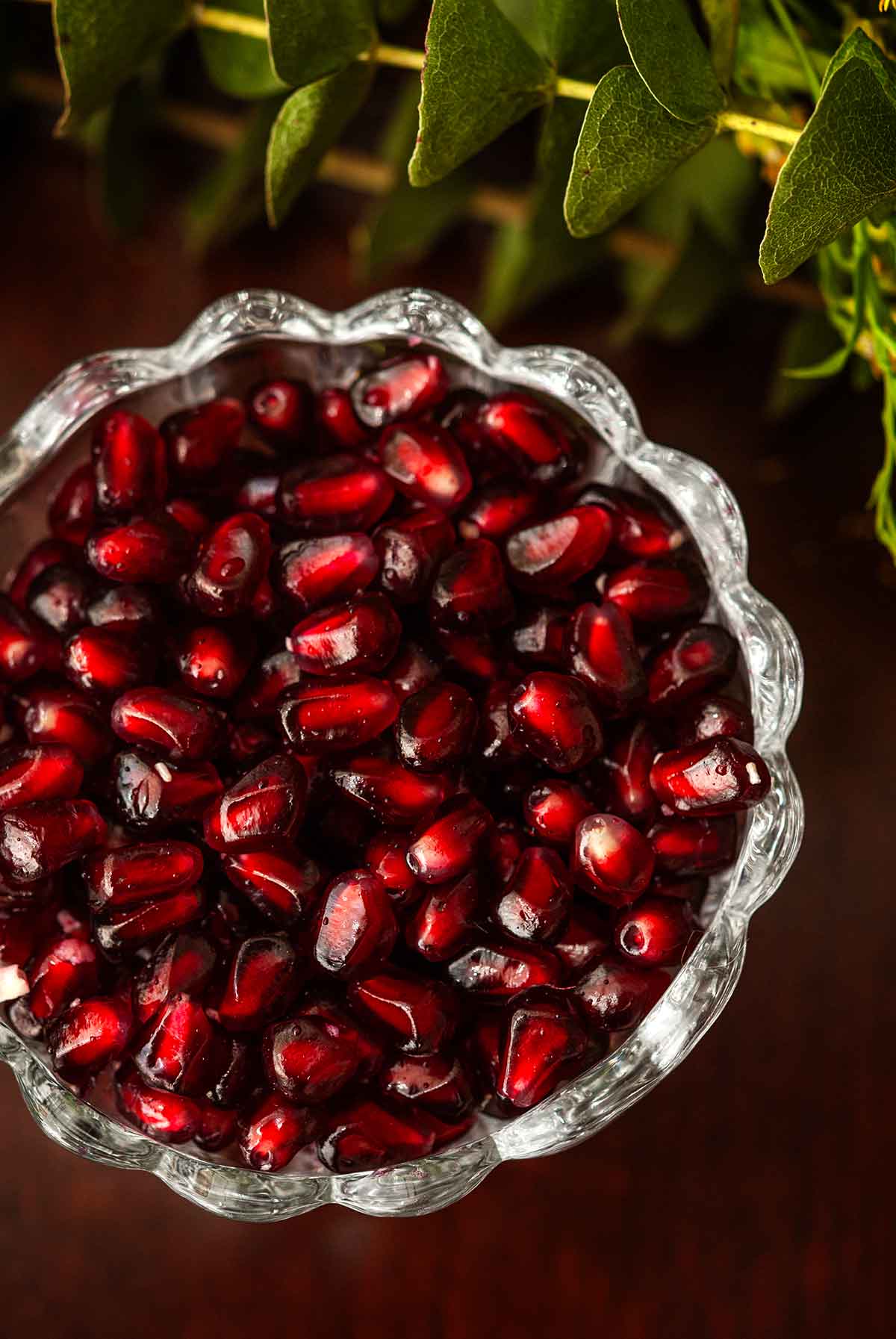 Once the ritual is finished, we head to the table! Here's what I served!
First, cocktails! I made these gorgeous sparkling green cocktails with a ginger, cucumber, mint, lemon, and green apple mixer. With sparkly prosecco, they taste so fresh and enlivening!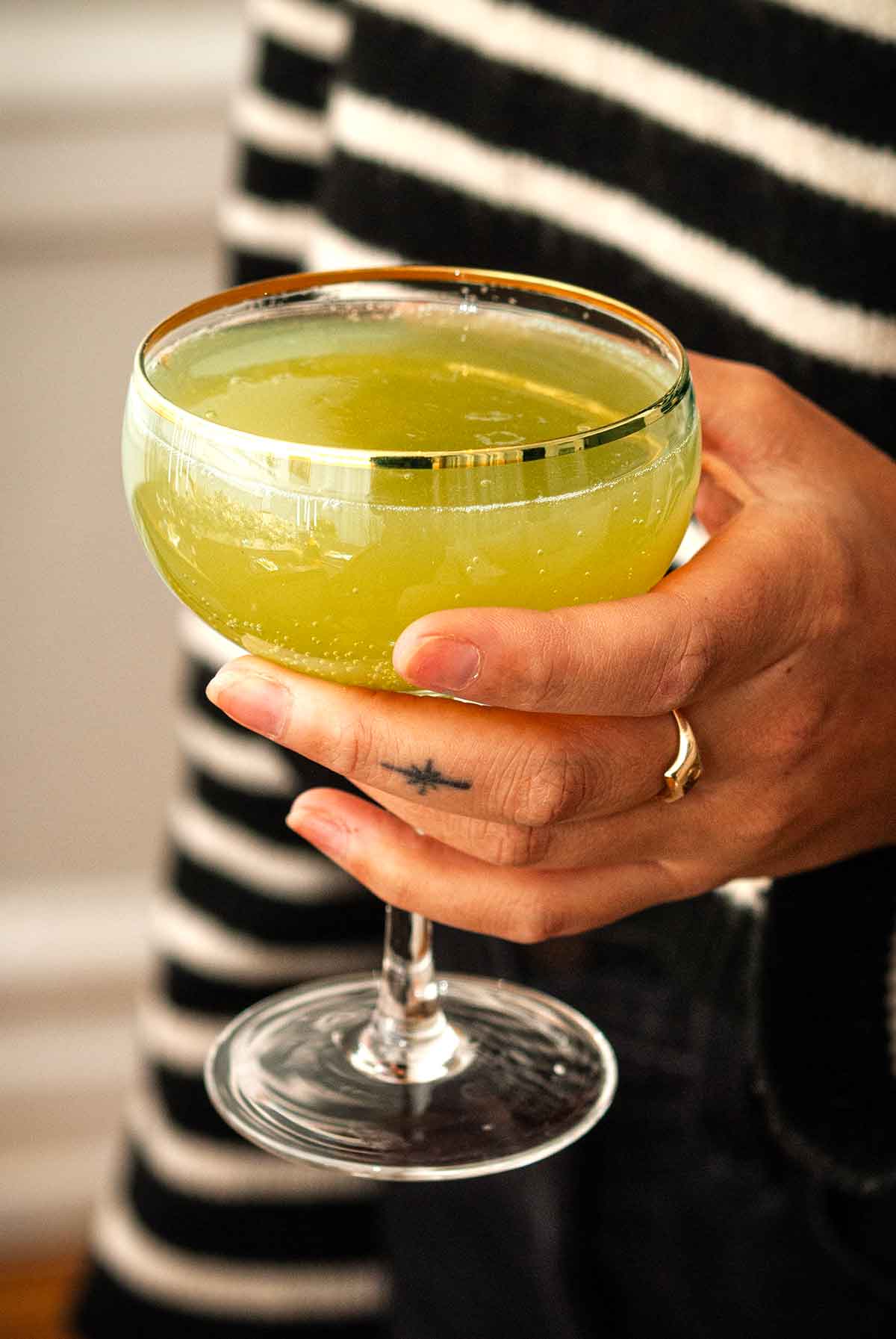 There's something so special about receiving your very own, tender herbed Cornish game hen. These take about 45 minutes to roast, so I prepped them before my guests arrived with herbs and garlic butter, then popped them in the oven before the ritual began.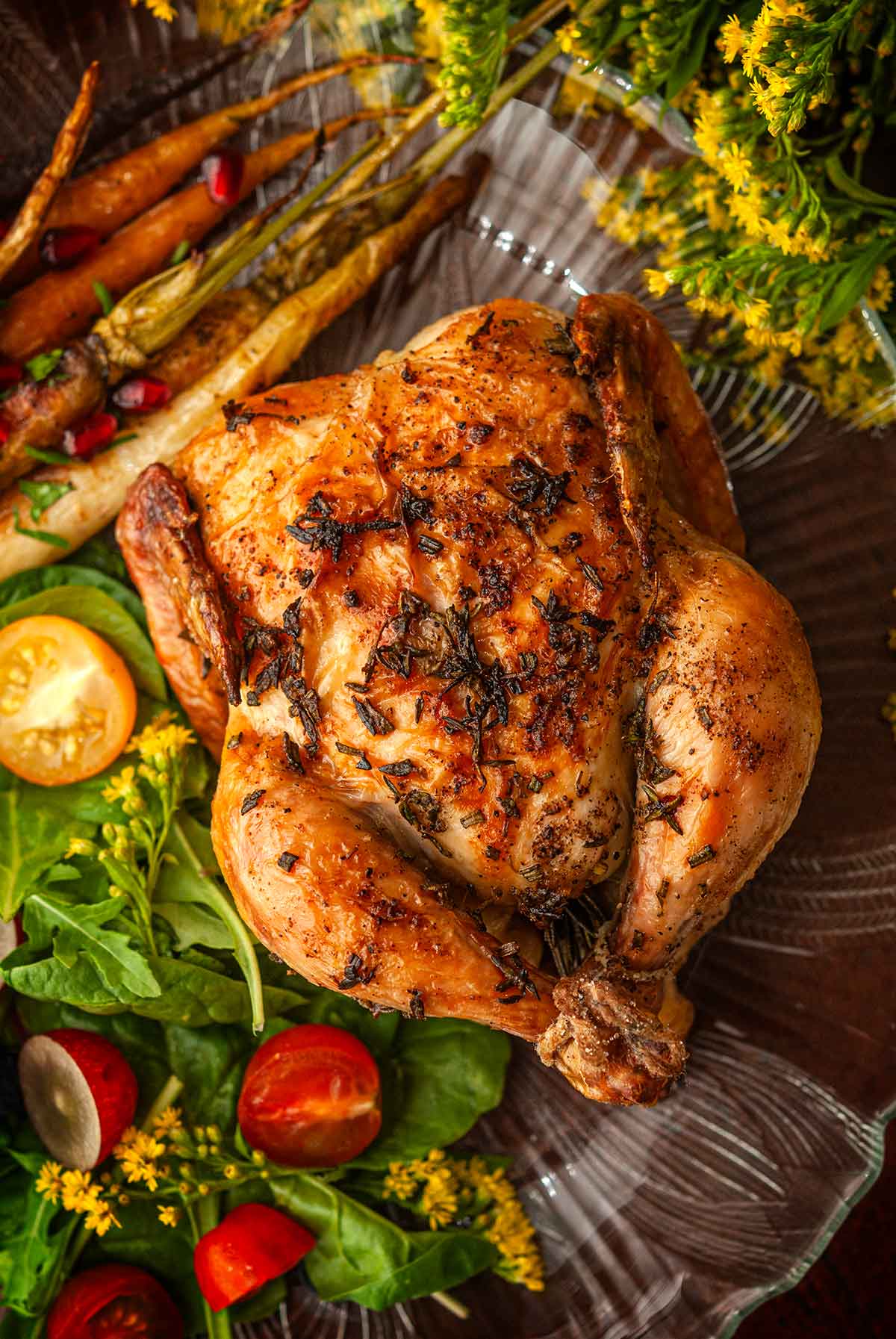 Herbed Cornish Game Hen
These tender herbed Cornish game hens will become your favorite dinner party recipe! They're smothered in herb butter and stuffed with only lemon and rosemary.
See the Recipe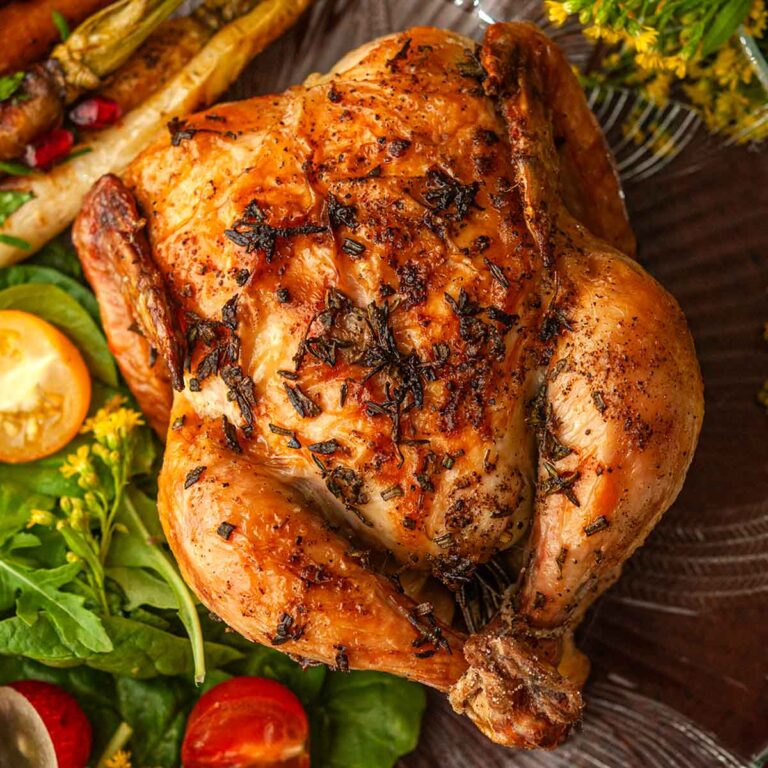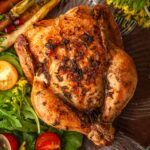 I whipped up these creamy, crispy mashed potatoes with rosemary and chive the day before, then reheated them while the hens were resting. They take only 20 minutes to reheat at 450 F. which was very convenient because the roasted carrots below take the same amount of time at the same temperature!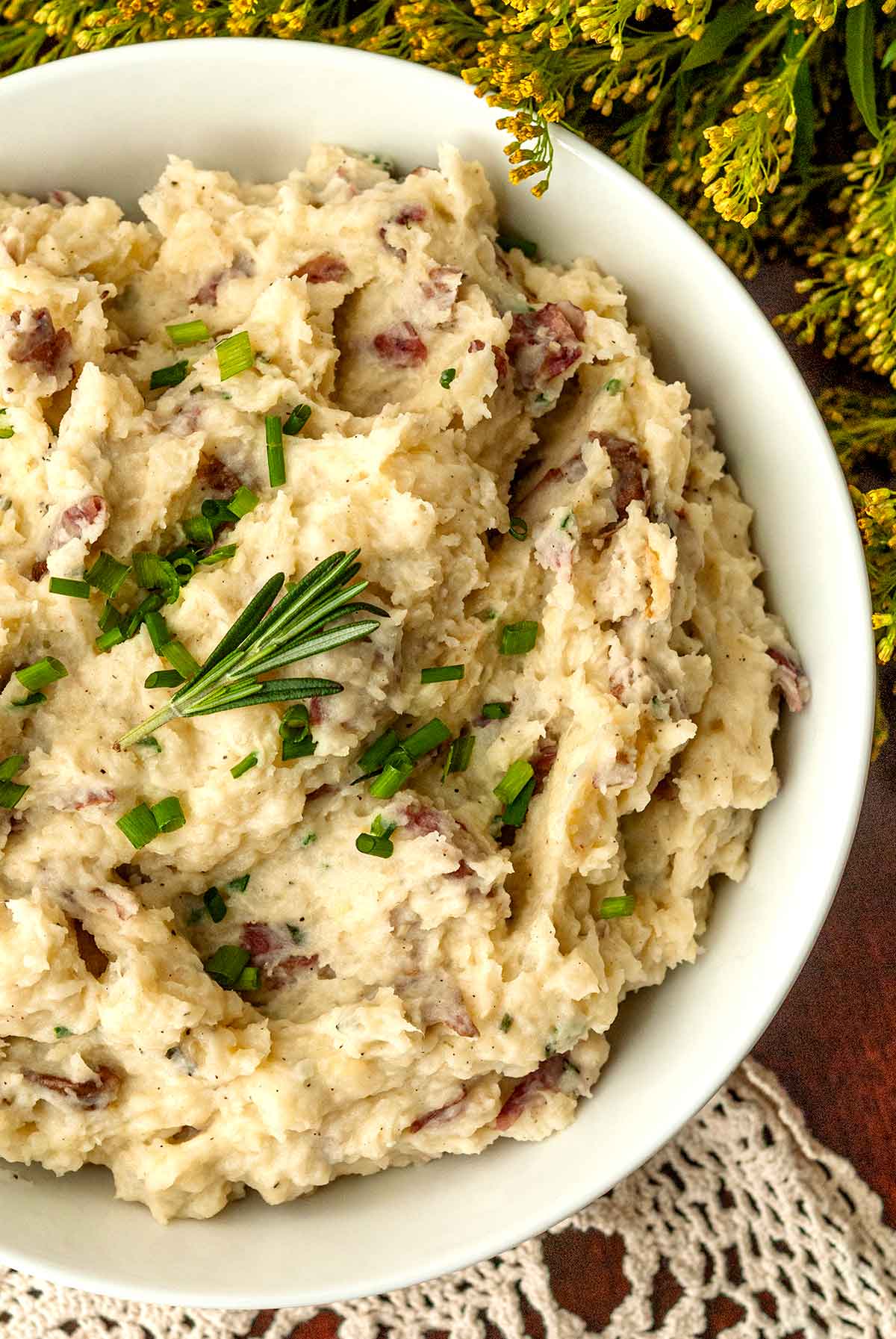 Mashed Potatoes with Rosemary and Chives
These easy, creamy rosemary and chive mashed potatoes also include roasted garlic, parmesan and plenty of butter! With only 7 main ingredients, your guests will be delighted with its rustic texture, heavenly aroma and creamy, herbal flavor. 
See the Recipe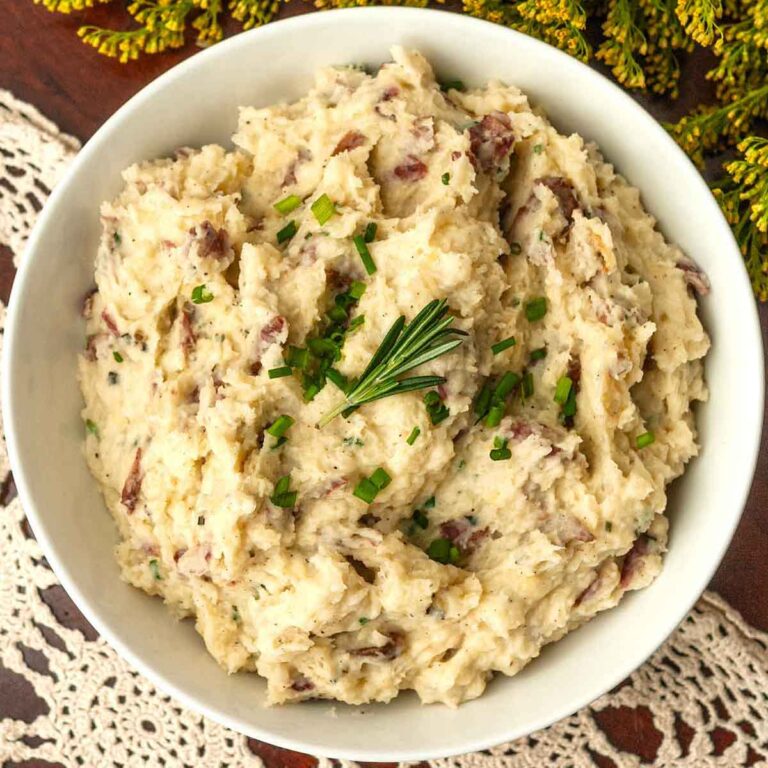 These no-frills colorful roasted rainbow carrots are seasoned with nothing but salt and pepper, but taste so elegant! I covered them with oil, seasoned them, and placed them on a foil-lined baking sheet before my guests arrived so all I had to do was place it in the oven beside the potatoes when the hens were done.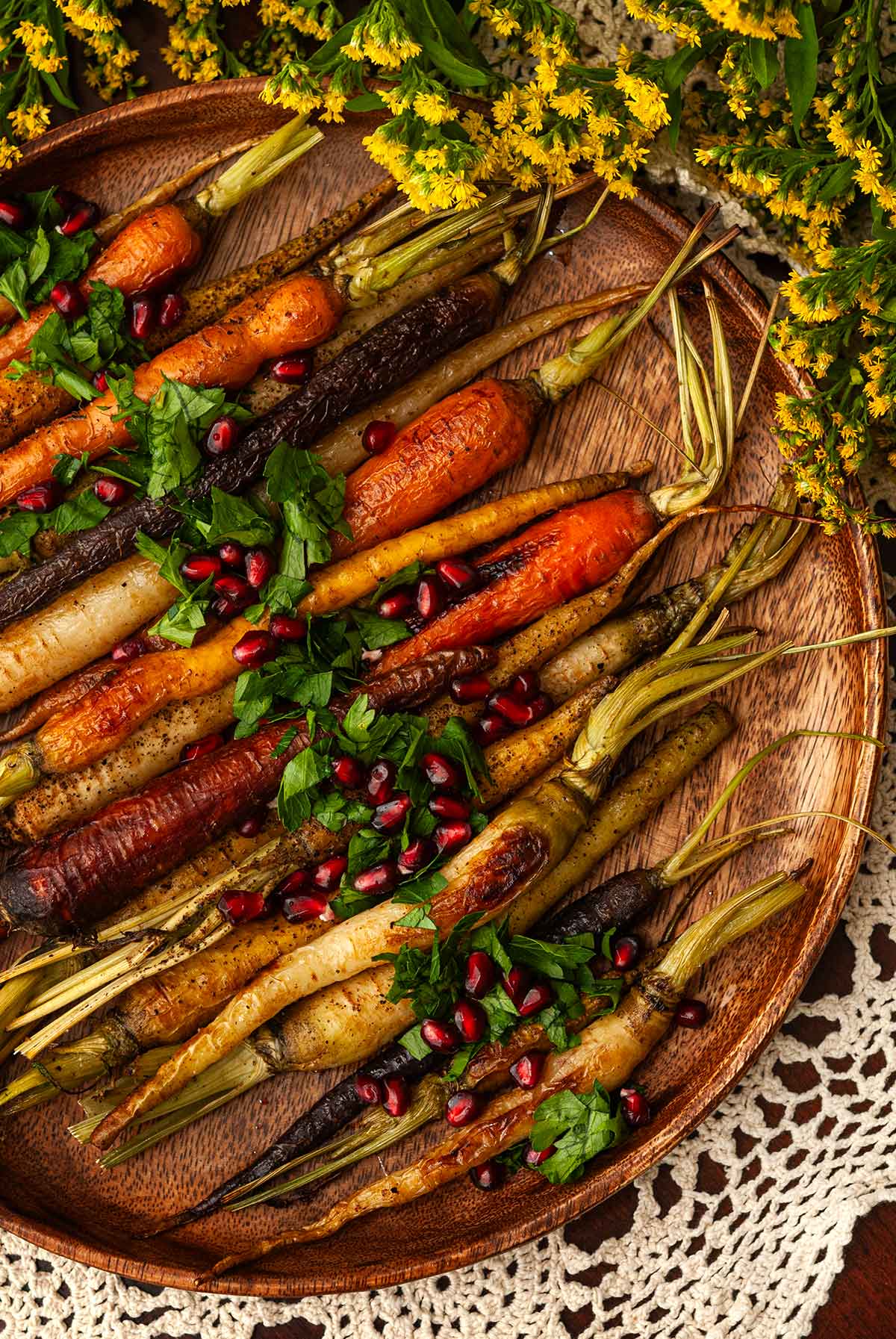 Roasted Rainbow Carrots
This 4-ingredient roasted rainbow carrot recipe is the most effortlessly elegant side dish you'll ever make!
See the Recipe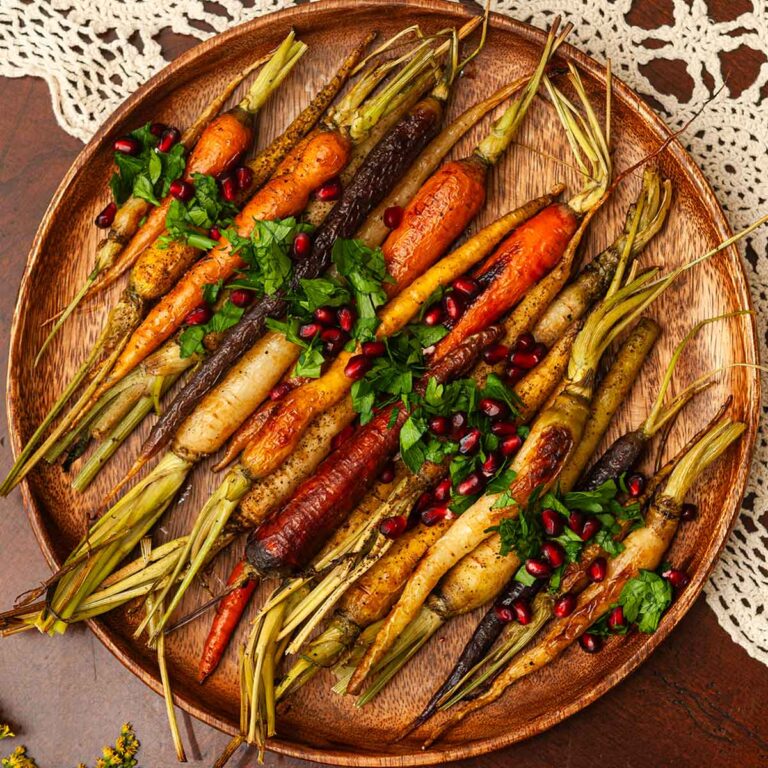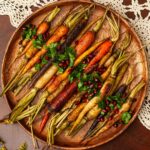 This perfectly autumnal red grape and massaged kale salad includes radicchio, pretty cherry tomatoes, walnuts, cucumbers, and rich blue cheese crumbles with my favorite apple cider vinaigrette dressing! I massaged, sliced, and diced everything earlier in the day, and just popped it in the fridge. All I had to do was remove some cellophane, drizzle with dressing, and serve.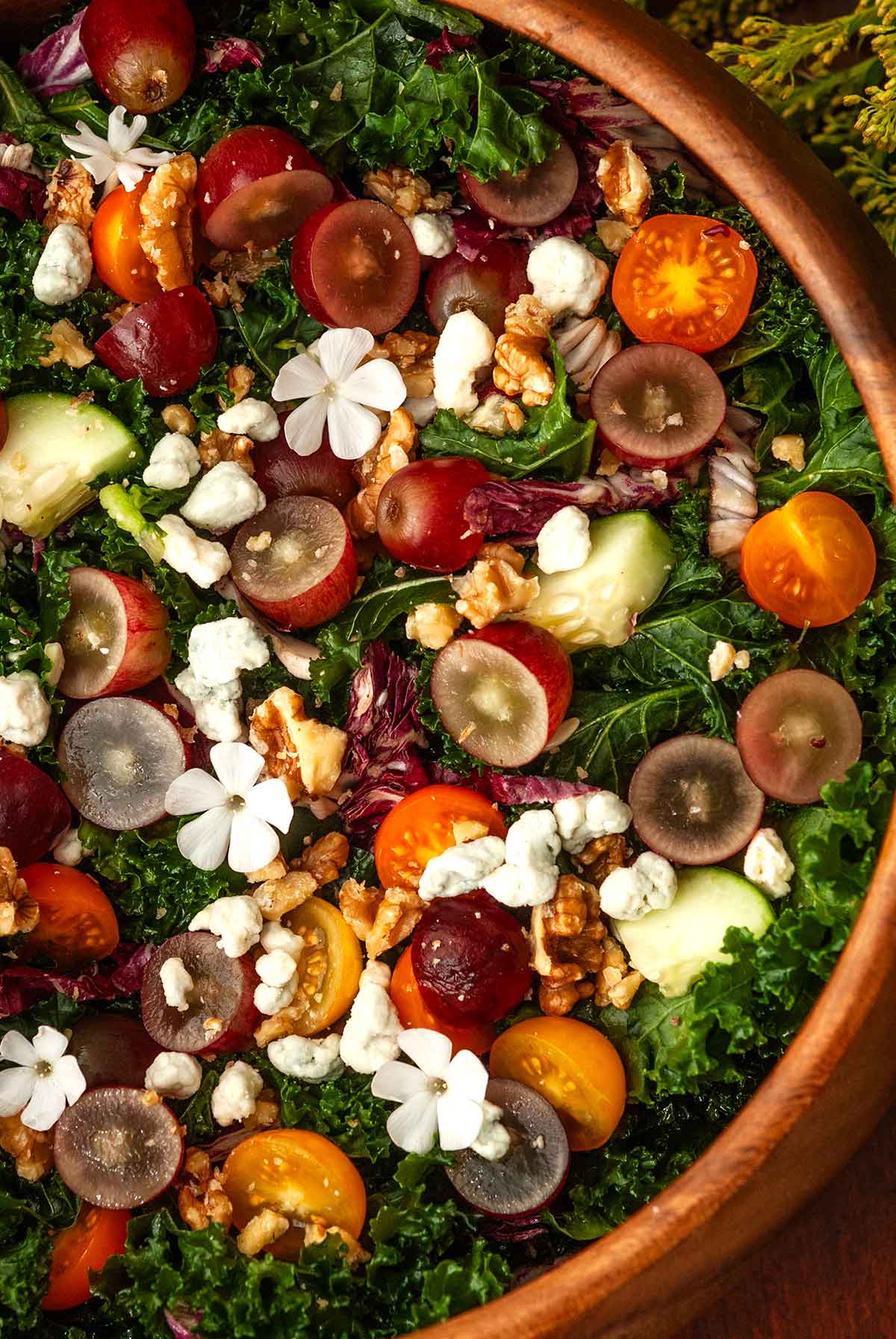 Grape Salad with Kale
This beautiful salad with grapes is perfect for any Fall dinner party, Thanksgiving dinner, or Sunday night supper!
See the Recipe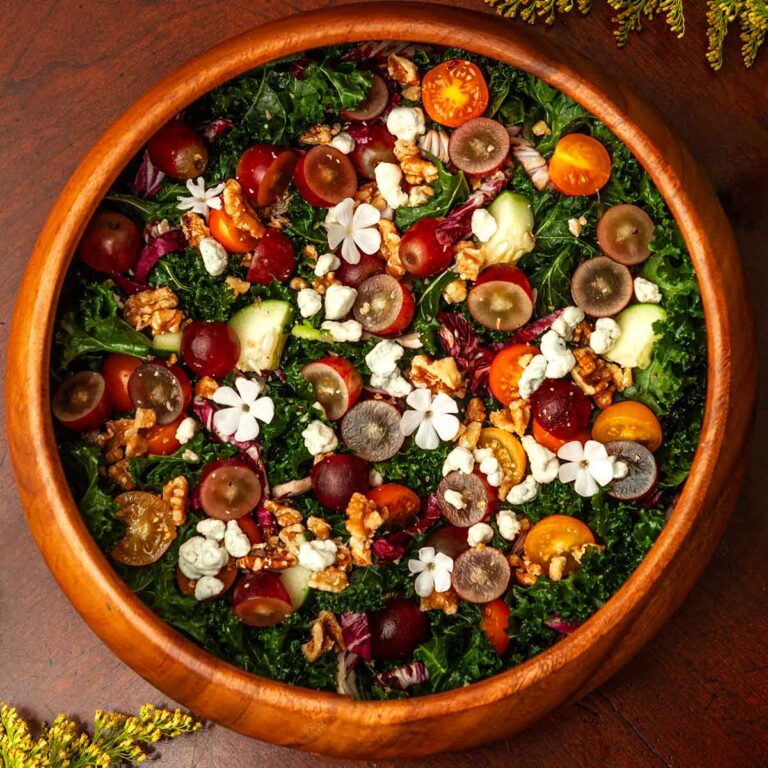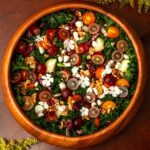 I needed something delicious to pour all over those hens and potatoes, and this exquisite white wine mushroom sauce was perfection. I made it entirely the day before, and then when it was time to reheat, I simply added it to some drippings. Over a medium flame, I reheated it for about 7 minutes.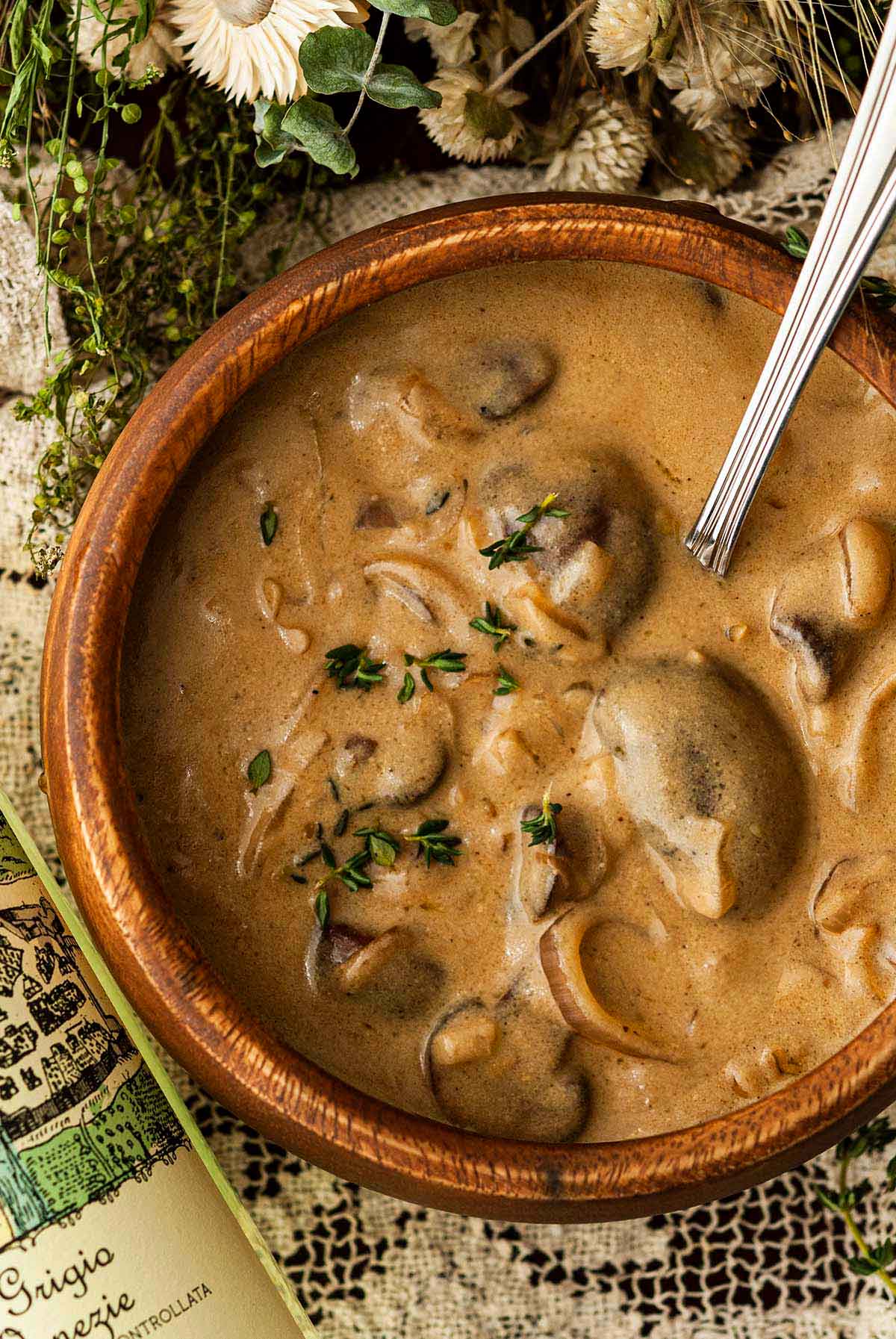 Creamy White Wine Mushroom Sauce
This creamy white wine mushroom sauce turns any chicken, turkey, pork, steak or even salmon dinner into a 4 star meal! With just a few shallots, garlic, butter-browned mushrooms and about 30 minutes, you'll create a rustically elegant masterpiece for dinner!
See the Recipe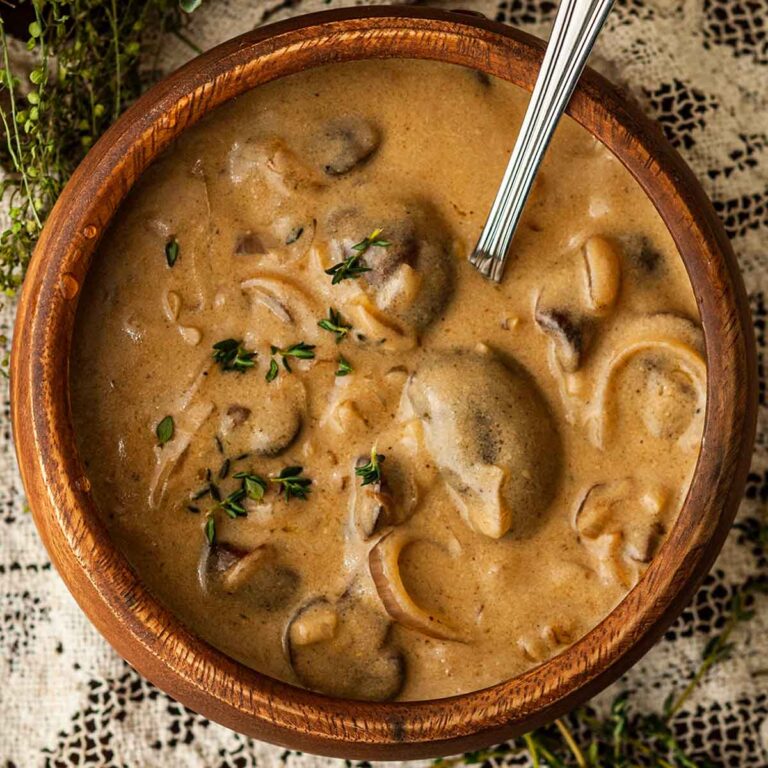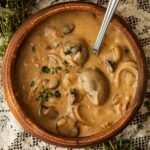 For dessert, I wanted to serve a magically exquisite showstopper. I chose to make a no-bake Sorel blackberry cheesecake!
Sorel Liqueur is a Caribbean spirit made with hibiscus, clove, cassia, and ginger. The clove, cassia, and ginger notes make this liqueur perfect for autumn cocktails and rich, witchy desserts!
I mix the liqueur into blackberry compote and cover my entire cheesecake once it's cool. I made this a whole day ahead and refrigerated until we were ready for dessert.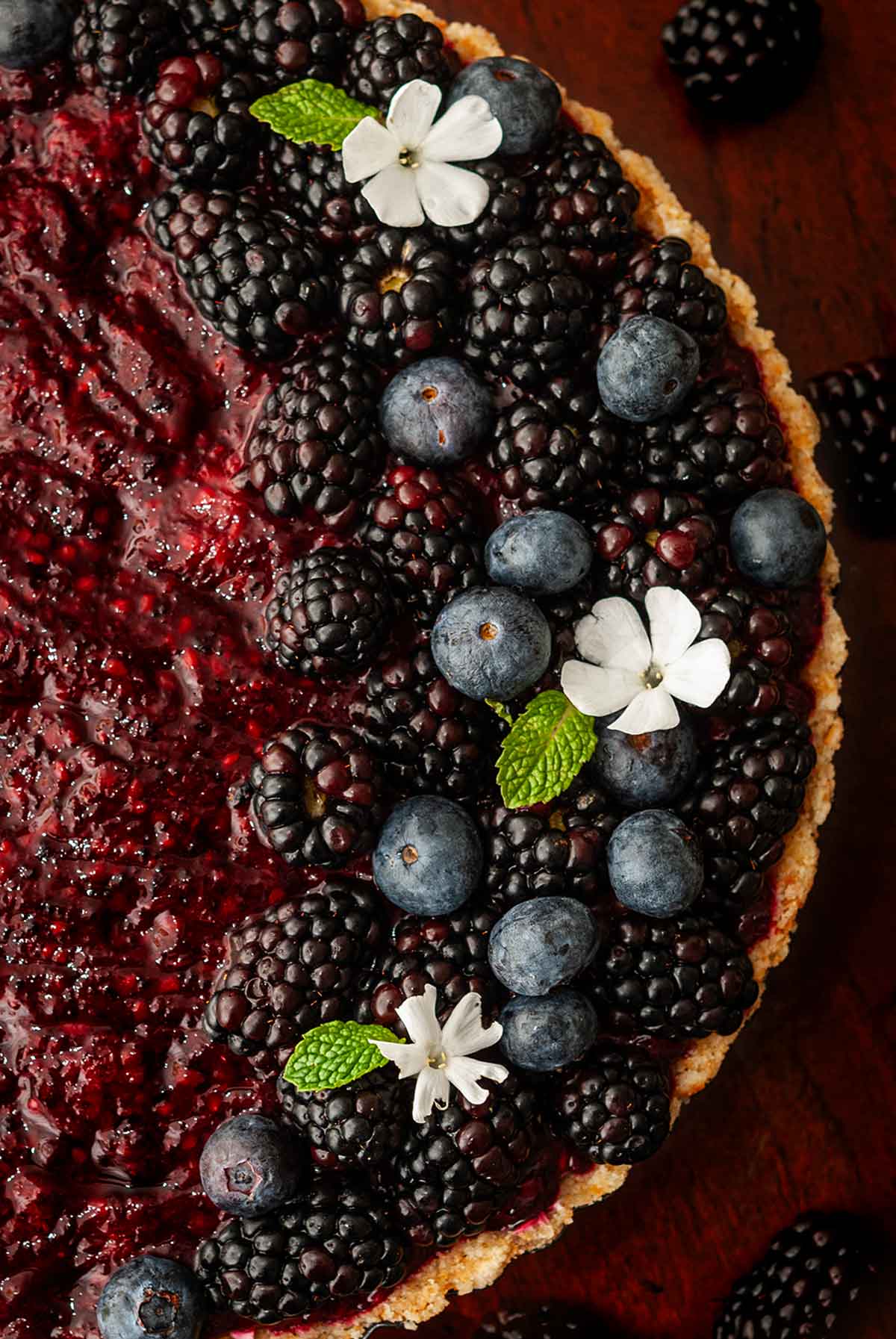 No Bake Blackberry Sorel Cheesecake
This creamy no-bake cheesecake, topped with blackberry compote, includes Sorel liqueur and an easy vanilla wafer crust!
See the Recipe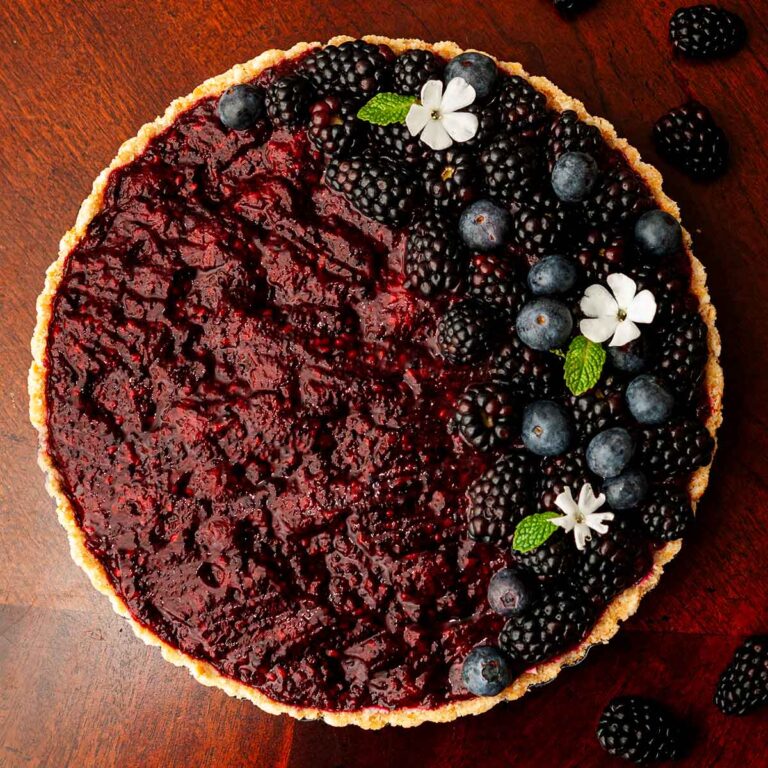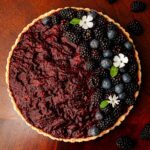 I served Sorel after-dinner cordials alongside the cheesecake to make dessert extra special. It's delicious served cold, but it's simply magical when served hot. I heated it up quickly just after slicing the cheesecake.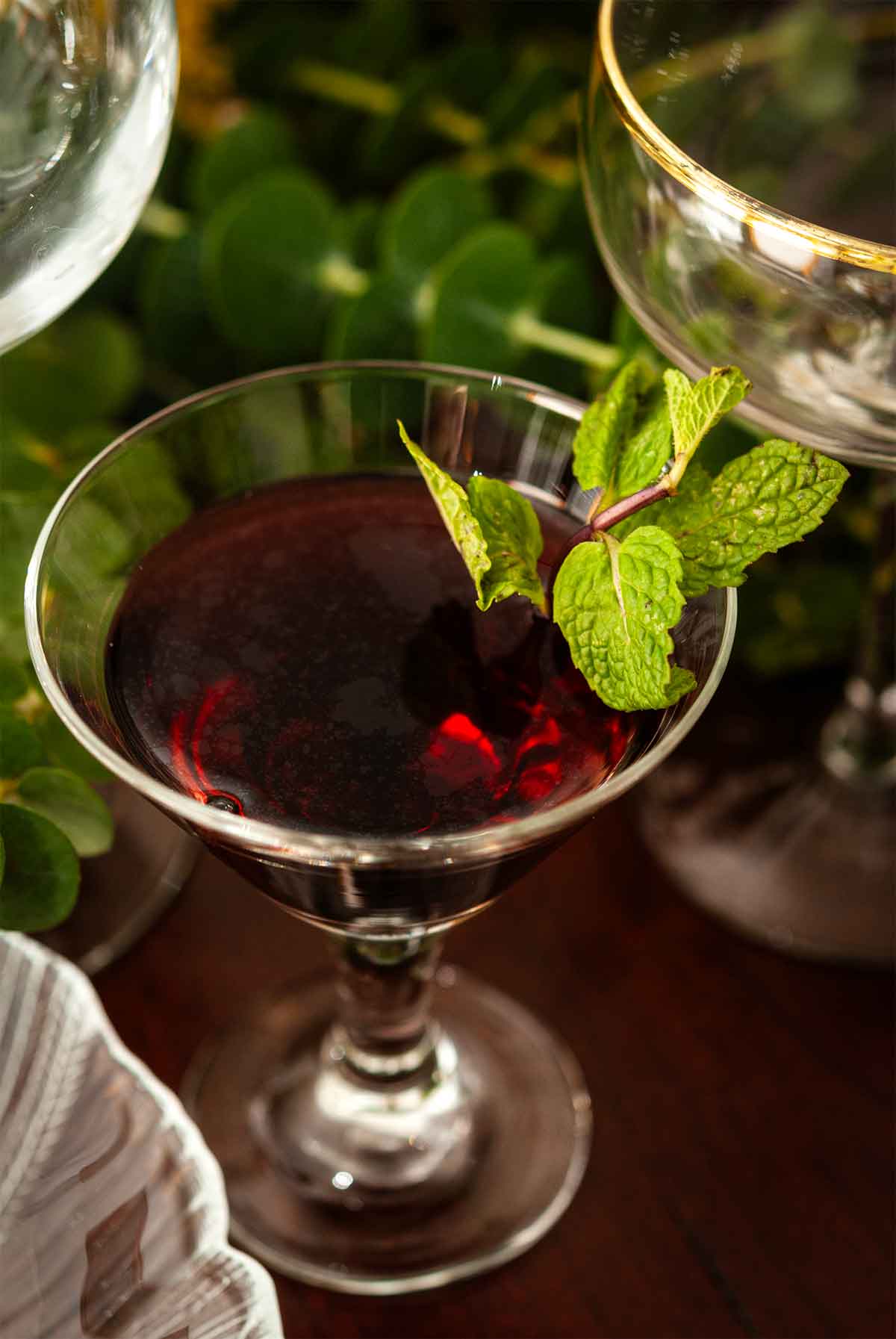 I hope you enjoy my magical New Moon recipes! I wish you luck with your own intention setting, and I hope that you delight in this enchanting season!
For more inspiration, subscribe to my newsletter, and follow me on Instagram, on Pinterest, tiktok, and Facebook! And if you ever make any of my tasty drinks or treats, take a picture and tag me. I want to see!