I live in a very tiny studio apartment in Brooklyn, but I don't let that stop me from having fancy little cocktail parties.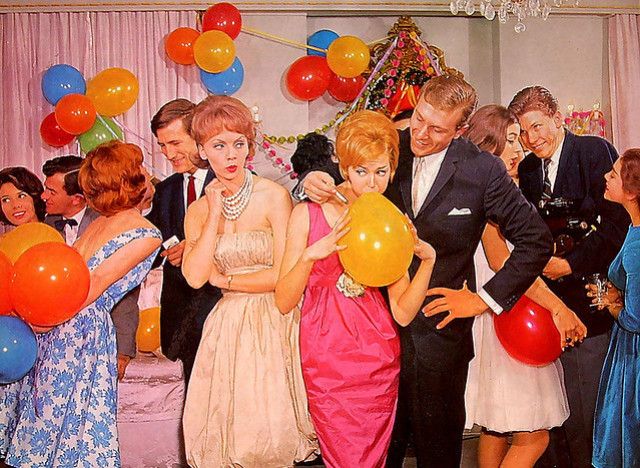 I can fit about 7-10 people in my apartment, but have had as many as 13 people in a room where my bed takes up almost a 4th of the space.
You would think I were crazy (or just a bad friend for stuffing my friends into such a tiny place), but it's actually quite cozy and contains everything I need to throw a fancy party!
Below are my must-have essentials and tips if you want to throw a glittering cocktail party in a teeny, tiny space.
1. Pre-mix Your Signature Cocktail(s)
This goes for any cocktail party, tiny or not. You want as little clutter in the kitchen (and everywhere else) as possible. You want all non-essential objects off your counter tops.
It may also sound un-fancy to pre-mix, but you don't want to be in the kitchen squeezing limes and jiggering tequila away from your guests. Creating a fancy cocktail is time-consuming, and your friends want to enjoy your company.
I pre-make 1 or 2 signature cocktails for the evening and keep them in the fridge in glass bottles that I can simply pull out, shake, pour, garnish and serve.
2. Create a Tiny Cocktail Station
Your cocktail station should be out of the way and contain:
Enough space for the room-temperature bottles your friends will bring.

Any pre-made garnishes for any signature cocktails.

The glasses for your first round of drinks

Your cocktail shaker, champagne cork, bottle opener

Easy access to your ice. Whether in an ice bucket or easily accessible bucket in the freezer.
3. Take Coats Right as Folks Come In
This may seem like a no-brainer, but I've been to lots of parties where the hosts have no place for coats, or they're still running around and too busy to properly greet guests as they arrive (I've been that way too).
In a studio apartment, throwing them on the bed isn't an option. It's a fancy cocktail party. You don't want your space looking messy. If you have a coat closet, or any closet, make sure you've cleared enough hangers for coats before your guests arrive, and take them as soon as they do.
Even if coats don't end up on the bed, they'll make a big mess of your pretty space in no time.
4. Comfortable, Attractive (Easily Storable) Seating
No matter how tiny your place is, you want to make sure you have enough seating for all of your guests. Even though folks like to stand and mill around for a bit, after about 2 or 3 drinks, they'll want to start lounging.
If you're like me and live in a studio or tiny apartment, you can't just clutter your living space with chairs, so you simply need easily storable seating that you can take out, just for parties.
5. A Space for Your Guests to Scoot Away to
Even though I love throwing parties, I'm actually quite introverted, and love to step away from the crowd for a little while to make a personal connection with a friend.
You'll find a lot of people, introverted or not, appreciate a secondary space to scoot away to from time to time, and in a tiny space, it's important to make sure your guests don't feel like sardines.
Make sure, no matter how tiny your space is, to set up an extra cheese plate in another part of the room or kitchen, or simply set up a little area people can separate away to so people don't feel they're being rude by walking away. Let them know they're welcome in all parts of the tiny space.
6. A (Fairly) Sober Head
This also goes for all cocktail parties, tiny or not. Save the big sips for the closers when you've fulfilled all of your fancy host or hostessing duties.
You want to keep your eyes on guest's glasses so they aren't poking around in your kitchen for refills, minding the music to make sure the mood is perfectly suited for the conversation, carefully carrying trays of drinks without spilling, and keeping classy…whatever that means to you.
For me, it means waiting till the END of the night to walk around in my lingerie. Not having 6 drinks and showing it off before 8:30. To each their own.
Here Are a Few More Entertaining Ideas
For more inspiration, subscribe to my newsletter, follow me on Instagram, on Pinterest, tiktok and Facebook! And if you ever make any of my tasty drinks or treats, take a picture and tag me. I want to see!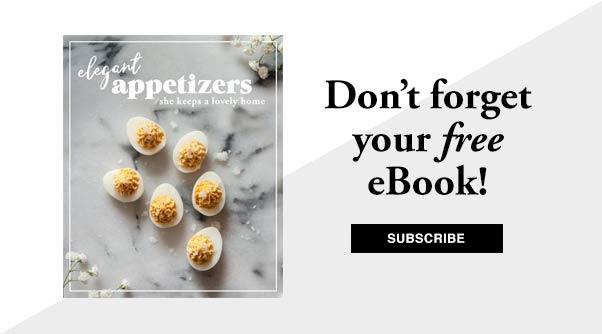 SaveSave