These fancy and frugal recipes cost $25 or less to make, and sometimes much less, and are perfect for elegant entertaining on a tight budget. In fact, some of these recipes can be DOUBLED and still won't cost more than $25!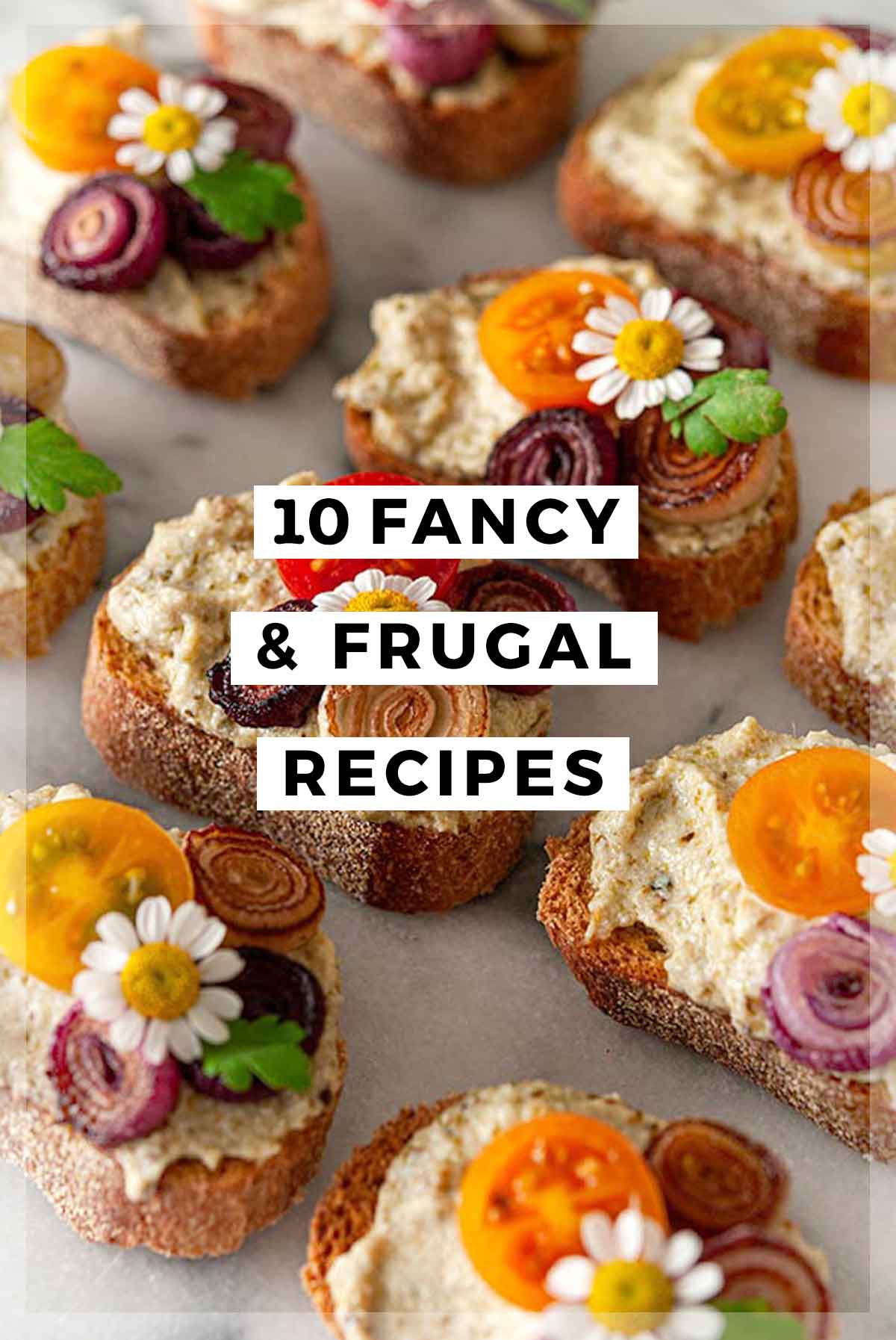 To be clear, though, that $25 doesn't include kitchen staples like sugar, olive oil, balsamic vinegar, salt & pepper and basic spices. Otherwise, almost nothing would cost less than $25. My fancy olive oil cost me $15, after all.
But lots of ingredients that are included are already in your kitchen, like mayo, mustard, soy sauce, garlic, etc. So each recipe will likely cost you even less than the listed price!
I've included appetizers, side-dishes, snacks, desserts and even cocktails, which can be particularly tricky to make on a budget!
The price tallies I used are based off of Fresh Direct's prices.
1. Crostini with Balsamic Strawberries and Ricotta
Price: $14.86
Even though these recipes are $25 or less, excluding kitchen staples like sugar and balsamic vinegar, this recipe is still under $25 if you include both of those staples!
In fact, you can DOUBLE the recipe for less than $25 because it only calls for half a container of strawberries, and half a baguette! This recipe is so tasty, so pretty and makes such a lovely summer appetizer!
2. Beet Napoleon Appetizers with Prosciutto Roses
Price: $14.96
Another recipe that can easily be doubled (even tripled) for less than $25 if you buy twice (or 3 times) the beets, and that's it! You're only using a little bit of cream cheese, a few tiny pieces of prosciutto and a few leaves of cilantro, so you can make a whole bunch of these beautiful appetizers for under $25!
3. Simply Elegant Dill Deviled Eggs
Price: $16.35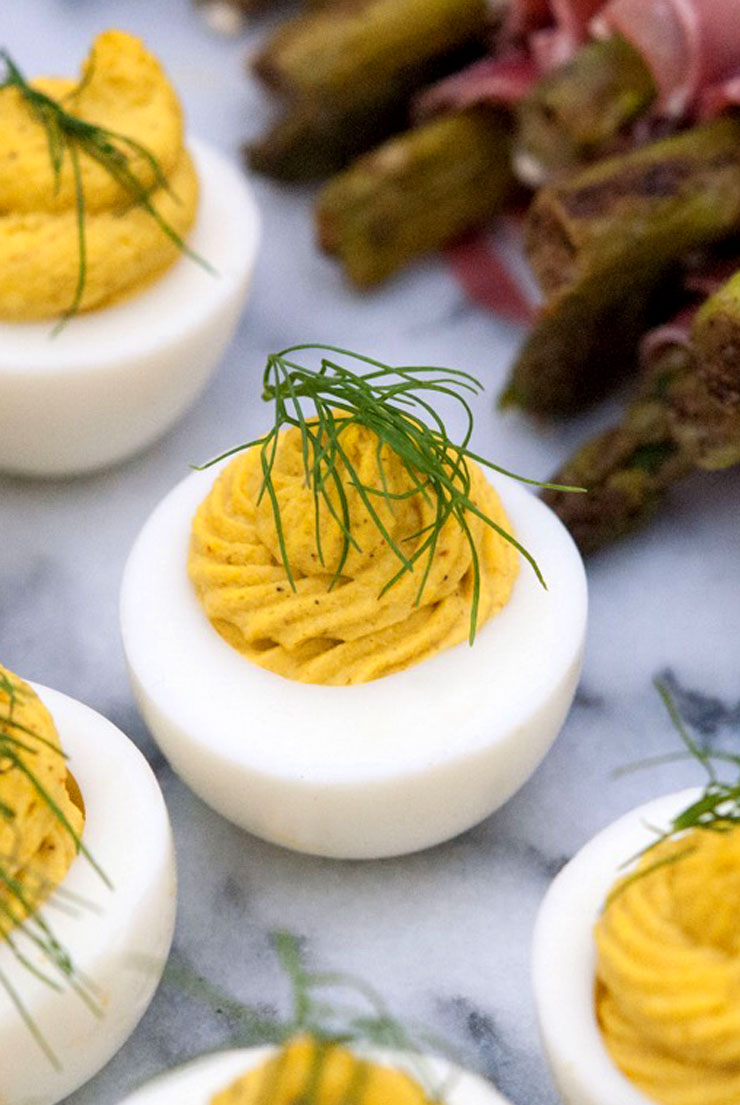 Another recipe that can be doubled for less than $25, since it only calls for half a dozen eggs! All of the other ingredients are used in small amounts. I love how pretty these deviled eggs look on an appetizer tray!
With an elegant sprig of dill, you'll make a $16 dollar appetizer look like a million bucks! As a matter of fact, I have a number of beautiful deviled egg recipes that are equally fancy and frugal!
4. Beautiful Pesto Ricotta Crostini
Price: $23.99
Yet another recipe that can easily be doubled for the same price! I love this recipe for baby showers or bridal showers… honestly, any party where you want to really make your guests say "wow!"
5. Stuffed Portobello Mushrooms with Spinach and Feta
Price: $16.49
These tasty stuffed mushrooms can be a side dish, first course or even an evening snack! They're so simple to make and are full of earthy, rich flavor.
And if you want to double the recipe and make 4 stuffed mushrooms, you just have to buy 2 more mushroom caps and a little more spinach, which will get you right to $25!
6. Blistered Shishito Peppers with Soy Sauce, Sesame & Lime
Price: $12.99
The most inexpensive appetizer on this list is also one of my party guests' favorite! Blistered Shishito peppers are such exciting appetizers, and with just a little bit of sesame, soy sauce and lime, they're one of the simplest to make! They take just 10 minutes, and smell AMAZING!
7. Creamy Curry Cauliflower Soup
Price: $21.14
This recipe makes 6 servings of one of the tastiest, heart warming, creamiest soups I know how to make, so it's a perfect, budget dinner party starter! It's also totally vegan!
8. Cranberry Apple Crisp with Maple Granola
Price: $24.15

This recipe is truly one of my favorite Autumn recipes and always a party favorite! You can serve 6 large servings of this sweet-tart, colorful dessert for under $25. That price also includes the price of nutmeg, which isn't quite as common a kitchen staple spice as cinnamon, so I included it too.
9. Sparkling Pink Grapefruit Cocktail with Cucumber
Price: $18.47
Most of my cocktail recipes cost much less than $25 to make per cocktail, but as you know, a bottle of St. Germain or whisky can run over $25 per bottle, so I won't include them in this list.
But! This divine sparkling pink grapefruit cocktail can be made with inexpensive sake (which you can easily find for $15 or less) and all the other mixers are just fresh juice and soda.
Even when muddled with a little mint and cucumber, it still costs less than $25 to make at least 6 or 7 glasses of this lovely cocktail.
10. The Elegant Sake Lychee Martini
Price: $15
Now, this is my very favorite cocktail party signature, and it has only 2 ingredients! When I want to have a delicious, fancy, elegant cocktail that everyone will love, this sake lychee martini is it!
You can even get a big bottle of sake that will serve 12-15 people for $20 and the total cost of this cocktail still doesn't reach $25! Truly the best cocktail for a big party on a budget!
For more inspiration, follow me on INSTAGRAM, on PINTEREST and FACEBOOK! And if you ever make any of my tasty drinks or treats, take a picture and tag me. I want to see!