Grab some nutmeg, mustard and mayo, and garnish your deviled eggs with those pretty red Japanese Maple leaves while you still can! 

Autumn Nutmeg Deviled Eggs
The leaves will only be this pretty for a tiny little while, so I wanted to make perfectly seasonal, Autumn nutmeg-spiced deviled eggs for my evening snack.
I've never used nutmeg in deviled eggs before, and I'm so happy I gave it a try! Just a teeny bit goes a long way. It's such a surprising and delightful little flavor to put in a deviled egg!
I also used a teeeeeny, tiny bit of smoked paprika to give it that "Cozy neighbors fireplaces and dry leaves on the chilly wind in the Fall" flavor.  You know what I mean.
The garnish of capers was also a yummy choice I haven't tried before! Nice and salty with a rich, pickley flavor and fun little popping texture.
A Few Deviled Egg Pro Tips!
1. I simply use a knife to gently crack around the center of an egg and carefully peel the shell. Then, when slicing my eggs, I like to slice through the center-middle, as opposed to longways. I find the egg-halves will have a more sturdy base when cut this way.
2. Slice a tiny bit off the bottom so your deviled eggs sit perfectly flat. This will prevent them from sliding around the plate.
3. No need to always gouge out your yokes with a spoon. They'll almost always slide out if you're gentle. You may sometimes have a little left over, but it's easier and less damaging to the egg white, to try sliding first.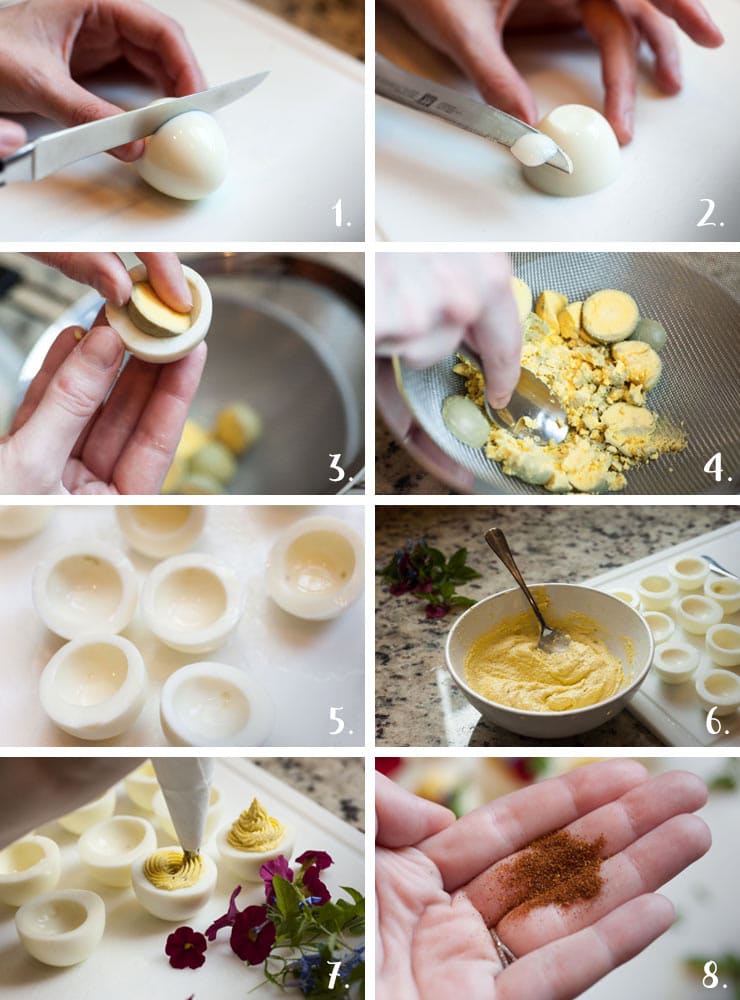 4. To get perfectly smooth egg-fillings, push the yokes through a mesh strainer before mixing in your mayo and mustard.
5. Wash and gently dry your egg whites so that they're absolutely perfect before filling.
6. The perfect consistency of deviled egg filling is almost exactly like hummus. If your filling seems a little dry, just add a little more mayo.
7. Always use a pastry piping bag and a pretty tip. It really makes your eggs look so much more professional.
8. When garnishing with a spice, pour a bit into your hand first and use your fingers to gently sprinkle. Otherwise, if you pour directly from the bottle, it's very likely too much will come out at once, and you'll end up with a deviled, over-spiced heart break.

For A Little More Autumn Flavor Inspiration
Autumn Dill Deviled Eggs
Heavenly Pumpkin Cheesecake Mousse
The Coziest Hot Toddy
A Beautiful Halloween Appetizer Centerpiece
If you try this recipe or any of my tasty drinks or treats, make sure to take a picture and tag me on Instagram! I love to see your creations! And don't forget to follow me on Pinterest for more loveliness, too.
Autumn Nutmeg Deviled Eggs
These deviled eggs are full of surprising, Autumn flavors your family will love!
You'll require a pot, mesh strainer and mixing bowl for this recipe. You'll also require a pastry piping bag and tiny star tip if you want them to look extra pretty.
Servings:
12
deviled eggs
Ingredients
6

large eggs

1

tbsp.

mayo

1

tsp.

spicy brown mustard

1

tsp.

creamy horseradish

⅛

tsp.

nutmeg

A little shake of smoked paprika

- less than ⅛ tsp.

Tiny capers for garnish

- about a tsp.
Instructions
Add 6 eggs to a pot of cool water, then place them on the stove and boil them for 20 minutes. Once boiled, place them in a bowl of cold water for 10 minutes. Refrigerate for 1-2 hours.

Once the eggs are cool, remove the shells by carefully tapping around the center and peeling. Crack and peel very carefully so the egg is pristine and free of tears and dents.

Slice them carefully in half. I like to slice them through the center instead of longways. I find they're a more satisfying bite that way. Slice a little bit off the bottom so they sit flat on a surface without sliding around.

Remove the yokes by simply sliding them out, or using a very tiny spoon, making sure to keep the whites free from rips or dings. Push them through the mesh strainer into your mixing bowl. This will ensure your eggs are creamy and smooth without any eggy chunks.

Wash and dry your eggs with a paper towel so the whites are perfectly tidy and picture perfect.

Mix in 1 tbsp. of mayo, 1 tbsp. of mustard and 1 tsp. creamy horseradish into your egg yokes. Add salt, pepper and spices. Mix the ingredients carefully, making sure your consistency isn't too runny. Depending on the size of your eggs, your filling may seem a little dry, so you may have to add a little more mustard. You want your consistency to be similar to hummus.

Pipe your egg filling into your little eggs! I would suggest always using a pastry piping bag to fill your eggs. They look so much more tasty and professional when perfectly piped.

Garnish your eggs with pretty Autumn leaves, capers and a dash smoked paprika.
Nutrition
Serving:
1
Deviled Egg
|
Calories:
40
kcal
|
Protein:
2
g
|
Fat:
3
g
|
Cholesterol:
82
mg
|
Sodium:
45
mg
|
Potassium:
30
mg
|
Vitamin A:
120
IU
|
Vitamin C:
0.1
mg
|
Calcium:
12
mg
|
Iron:
0.4
mg
SaveSave
SaveSave
SaveSave
SaveSave
SaveSave
SaveSave