You'll find lots of fancy Halloween dinner party ideas in this post! I wanted to give my husband a candle-lit, gothically elegant, somewhat spooky, absolutely delicious dinner party for his birthday this year, and I did not disappoint!
I served red wine braised short ribs, cocktails with lychee eyeballs, perfectly roasted autumn veggies, pumpkin spiced carrot cupcakes and more!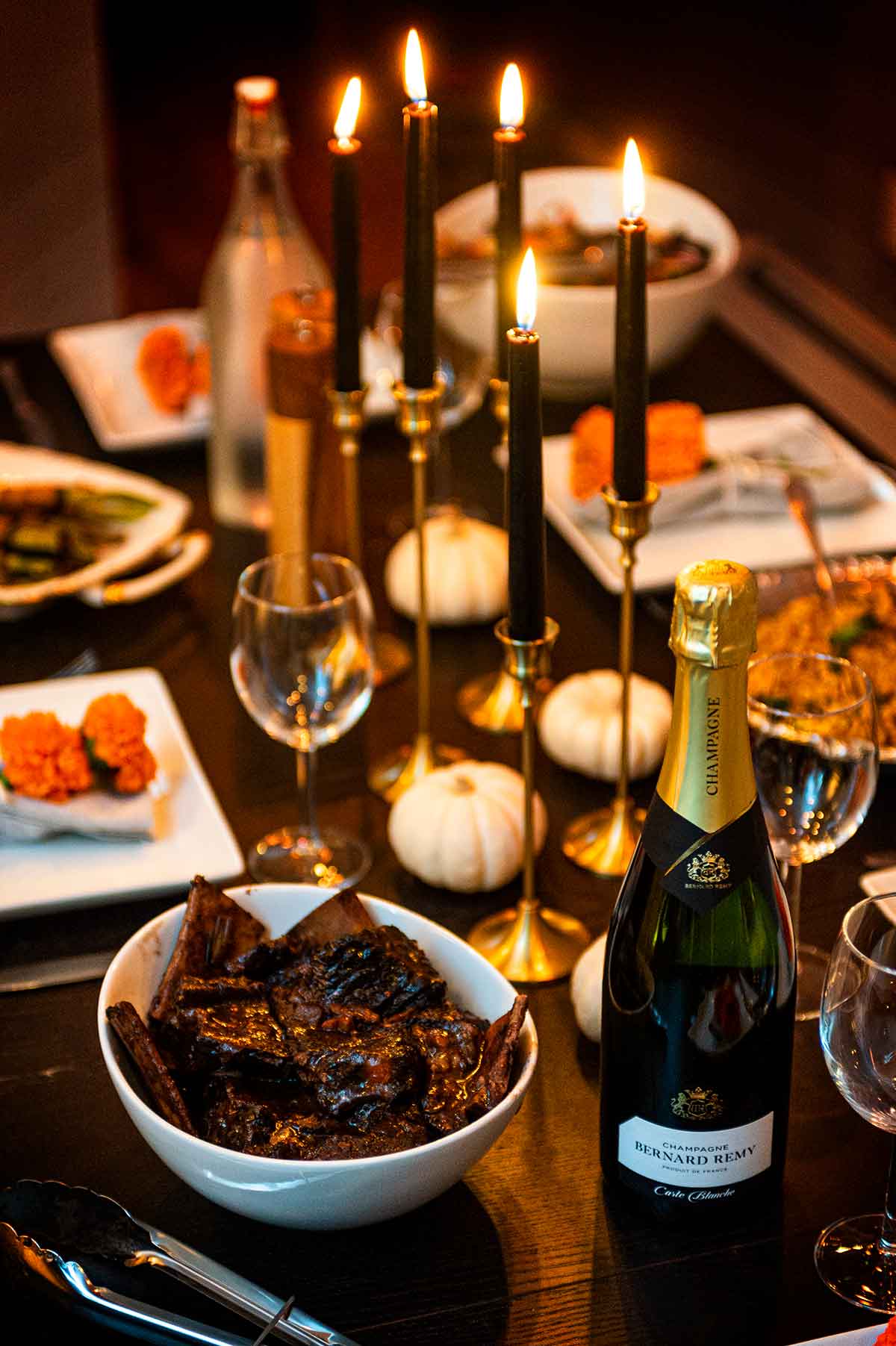 With just a few romantic marigolds, pretty white pumpkins, and hauntingly sweet cocktails, it was easy to dress up these traditional autumn recipes into Halloween fun!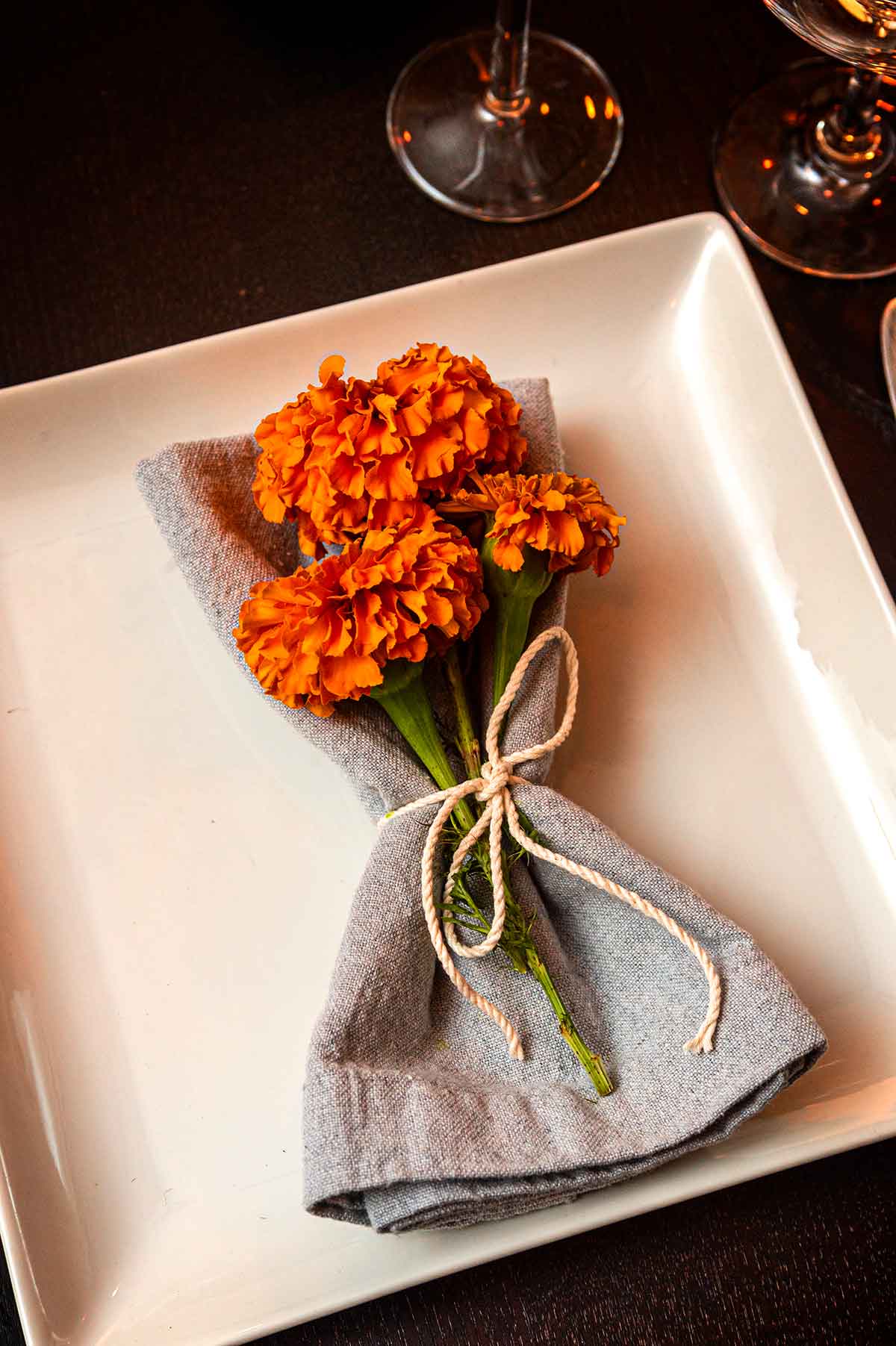 As always, I like a fancy dinner that I can whip up in 20 minutes (or less) once guests arrive. I do almost all of my cooking and prepping the day before, then just reheat everything before serving. Here's how I put the whole dinner together!
First, I started with maple butternut squash and mushroom crostini with goat cheese and blackberry balsamic drizzle. I made the mushrooms and butternut squash topping the day before, then simply toasted some baguette, and added goat cheese. I serve them cold so they're easy to put together right before the party.
The only thing I made "from scratch" during the day were a few fried, salted sage leaves to place on top. These appetizers vanished like ghosts!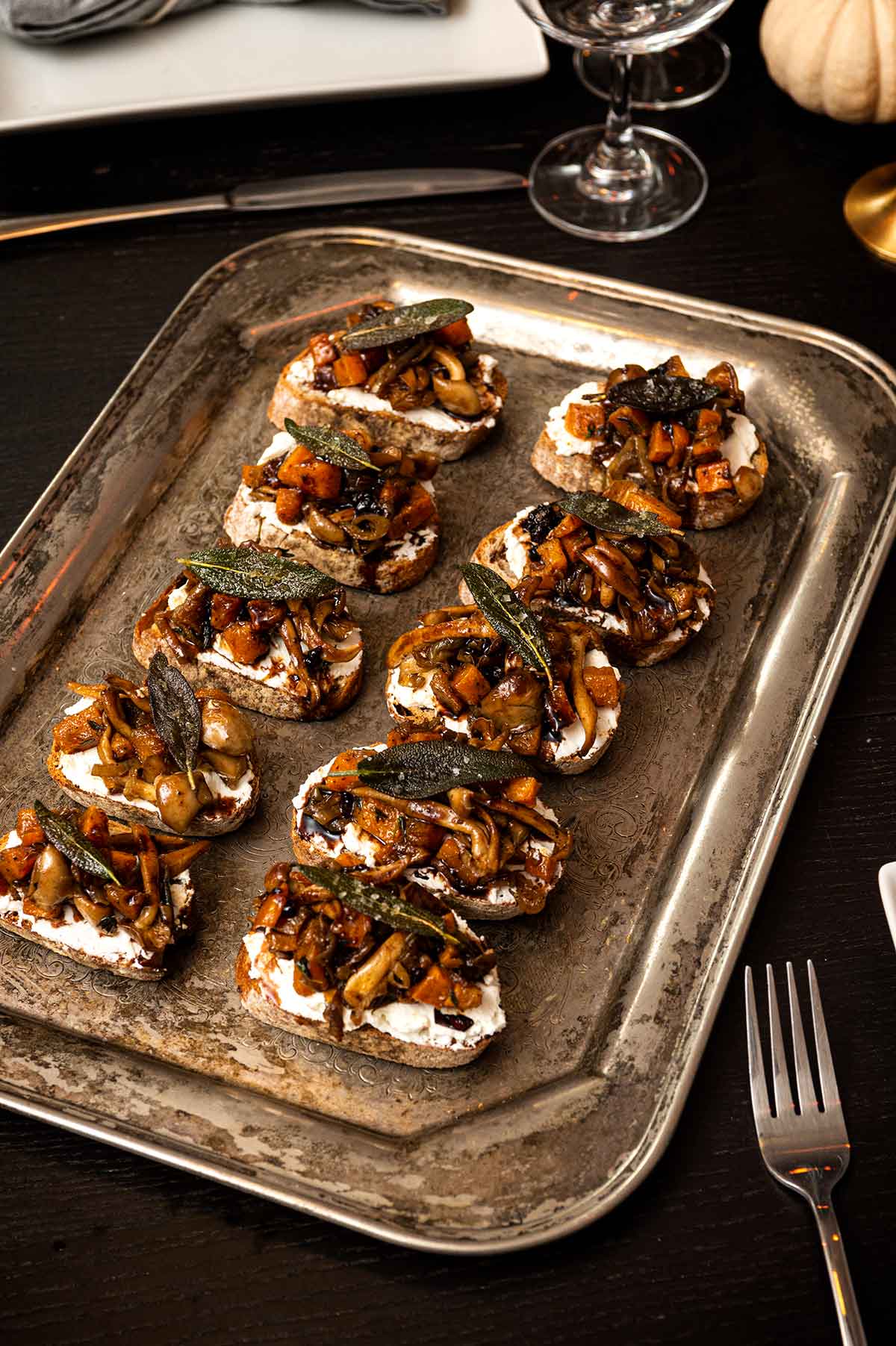 For the cocktail, I made lychee martinis and added little Luxardo cherries to the centers of lychees. The juice gave them a "bloody" effect. So cute and spooky! The cocktail has only 2 ingredients: sake and lychee juice. They're so easy and so refreshing! Such a perfect signature cocktail for any party (well – maybe without the eyeball).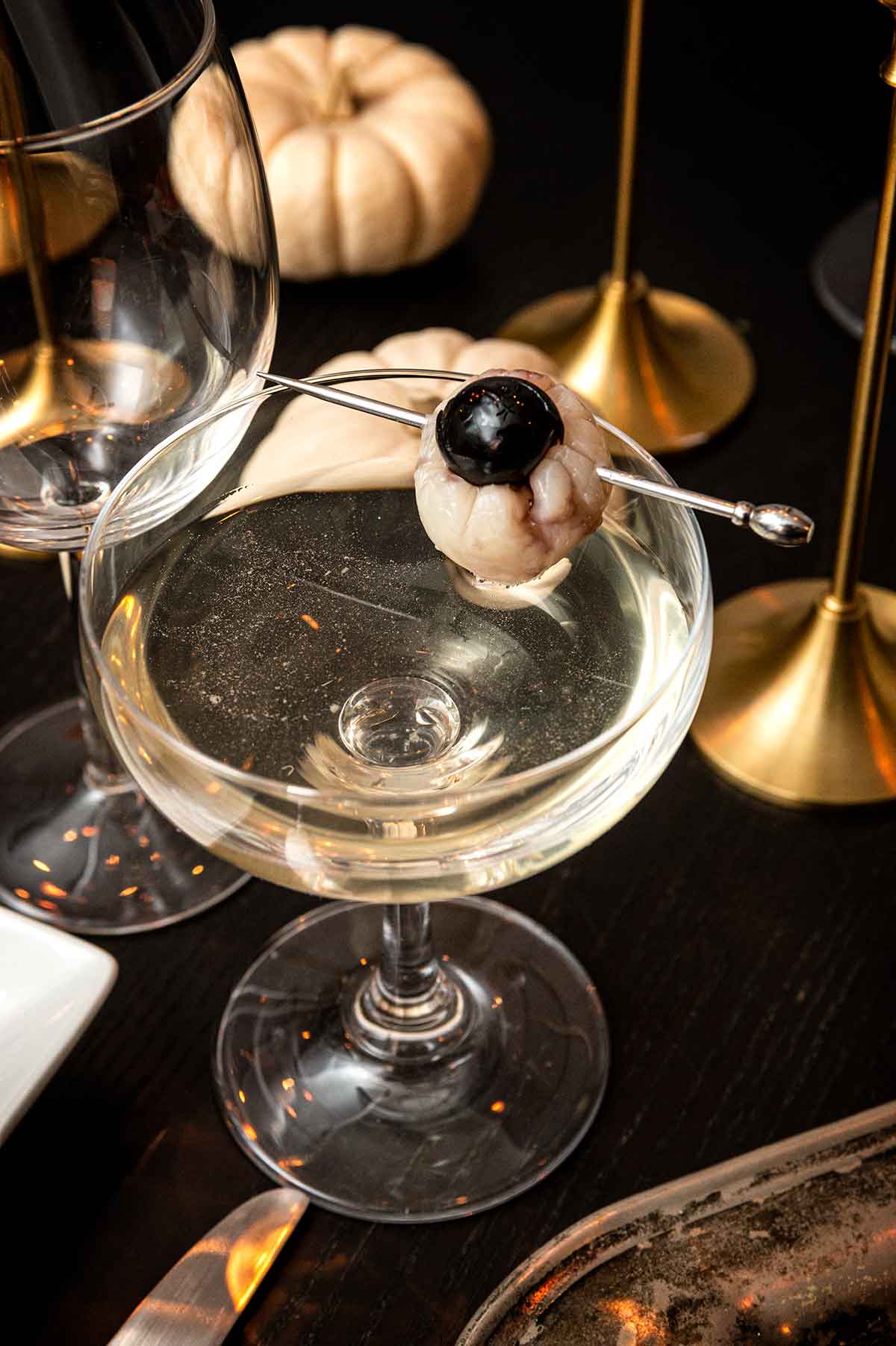 For the salad, I made a massaged kale and roasted beet salad with sliced shallots, radicchio, cucumber and blackberries. I roasted the beets the day before and just assembled everything an hour before guests arrived.
Kale can be a bit tough, so I like to give each leaf a luxurious massage with olive oil first. I also made a simple apple cider vinegar dressing like the one in my Thanksgiving beet salad.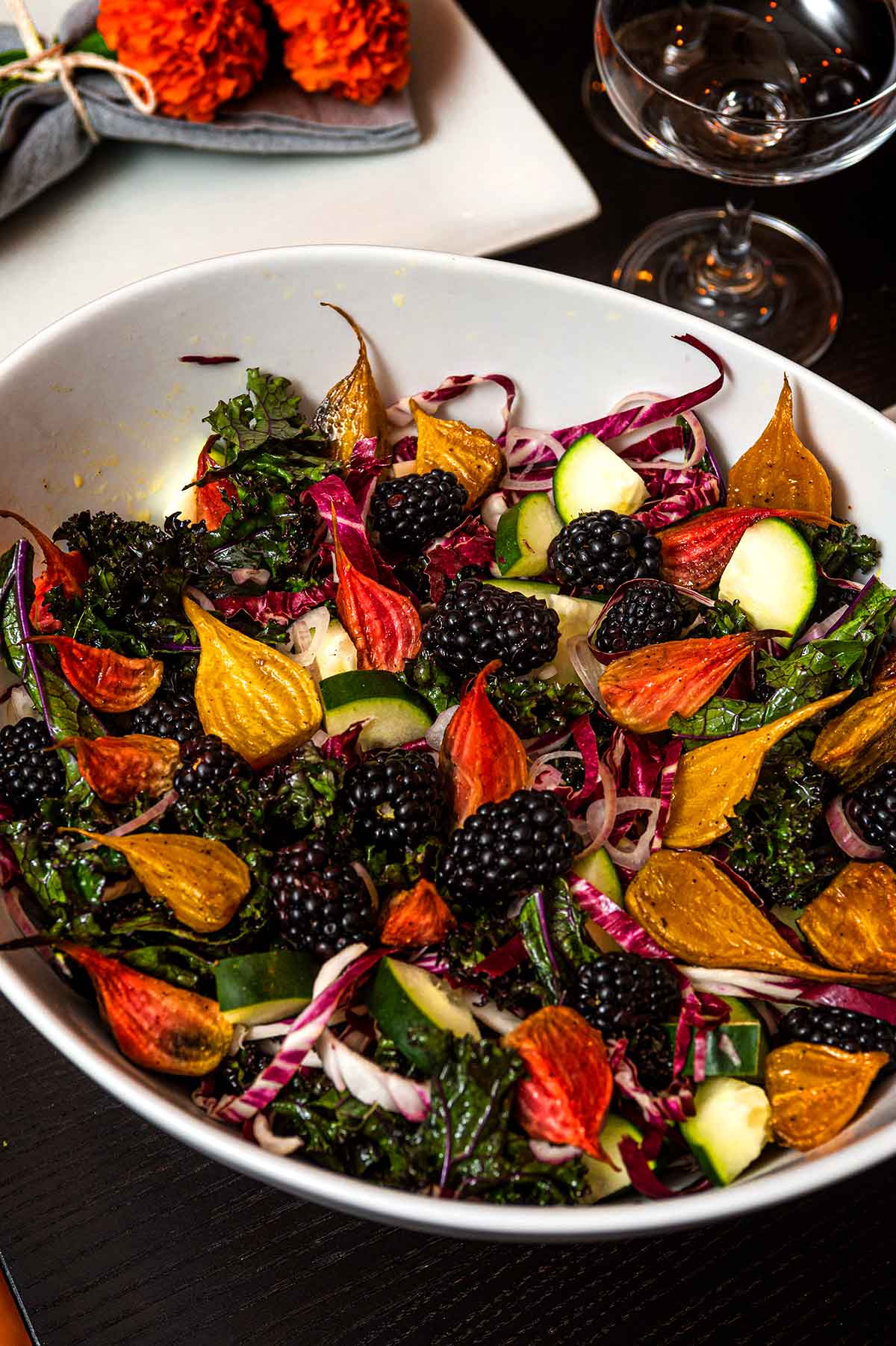 For the main course, I made blackberry Cabernet braised short ribs! This was a bit of an undertaking. I made enough for 7 people (which is 14!). They were so tender, they literally fell off their bones as I took them out of the pot. To reheat, you just add ¼ cup of beef broth and simmer on low for 10 minutes.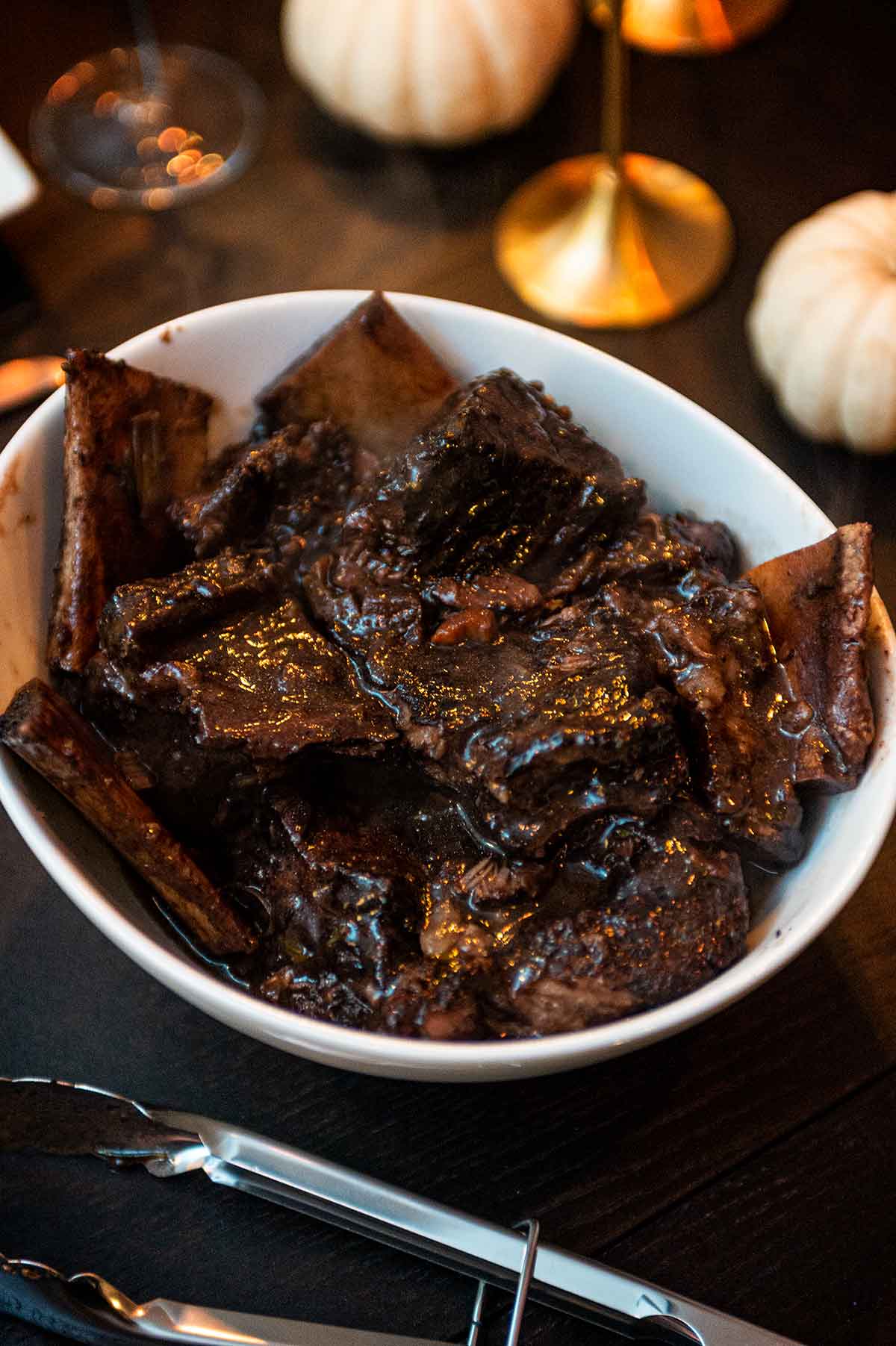 For my sides, I made simple roasted carrots with nothing but salt, pepper and butter. They took only 20 minutes to roast at 400F. I just placed them on the top rack of my oven and placed my 2 other sides below.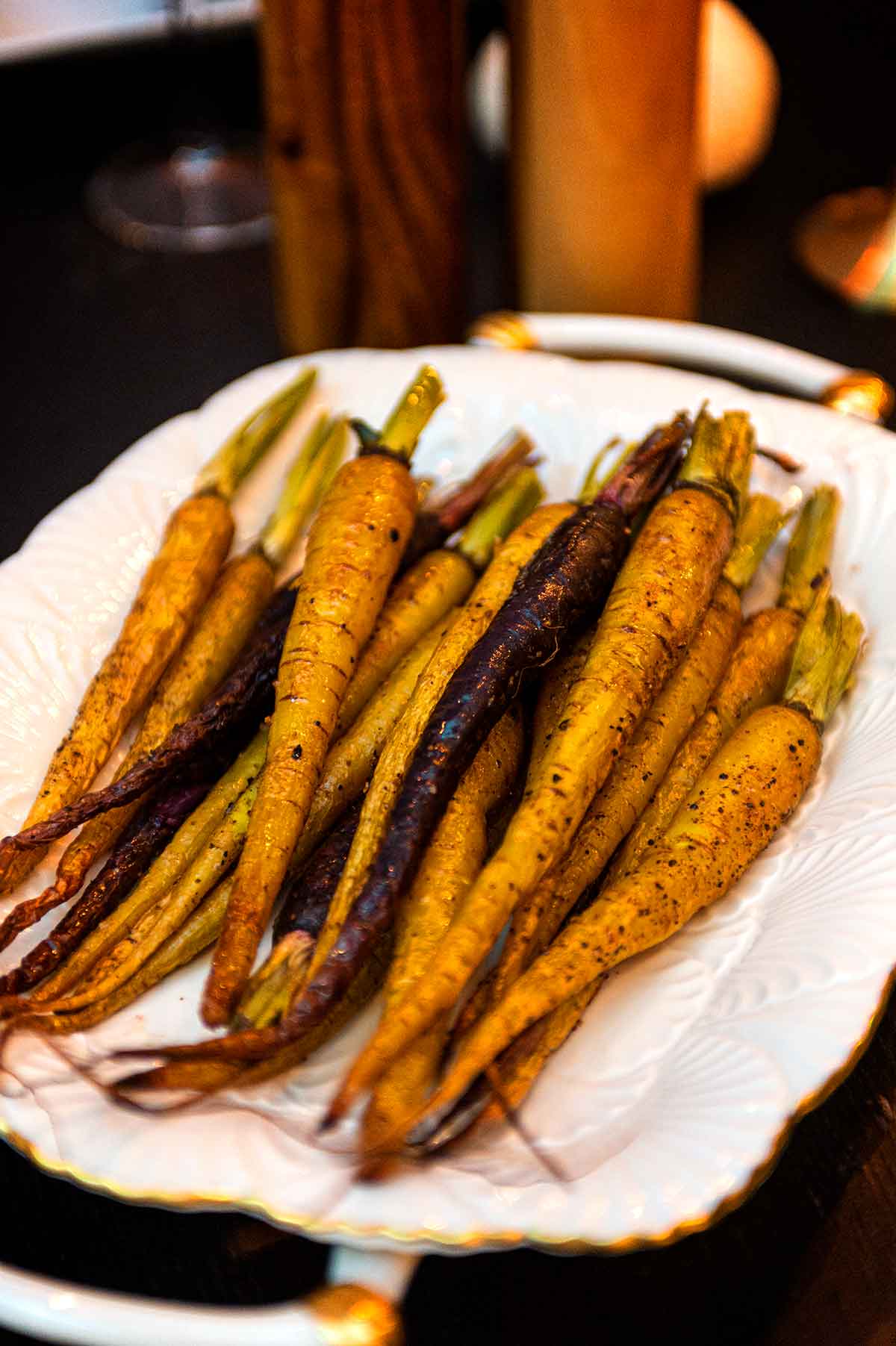 I made roasted garlic mashed potatoes with herbed goat cheese as another side, and they couldn't be more perfect for short ribs! You need something to catch all that delicious sauce, and these creamy mashed potatoes are my favorite!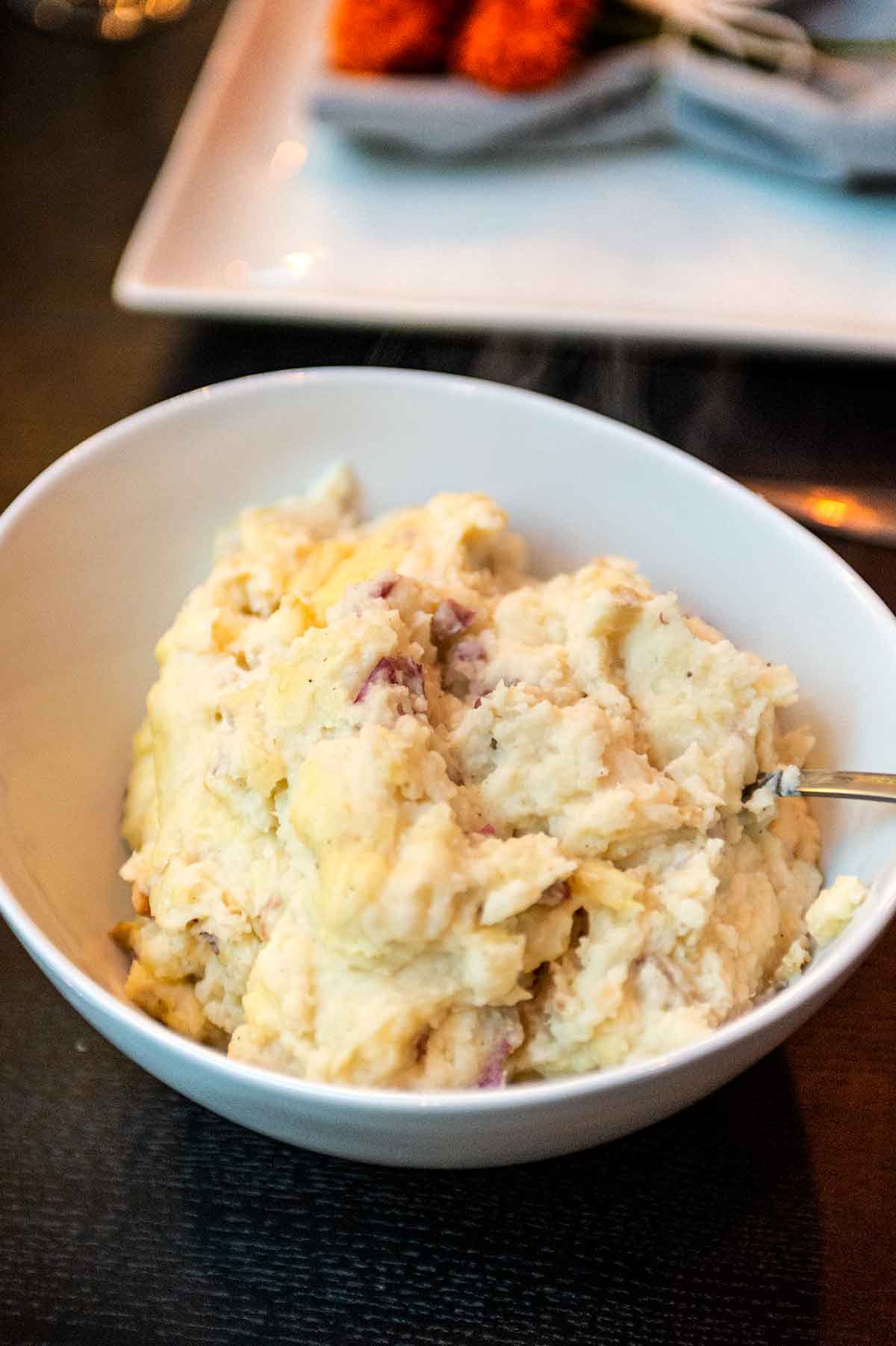 I made another incredible side: pumpkin farro with zucchini! My recipe is for rice, but I wanted a heartier grain for this party, so I used farro instead. The farro and mashed potatoes were reheated at the same temperature and time as the carrots took to roast, so everything was in, out and on the table in 20 minutes!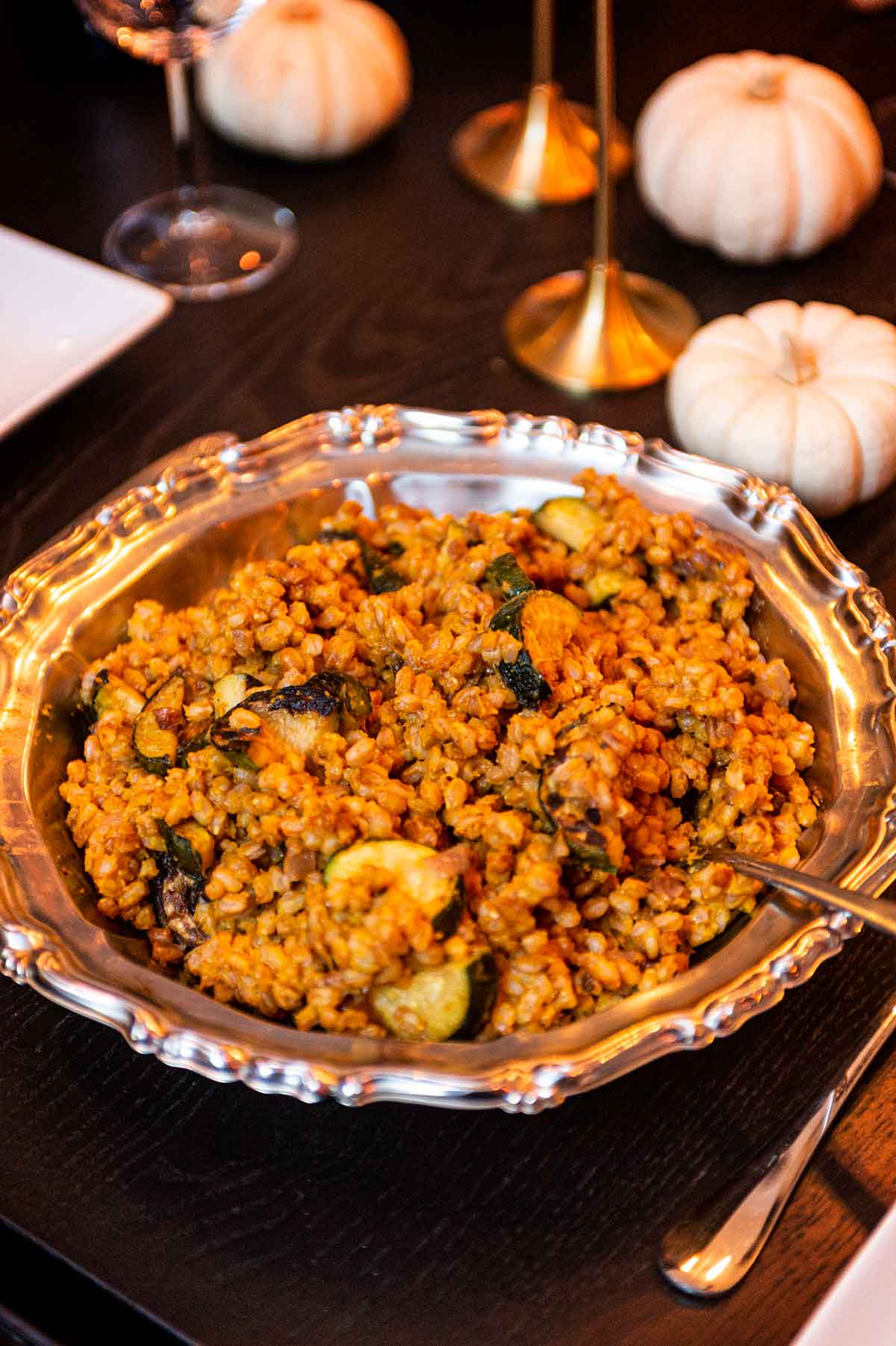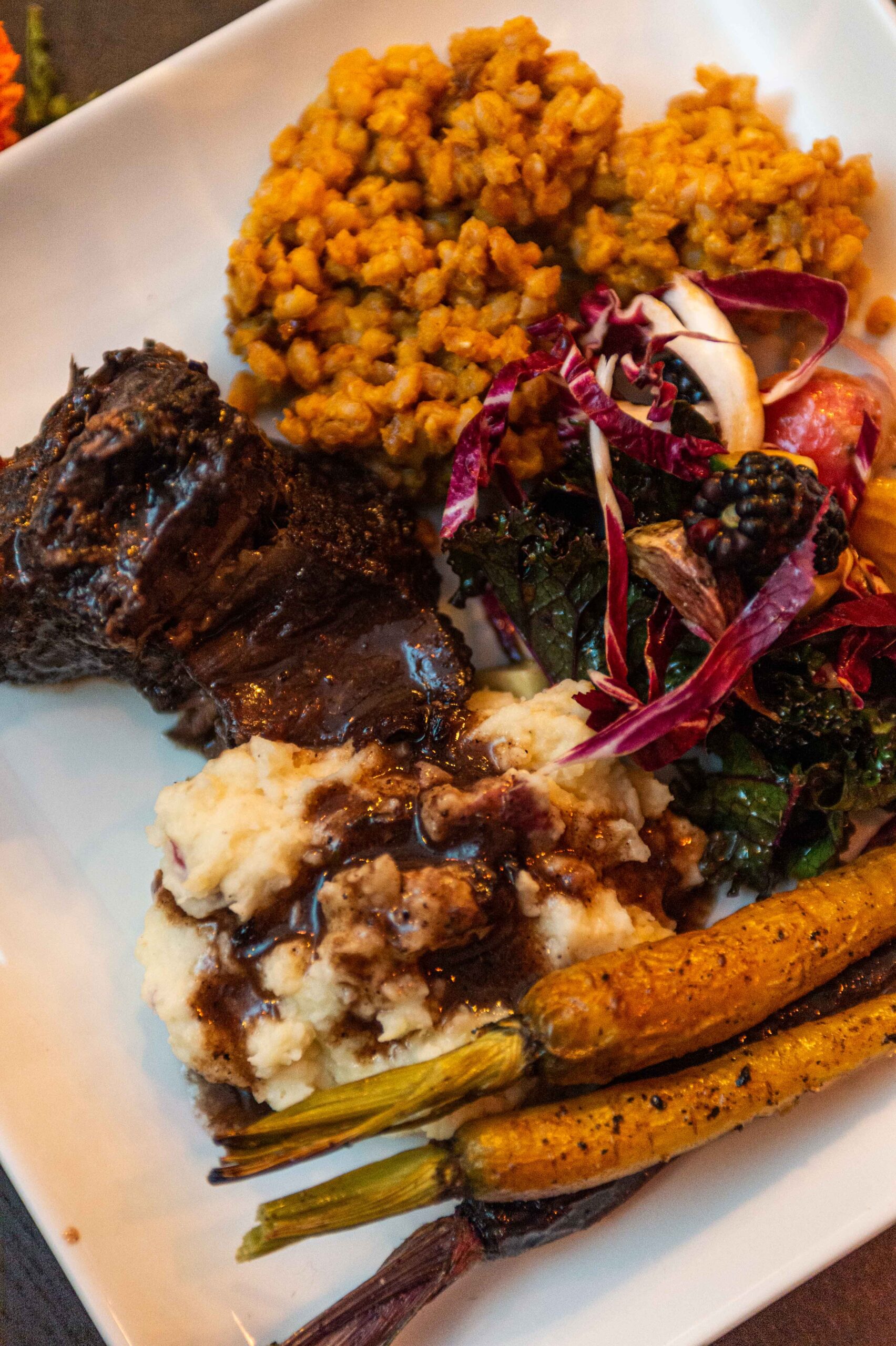 Finally, for dessert, I made my husband's favorite: pumpkin spice carrot cupcakes. They're so easy to make! I made the cupcakes the day before and just put the frosting in a sealed pastry piping bag. Right before the party, I iced them, placed them on a server and gave an extra one to him before guests arrived.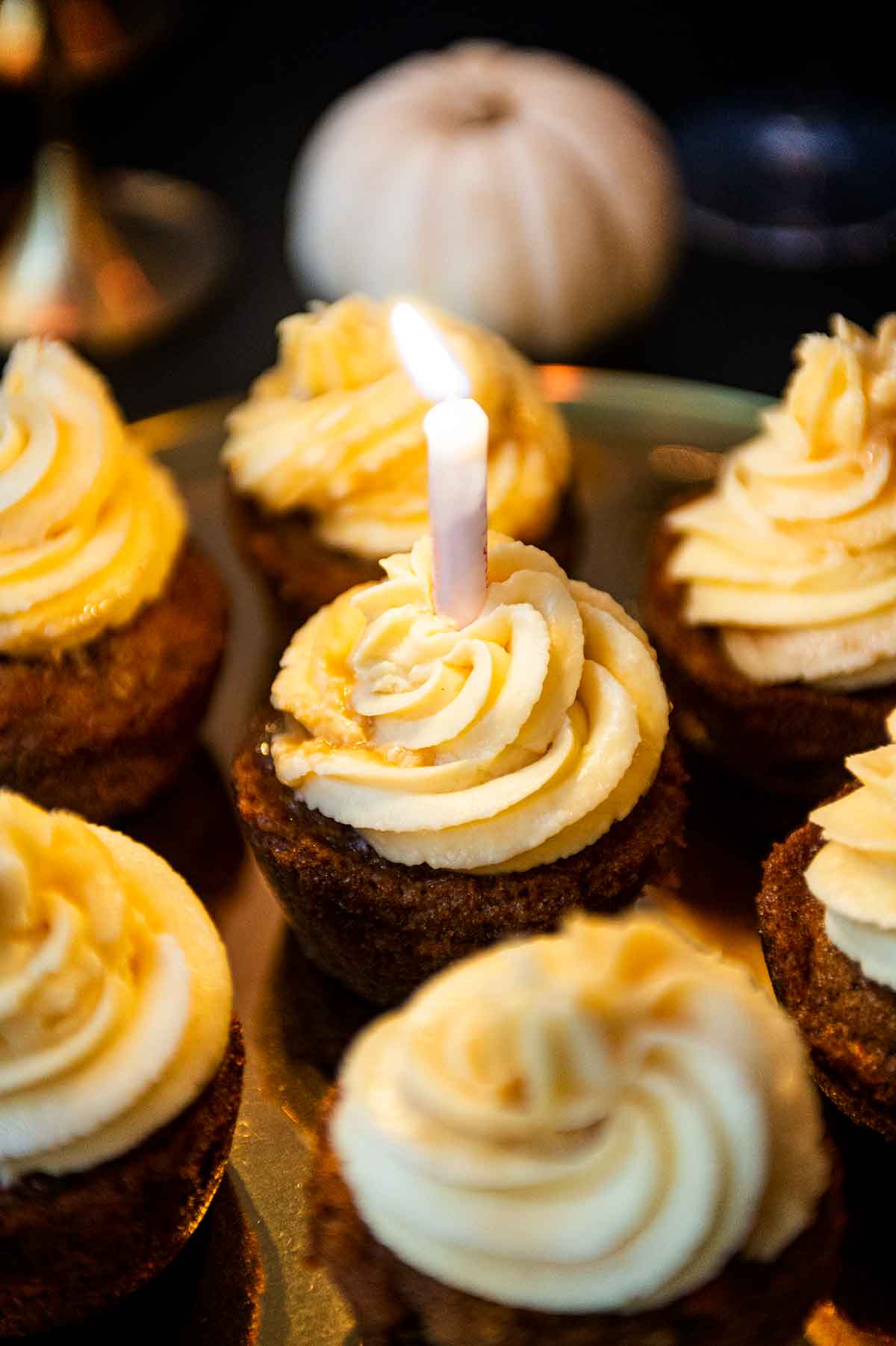 When we were done with dinner, we went out to the back for a Halloween fire and drank hot whisky ciders and laughed all night. I hope you all have a wonderful Halloween!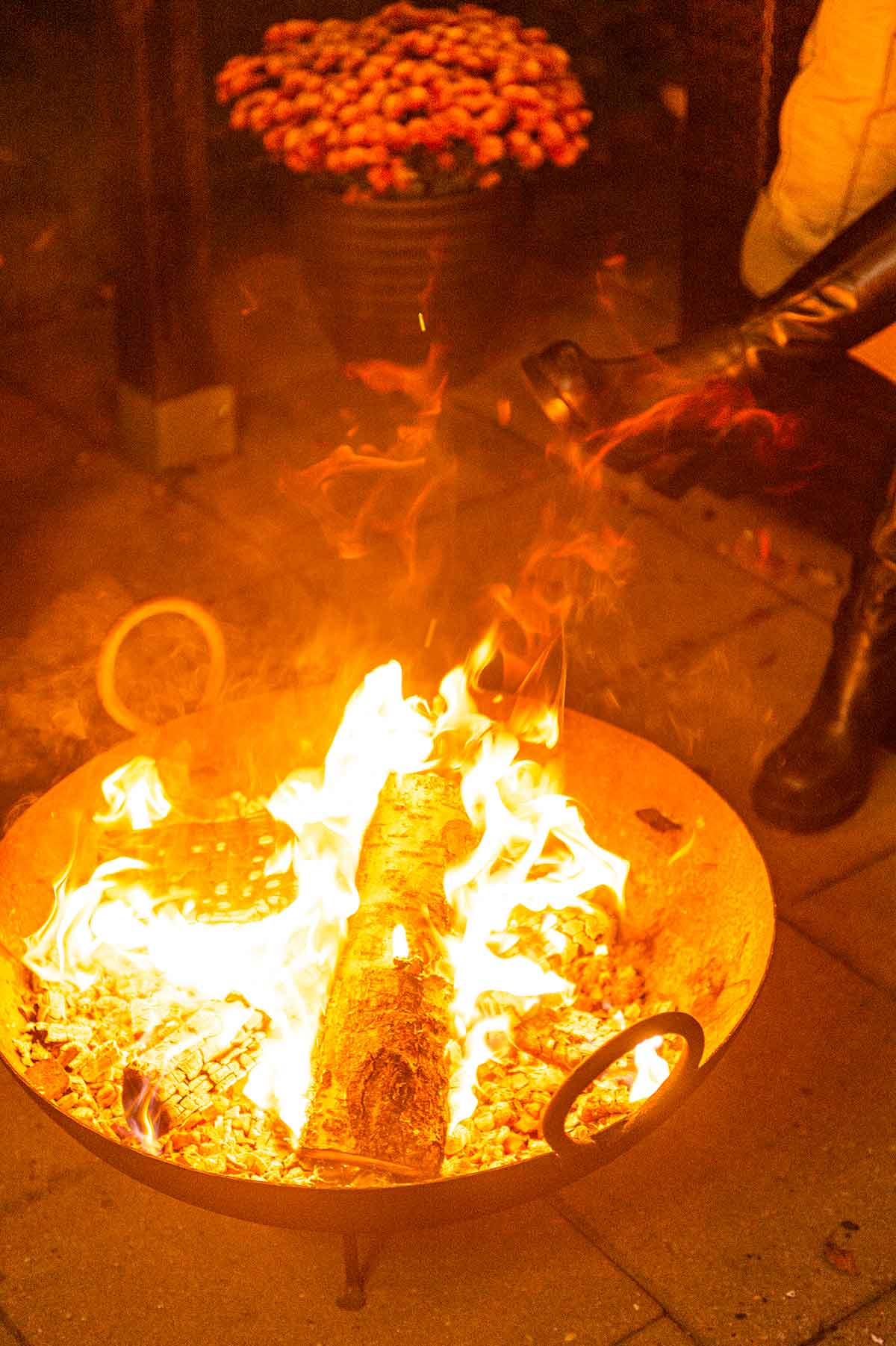 For more inspiration, subscribe to my newsletter, follow me on Instagram, on Pinterest, tiktok and Facebook! And if you ever make any of my tasty drinks or treats, take a picture and tag me. I want to see!