Decorating in mid-late winter is a little tricky because there's no real holiday to design around, no seasonal decor that simply says "mid-late winter." That's why I decided to use Baby's Breath to add a snowy little element to the affair.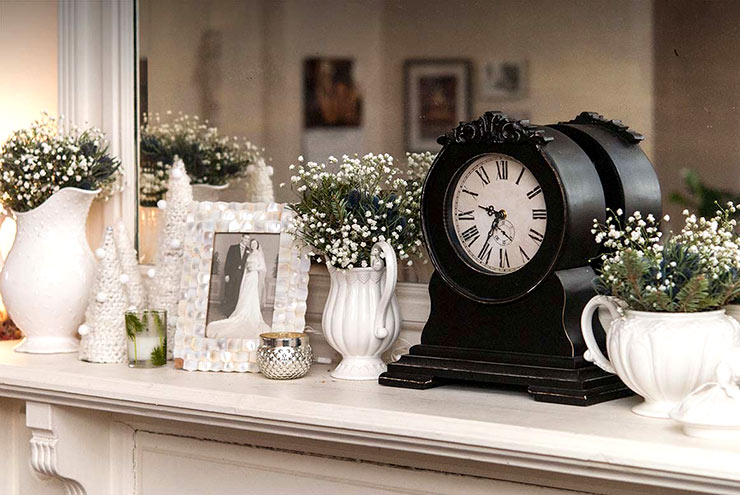 On the Menu! A garden-inspired appetizer tray full of treats, dill & thyme deviled eggs, stuffed mushrooms, my favorite lychee martinis, Beef Bourguignon with roasted brussels sprouts and baked mashed potatoes, and a Grand Mariner flan for dessert!
Baby's Breath is often thought of as just a flower to floof up a bouquet of other, more "exciting" flowers, but I like to use it both in colorful bouquets, and as the main event. I find it's such a pretty, delicate, snowy little flower that's perfect for Winter dinner and cocktail party decorating.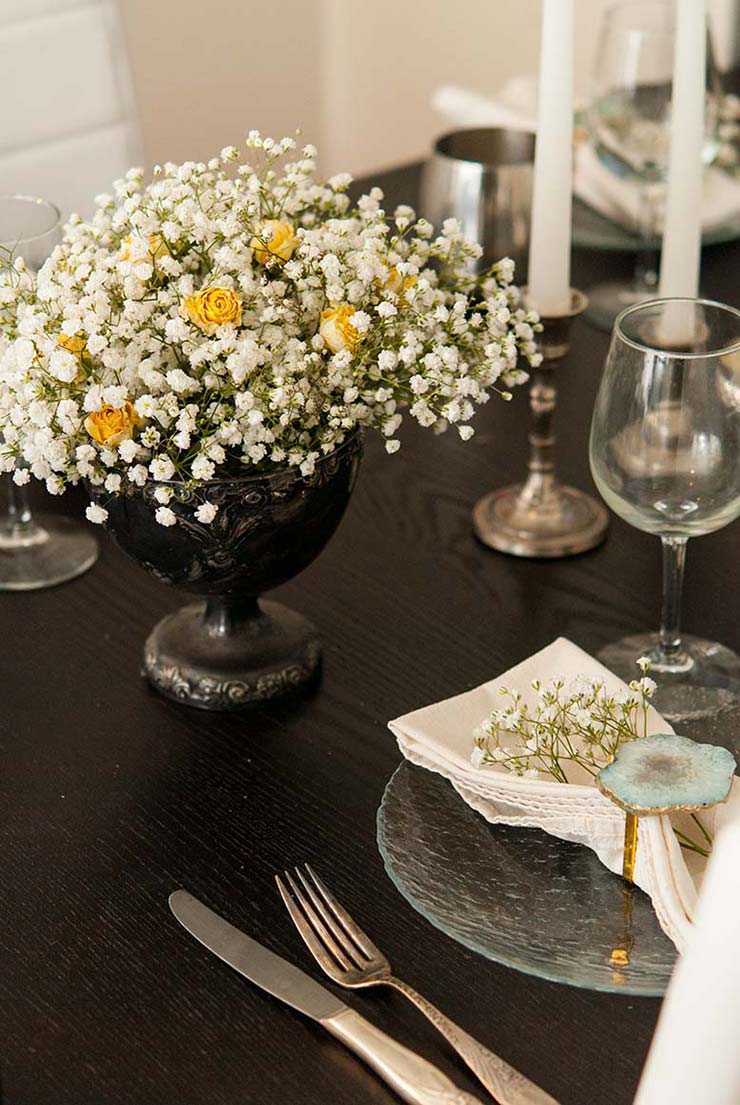 I decorated my table with a simple little centerpiece of Baby's Breath and a few left over dry spray roses that I used to decorate my Christmas tree.
If you have a round vase like this and want to make a nice, poofy centerpiece, here's the trick. Use masking tape to make a little grid across the top. Then place your flowers into the holes in the grid. It keeps everything perfectly placed.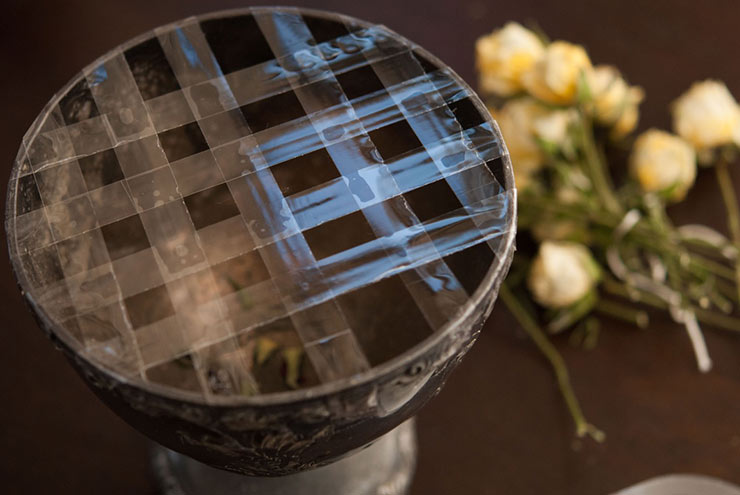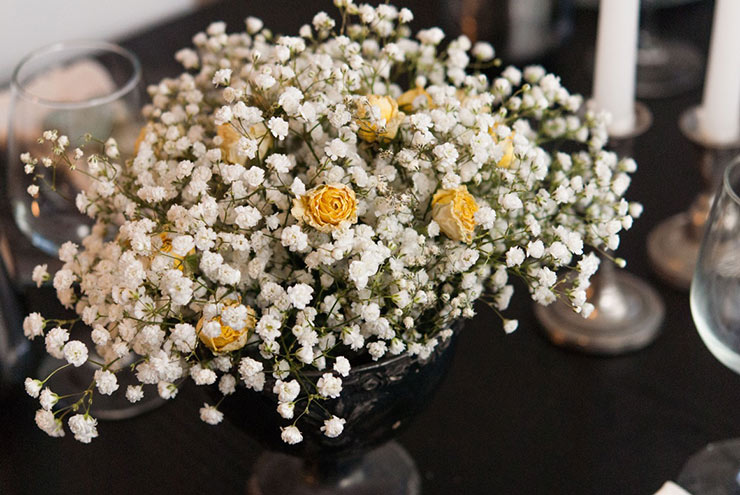 I used a little more Baby's Breath for my napkins and cocktail garnishes to tie it all together.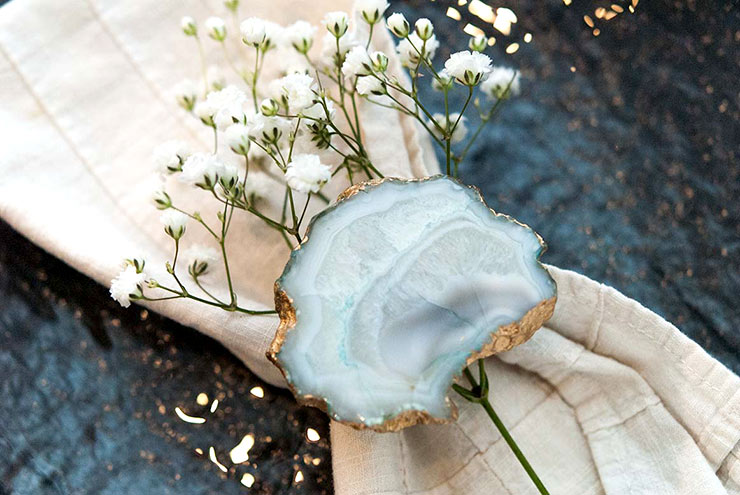 I also put a few little flowers in my dill & thyme deviled eggs. Aren't they pretty!? Baby's Breath isn't poisonous (unless you forget to wash it), but people usually pluck them off the eggs before they eat them, which is fine by me.
They're just there to be pretty, anyway 😉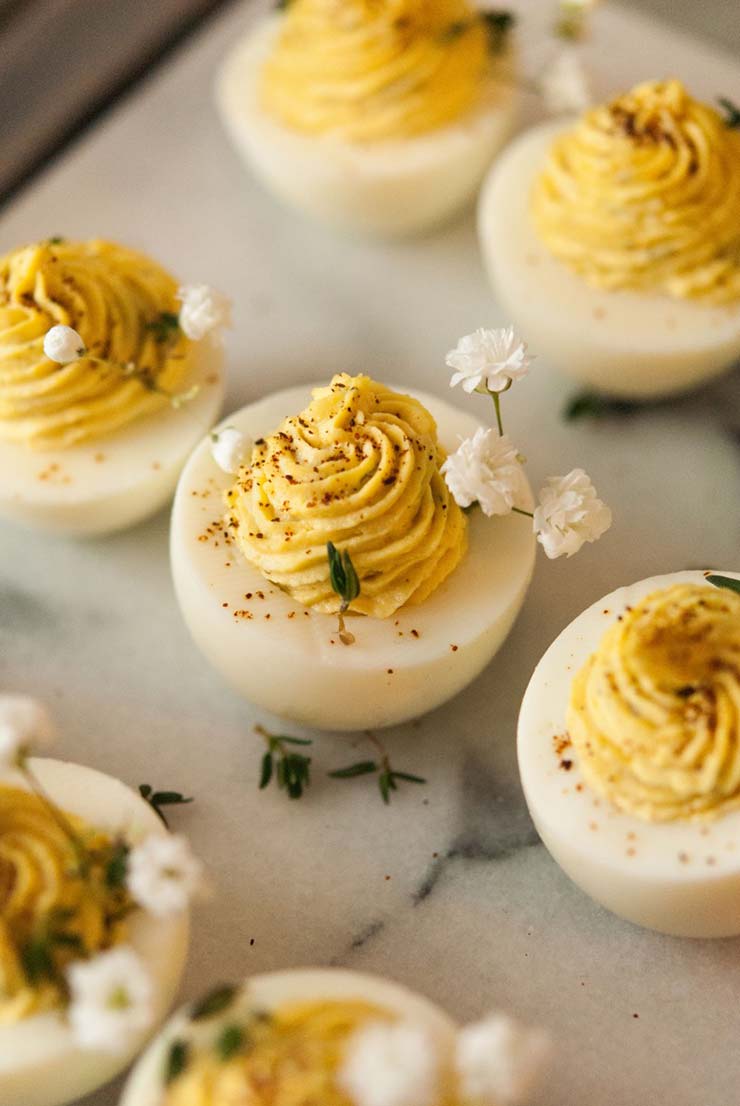 I added some stuffed mushrooms to my deviled egg tray too. I make these at almost every party for a simple reason. They're delicious (first and foremost) but they also make my entire apartment smell unbelievable!
I have never had a guest not say "It smells amazing in here!" the moment they walk in the door. It's all thanks to these little guys.
Even though I love the snowy, Baby's Breath vibe, I wanted to add a little garden to my coffee table to remind us of warmer days to come.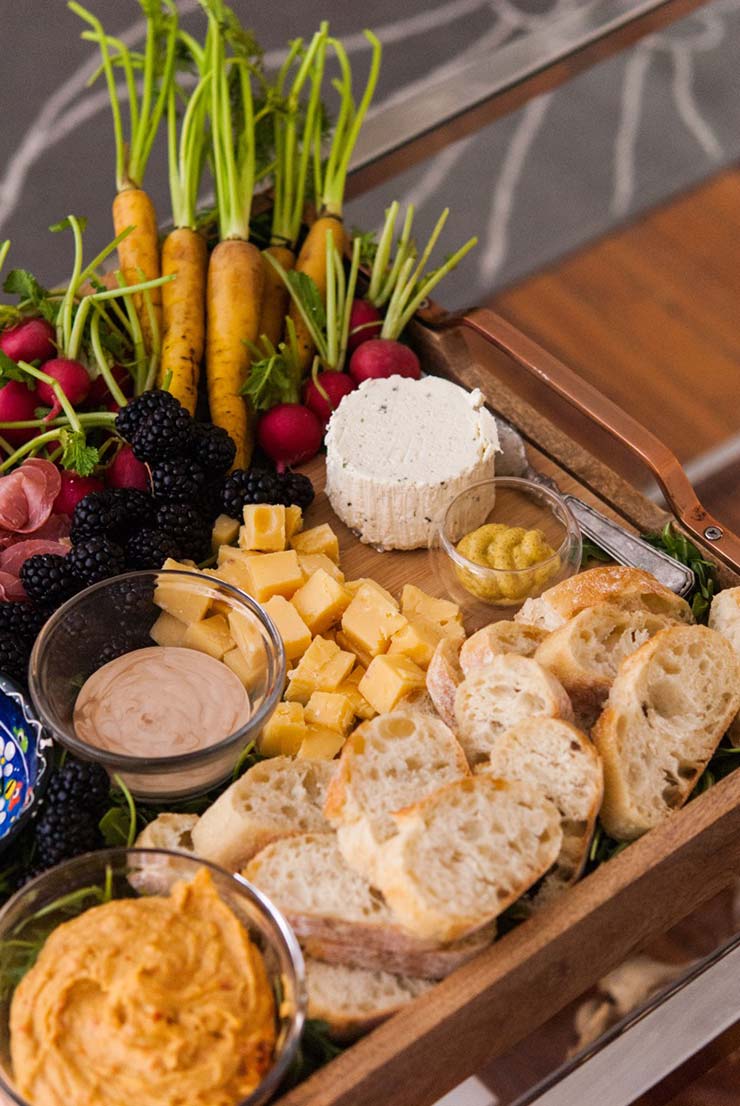 I simply covered a serving tray with tin foil, and lined it with arugula. Then I just placed all the treats on top.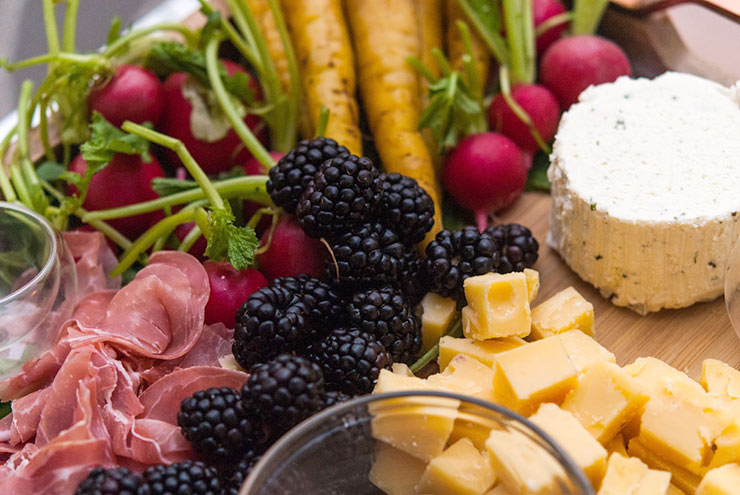 I used yellow carrots, radishes, black berries, olives, a Boursin and aged gouda cheese, prosciutto and a steamed artichoke. I always serve my artichokes with a simple mix of balsamic vinegar and mayo.
It's as good as it gets. I also used a nice roasted red pepper humus for the veggies.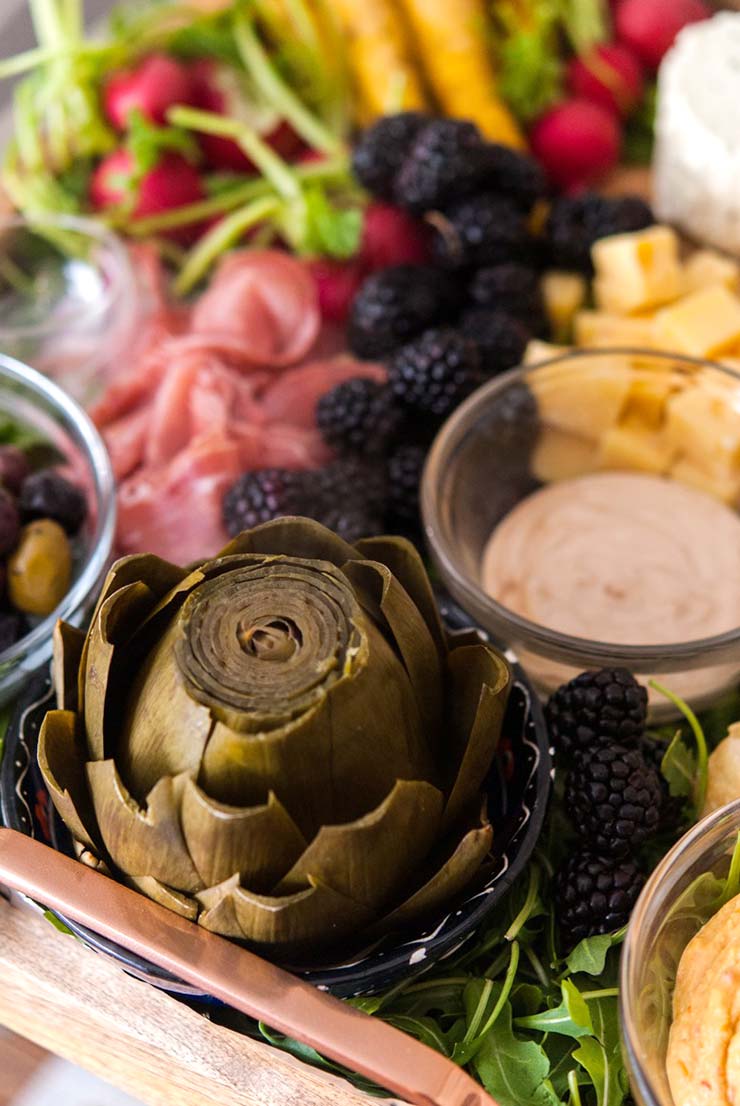 I added a little lychee juice to prosecco for these lovely cocktails. It's a perfect cocktail for when you're running around the kitchen and don't want to be mixing up anything too complex. People love them and they're so refreshing.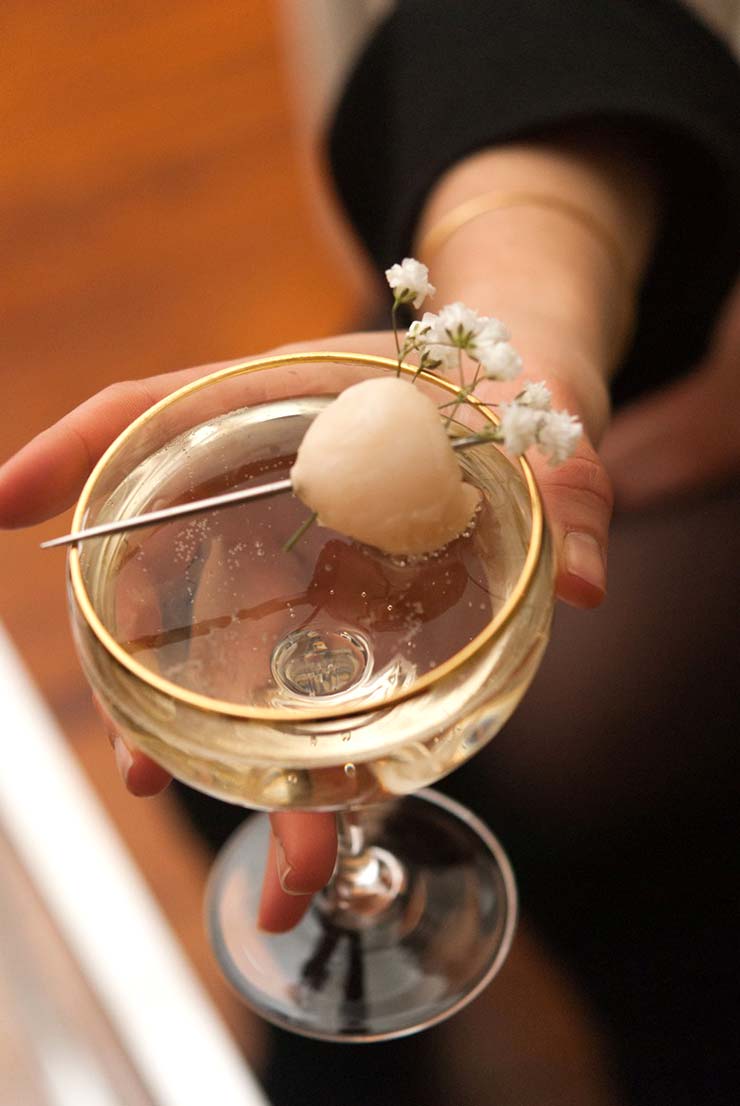 A little glamour shot of the Beef Bourguignon I took at last year's party because I was too busy scarfing this year's down to snap a picture. 😉
After we gobbled dinner and had a few more cocktails, I flipped my Grand Marnier flans and served them up. The Grand Marnier adds just an essence of orange and it's so delightful.
A perfect way to make a fancy dessert, EXTRA fancy.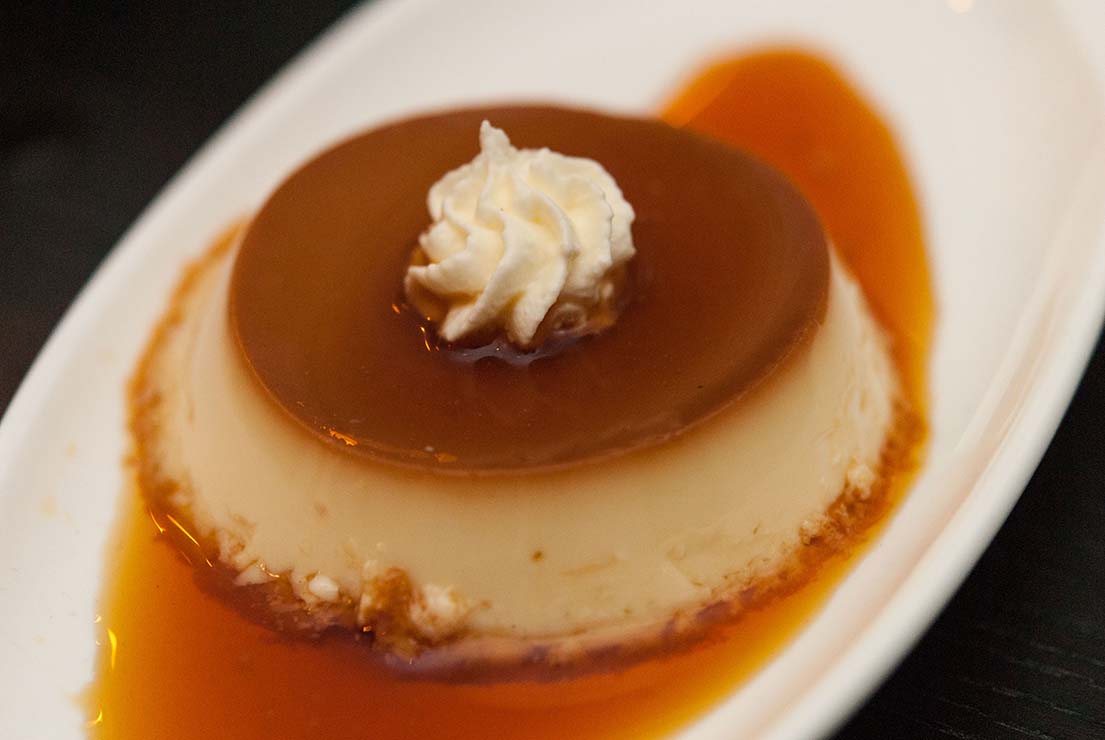 For More Party Inspiration:
For more inspiration, follow me on instagram @shekeepsalovelyhome and pinterest! And if you ever make any of my tasty drinks or treats, take a picture and tag me. I want to see! SaveSave
SaveSave
SaveSave