This lunch menu includes delightful Tuscan flavors, so many fresh veggies, bright colors, and simple touches that made my table so pretty. It was also easy to make just about everything a whole day ahead of time, too! Help yourself to these beautiful recipes that pair perfectly for a summer afternoon lunch!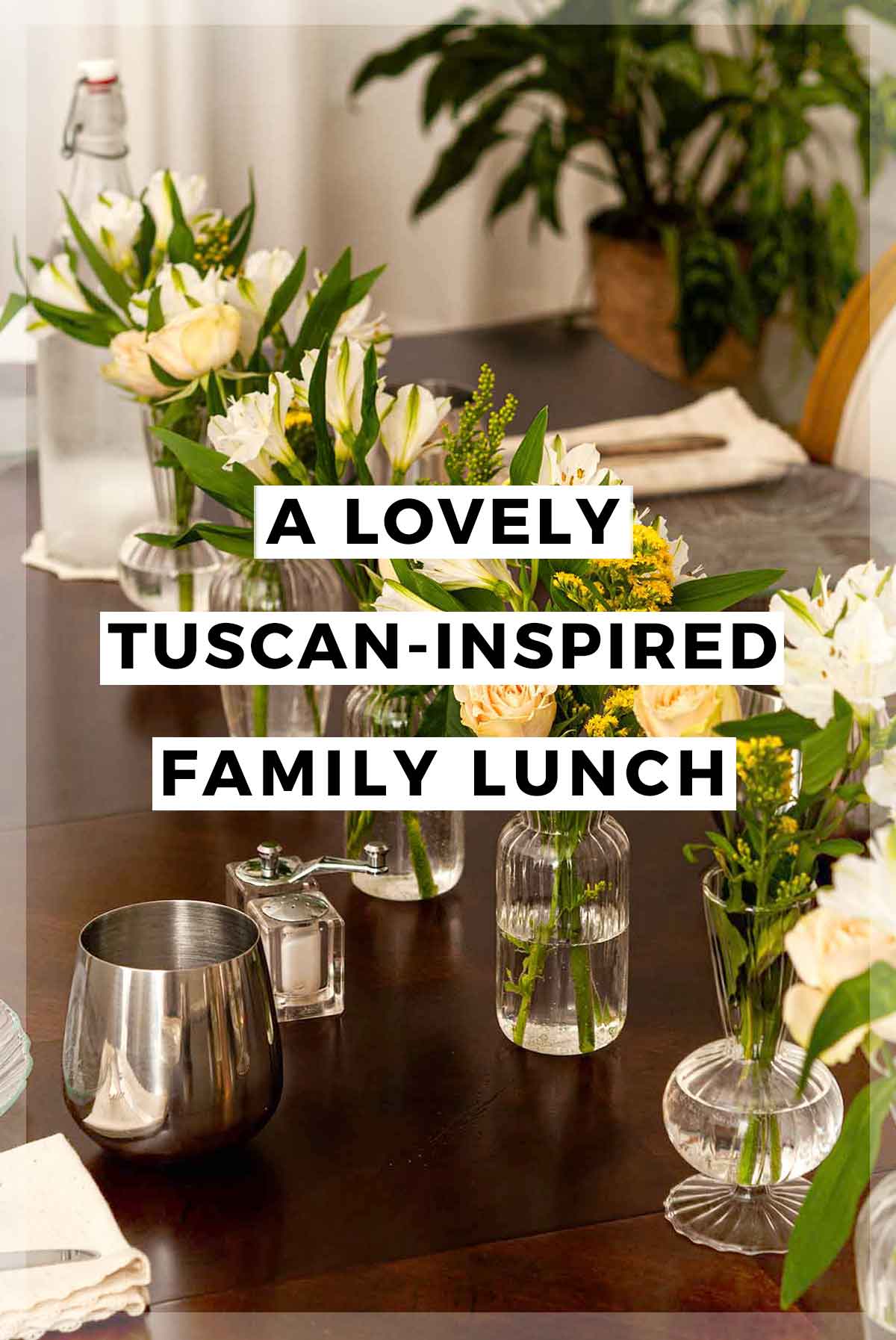 Nothing makes me happier than seeing family and friends around my table. I love to watch their eyes glisten when I bring out the food. It fills my heart with complete joy!
Food has always been my love language, but I never want to be toiling in the kitchen when folks arrive. I also don't want to be exhausted from cooking all morning by the time my family arrives. I want to drink cocktails with them and be in and out of the kitchen in 10 minutes or less while they're there!
This lunch was almost entirely made the day before, so all I had to do was chop a few veggies in the morning for the salad, lay a few sides on baking sheets, and put a pot on to boil the gnocchi when they arrived! I got to spend my morning setting the table beautifully and making a perfect Spotify playlist for the day.
My table was nice and simple with a few white lilies, peach roses, and yellow solidago. I thought they gave a nice, fresh, sunshiny look to the table. I placed them in these precious vases that I found on Amazon! I love the multi-tiered look! So feminine and delicate!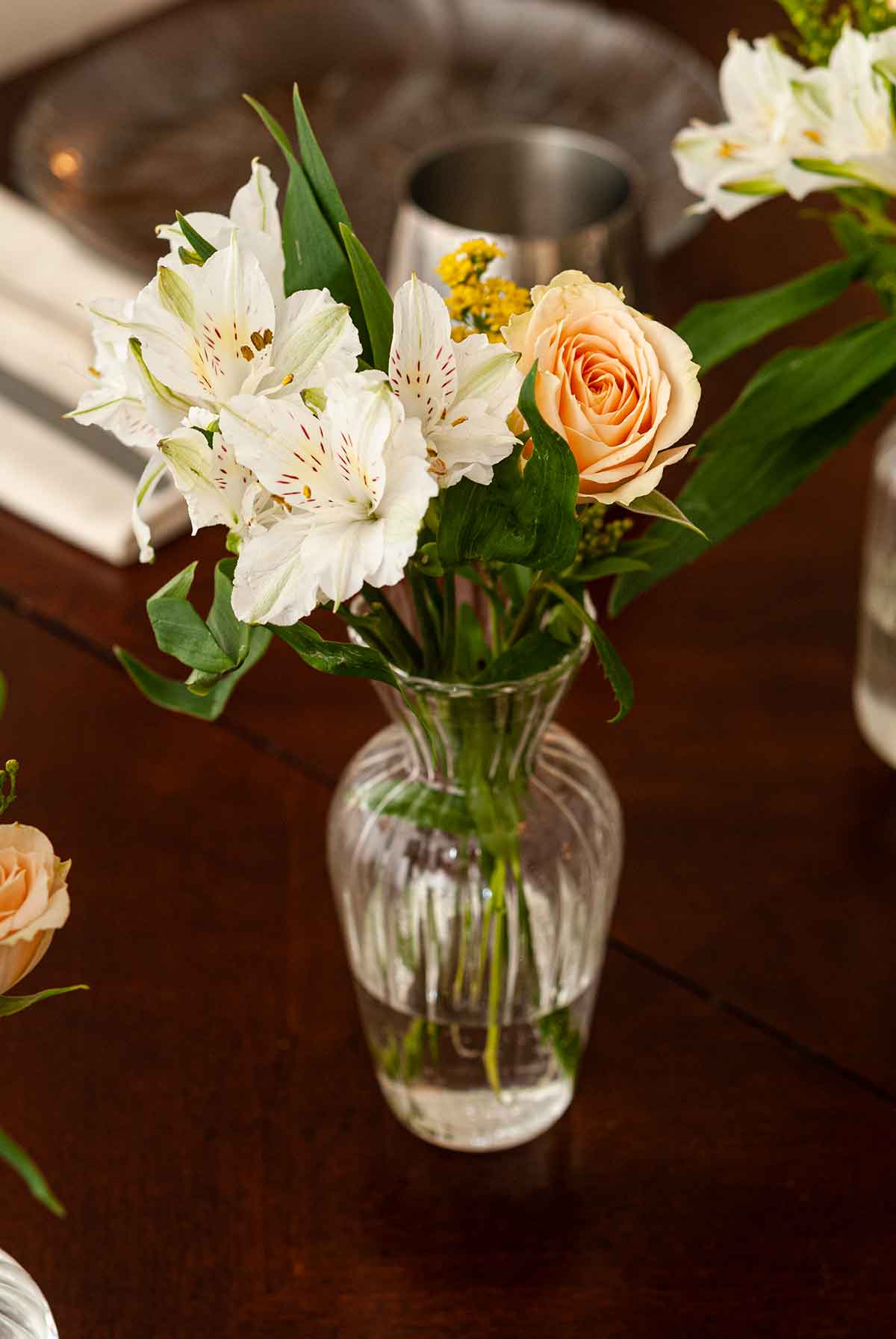 I didn't want to spend too much time with appetizers, so I simply assembled a frosty shrimp cocktail, added a few mint leaves and lemon wedges, and placed them beside a nice, bottle of water with a big chunk of ice. It was a very toasty day, so I froze some water in it the night before. Guests immediately poured themselves a glass and went straight for the shrimp!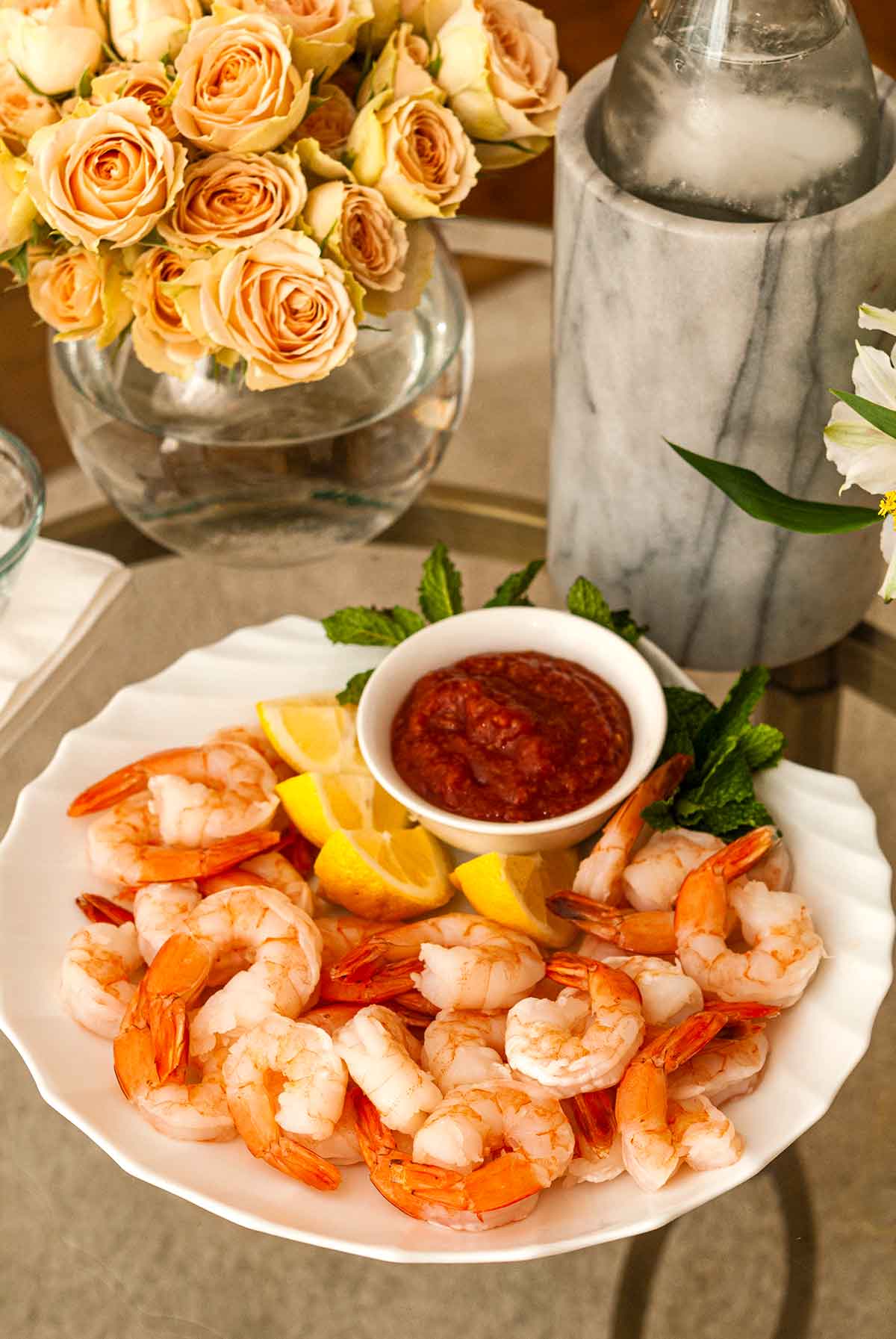 For the main course, I made a gorgeous Tuscan gnocchi with spinach, basil, onion, and pretty cherry tomatoes! I made the sauce the day before, and simply reheated it in a saucepan before serving.
The gnocchi takes just 2-3 minutes to boil, so it all came together quickly! I popped a few fresh cherry tomatoes on top to make it look fresh and beautiful!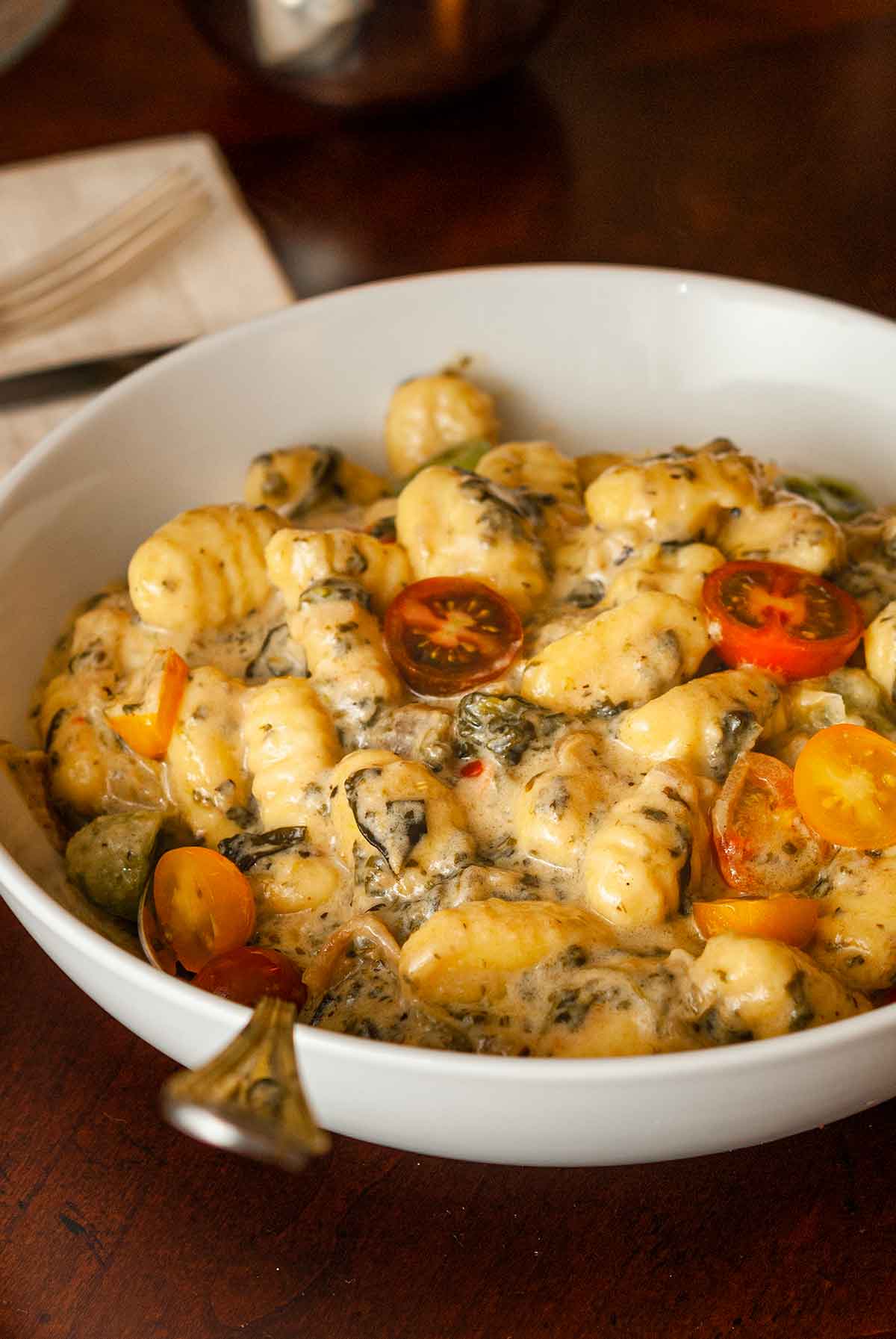 Tuscan Gnocchi with Spinach and Cherry Tomatoes
This incredible, creamy Tuscan gnocchi is exquisitely rich and full of fresh, summer vegetables! It's so easy to prepare, feeds a family of 4 and takes less than half an hour to prepare! Such an impressive, colorful, decadent summer dinner!
See the Recipe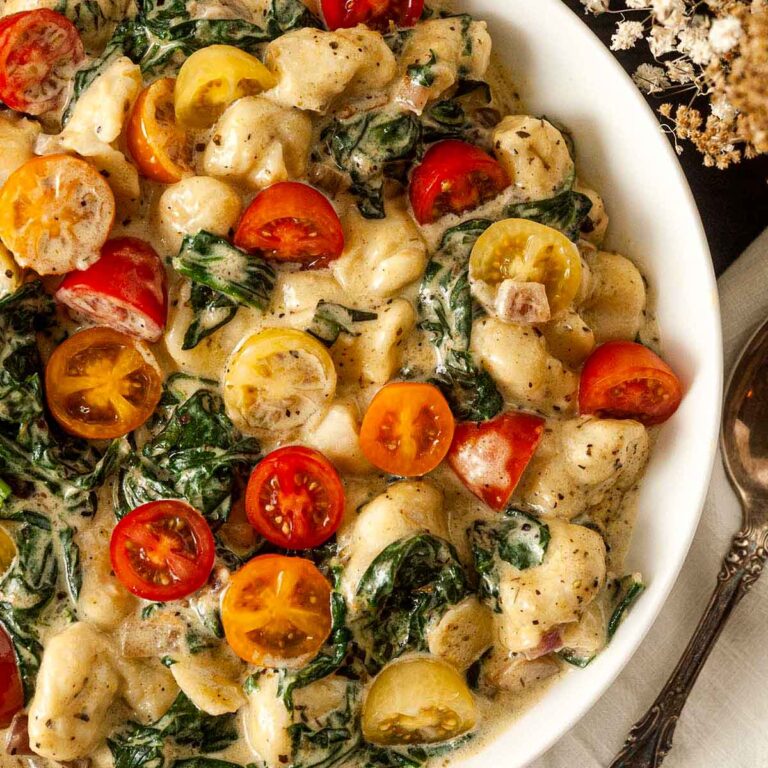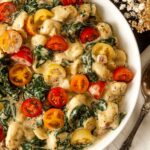 I made a perfectly simple, baked lemon asparagus, and topped it with crumbled feta, chopped olives, and shaved almonds. In the morning, I simply tossed the asparagus in melted butter and seasoned them with lemon pepper.
I laid them out on a baking sheet with foil, topped them with a few sliced lemons, covered the tray with foil, and placed it back in the fridge. All I had to do was pop it in the oven for 12 minutes before serving!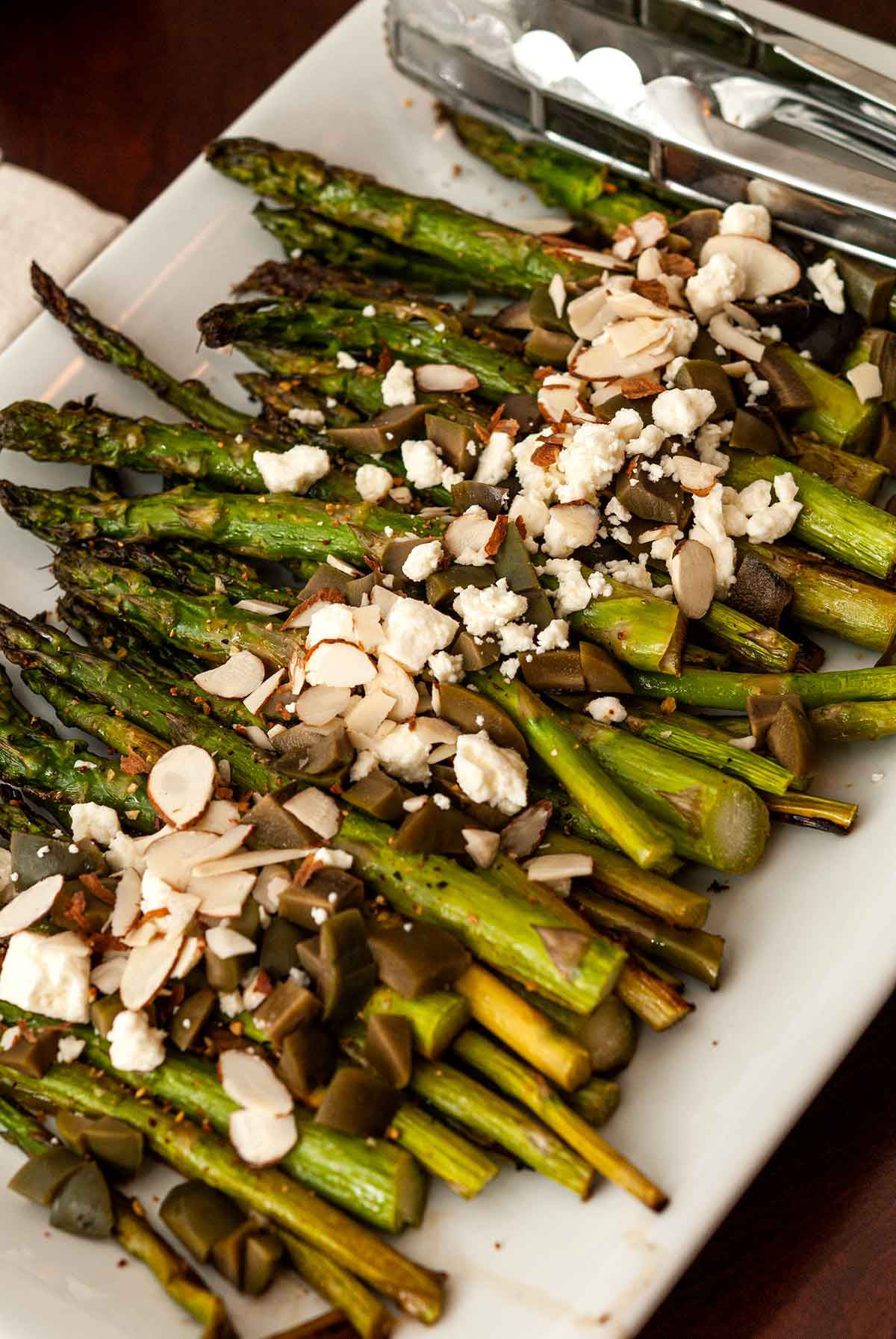 Baked Lemon Asparagus
This exquisitely simple lemon asparagus is baked tender with crispy tips and a bright citrus flavor!
See the Recipe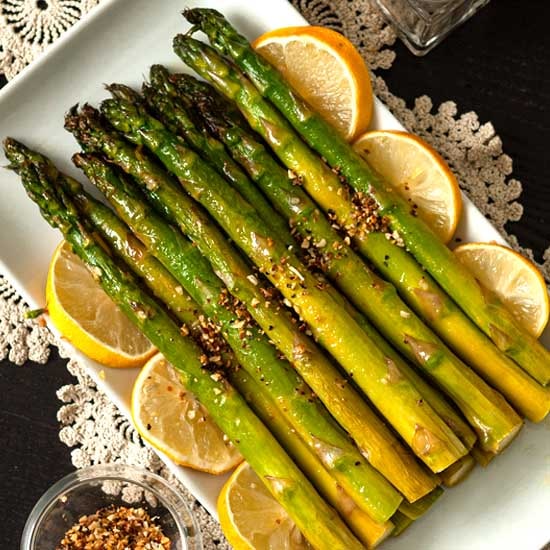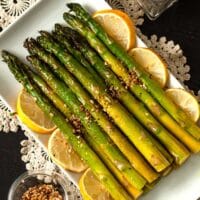 The day before, I prepared these incredible lamb meatballs with tzatziki (cucumber-lemon yogurt sauce). I baked them the day before too, so all I had to do was lay them on a baking sheet, reheat them in the oven with the asparagus for 12 minutes, and that's it!
I put the tzatziki on the bottom of a bowl and placed the meatballs on top. The meatballs are a little spicy and that yogurt sauce cuts the spice so deliciously!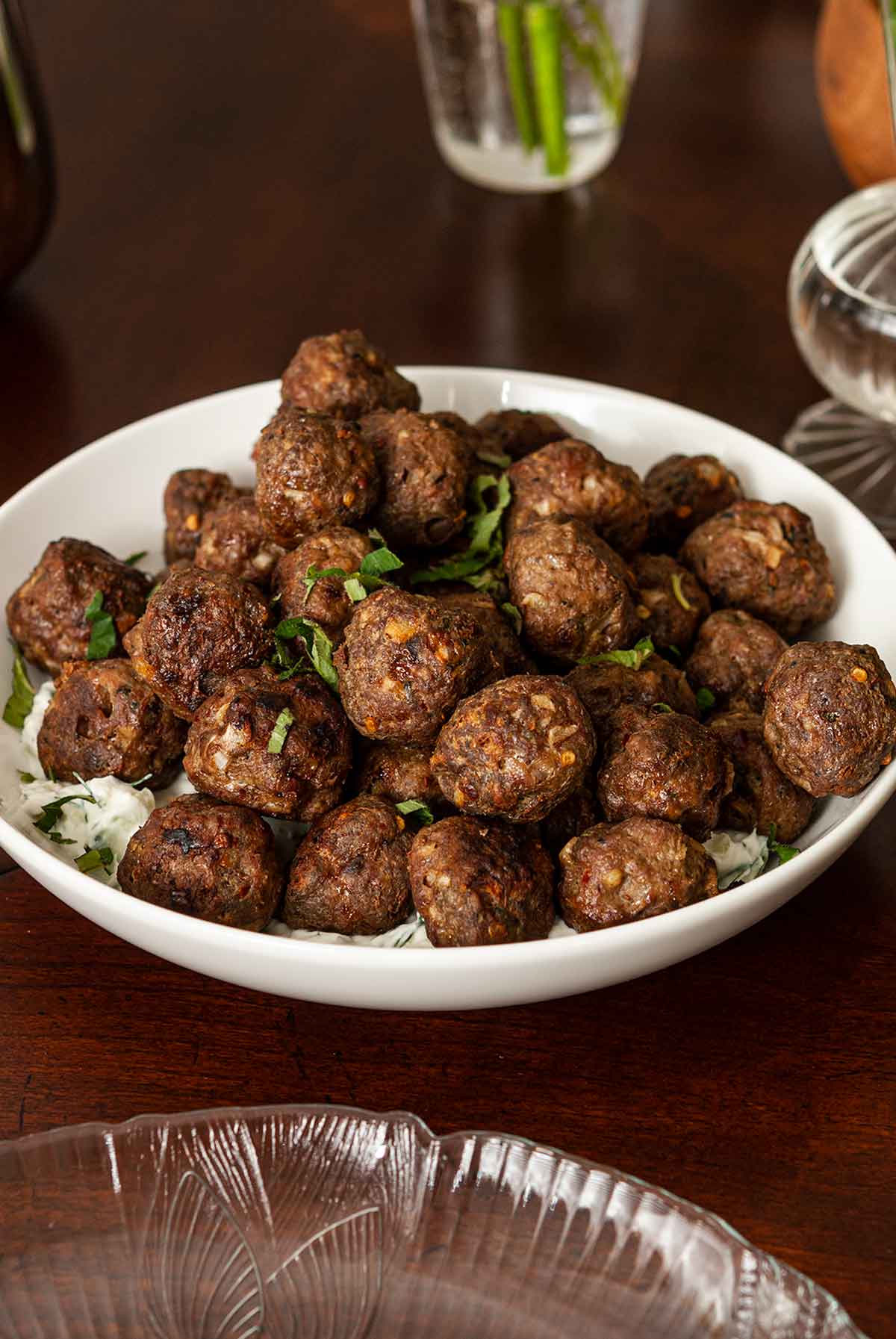 Spicy Lamb Meatballs with Tzatziki
These spicy lamb meatballs include garden-fresh Greek flavors that shine all on their own, or when served with creamy, Tzatziki yogurt sauce!
See the Recipe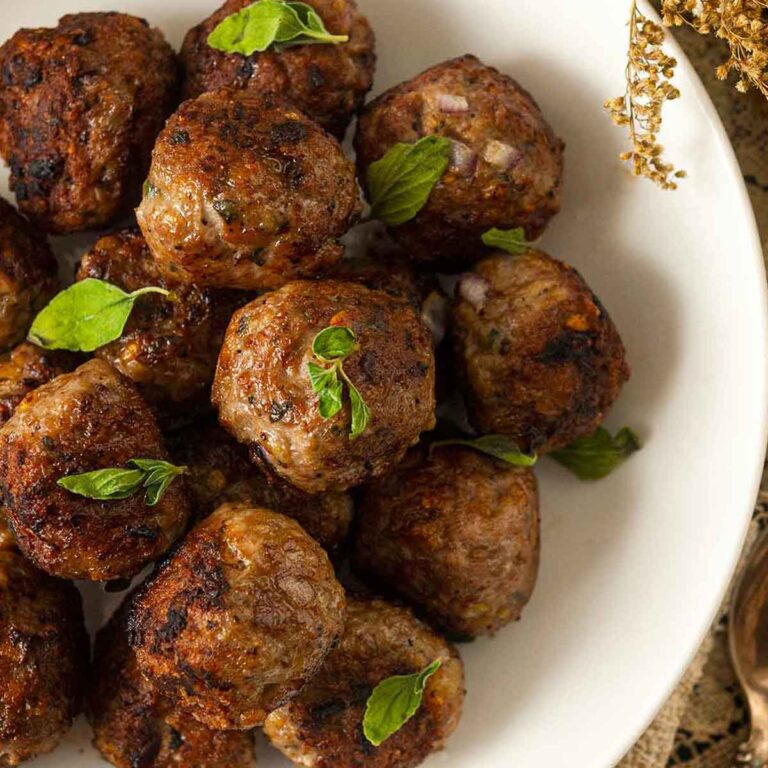 For the salad, I tossed a few summer greens into a big bowl with purple radicchio, sliced into thin shreds, chopped cucumbers, snap peas, garbanzo beans, freshly sliced summer corn off the cob, and a few croutons.
I drizzled it with apple cider vinegar, mixed with olive oil, a little dijon mustard, and honey. A perfect summer salad!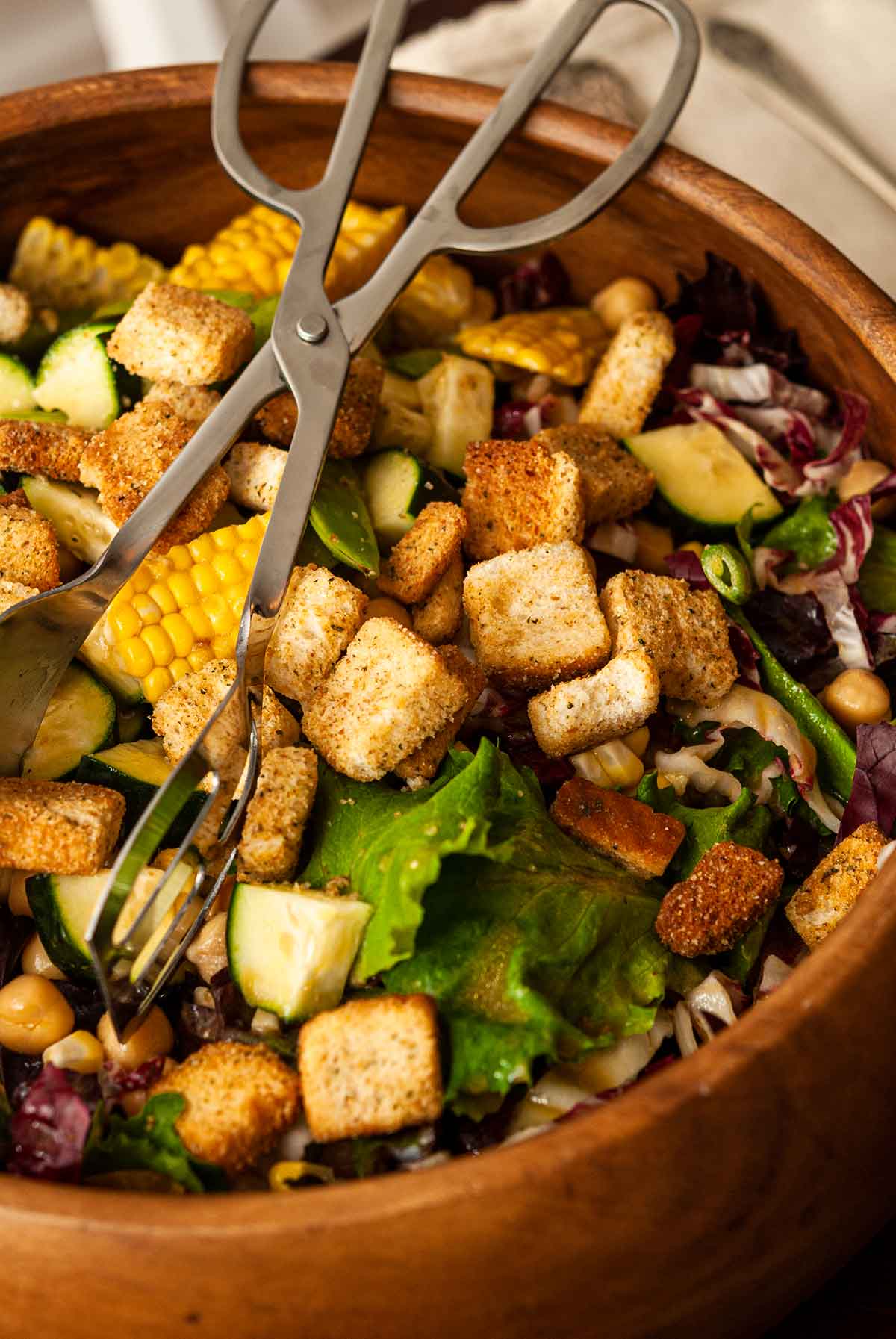 For dessert, I made this lovely lavender lemon tart! Again, I just made it a whole day ahead, and simply sliced it in the morning before the party so it could be easily served.
I topped it with a few blue and blackberries, and some precious dry pansies I found on Etsy! Nothing tastes more like sunshine than this tart!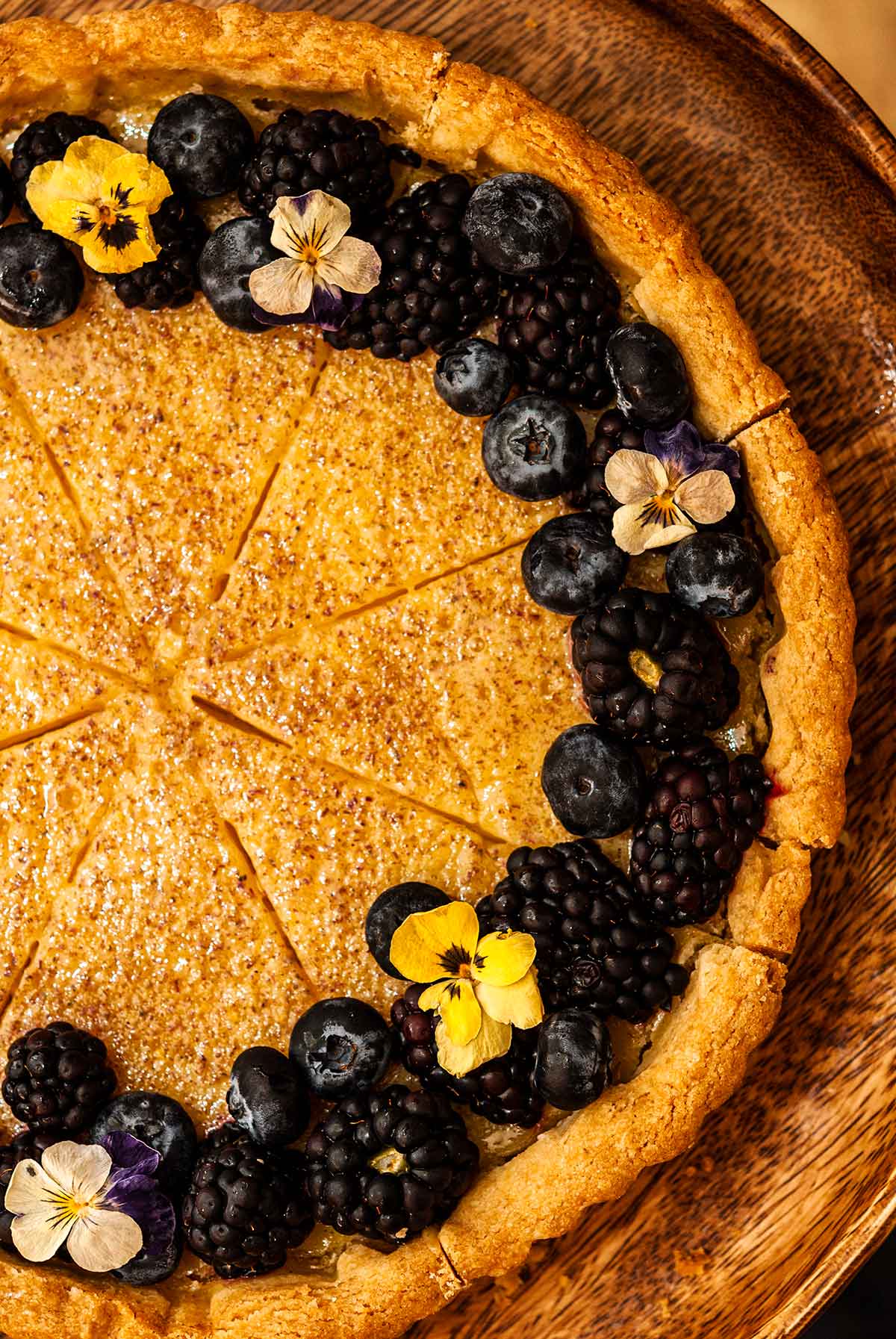 Lavender Lemon Easter Tart
This rustically elegant lavender lemon Easter tart recipe is dairy-free, bright, floral and such an original Easter dessert! It's sweet and tart, can be made a full day ahead, and will make your entire kitchen smell like a field of lavender!
See the Recipe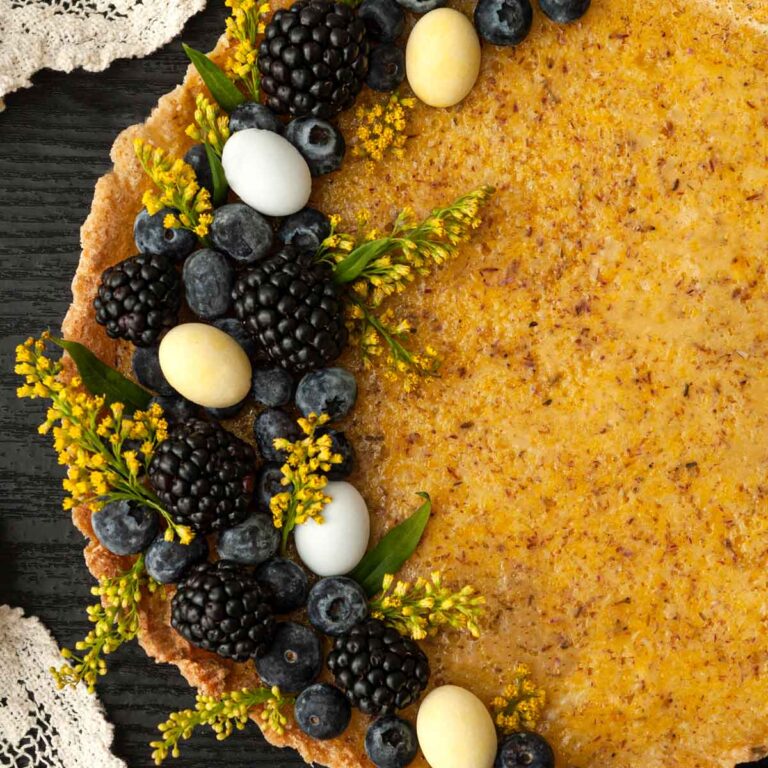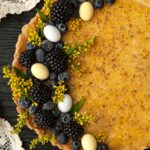 I thought it might also be nice to have a simple drink station of Pellegrinos, prosecco, iced coffee, and iced peach green tea (my favorite ice tea to make! Add a little honey and lemon, and it's so refreshing!)
I also made a cocktail mixer that I use in one of my favorite afternoon cocktails, the 4-leaf Clover Mimosa! It's green apple, ginger, cucumber, mint, and simple syrup! Absolutely delightful in Prosecco or seltzer!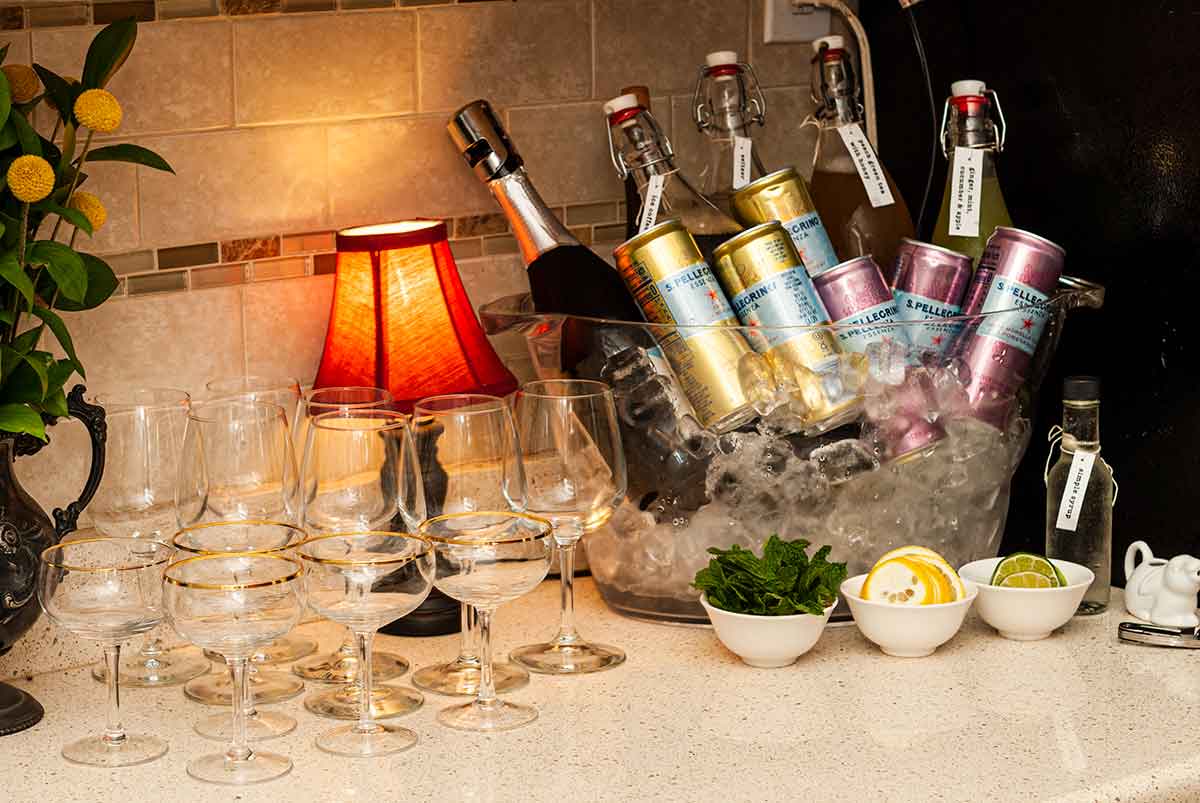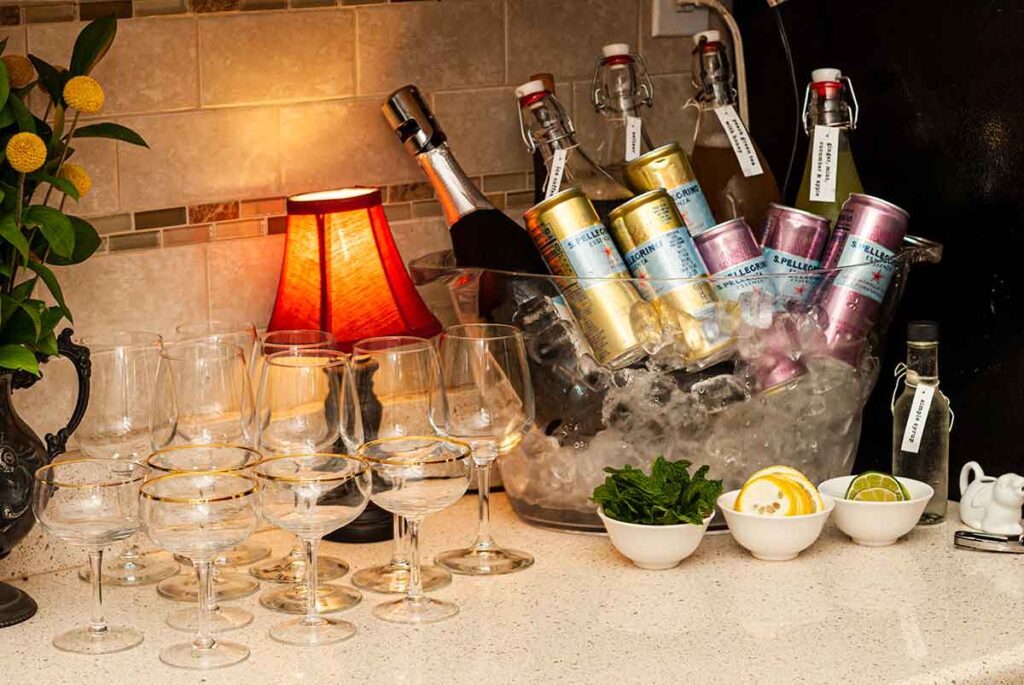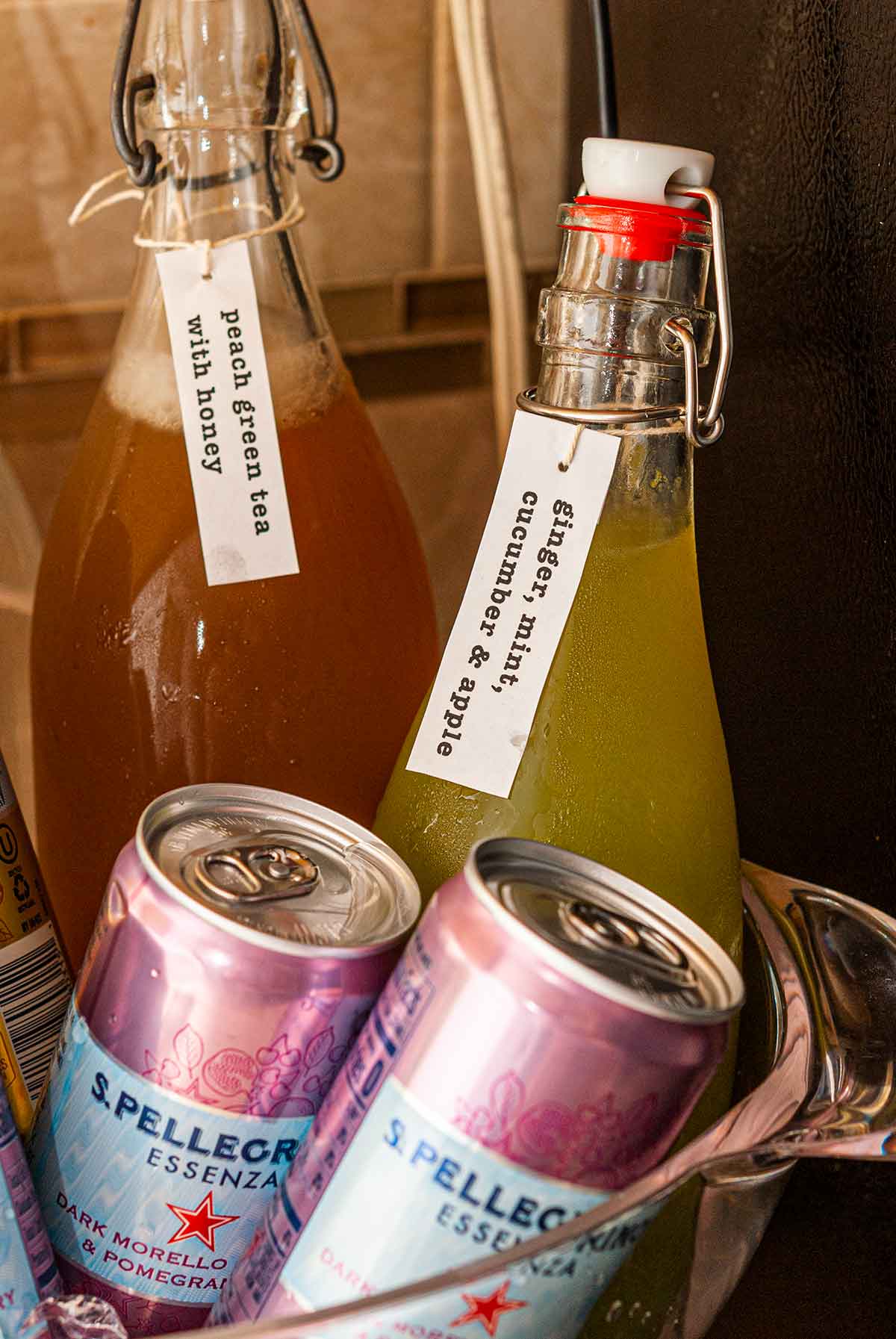 For more inspiration, subscribe to my newsletter, and follow me on Instagram, on Pinterest, tiktok, and Facebook! And if you ever make any of my tasty drinks or treats, take a picture and tag me. I want to see!
Shop The Products