If you're planning to have lamb at Easter, you'll love this easy, colorful menu that comes with appetizers, sides, cocktails, and dessert! It's a uniquely lovely menu with fresh, Spring flavors that will delight your entire family!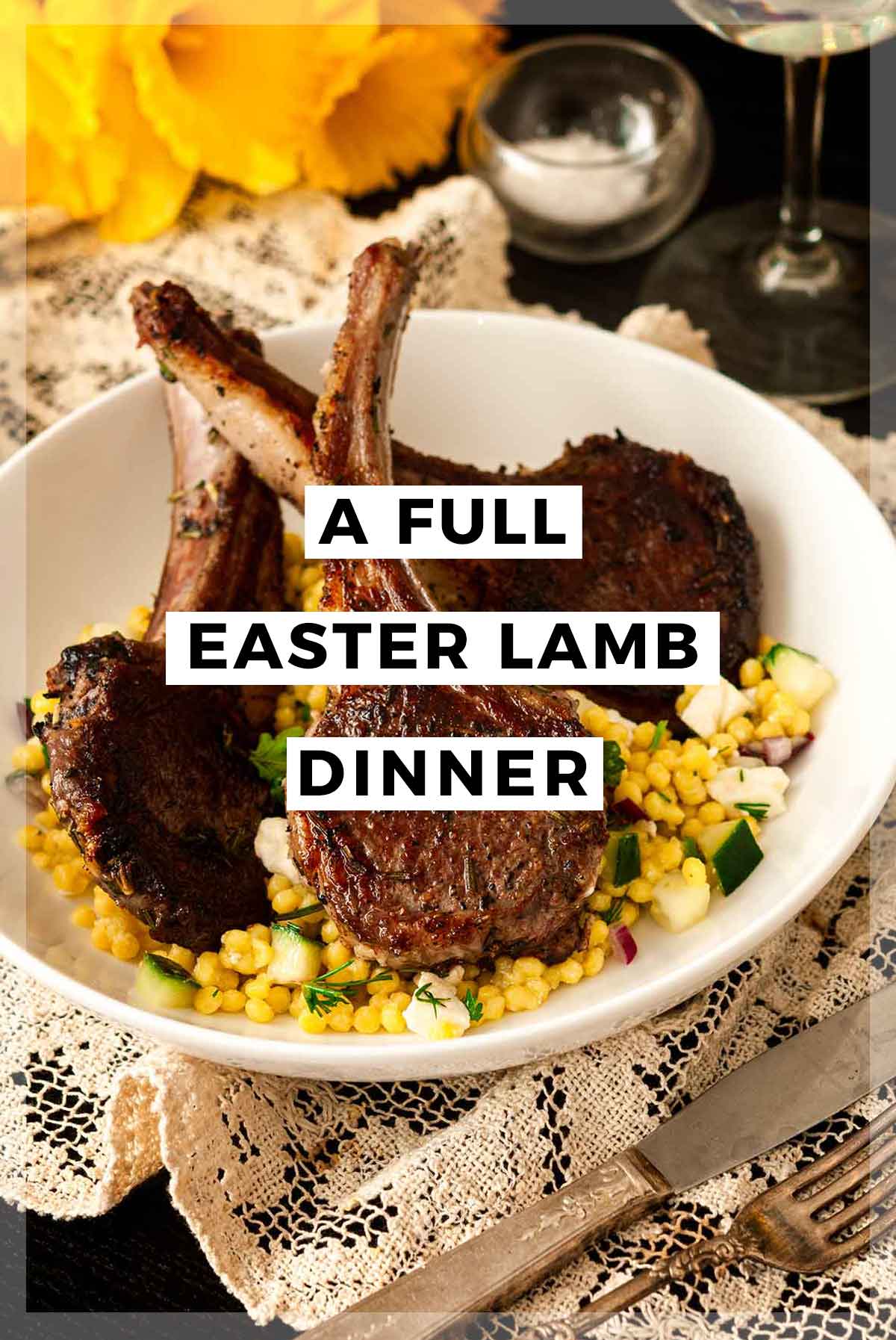 I love pairing Easter recipes together like they're one, colorful work of art. You'll see this delicious (and deceptively simple) menu is bright, colorful, and enchanting!
I also love this menu because almost everything can be made or prepped a whole day ahead of time, so I'm not toiling in the kitchen when family arrives. The lamb chops take just 8 minutes or less to sear right before serving, and the appetizers take no time at all to assemble once all the bits and pieces are prepared.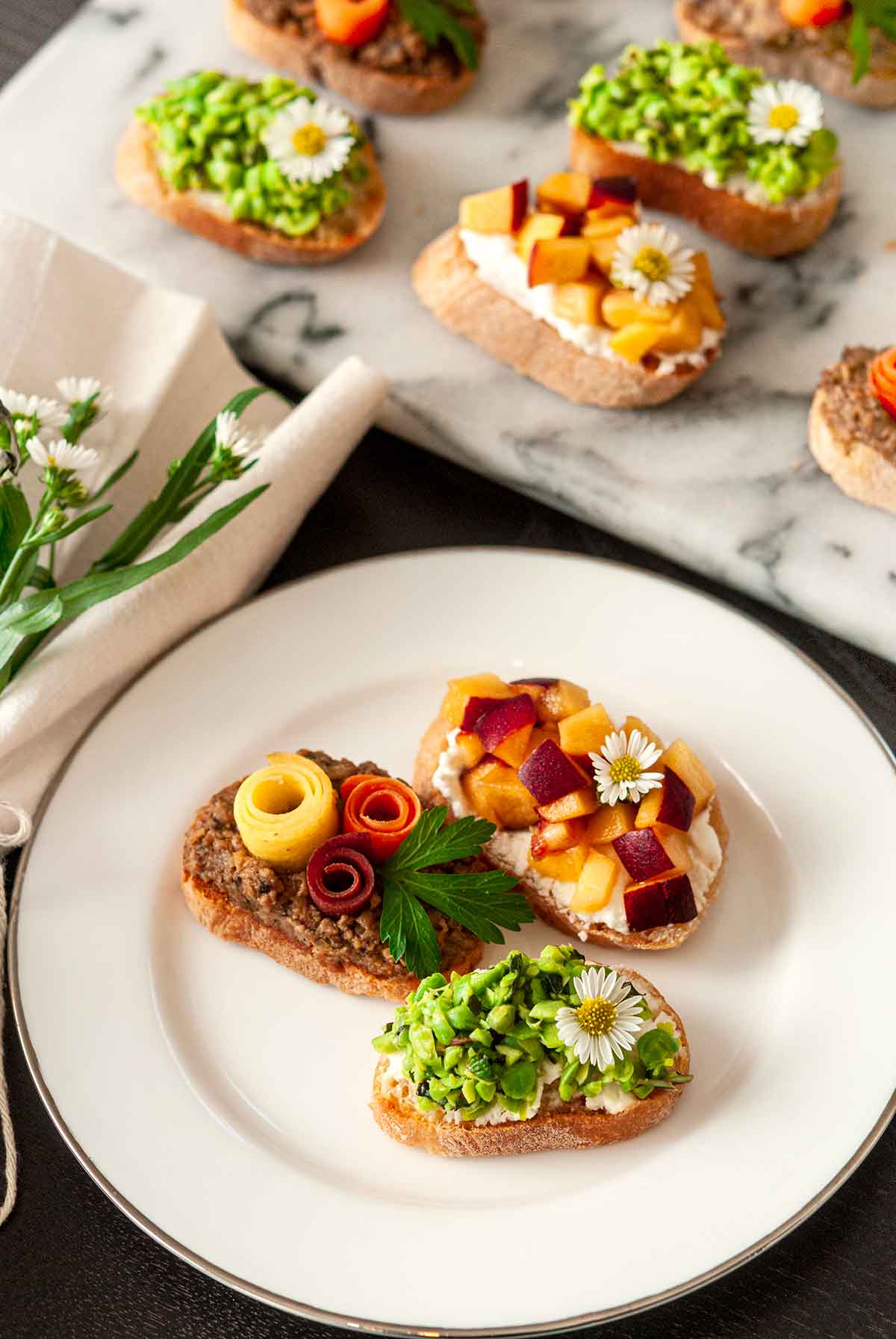 We'll start with 3 kinds of pretty, vegetarian crostini appetizers. Then, a salad with asparagus, green apple, shaved parmesan, and deviled quail eggs. For the main course, we'll have pan-seared rosemary lamb chops with pistachio-mint pesto served over a bed of lemon-turmeric pearl couscous with feta, cucumber, and fresh dill.
1. Colorful Easter Crostini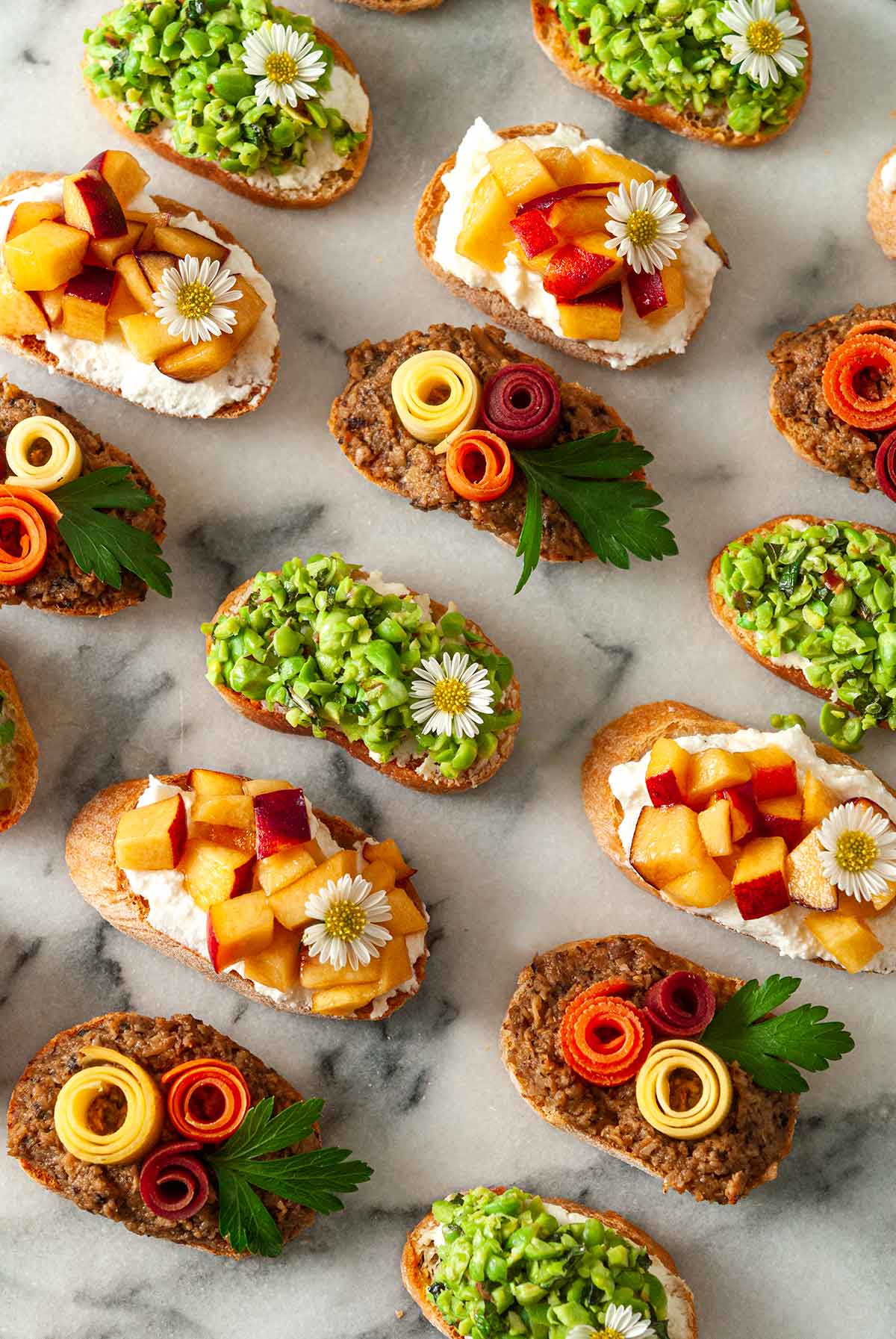 These pretty Easter crostini will make everyone smile! They're spring pea with mint and goat cheese, mushroom pâté with carrot roses, and white balsamic honey peach and ricotta!
2. Easter Salad with Deviled Quail Eggs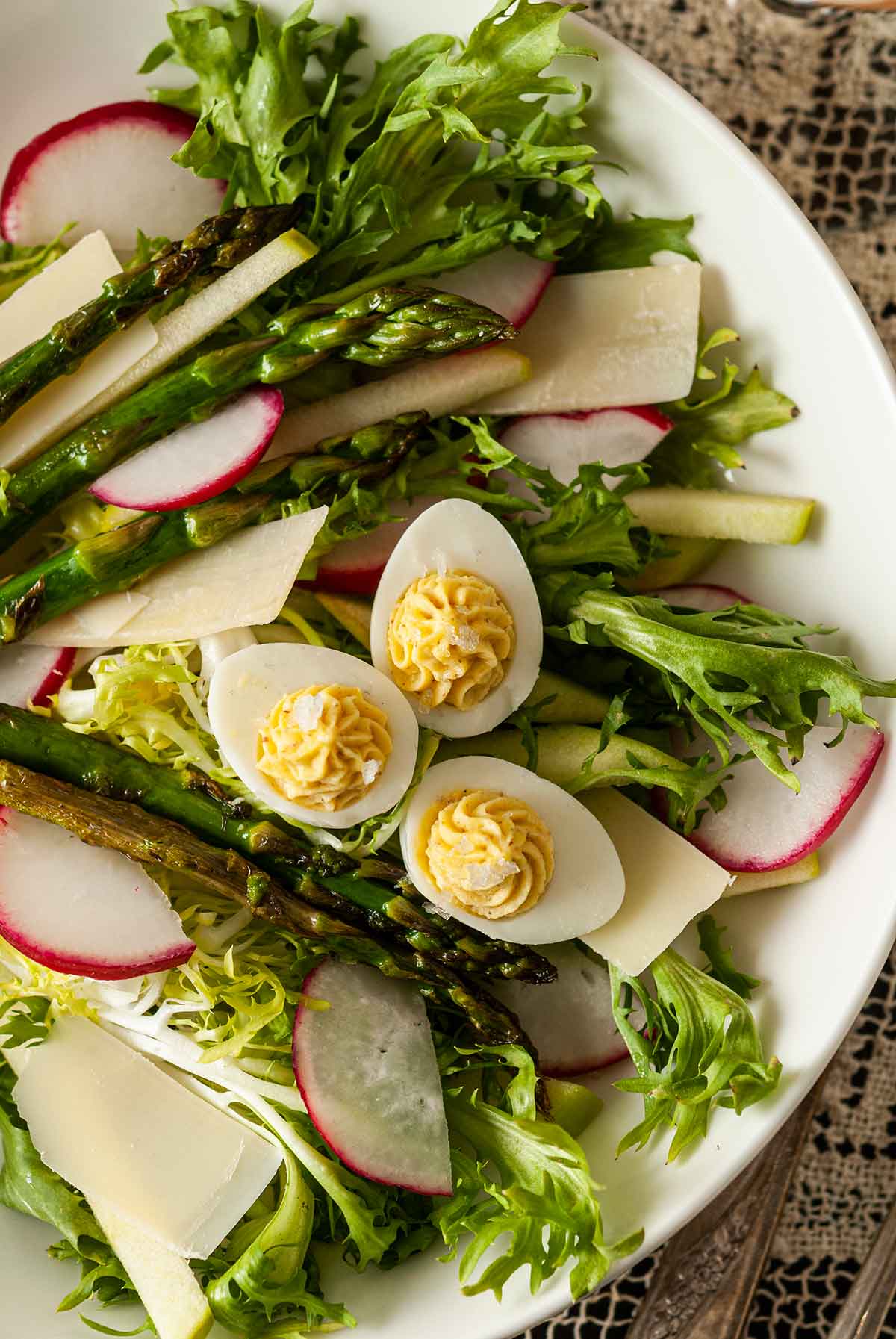 This beautiful Easter salad includes gently seared asparagus, green apple, radish, and delightful, easy-to-make deviled quail eggs. Everyone loves deviled eggs for Easter, and your guests will be simply enchanted with these lovely, little salad-toppers! I also have a healthy, homemade salad dressing suggestion too!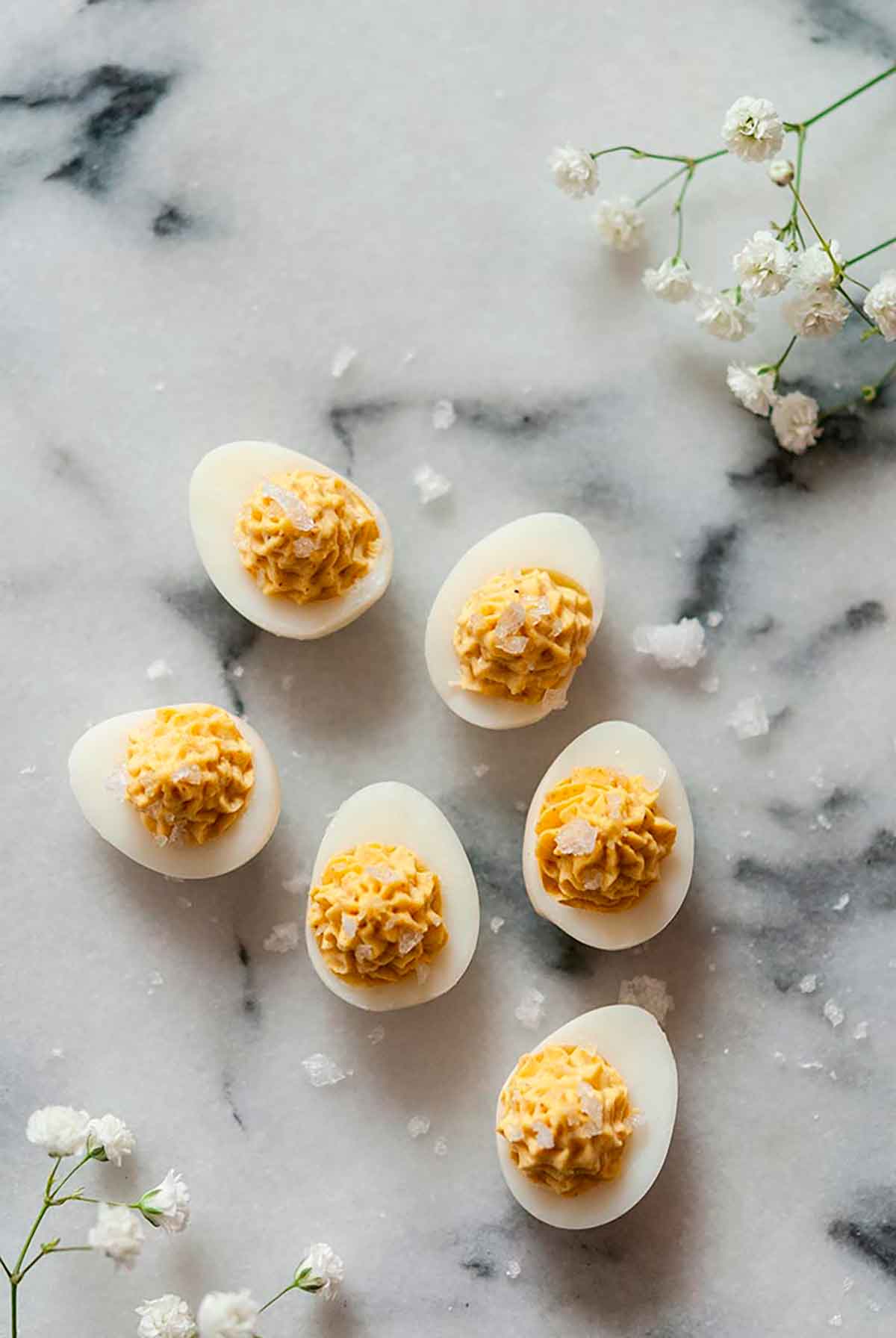 If you have any trouble finding quail eggs, no worries! You can always simply add one single deviled egg to a salad, and it looks almost as pretty. You can even add a few edible flowers like pansies to really dress them up for Spring!
3. Lemon Turmeric Pearl Couscous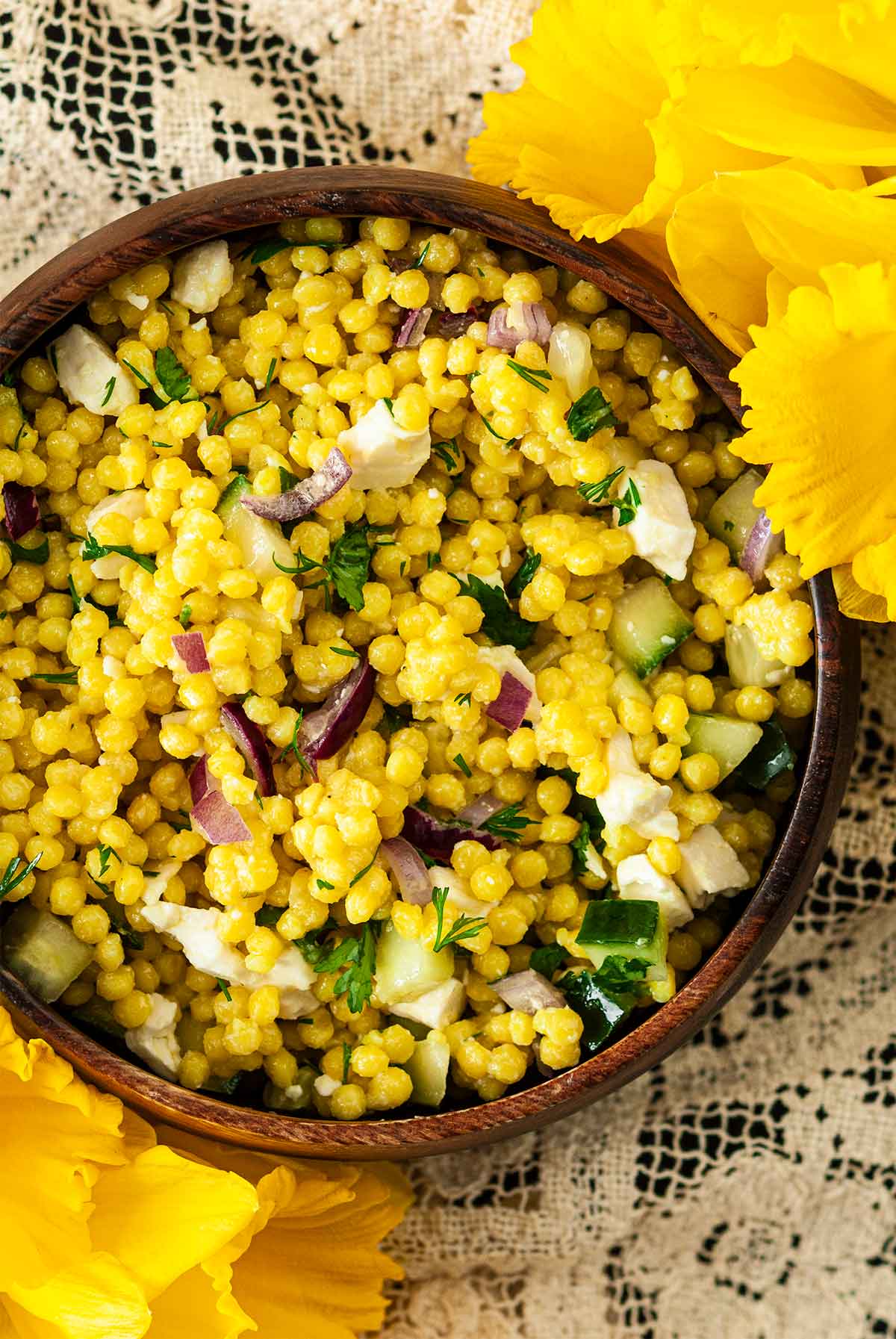 This pearl couscous recipe is made bright with lemon, fresh with dill and cucumber, and exciting with feta crumbles! It's a perfect side dish for any spring meal and takes just 20 minutes to make, with just a little cooling time for the couscous!
4. Pan-Seared Rosemary Lamb Chops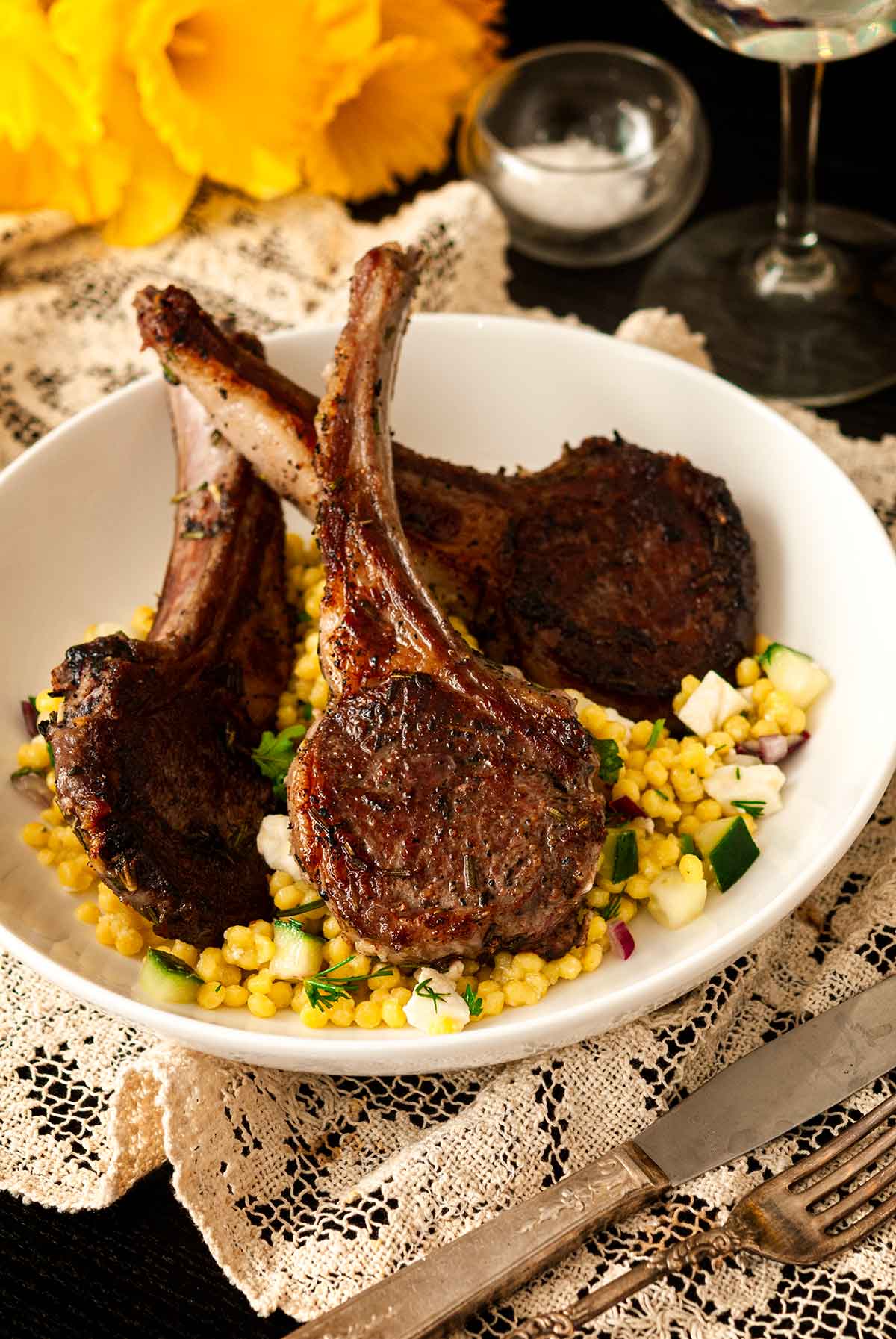 These pan-seared lamb chops are marinated in rosemary and garlic, have perfectly crispy edges, and take just 6-10 minutes to make (once they've been marinated, of course).
These tender chops make such an elegant spring or Easter dinner and impress every guest! This recipe also includes a mint-pistachio pesto to serve on the side!
5. Sparkling Sake Sangria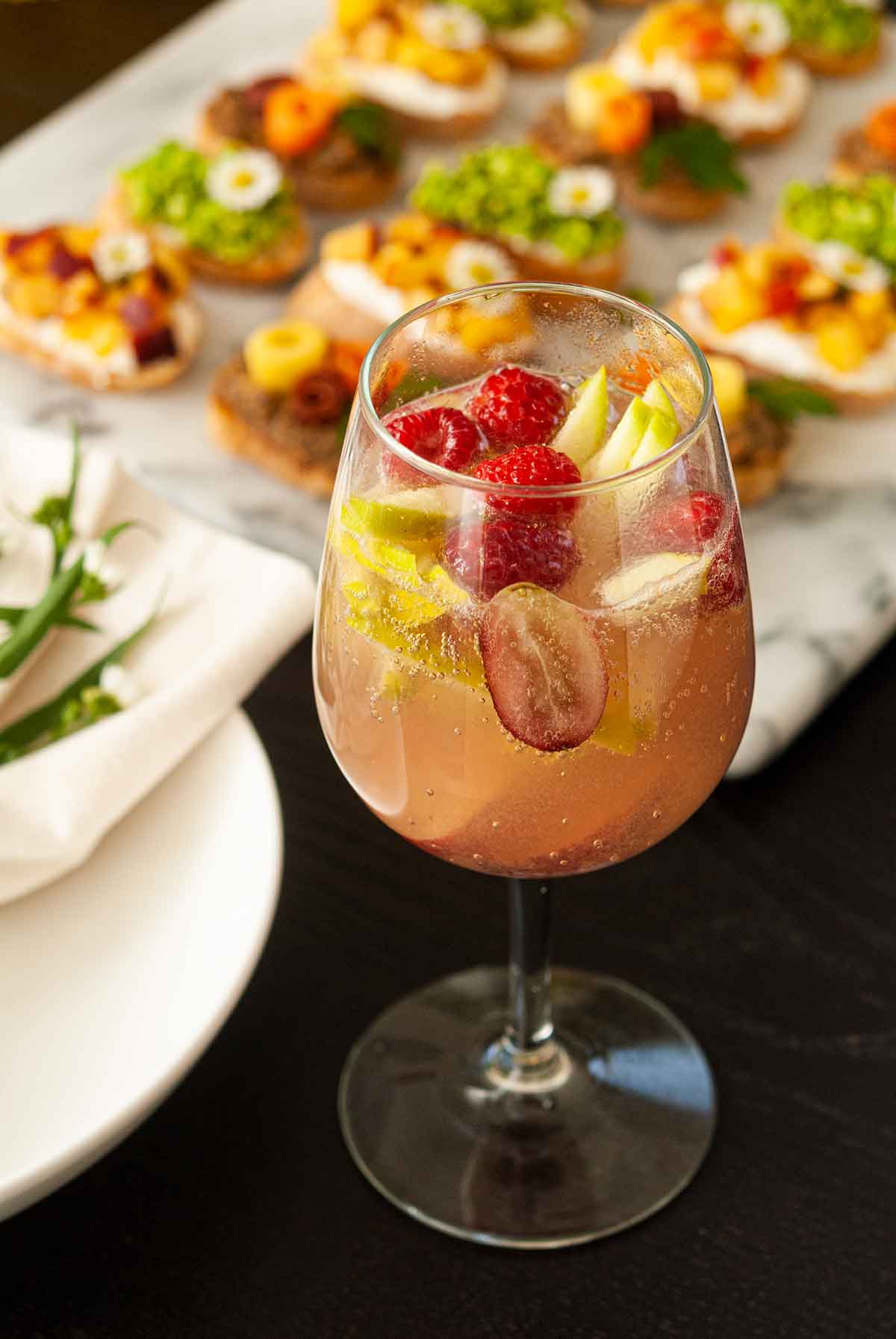 This sparkling sake sangria recipe is full of bright fruit and uses sparkling sake, instead of wine. Sake is, after all, a rice wine, so it's not entirely breaking the rules.
With raspberry lemonade and fruit soaked in white rum, it makes a lovely Easter or sun-shiny Spring cocktail that packs a bit of a punch, so sip those sparkles slowly, no matter how delicious they are!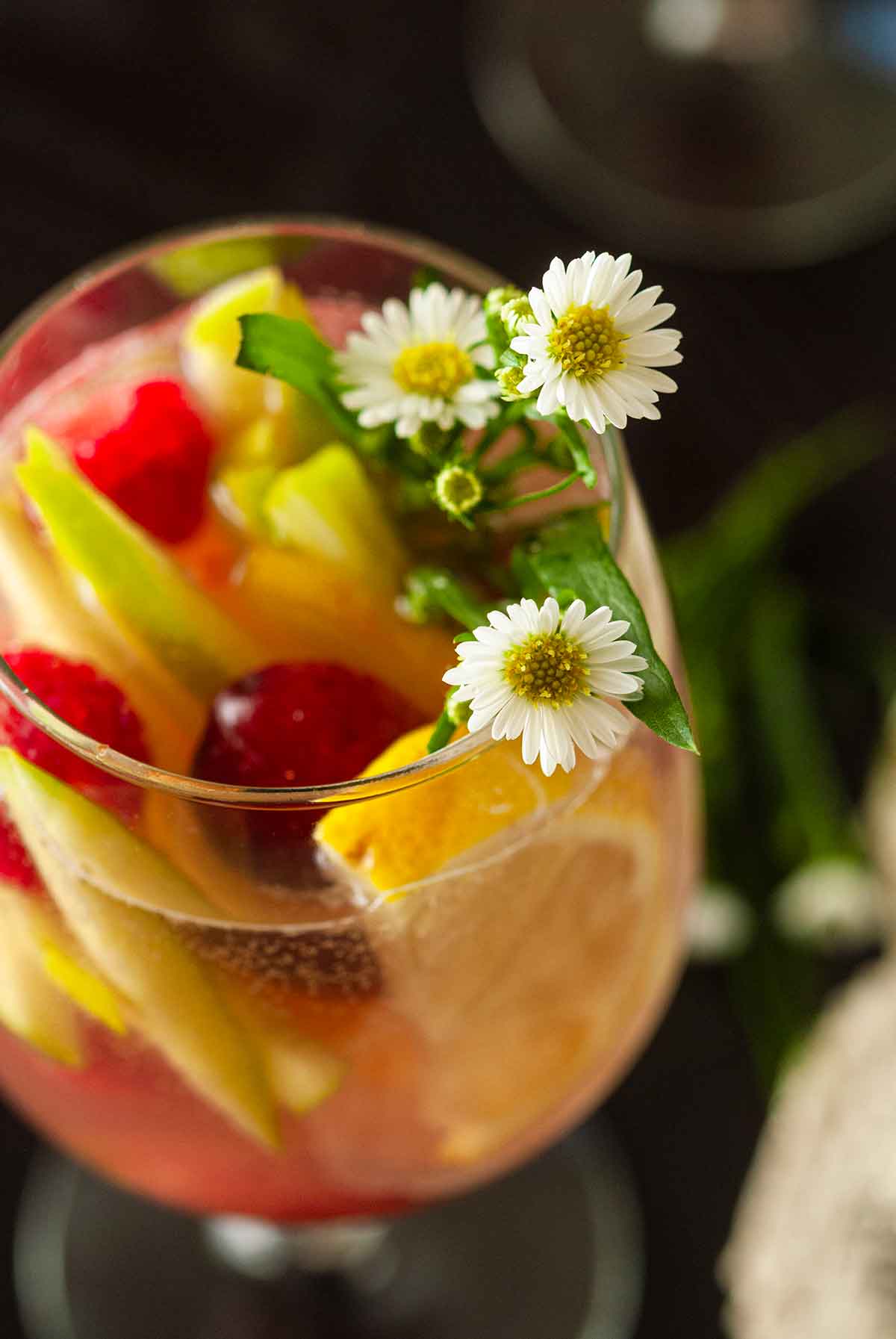 If you want a little more Easter cocktail inspiration, take a look at my 10 Delightful Easter Cocktails post!
6. Lavender Lemon Tart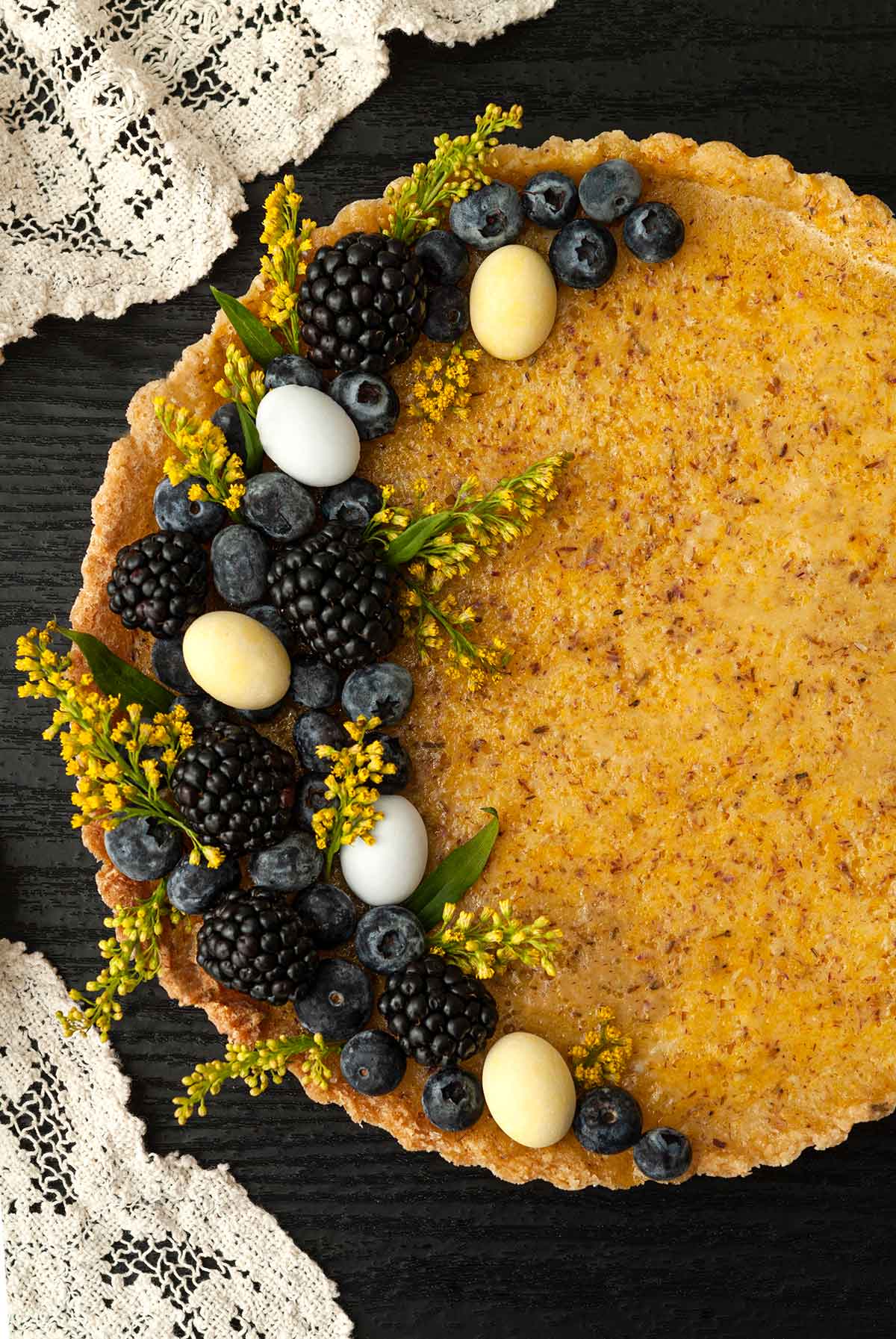 This rustically elegant lavender lemon Easter tart recipe is dairy-free, bright, floral, and such an original Easter dessert! It's sweet and tart, can be made a full day ahead, and will make your entire kitchen smell like an enchanting field of lavender!
I hope you enjoy these recipes and have a lovely Easter!
For more inspiration, subscribe to my newsletter, and follow me on Instagram, on Pinterest, tiktok, and Facebook! And if you ever make any of my tasty drinks or treats, take a picture and tag me. I want to see!