These homemade flower ornaments are the perfect DIY decoration for an elegant, colorfully natural Christmas tree! In just four steps, I'll show you how to dry, design and hang these gorgeous, blooming decorations that are sure to impress everyone at your Christmas party!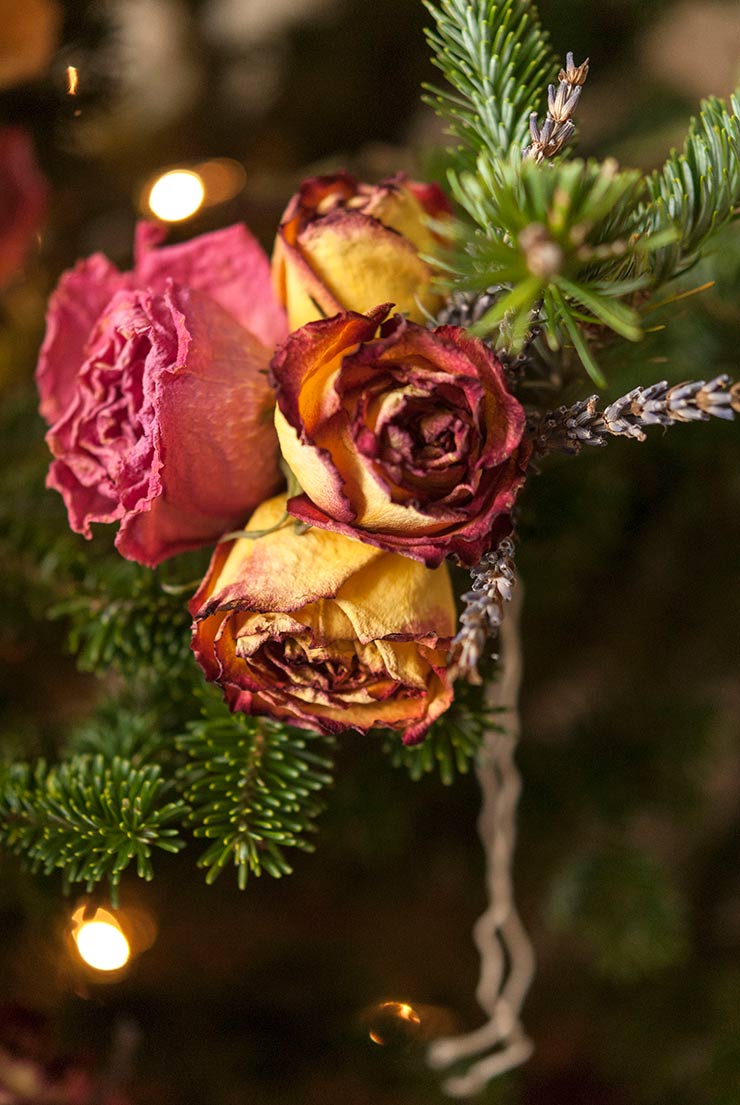 After I got married, I saved every single rose bouquet and completely covered my Christmas tree with them! I purposely picked roses and other flowers that I knew would dry well.
It was so glamorous that I've decorated my tree with flowers every year since! I use roses, lavender, baby's breath and hydrangea! I also add these precious, homemade dried orange ornaments!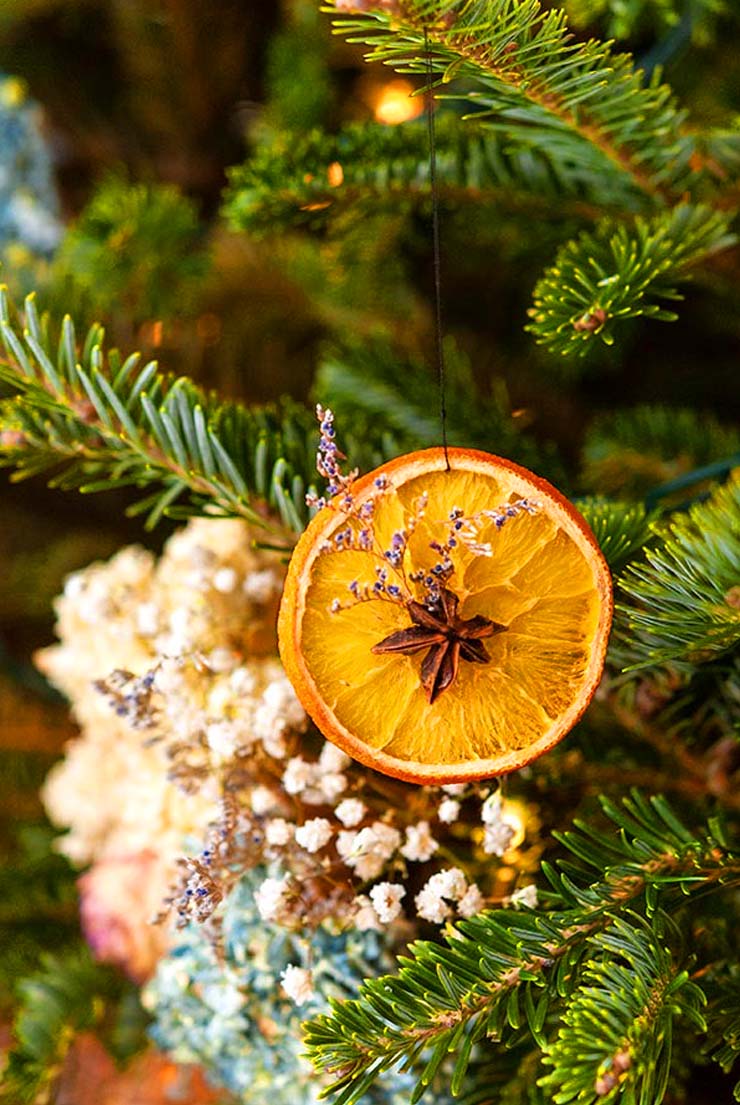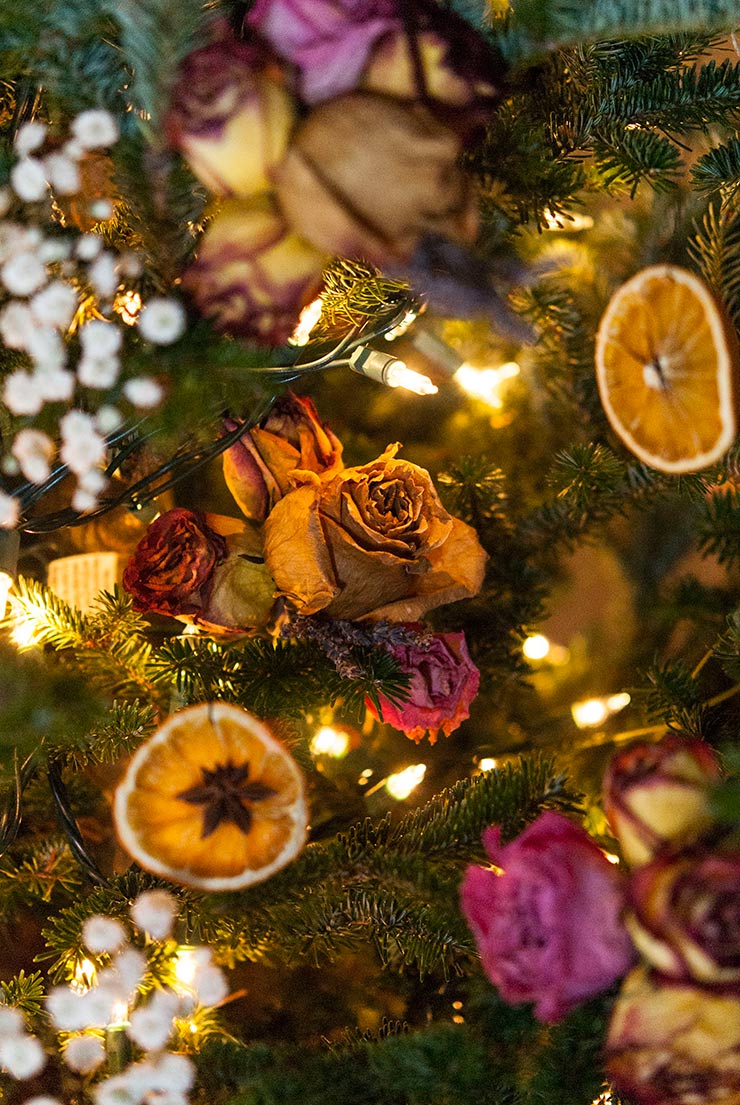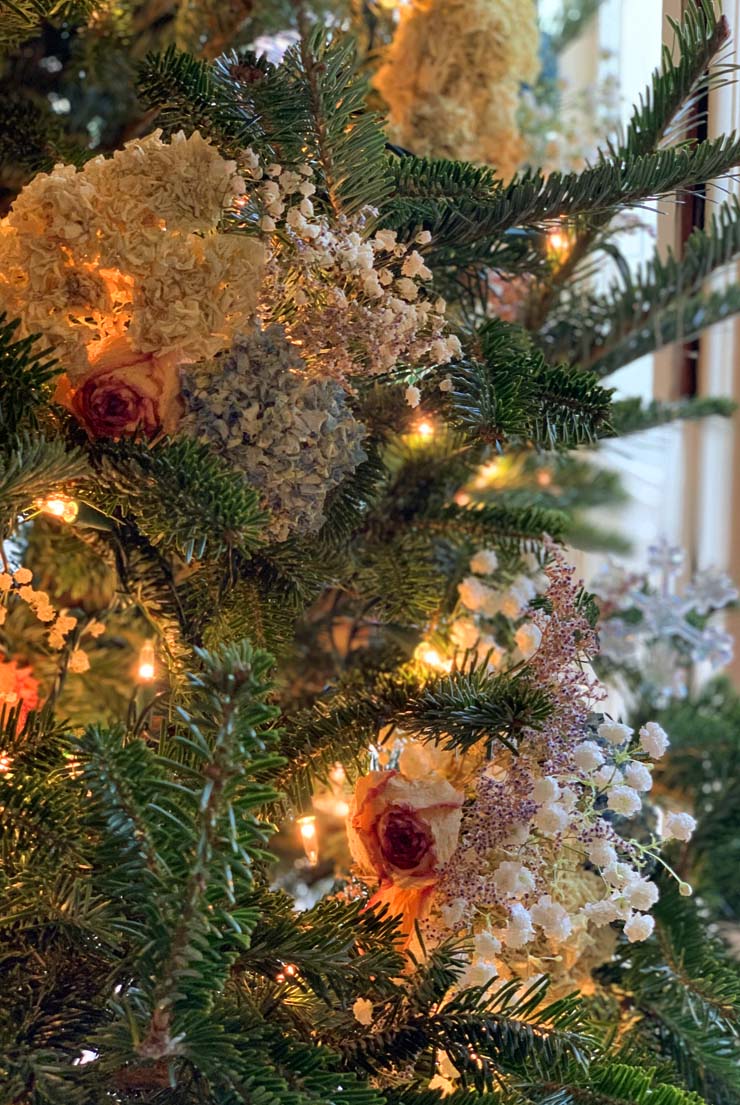 I like keeping my Christmas trees plastic-free (except for the lights, of course). No tinsel, no synthetic materials, just lots of natural color! I also like that I don't even have to un-decorate them at the end of the season.
I simply remove the lights, take the whole thing to the curb and let the neighbors pick the flowers off the tree as they walk by 😉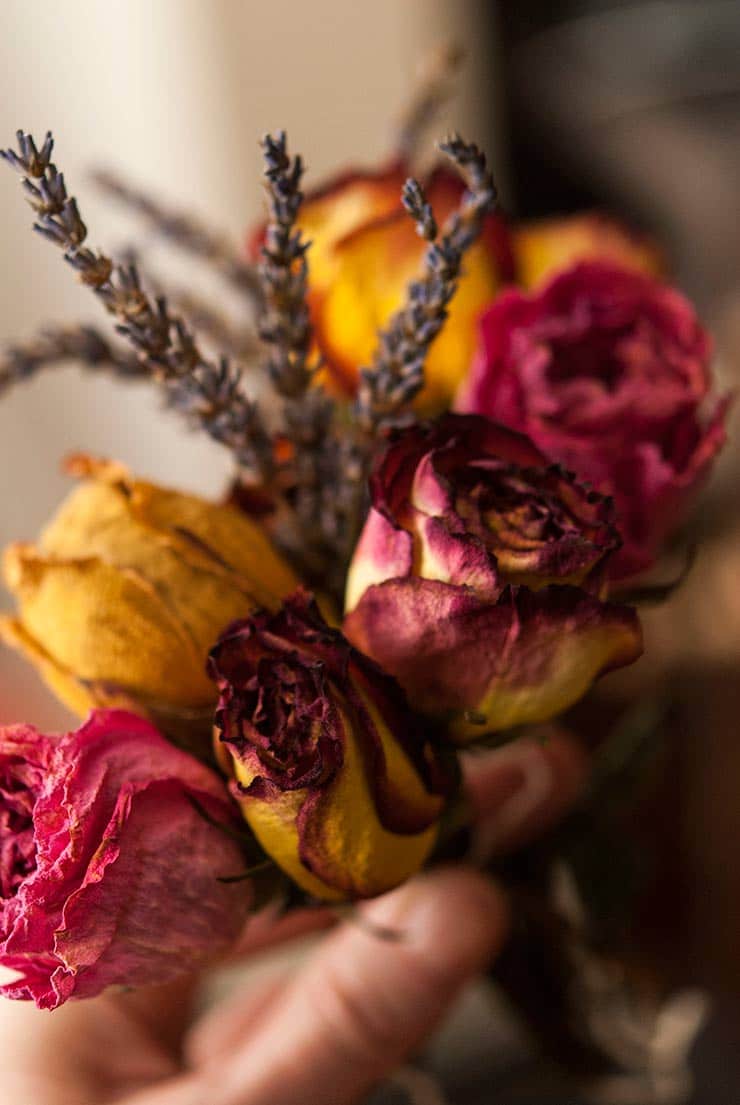 A Few Tips!
1. Give your flowers at least 2-3 weeks to dry in a dark, cool place like a closet.
If you put them in a sunny window, they might lose some of their color as they dry, so simply tie them upside down with a string by the stems and let them be until you're ready to put them on your tree.
2. Only use flowers that dry nicely.
I used roses, lavender and baby's breath, which dry beautifully. But you can also use thistle, cockscomb, amaranth, statice, pampas grass, craspedia, eucalyptus, yarrow or hydrangea. But make sure to dry them properly upside-down before putting them on the tree or they will just wilt and dry wilted.
3. If you have a big tree, you're going to need a lot of flowers if you want to cover it.
My tree is about 5 feet and not very wide, and I used 6 dozen roses and 1 big bunch of lavender (luckily my local Brooklyn bodega had a $10 for 2 dozen roses deal!) If you have a bigger tree, I'd suggest going for 8, or even 10 dozen roses to get it nice and full of flowers like mine.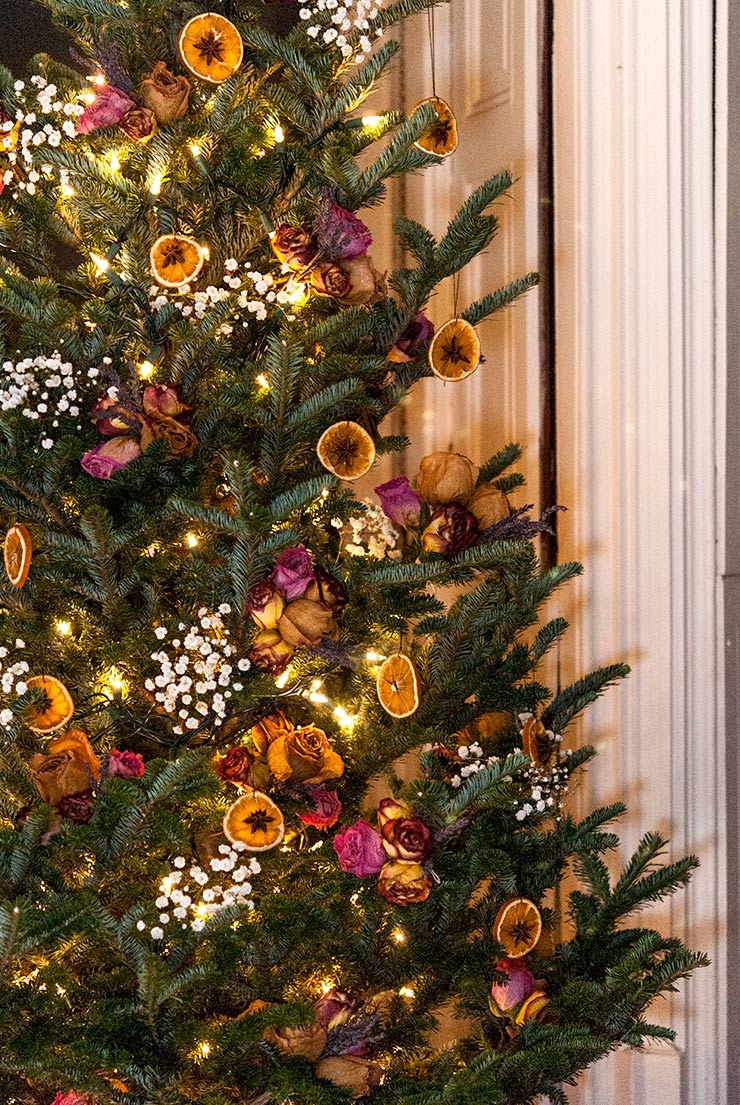 Common Questions
1. Will the flowers keep their scent?
Most flowers, like roses, will lose their scent when they're dried for the most part, but flowers like lavender and eucalyptus stems smell divine for at least a month after they're dried. And even if their smell dies down a bit, you can always give them a pinch and their scent will refresh again.
2. Can I reuse them next year?
If you pack them very carefully and keep them in a moisture-free environment, they'll still look OK, but they really look nicest for 3-6 months after drying. They'll fade and shrink a bit over time, no matter how well you preserve them. It's nature. It's meant to recycle itself 😉
3. What do I need to make them?
A few bouquets of dried flowers
A strong pair of scissors
Thin baker's string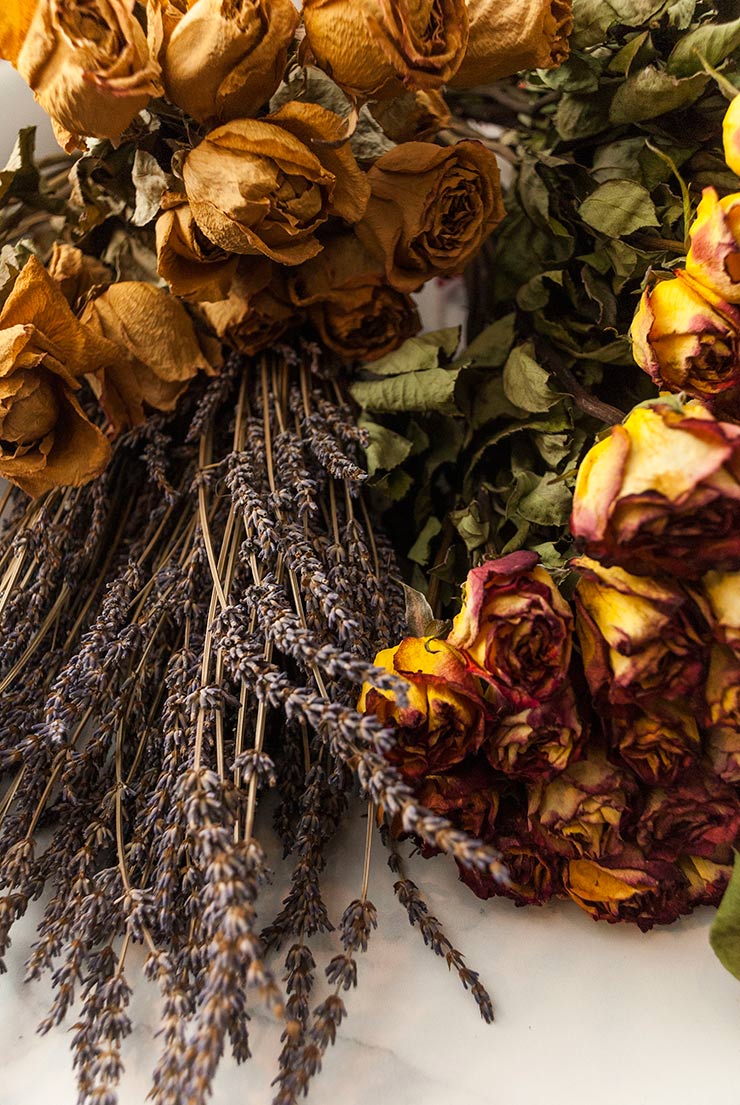 How to Make Homemade Flower Christmas Ornaments – Step by Step
1. Carefully tie the stems of your flower bouquets with string and hang them upside-down in a cool, dry place for 2-3 weeks.
2. Once they're dry, untie them and trim the stems to about 5 inches. Cut yourself a 15 inch piece of string.
3. Hold the flowers together in a pretty bunch just below the blossoms, tightly.
4. Use your string to tie the flower ornaments together, firmly. I suggest tying, then wrapping the string around and tying again with a locked knot. You might also want to further trim the stems so they're not so long, now that they're nicely tied together.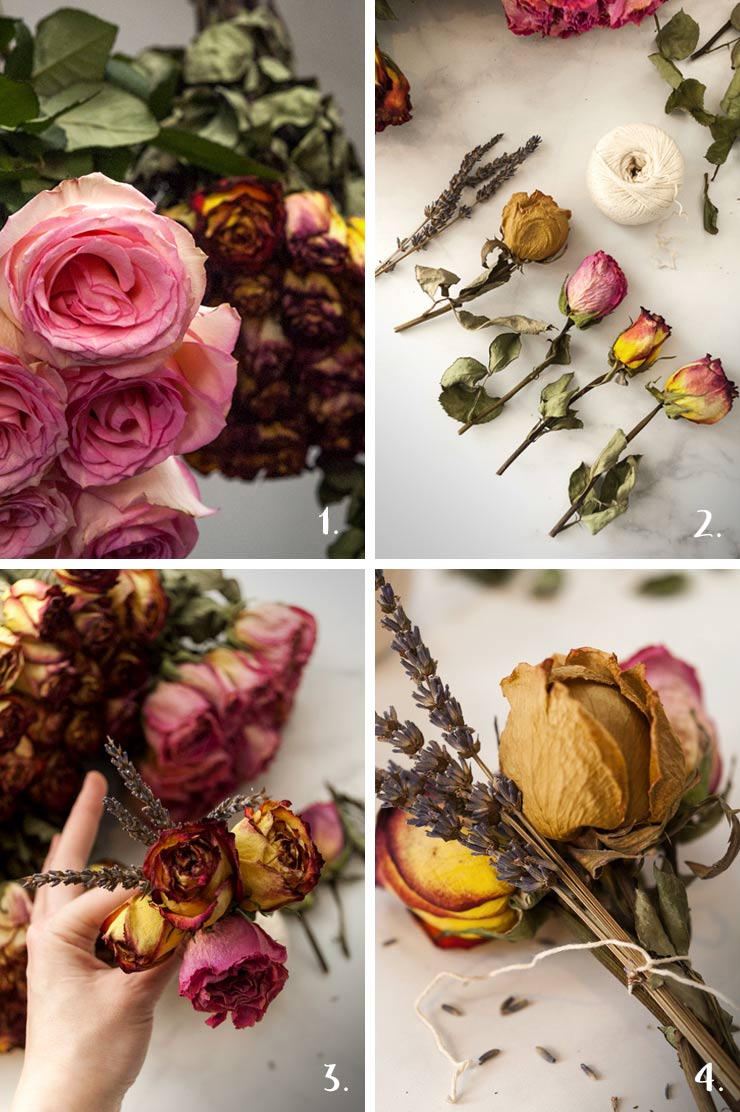 Then, simply tie the pretty bunch to a bough of your tree with a good knot! Once your bouquets are all tied, simply snip the strings, stand back and look at your stunning, floral Christmas tree!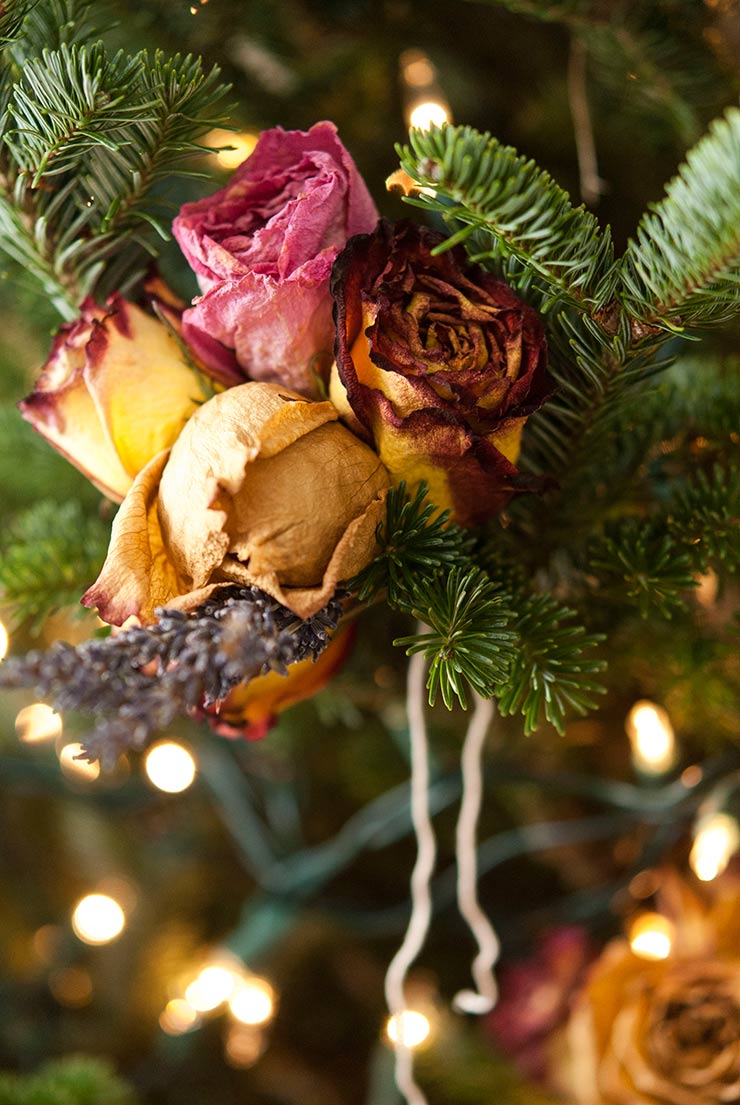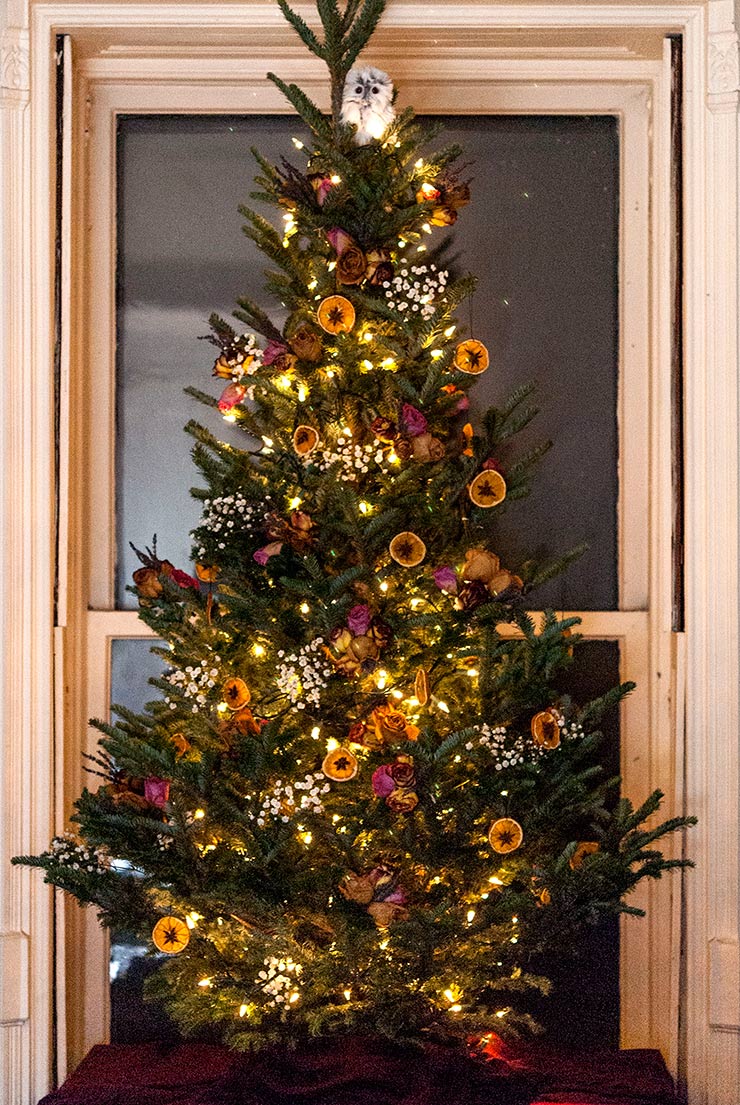 For more inspiration, subscribe to my newsletter, and follow me on Instagram, on Pinterest, tiktok, and Facebook! And if you ever make any of my tasty drinks or treats, take a picture and tag me. I want to see!