These pesto deviled eggs taste so fresh and full of Italian garden flavors! With pesto, balsamic mustard caviar, tomatoes, fresh basil and kalamata olives, it makes for the perfect summer garden party brunch or cocktail party appetizer.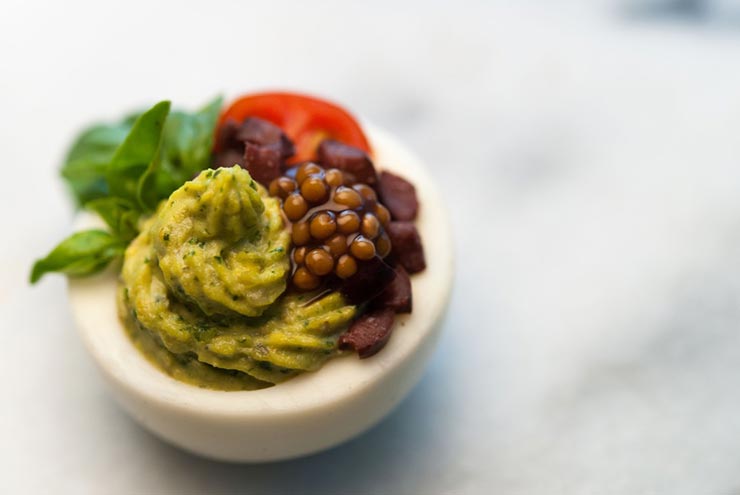 Pesto is one of my favorite additions to dinners, potato salads, pasta salads, amuse bouches, sandwiches … almost anything but dessert. Even though you can find pesto in your local food store, it's great to know how to make it yourself.
Most brands of pesto are full of oil and so many ingredients that are simply not necessary, or worse, preservatives and other chemicals. There's nothing like freshly made pesto, so give it a try!
The traditional recipe calls for pine nuts, which can be a little pricy, but you could honestly use almonds, walnuts, or any nut that doesn't have too bold a flavor.
I know. I can hear all your Italian grandmothers spinning in their graves at such a suggestion, but trust me. It's just as tasty. You're also going to use less olive oil than you normally would. You don't want to make your eggs oily.
Want to add delicious mustard caviar to your pesto deviled egg?  The recipe couldn't be simpler!

A Few Deviled Egg Pro Tips!
1. I simply use a knife to gently crack around the center of an egg and carefully peel the shell. Then, when slicing my eggs, I like to slice through the center-middle, as opposed to longways. I find the egg-halves will have a more sturdy base when cut this way.
2. Slice a tiny bit off the bottom so your deviled eggs sit perfectly flat. This will prevent them from sliding around the plate.
3. No need to always gouge out your yolks with a spoon. They'll almost always slide out if you're gentle. You may sometimes have a little left over, but it's easier and less damaging to the egg white, to try sliding first.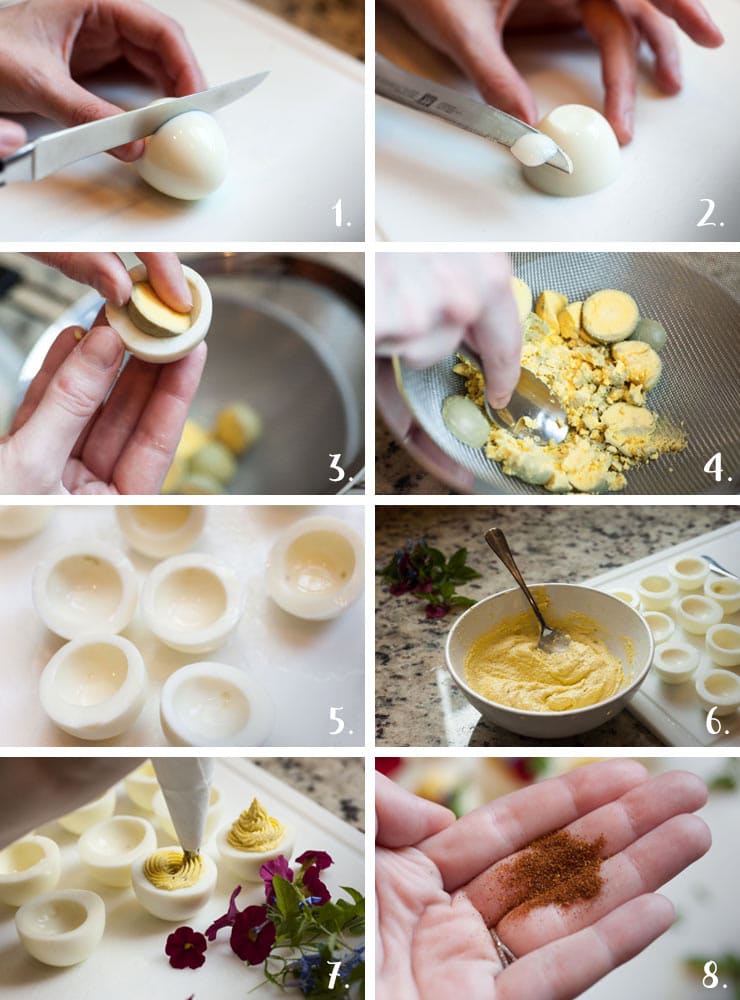 4. To get perfectly smooth egg-fillings, push the yolks through a mesh strainer before mixing in your mayo and mustard.
5. Wash and gently dry your egg whites so that they're absolutely perfect before filling.
6. The perfect consistency of deviled egg filling is almost exactly like hummus. If your filling seems a little dry, just add a little more mayo.
7. Always use a pastry piping bag and a pretty tip. It really makes your eggs look so much more professional.
8. When garnishing with a spice, pour a bit into your hand first and use your fingers to gently sprinkle. Otherwise, if you pour directly from the bottle, it's very likely too much will come out at once, and you'll end up with a deviled, over-spiced heart break.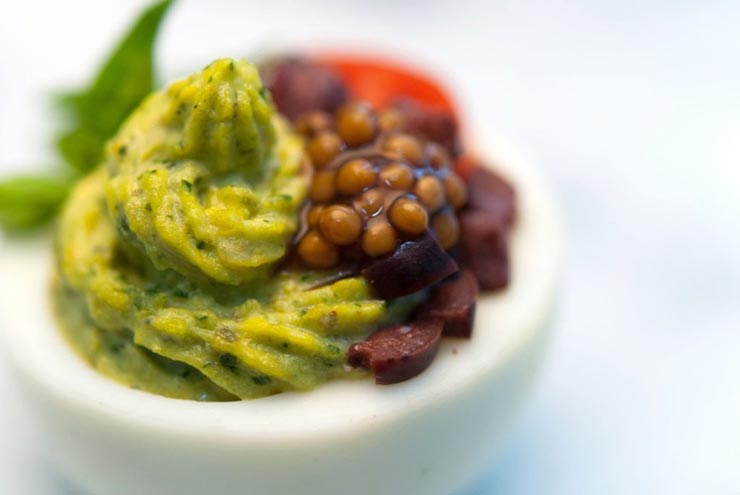 And for more inspiration, follow me on INSTAGRAM @shekeepsalovelyhome, on PINTEREST and FACEBOOK! And if you ever make any of my tasty drinks or treats, take a picture and tag me. I want to see!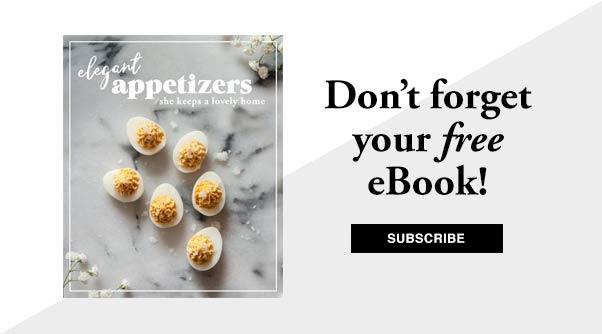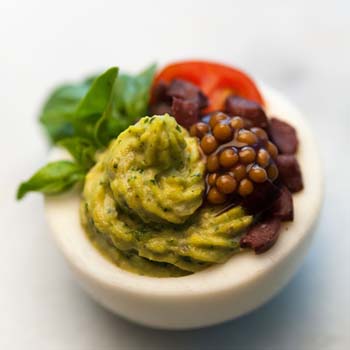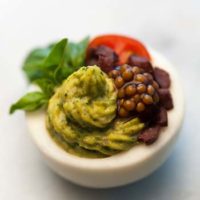 Beautiful Pesto Deviled Eggs
These pesto deviled eggs taste so fresh and full of Italian garden flavors!
You'll require a pot, mesh strainer and mixing bowl for this recipe. It's also nice to use a party piping bag and pretty tip so that your eggs are extra fancy.

Print
Pin
Rate
Servings:
12
Deviled Eggs
Ingredients
For the Pesto

1

cup

fresh basil leaves


¼

Fresh grated Parmesan or Pecorino Romano cheese


¼

cup

olive oil


2

tbsp.

pine nuts

- or neutrally flavored nuts


1

tsp.

white balsamic vinegar
For the Garnish

8-10

pitted Kalamata olives

- chopped into teeny pieces


5

cherry tomatoes

- thinly sliced


¼

cup

tiny basil leaves
Instructions
Add 6 eggs to a pot of cool water, then place them on the stove and boil them for 20 minutes. Once boiled, place them in a bowl of cold water for 10 minutes. Refrigerate for 1-2 hours.

Once the eggs are cool, remove the shells by carefully tapping around the center and peeling. Crack and peel very carefully so the egg is pristine and free of tears and dents.

Slice them carefully in half. I like to slice them through the center instead of longways. I find they're a more satisfying bite that way. Slice a little bit off the bottom so they sit flat on a surface without sliding around.

Remove the yolks by simply sliding them out, or using a very tiny spoon, making sure to keep the whites free from rips or dings. Push them through the mesh strainer into your mixing bowl. This will ensure your eggs are creamy and smooth without any eggy chunks.

Wash and dry your eggs with a paper towel so the whites are perfectly tidy and picture perfect.

Make your Pesto. Make sure to pluck a few tiny leaves off of your pesto for you egg garnish, then place your basil, nuts and cheese into a food processor. Pack it all in, then pour your olive oil and balsamic vinegar over the other ingredients. Blend everything together into a tasty pesto paste.

Mix in 2 tbsp. of pesto. Give your filling a taste to see if it needs any salt or pepper. If it's still a little thick, add a little more mayo. You want the texture to be like a slightly thicker hummus.

Fill a pastry-piping bag with your pesto egg filling and fill your egg halves. You can also just spoon it in too, but it doesn't look as pretty.

Garnish your beautiful eggs. Assemble your thinly sliced tomatoes, tiny chopped kalamata olives, basil-soaked mustard seeds and tiny basil leaves, and place them around the egg. It takes a little precision, but when you're done, you should have beautiful little pesto treasures like this!
Notes
Note: You'll have some extra pesto left over. Don't feel like you have to throw it away. It freezes and thaws perfectly, so just freeze it and use it to add some panache to another meal at a later date 😉
Nutrition
Serving:
1
Deviled Egg
|
Calories:
103
kcal
|
Carbohydrates:
1
g
|
Protein:
3
g
|
Fat:
9
g
|
Saturated Fat:
1
g
|
Cholesterol:
82
mg
|
Sodium:
92
mg
|
Potassium:
66
mg
|
Vitamin A:
300
IU
|
Vitamin C:
2.1
mg
|
Calcium:
18
mg
|
Iron:
0.7
mg
SaveSave
SaveSave
SaveSave
SaveSave
SaveSave
SaveSave
SaveSave
SaveSave
SaveSave
SaveSave
SaveSave
SaveSave
SaveSave
SaveSave
SaveSave
SaveSave
SaveSave
SaveSave
SaveSave
SaveSave
SaveSave
SaveSave
SaveSave