These tasty little curry deviled eggs with snap peas are a bit spicy and have a lovely ribbon of curry flavor. The tasty little peas are sweet and cut the spiciness just perfectly!
Sometimes I create a deviled egg that takes my breath away. These spicy curry snap pea deviled eggs were just about the prettiest things I've ever seen!
They were pretty enough with just the snap peas and pretty two toned color, but the flower garnish took them right over the top!
Making your eggs multi-colored
It's subtle, but you'll notice these pretty eggs have 2 tones of yellow. It's a very simple trick that I do if I want my eggs to look extra fancy. You'll find the technique in my Multi-colored deviled eggs tutorial, if you want to see exactly how it's done.

"Are the flowers edible?"
I get asked a lot about flowers on deviled eggs. Which ones should we use? Should guests be told to remove them? How do you know if they're edible?
If I see a particularly pretty and tiny flower in the flower shop, I'll google it to make sure it's edible and not poisonous. I don't worry too much about the flavor of flowers because I find guests instinctually pluck them off before eating them, which is fine by me.
They're just there to be pretty, after all. I also have no trouble telling guests the flowers are just for garnish. I'm mostly concerned if they're going to be actually dangerous to eat or if they'll actually taste bad if someone does simply pop them in their mouth.
I used Spring Beauty flowers for this deviled egg which is entirely edible, but honestly, my opinion on the matter is that the flowers are just there to be beautiful, not as special ingredients. I make sure my eggs are as tasty as they are pretty, so if people want to remove the flowers, and make a little garden on the plate, I'm happy with it.
Just make sure that no matter where you get your flowers, they're well washed before you use them for garnish.

A Few Deviled Egg Pro Tips!
1. I simply use a knife to gently crack around the center of an egg and carefully peel the shell. Then, when slicing my eggs, I like to slice through the center-middle, as opposed to longways. I find the egg-halves will have a more sturdy base when cut this way.
2. Slice a tiny bit off the bottom so your deviled eggs sit perfectly flat. This will prevent them from sliding around the plate.
3. No need to always gouge out your yokes with a spoon. They'll almost always slide out if you're gentle. You may sometimes have a little left over, but it's easier and less damaging to the egg white, to try sliding first.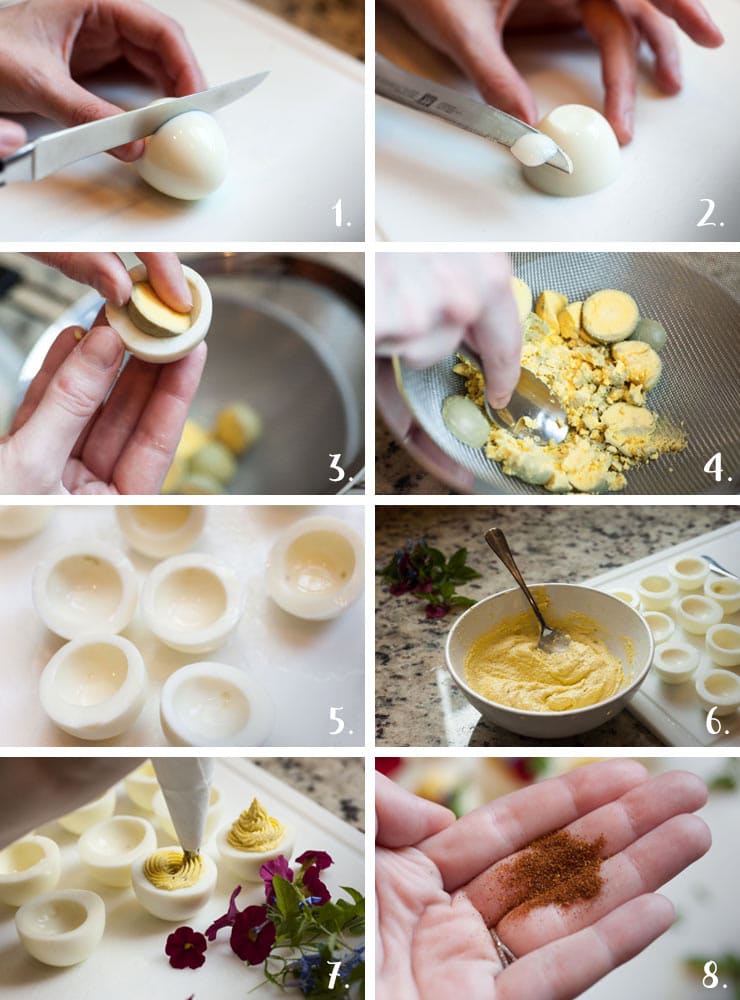 4. To get perfectly smooth egg-fillings, push the yokes through a mesh strainer before mixing in your mayo and mustard.
5. Wash and gently dry your egg whites so that they're absolutely perfect before filling.
6. The perfect consistency of deviled egg filling is almost exactly like hummus. If your filling seems a little dry, just add a little more mayo.
7. Always use a pastry piping bag and a pretty tip. It really makes your eggs look so much more professional.
8. When garnishing with a spice, pour a bit into your hand first and use your fingers to gently sprinkle. Otherwise, if you pour directly from the bottle, it's very likely too much will come out at once, and you'll end up with a deviled, over-spiced heart break.
For more inspiration, follow me on INSTAGRAM @shekeepsalovelyhome, on PINTEREST and FACEBOOK! And if you ever make any of my tasty drinks or treats, take a picture and tag me. I want to see! 
Spicy Curry Deviled Eggs with Snap Peas
These tasty little curry snap pea deviled eggs are a bit spicy and have a lovely ribbon of curry flavor. The tasty little peas are sweet and cut the spiciness just perfectly!
You'll require a pot, mesh strainer and mixing bowl for this recipe. You may also require a pastry piping bag and tip if you want to get the 2 toned effect.

Servings:
12
Deviled Eggs
Ingredients
6

large eggs

1

tbsp.

mayo

1

tsp.

creamy horseradish

1

tbsp.

brown spicy mustard

1

tsp.

curry powder

A few shakes of cayenne pepper pepper

- depending on how spicy you like it

Celery salt for garnish

¼

cup

fresh snap peas

- removed from their pods
Instructions
Add 6 eggs to a pot of cool water, then place them on the stove and boil them for 20 minutes. Once boiled, place them in a bowl of cold water for 10 minutes. Refrigerate for 1-2 hours.

While your eggs boil, remove all the little peas from your snap pea pods and place in a bowl for later.

Once the eggs are cool, remove the shells by carefully tapping around the center and peeling. Crack and peel very carefully so the egg is pristine and free of tears and dents.

Slice them carefully in half. I like to slice them through the center instead of longways. I find they're a more satisfying bite that way. Slice a little bit off the bottom so they sit flat on a surface without sliding around.

Remove the yokes by simply sliding them out, or using a very tiny spoon, making sure to keep the whites free from rips or dings. Push them through the mesh strainer into your mixing bowl. This will ensure your eggs are creamy and smooth without any eggy chunks.

Add mayo, mustard and creamy horseradish. Add a few shakes of salt & pepper. Stir till perfectly blended. Once perfectly creamy, split filling into 2 bowls.

Add teaspoon of curry powder and a few shakes of cheyenne pepper to one bowl, and mix. Depending on the strength of your curry's flavor, you might have to add a little more to get a real good punch of curry flavor. You may also have to add a little more mayo if your curry makes your filling a little dry.

You now have your two fillings. Lay down 2 pieces of plastic wrap on a flat surface. Spoon your fillings onto each piece, and carefully roll them up into tubes. Snip the tops with scissors. Carefully place the two fillings side by side in your pastry bag. Fill your eggs!

Garnish your eggs. Carefully place your tiny peas along the edge of the egg, and give each egg a sprinkle of celery salt. You can add some lovely little flowers to each egg too. They make them look like Spring!
Nutrition
Serving:
1
Deviled Egg
|
Calories:
45
kcal
|
Carbohydrates:
1
g
|
Protein:
3
g
|
Fat:
3
g
|
Cholesterol:
82
mg
|
Sodium:
55
mg
|
Potassium:
53
mg
|
Vitamin A:
210
IU
|
Vitamin C:
5
mg
|
Calcium:
18
mg
|
Iron:
0.7
mg
SaveSave
SaveSave
SaveSave
SaveSave
SaveSave
SaveSave
SaveSave
SaveSave
SaveSave
SaveSave
SaveSave
SaveSave
SaveSave
SaveSave
SaveSave
SaveSave
SaveSave
SaveSave