Atmosphere is everything for a fancy little Halloween cocktail party. You've got to have the right music, a mix of elegance and playfulness in your esthetic, and the lighting should be dim and spooky-oooky. I used black and white candles and lantern light to set the MooooOOOOooooOOoood.
I use these tiny glasses for everything from shrimp cocktail to after-dinner digestifs, to mini-desserts. I put cocktail sauce at the bottom just before my guests were allowed to dive into the table.
I was so excited to find peachy, orange raspberries in the farmer's market outside of Prospect Park! I thought they were totally out of season, but they were so sweet!
The spinach dip in that pumpkin is deceptively fancy. The ingredients are so basic, but when they all come together, they impress the socks off of everyone! Sour cream, spinach , chopped water chestnuts, chopped chives, a little mayo and dry vegetable soup mix.
Make sure to use a really sharp knife to cut pointy little horns out of red peppers for your Halloween deviled eggs! I actually use an x-acto knife so they're perfectly pointy.
I made a gorgeous bouquet of bacon roses, and stuffed them with dates! I thought they looked a little spooky – especially on the real rose stems in candle light.
Here's a fancy idea! If you're making bacon roses, buy real roses, trim off the flowers and use the stems for the bacon. But don't just discard the roses! Pop them in a pumpkin! Be sure to wash the stems really well before sticking bacon roses on top, though.
Roses come covered in pesticides. I like a good spooky Halloween party, but not one where I'm actually being poisoned. Your guests probably feel the same 😉
And for even more inspiration, follow me on INSTAGRAM @shekeepsalovelyhome, on PINTEREST and FACEBOOK! And if you ever make any of my tasty drinks or treats, take a picture and tag me. I want to see!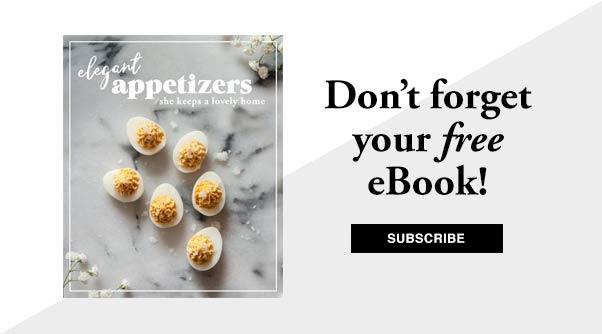 SaveSave
SaveSave
SaveSave
SaveSave
SaveSave
SaveSave
SaveSave
SaveSave
SaveSave
SaveSave
SaveSave
SaveSave
SaveSave
SaveSave
SaveSave